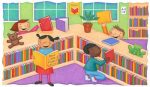 It's NAPLAN week and that means time is short! Fortunately, the Understanding Our World® program is based on 9 week units, which means that if you run out of time in any particular week, it's not a disaster. Furthermore, we have made sure that there is plenty of catch-up time within the lessons, so that there is no need to feel rushed. This week students are getting into the nitty gritty of their term projects. Our youngest students are studying their surroundings at school and in the local area. Older students are getting to the core of their research projects.
Foundation to Year 3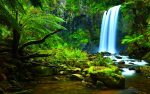 Students in our standalone Foundation/Kindy/Prep class (unit F.2) are starting to build a model of their Favourite Place. It is the teacher's choice whether they build a diorama, make a poster or collage, or how this is done in class. This week students start by drawing or cutting out pictures to show aspects of their favourite place. Students in an integrated Foundation/Kindy/Prep (unit F.6) and Year 1 class are using their senses to investigate their class and school – what can we see, hear, smell, feel and taste? Some ideas can be found in resources such as My Favourite Sounds and the Teacher Handbook also contains lots of ideas for these investigations. Students in Years 1 (unit 1.2), 2 (unit 2.2) and 3 (unit 3.2) are also discussing how the school and local area has changed through time. The teacher can use old maps, photos or newspaper reports to guide students through these discussions. What information is available in the school? What do local families remember?
Years 3 to 6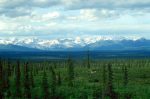 Students in Year 3 (unit 3.6), 4 (unit 4.2), 5 (unit 5.2) and 6 (unit 6.2) are continuing to research their explorer. This week year 3 students are focusing on the climates encountered by their explorer. Resources such as Climate Zones of Australia and Climate Zones of the World can help the class to identify these climate areas. Year 4 students examine Environments in Africa and South America, in order to discuss the environments encountered by their explorer. Students in Year 5 can read up about the environment encountered by their explorer in North America, and Year 6 students examine the Environments of Asia. In each case, the student workbook guides the student through this investigation and helps them to isolate pertinent information to include in their presentation. This helps students to gain an understanding of how to research a topic and derive an understanding of what information they need to consider. Teachers can use the workbook to check in and see how students are travelling in their progress towards completing the project, as well as their understanding of the content covered.