Bitcoin (BTC) has been influenced by movements in major financial markets throughout its trading history. Forex pairs like CNY/USD and EUR/USD have had a major impact on the price of Bitcoin (BTC) and its direction. Before last year's capitulation, we saw a major downtrend in USD/CNY which accelerated Bitcoin (BTC)'s decline below $6,000. The simple explanation for why that happened was the fact that major Chinese investors or whales were more comfortable cashing out into Chinese Yuan (CNY) at that point as the US Dollar (USD) was declining against it. It is always easier to cash out in a local currency so when the opportunity presented itself most big investors jumped on it and the price of Bitcoin (BTC) crashed.

The price of Bitcoin (BTC) is once again in an interesting situation as the Chinese Yuan (CNY) is about to make a decisive move. Either it will decline below the key trend line support and accelerate Bitcoin (BTC)'s downtrend or we might see a move towards the trend line resistance and the price of Bitcoin (BTC) could pump while that happens. The cause effect relationship between the price of Bitcoin (BTC) and the trend in CNY/USD is quite straightforward because it all comes down to the interests of major players in this market. As much as we'd like to believe that Bitcoin (BTC) has seen significant adoption and there are real people buying and selling now, the fact remains that the vast majority of trading is not only highly manipulated but fake (wash trading).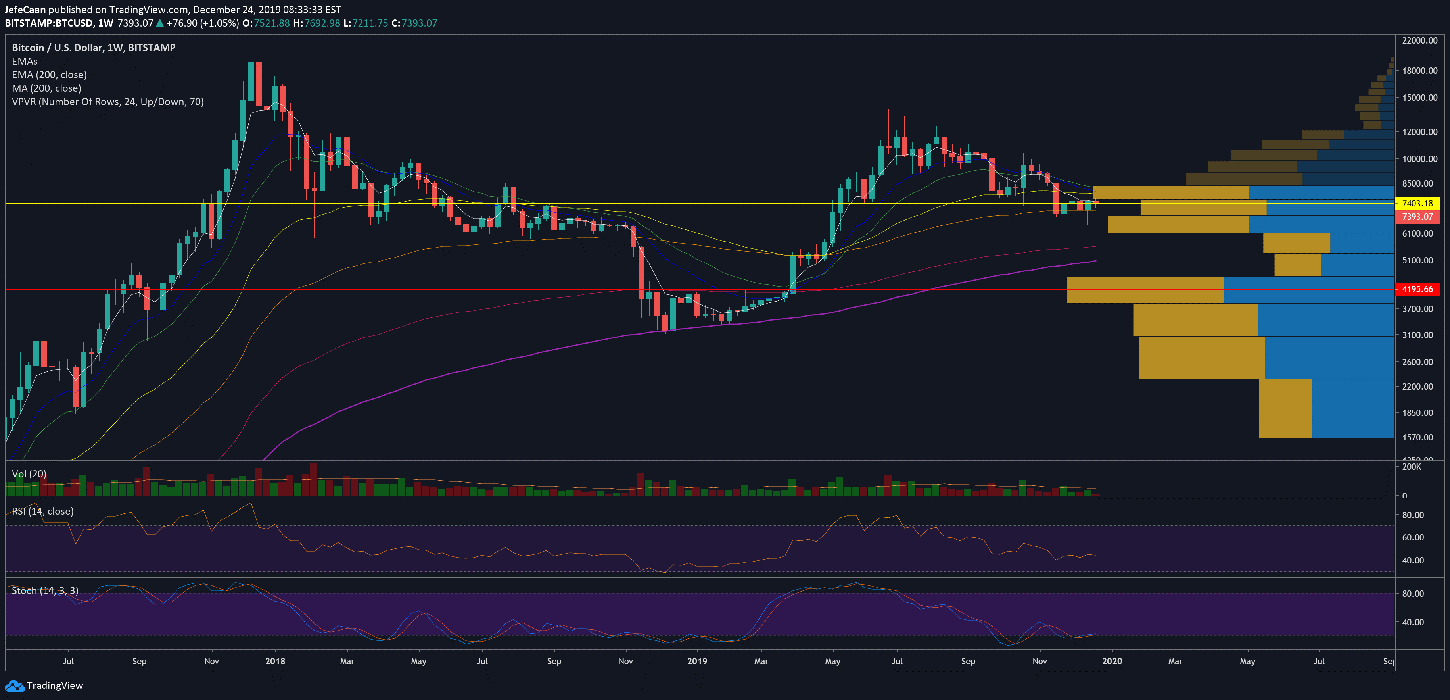 Many investors are looking at key support levels of $6,000 and $5,500. The reason they are looking at $6,000 is because it has been a strong psychological support and the reason they are looking at $5,500 is because it coincides with the 200 week moving average. A decline to either of these levels in BTC/USD would be quite predictable and nothing out of the ordinary. However, if CNY/USD crashes below its key trend line support, I would expect something extraordinary.
A growing number of retail bulls are now looking at the price declining down to the $5,500 level to find a local bottom before "beginning a new bull run". However, what happens when the price does not stop there and declines even further? That would once again introduce fear, uncertainty and doubt in the morning. We have not seen that in a long time and lest we forget that is exactly what we need to see before the beginning of a new trend. Those of us that have been around 2014-15 in this market would be able to relate that it felt like the end of Bitcoin (BTC) after the Mt. Gox hack even for the most optimistic of bulls. We have yet to see a black swan event like that which would eventually shake out the remaining weak hands and delusional bulls and then we could see the beginning of another potential uptrend which might take a lot longer than before to reach a new all-time high.