"Apple's App Store generated $25.2 billon in App Store revenues, 1.8x higher than that of Google Play's despite seeing 2.8x fewer first time downloads"
Global revenues from apps on Apple and Google's ecosystems have now reached $39.2 billion in H1 2019, up by 15.4 percent YoY from $34.4 billion spent by users in H1 2018. The data, shared by Sensor Tower, reflects the clear and steady rise of premium apps on smartphones, as users continue to spend higher amounts on apps and the share of premium smartphones gradually rise.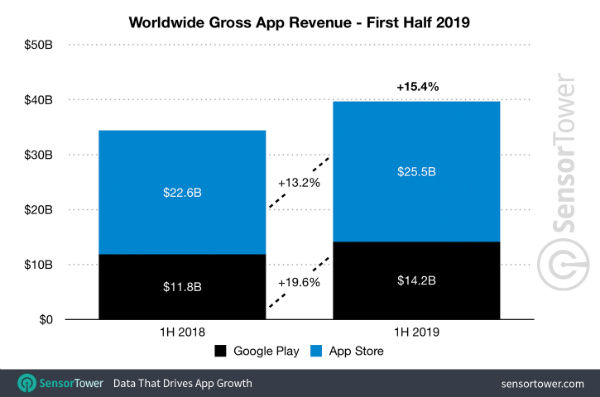 Among the app-generated revenue in the first six months of 2019, Apple's App Store accounted for $25.5 billion in revenue, up by 13.2 percent YoY from $22.6 billion in H1 2018. In contrast, Google Play's app revenue grew by 19.6 percent YoY to reach $14.2 billion during the same period, up from $11.8 billion. Interestingly, while Apple's app generated revenue stands at a significantly higher point than Google's, it is the latter that saw a much higher volume of app downloads in the first half of the year.
Google Play saw 41.9 billion unique app downloads, an increase of 16.8 percent from 36 billion downloads in H1 2018. In contrast, Apple took a hit of 1.4 percent in terms of unique app downloads in annual numbers, with 14.8 billion downloads coming from its platform. Apple's slowdown of business in China, coupled with the US-China trade war, combined to bring down Apple's app downloads based in Asia, and its fairly minimal market share in India, the continent's other massive market, did not help either.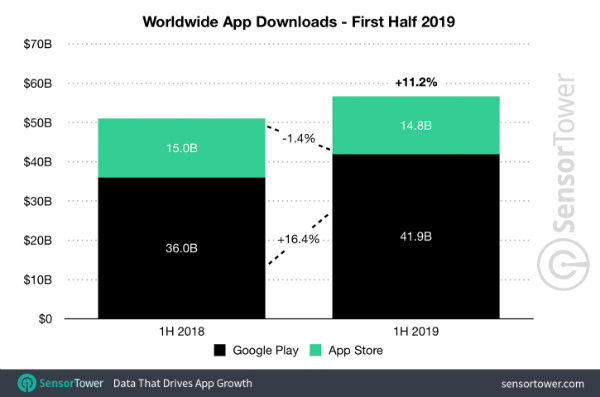 In an interesting demographic, it can be observed from the Sensor Tower data that despite having 2.8x fewer app downloads, Apple still made 1.8x the revenue than Google when it came to selling apps. The reason for this is straightforwardly attributed to the nature of Apple and Google's devices — while Apple's iPhones are premium and mostly aimed at the higher price strata of smartphone buyers, Google's Android ecosystem has multiple OEMs and devices that fall in budget price ranges. As a result, users of Apple's smartphones are likelier to spend on premium apps, than Android users.
App-specific data
In terms of specific apps, the global top five in terms of free downloads in H1 2019 are WhatsApp, Messenger, Facebook, TikTok, and Instagram, which is the same lineup as H1 2018. In terms of apps with subscriptions, Tinder led the H1 2019 charts with total revenue of $497 million, followed by Netflix at $399 million. While Netflix was the top grossing app in H1 2018, it has since removed the in-app subscription process from within iOS, and as a result, the revenue it generates from Apple's devices no longer count under the App Store umbrella.
However, game downloads remained the dominant factor among all apps on both Apple and Google's ecosystems. It now stands at $29.6 billion, up by 11.3 percent since last year. There is a higher level of parity between the two rival platforms in terms of games, with Apple accounting for $17.6 billion in game revenue and Google for $12 billion.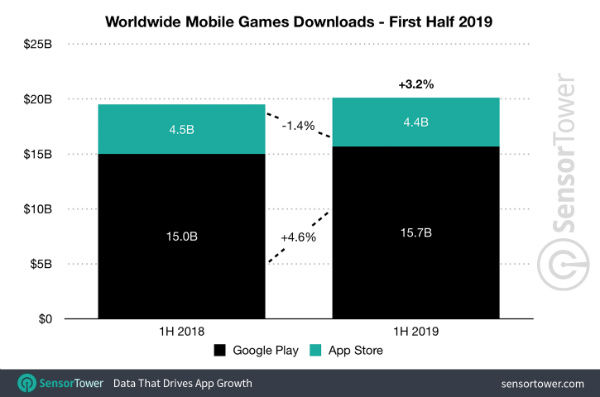 In terms of rankings, Tencent's Honor of Kings is the highest grossing mobile game and, in turn, the single highest grossing mobile app, with revenues in excess of $728 million in H1 2019. Sony Aniplex's Grand Order now stands at number two, while Mixi's Monster Strike is ranked at third. King's Candy Crush Saga is ranked at number four, while Tencent's global phenomenon PUBG Mobile, the smartphone version of Playerunknown's Battlegrounds, comes in at number five. Given its popularity, many may have assumed PUBG Mobile to rank higher, but given that the game can basically be played to a large extent for free, it can be assumed why PUBG Mobile ranks so far down in the final list of top grossing smartphone apps and games.
The Sensor Tower data has given an insight into how people buy apps, which ones are the most popular, and which platform sees the most traction. While Apple appears to have the advantage in terms of app-based services and revenue, at least over the next few months to come.