In this busy world, we often forget to take proper care of our health. There's an old saying – health is wealth, and it means a lot. Without proper health, you can't even enjoy what you already have on your hand. Deprivation from proper sleep can lead to lots of health issues and can ruin your next day.
It's of no doubt that getting regular, sound sleep is a key to feel well on every level. However, blue-light emitting devices like smartphones and computers can interfere with our sleep quality and over time it can even can insomnia.
Since smartphones nowadays are assisting us in almost every aspect of our lives, there are apps that can treat insomnia or sleep troubles. There is a wide range of Android apps available on the Google Play Store that can treat all sleep-related troubles.
15 Best Mind-Soothing Apps For Android To Beat Insomnia
So, here in this article, we are going to share some of the best Android apps which can track your sleep patterns to help you relax. Not just that, but these apps can help you to fall asleep faster. These apps implement various effective techniques to treat insomnia that simply works.
Sleepa app is one of the best apps which can improve your sleep. The great thing about Sleepa is that it uses relaxing sounds and ambiances that can provide you great relaxation leading to better sleep. Not just that, but Sleepa offers the three most popular types of white noise – White Noise, Pink Noise, and Brown Noise.
Well, according to the Google Play Store listing, Sleep Sounds can help curb insomnia with over 12 fully customizable nature sound. The sounds are of high quality and will provide you better-uninterrupted sleep. Not just that, but the app also has a timer, so the app turns off automatically.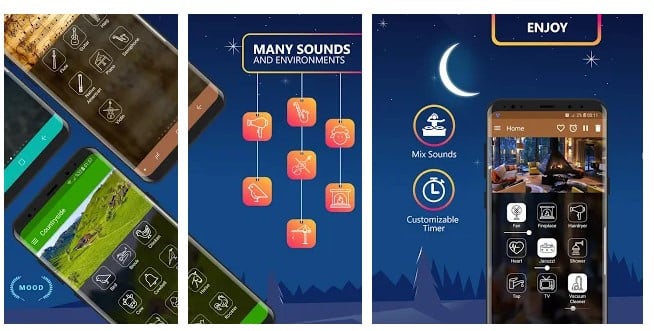 If you are having sleep problems, then Mood – Relaxing Sounds might be the perfect app for you. The great thing about Mood – Relaxing Sounds is that it can beat insomnia, tinnitus, relieve stress, beat anxiety. Just like all other sleeping apps, Mood – Relaxing Sounds also offers a variety of relaxing sounds divided into different environments. You can mix all those sounds to make a custom tune.
Unlike all other apps which only focuses on nature sound, Calm provides guided meditation, sleep stories, breathing programs, masterclasses. The guides that you will find on Calm are recommended by top psychologists, therapists, and mental health experts. There are hundreds of programs for new and advanced users, and the meditation sessions range from 3 to 25 minutes.
Headspace is a complete health package that you can have on your Android device. Guess what? Headspace can help you stay calm, focus, breather and perform at your best. For better night sleep, Headspace has lots of unique breathing guides and nature sounds that will provide you deep sleep.
The Mindfulness App is both relaxation and meditation app for your android smartphone. Just like Headspace and Calm, The Mindfulness App provides users guided meditations for everyone. These meditations will provide you great replacement leading to proper sleep.
7. Pacifica
Pacifica is another best Android app that can help you treat insomnia. Guess what? Pacifica offers lots of guided meditations and tools to address different health conditions like stress, insomnia, anxiety, etc. The guides that you will find on Pacifica are based on Cognitive Behavioral Therapy.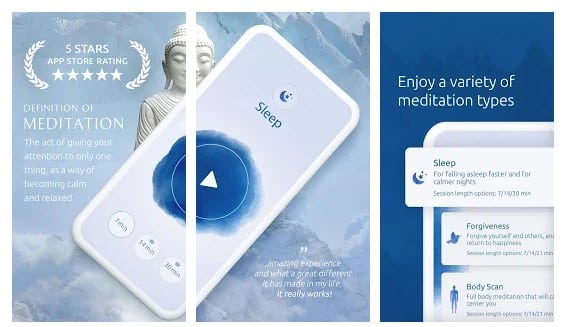 According to the Google Play Listing, Meditation & Relaxation needs just seven days to teach you the simplest and most effective meditations & mindfulness techniques. Guess what? Meditation & Relaxation has lots of guides that can help you to relieve stress & anxiety, focus, and sleep better.
Sleep as Android is one of the best Android apps which can be used to cure insomnia. Basically, it's a sleep tracking app, but it offers users a few features like sleep sounds, nature sounds, etc to beat insomnia. It tracks and shows your sleep quality per duration, deficit, deep sleep %, snoring, efficiency, and irregularity. So, all these things will motivate you to implement healthy habits to beat insomnia.
Runtastic Sleep Better is another best Android app on the list which is pretty much similar to Sleep As Android which has been listed above. The great thing about Runtastic Sleep Better is that it can track your sleep cycle, monitor dreams, improve bedtime habits and sleep patterns. Not just that, but Runtastic Sleep Better also has a smart alarm clock to wake you up at the ideal time.
Well, Relax Melodies is one of the best and most efficient sleep-aid app available on the Google Play Store. Guess what? the app can help you fall asleep quickly and wake up refreshed. To prevent insomnia, the app provides users with nature sounds, white noise, guided meditations, brainwaves, breathing techniques, etc.
If you are searching for an Android app for sleeping, meditation, concentration or reading, then you need to give Ambience a try. Guess what? Ambience provides users over 100 high quality relaxing sounds for any mood. Ambience also offers users White Noise, Pink Noise and Brown noise sounds as well. So, Ambience is another best Android app to beat insomnia.
To beath insomnia, Pzizz – Sleep, Nap, Focus has its own 'sleep modules' which it calls 'Dreamscapes'. Dreamscapes bring lots of sleep-optimized mix of music, voiceover and sound effects that changes every night. The sleep optimized music are clinically proven to quite your mind and beat insomnia.
Well, if you are searching for a perfect Android app to relax, then Atmosphere might be the best pick for you. With Atmosphere, you can enjoy a variety of relaxing and soothing sounds. It has sounds of different environments that could help you fall asleep fast. Apart from that, the Atmosphere also has few binaural beats and isochronic tones to free your mind and soul.
Shhh…Sleep in Seconds is another best app on the list that claims to help you get to sleep faster. The app basically uses soothing sounds to promote sleep. However, the Google Play Store listing doesn't say much about the app like what it does, what are its features, etc. Still, it's used by thousands of users to fall asleep quickly.
So, these are the 15 best Android apps that you can use to treat insomnia or sleep problems. If you know any other apps like these, then let us know in the comment box below.