Live content is in full effect.
Brands are finally recognizing how powerful live videos are when it comes to increasing audience engagement. But many still fail to acknowledge that live videos are more than just a communication tool. You must repurpose live streams to exploit their full potential.
In this guide, we'll tell you how you can utilize your live content to double down your brand's overall content. But before we begin, let's understand why do you need to repurpose your live streams.
Why Repurpose Live Streams?
First and foremost, repurposing live streams helps you grow your audience. By taking your live content to other channels, you expand your audience reach.
By taking your live content to other channels, you expand your audience reach.
Repurposing your live videos will also people get the learning points even if they missed the live streams.
And, it's a huge time saver. The amount of time you'd invest in planning and creating new work can be drastically reduced by repurposing already existing live streams.
12 Ways to Repurpose Live Streams
The world of live videos moves fast. Rather than letting your live streams die once they're over, repurpose them in the following ways and obtain the most value from your live content.
1. Tap into all the popular social channels
Have you ever scrambled to publish engaging content to your brand's social pages?
Well, you can check that problem off by uploading your live videos to different social media channels, in case you haven't simulcasted.
For example, if you went live on YouTube alone, you can download that live stream and upload it on your Instagram or Facebook page.
You can also cross-promote your live video without uploading it again on another channel. Doing this will take your hard work to other places where your audience could be – without any rework. Smart, right? Similar to what Microsoft does here.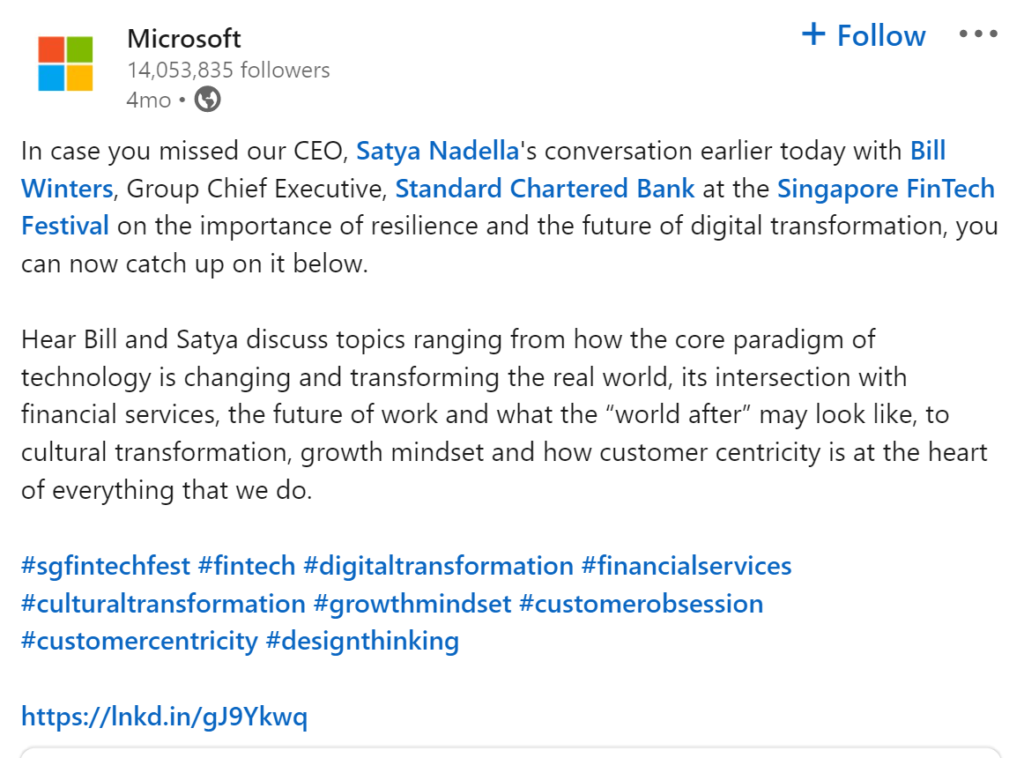 Pro Tip: Include a compelling title, description, and the right tags to your video upload, keeping the platform in mind. Even better, add your video's transcription to make it more winsome.
2. Make podcast episodes
If you're like most of the podcast-loving millennials, the thought of launching your podcast must have crossed your mind at least once. Whether you blame it on how time-strapped you're or the lack of the right content, your live streams give you the power to go beyond the excuses.
Convert them into high-quality audios and launch that awesome podcast you always wanted. And if you already have a podcast, you can add more awesome content by repurposing your live videos.
Upload your live video on Wave.video and extract its audio. Then, if needed, polish it with an audio editing tool like Adobe Audition, Audacity, etc. You can also go for a post-production service like Auphonic for a more finished sound.
Once your audio is ready, upload it to a podcast host and then submit it to podcast directories like Apple Podcasts (iTunes), Google Podcasts, and Spotify.
3. Create audiograms
Ever since multi-tasking became a ritual for many, consuming audio content has been democratized. You can easily take your live videos to the "listeners" in your audience by creating engaging audiograms through them.
Extract your live video's audio to create audiograms and promote your podcasts (yes, the ones you created using your live streams).
And, hey, as you add a link to the podcast, don't miss out on the live stream. You never know what your audience would prefer.
Add Audiograms & Waveforms to Your Videos
with Wave.video
Try now
4. Embed your live video into a blog post
As you may have guessed, embedding your live video into a blog post is an excellent way to repurpose your live stream. Use Wave.video's automatic video subtitling and captioning feature to transcribe your live video and create an engaging blog post around it.
Once your blog post is ready, embed the video into the post to increase its reach and impact.
This blog post from StreamYard is a perfect example.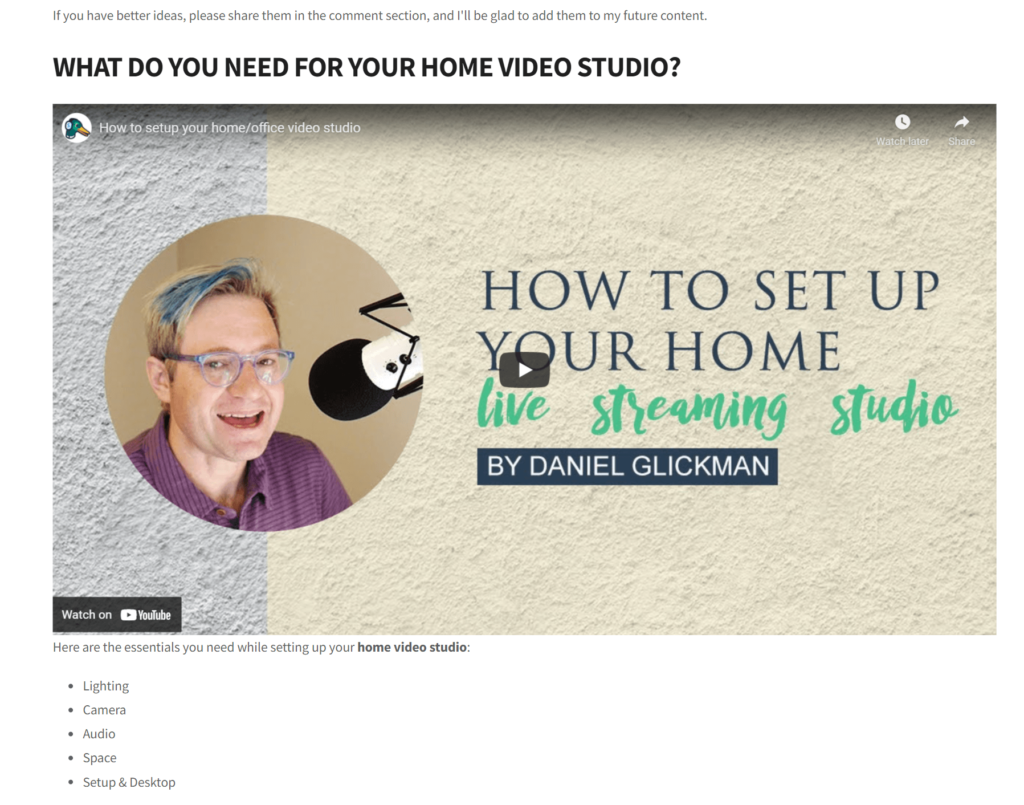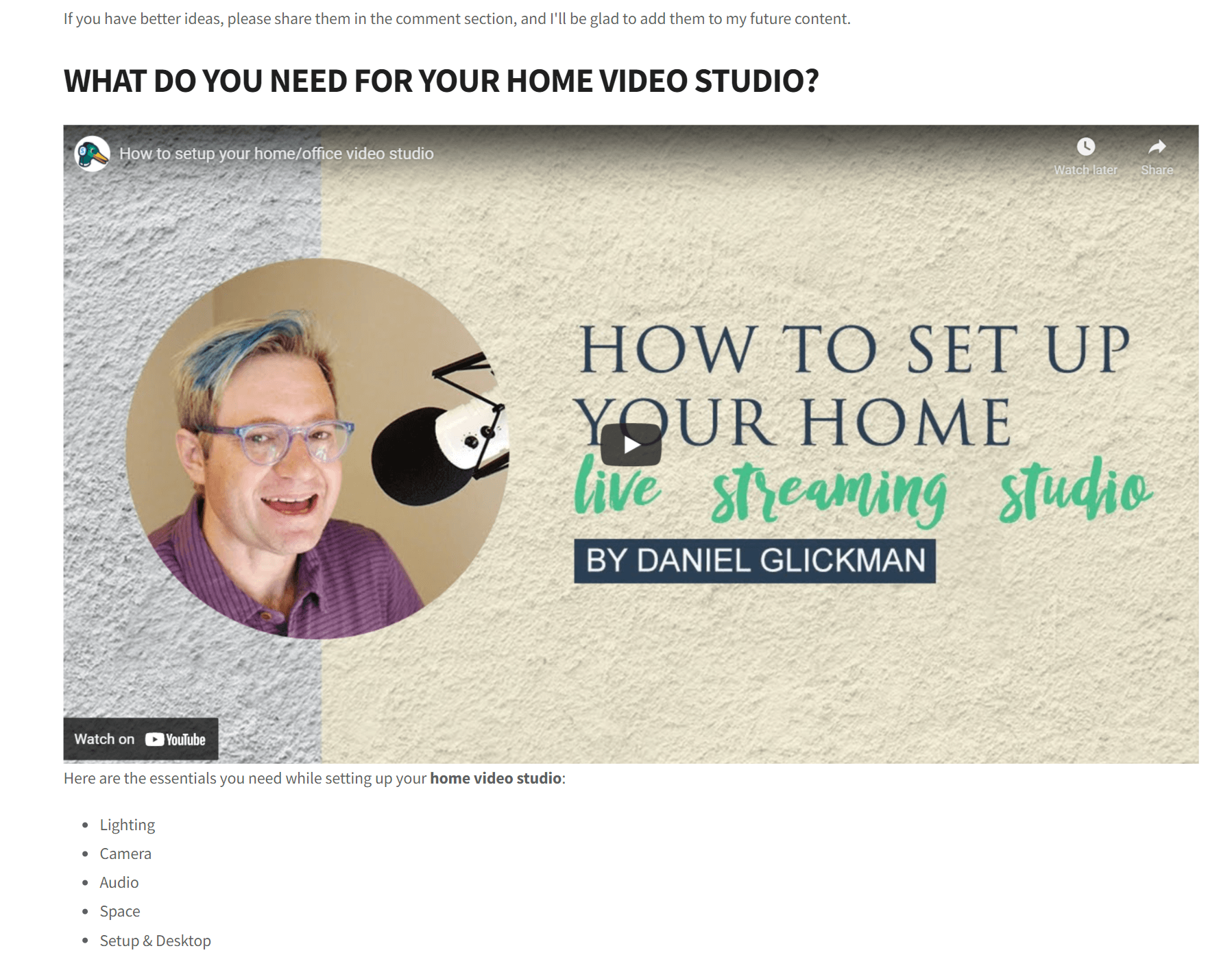 5. Create several mini videos
Okay, you may have tapped into the power of other social channels by uploading your live broadcasts onto them. But what if you don't want to include the entire video? You can create mini videos from it and make some excellent viral-worthy content. Think of how you can promote it over apps like WhatsApp, Tik Tok, or Instagram and Facebook Stories.
You can use Wave.video Editor to edit your live videos and trim them to create several quick and exciting videos. These digestible videos are powerful enough to promote your brand with stuff that matters – cutting the fluff.
6. Repurpose your live stream by sharing it in email
You need a bucket of ideas to rock your email marketing campaigns. So, why not utilize your live videos by including them in emails? By embedding your live stream into your next email blast, you can deliver an integrated experience to your email subscribers.
If embedding doesn't seem to work, you can always include a screenshot of your live video or create a promotion graphic around it (hello, Wave.video!). Then, share the link to your video.
Irrespective of your way to include the video, make sure that your email stands out with an impressive title and an equally impressive copy.
7. Make stunning graphics
Your live videos should advocate your brand on traditional social media. Because let's face it: you can't ignore what's being said on social. So, rather than skipping on the real value that your live content adds to your audience, promote that.
Create some cool quote graphics highlighting your brand colors and logo and share them on the hottest social media channels – Instagram, Twitter, LinkedIn, Facebook, etc.
Considering that a good live stream lasts for at least 15 minutes, you can create a month-long stack of visual content to share on your social media pages.
Pro Tip: Once the graphics are ready, schedule them on all your social pages to create seamless and ongoing interactions.
8. Build anticipation through teasers
Live content is exciting. Unfortunately, the excitement surrounding it can die pretty fast. But you can prevent that by building anticipation through teasers on channels where you didn't stream live.
Grab screenshots of some of the most interesting segments of your broadcasts and drop them as teasers. Include the link to the video, and you're sure to garner some clicks along the way.
9. Transform your live video clips into GIFs
Oh, we love GIFs. They are so much fun. Not to miss that they can level up your blog posts instantly. If your live videos have some GIF-worthy moments, capture them and promote them across social.
You can use different tools to create GIFs. Once ready, you can then share them as and when they seem relevant. But don't forget to add text or captions to your GIFs to help the viewers understand what's happening.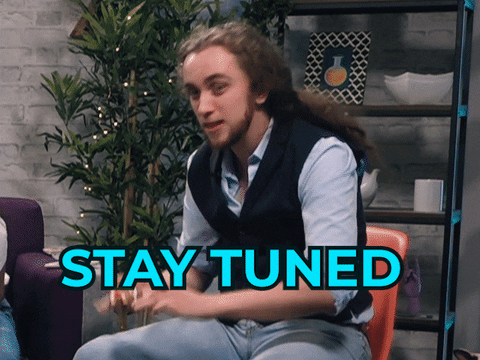 10. Create video lead magnets
Hear us out: live videos work great at driving more traffic to your website. All you need to do is to repurpose live streams into video lead magnets.
Either embed your broadcasts into landing pages or include them into downloadable eBooks or even checklists. Just ensure that they are targeted to bring you more leads and, ultimately, a higher conversion rate.
11. Turn your live content into slides
Ask any business professional what's their top five sources of information and, there'll be a mention of "slides" for sure. So, why not bring more viewers to your live videos by sharing them into slides and delivering added value to your audience.
You can then post them on SlideShare, Pinterest, or even embed them into your blog posts, website, etc. Now, that's indeed one of the simplest ways to connect more people to your live content.
 12. Share Tweetables from your live streams
If most of your target audience is inherently a community of Twitterati, post quotes from your live streams on Twitter. That's a fantastic way to reach more followers and further your audience engagement.
Remember to include a link to your live video to direct traffic, just like Nottingham Forest Live does in their tweet here:
#NFFC legend Garry Birtles wants to see more from Anthony Knockaert.

"You go beyond the tricks and stepovers and there hasn't been a great deal there so far."

Watch the full Garibaldi Red podcast on YouTube now https://t.co/r6ujpRzhL4 pic.twitter.com/AIJXhU9gK7

— NottinghamForestLive (@NFFC_live) April 14, 2021
Repurposing your live videos – Best Practices
Although there are different ways to repurpose live streams, listed below are some tips to help you do the task right.
Make live content repurposing a part of your strategy
While planning your live content, ensure that repurposing is a part of the process. This will help you avoid putting in more effort later on.
Repurpose according to the platform
Every social media platform is different than the other. And not everything will work on each platform. So, when you repurpose live streams, consider the channel you're going to publish the repurposed content on. For instance, quote graphics will work great on Instagram, and micro-videos will be suitable for Facebook Stories or YouTube Shorts.
We know that each of the repurposing ideas listed above will work wonders when it comes to putting your live videos to use. However, don't overindulge in the benefits of repurposed content and inundate your audience with it on every social media channel. While keeping a good content mix is recommended, bring regular variations and see what works the most for your audience.
Don't just repurpose a particular live stream and then forget about the rest. Stay consistent in your efforts and create a content super engine using all your future live streams.
Care for audience engagement
The purpose of content repurposing is not just recycling your old content. You have to treat it like fresh content and engage your audience the same way. Respond to comments, ask for shares, and, of course, more clicks to your live videos. It's a sure-fire way to maximize your existing content.
Over to you 
With more and more people turning to social media, now is a great time to connect with your audience. But coming up with fresh content ideas could be challenging.
With the 12 ways to repurpose live streams we mentioned above, we hope you find enough inspiration to get so many other pieces of content from your live videos.
Which one is your favorite method to repurpose live content? Drop your answers in the comment section below.