Hello gentle readers, and welcome to the SwitchArcade Round-Up for October 2nd, 2019. In today's jam-packed article, we've got a full review of the Switch port of Darksiders 2, Mini-Views of 80 Days, Sayonara Wild Hearts, and Northgard, one new release to check out, and a bevy of sales. Phew, that's a lot. Oh, and lest I forget, we've also got some news to look at. What a magical day. Let's roll on into it!
News
'Super Mario Maker 2' Update Allows Online Play with Friends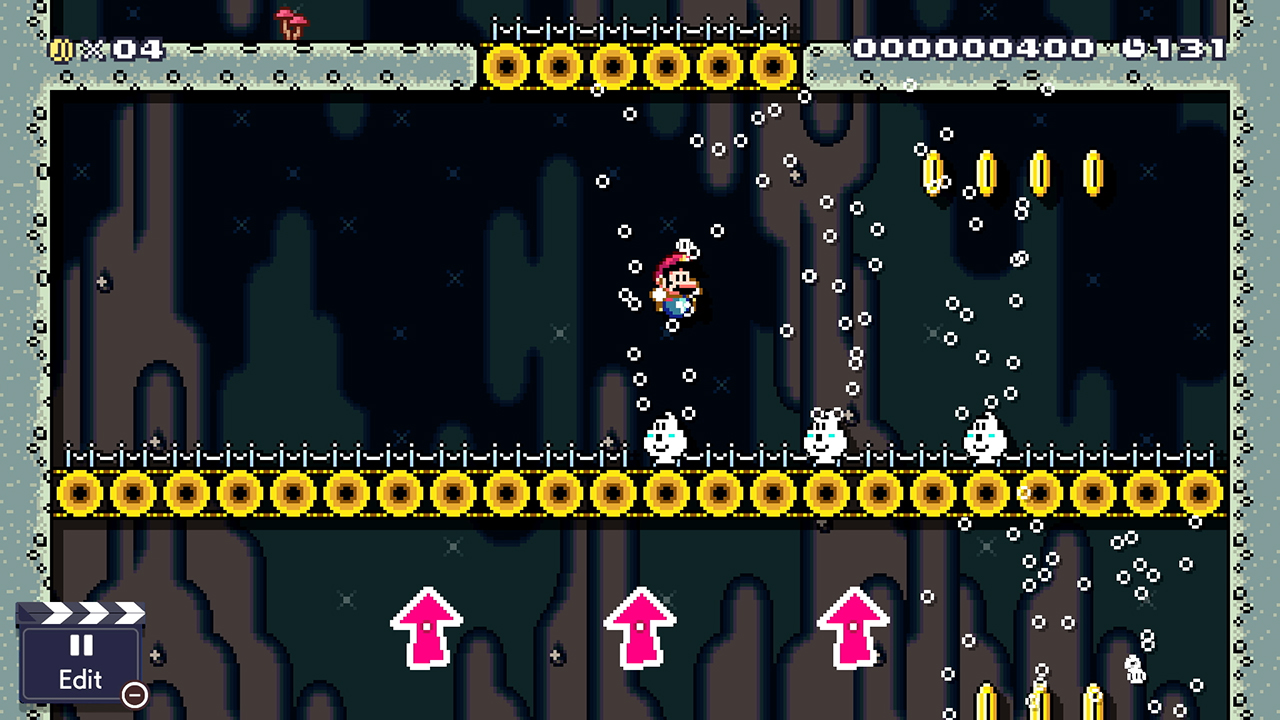 Sometimes Nintendo makes some really baffling decisions that don't seem to have much rhyme or reason to them. Restricting Super Mario Maker 2's online multiplayer to strangers and not allowing players to play with their friends was one such move. Well, a new update for the game has just come down the pipe, and as of version 1.1.0, you can now live the dream of using your friends list for something other than seeing what everyone else is playing. Play co-op or versus against your friends, select courses uploaded to Course World as well as those saved to Coursebot, and use that fabulous Nintendo Switch Online mobile app to facilitate it. But wait, there's more. You can now use touch and button controls when editing courses in handheld mode! Wow. Lots of other little things in here, and Nintendo says more course parts will be coming later, so it's all good for Mario Maker fans today.
'ToeJam & Earl: Back in the Groove!' Drops Price, Updates With New Modes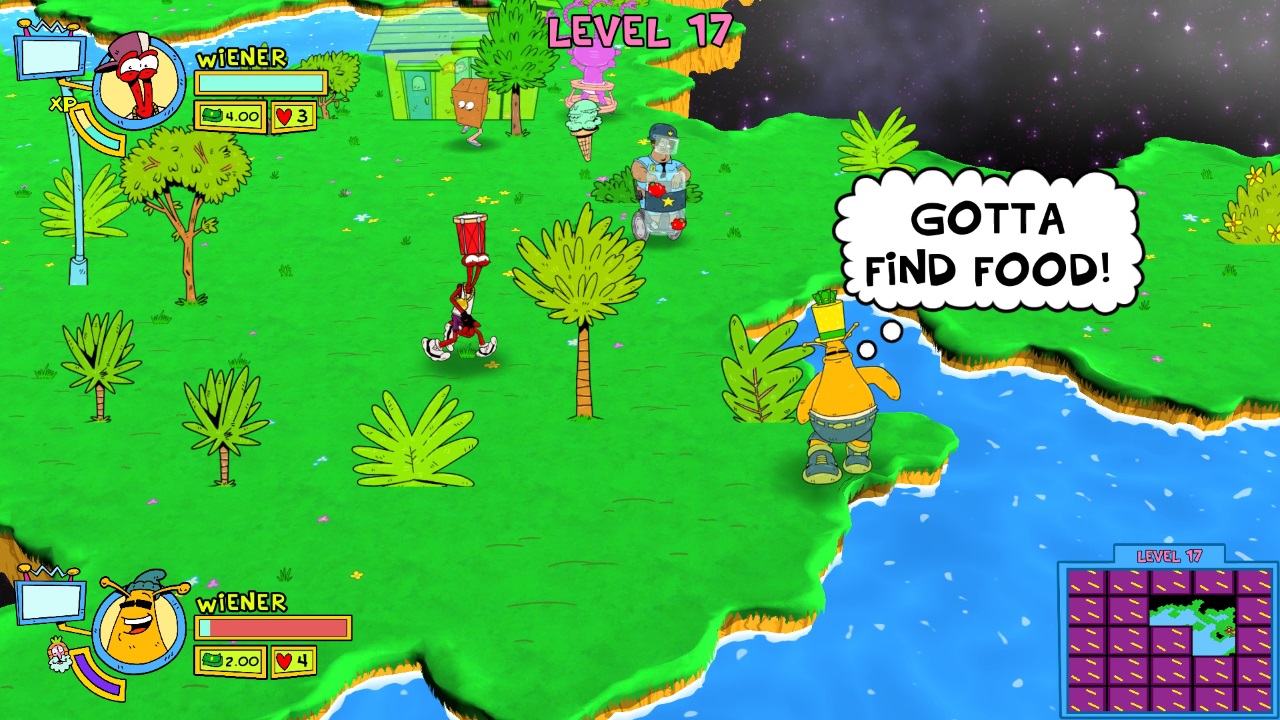 ToeJam & Earl: Back in the Groove! is pretty much the straightforward sequel to the first game that fans have been after ever since Panic on Funkotron took things in a different (but still good!) direction. There's just one problem: it's way easier than the original! What's up with that? Well, my masochistic friends, the people behind TJ&E have heard your cries and have delivered a hot new update with two new modes. Finish Hard World and you'll unlock Extreme World, which gives you 25 levels with faster and tougher Earthlings, more broken presents, and so on. Beat 10 levels of that new mode and you'll unlock Endless World, which has over 1,000 levels. Yeah, not technically endless, but I suspect it will effectively be just that for most. To go with this update, the price on the game has been permanently dropped to $14.99. The update isn't available yet on Switch but it will apparently be along soon. Jammin'.
It's All About the Spirits in the Latest 'Smash Bros.' Event
It's Wednesday, and that means it's time for the announcement of the next Super Smash Bros. Ultimate event. This time around, it's another tournament. The theme in this one is… well, it's just spirits in general. You're allowed to equip any spirits you like, and like the previous tournament events, the better you do, the more high quality the spirits you earn will be. The event kicks off on Friday and runs through the weekend.
Reviews
Darksiders 2: Deathinitive Edition ($29.99)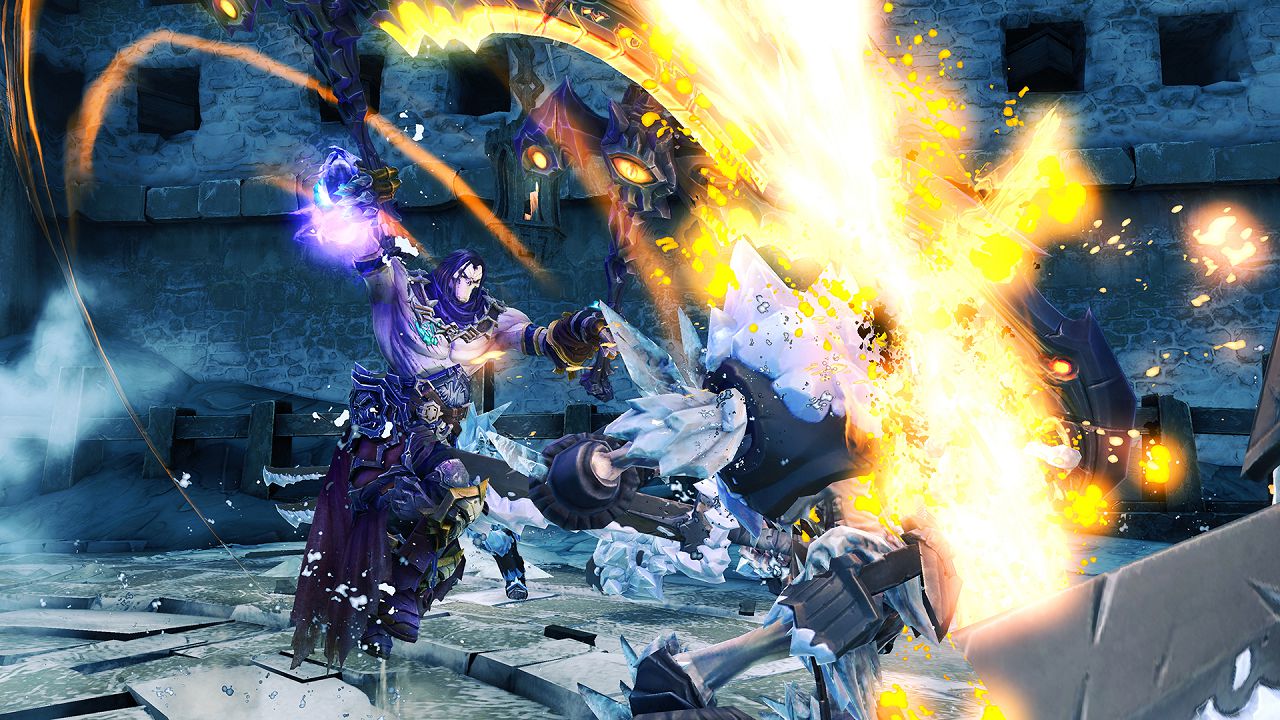 For whatever reason, I always have Darksiders and Dead Space inexorably tied to each other in my mind. I think the first games released around the same time, and I remember both of them were fan favorites that under-performed expectations, which left sequels in serious doubt. Some time passed, and both of them not only got one sequel but two, with the third installment for each changing things a little too much and perhaps losing what made the titles so special to begin with. Weird, weird. But this isn't a review of Dead Space 2 or Dead Space 3 or even Darksiders 3, is it? This is a review of Darksiders 2: Deathinitive Edition for the Switch, which is a very easy game to recommend.
This one follows the story of War's brother, Death, on his quest to first find his brother and then clear his name. It takes the solid Zelda-meets-God of War gameplay of the original title and bolts some RPG mechanics and a dash of Prince of Persia: Sands of Time onto it. It's a real mish-mash recipe, to be sure, but it works. Indeed, with all the questing and looting, the game has some decent action-RPG credentials. This Switch version also includes all of the DLC released for the original version, but obviously sacrifices a little in the visual department when compared to the similarly-titled PS4/XBO release. It still looks quite good for a Switch game, though, and you get the same performance options that the Switch port of the first game did.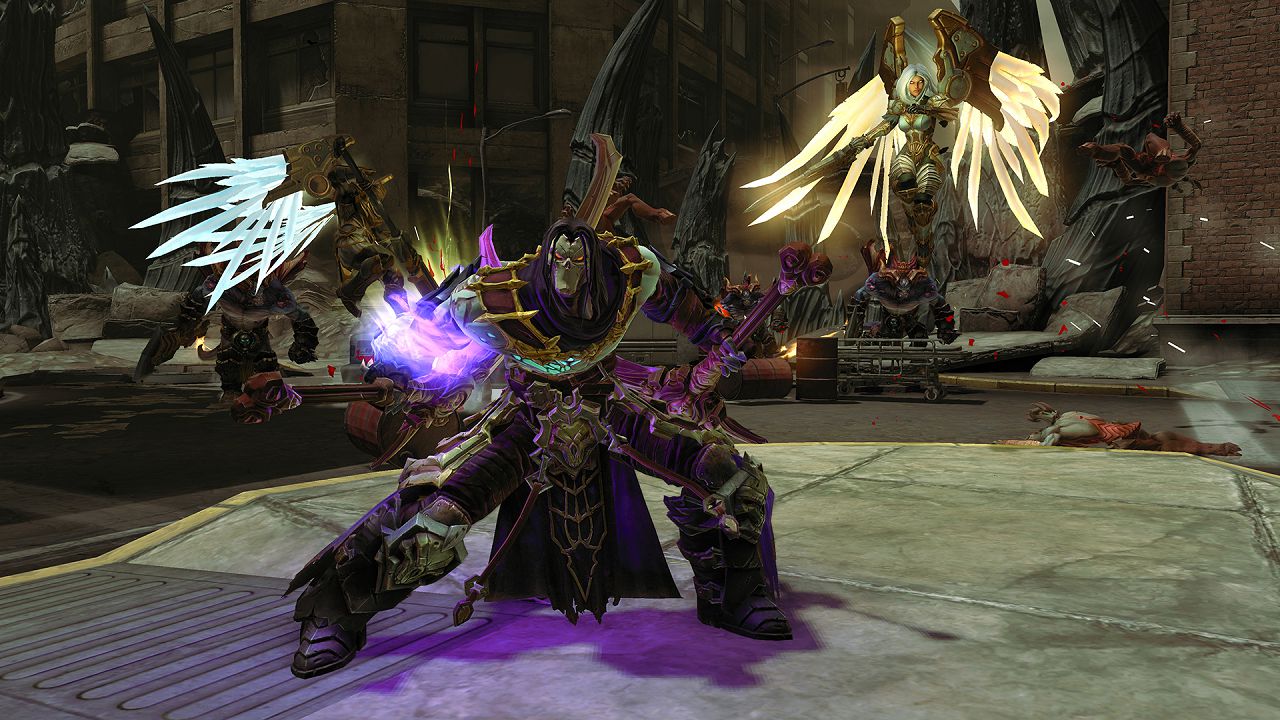 Combat leans in hard on the God of War style light/heavy attack mechanics that were all the rage a decade ago. Being Death, your primary weapon is a scythe, but you get a variety of secondary weapons to mix things up. There are tons of armor pieces, potions, items, and such, and equipment actually shows on your character, which is nice. The puzzles and dungeons are similar in design to those in the first game. That means they're decent, but sometimes a little uninspired. There are definitely parts of Darksiders 2's 25-30 hour run that drag, but the fun bits easily outweigh them.
Really, the worst part of the game is its story, which is just kind of embarrassing when it indulges itself in smouldering with generic rage and falls flat when it doesn't. It doesn't drag the game down too much, but don't expect even the cheesy fun of the first game's story here. I also ran into semi-frequent issues with the game's camera being a pig, but that problem is hardly unique to any single game from several years ago. Other than that, I think it's a really fun game that makes some welcome additions to the first game's formula and is even more compelling in many ways.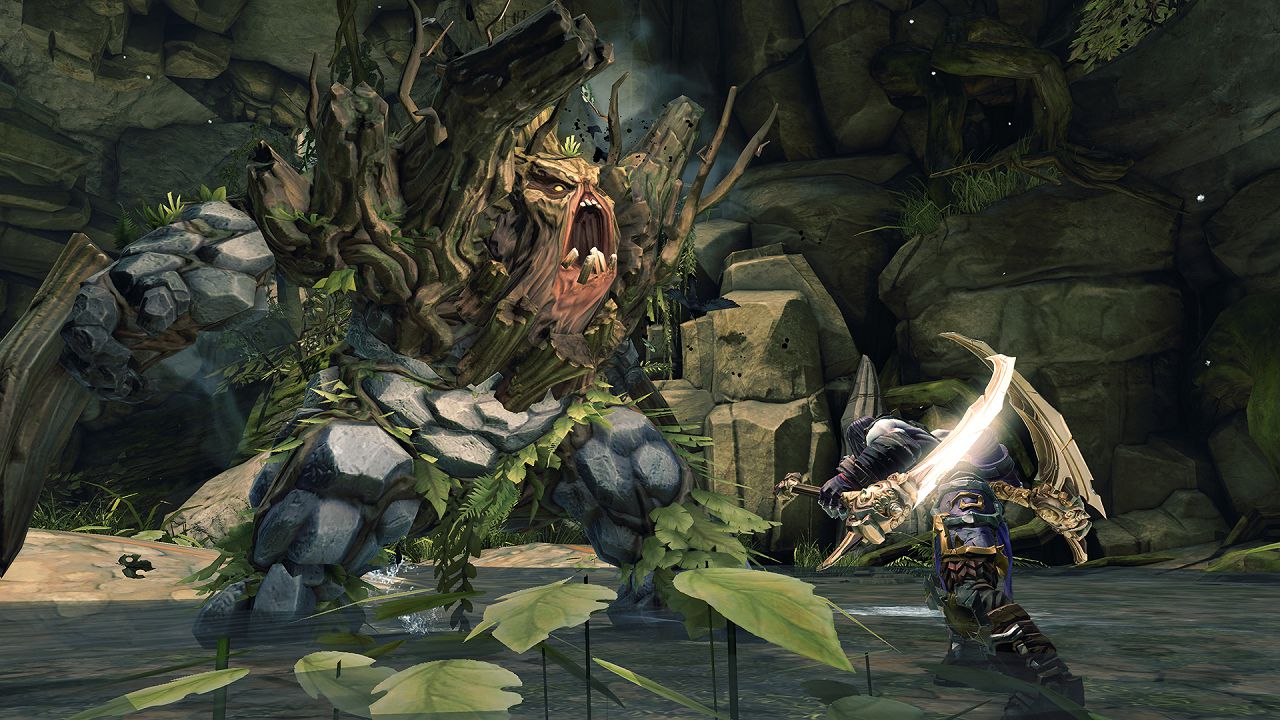 If you enjoyed Darksiders: Warmastered Edition's Switch version earlier this year, Darksiders 2: Deathinitive Edition is a no-brainer. It's a longer game, and it does have slightly worse pacing than the first, but the RPG elements, larger world, and more refined mechanics make it a great choice for anyone looking for another beefy action-RPG. I'd like to say that we can probably look forward to Darksiders 3 next, but it's going to take a lot more work and a miracle or two to get that going on Switch, so we may be skipping right along to the upcoming Darksiders Genesis instead. Anyway, Darksiders 2 is a strong sequel, the Deathinitive Edition is assuredly the way to play it, and this Switch port of it is good. If you like action-RPGs and haven't already played it elsewhere, go for it.
SwitchArcade Score: 4/5
Mini-Views
Northgard ($34.99)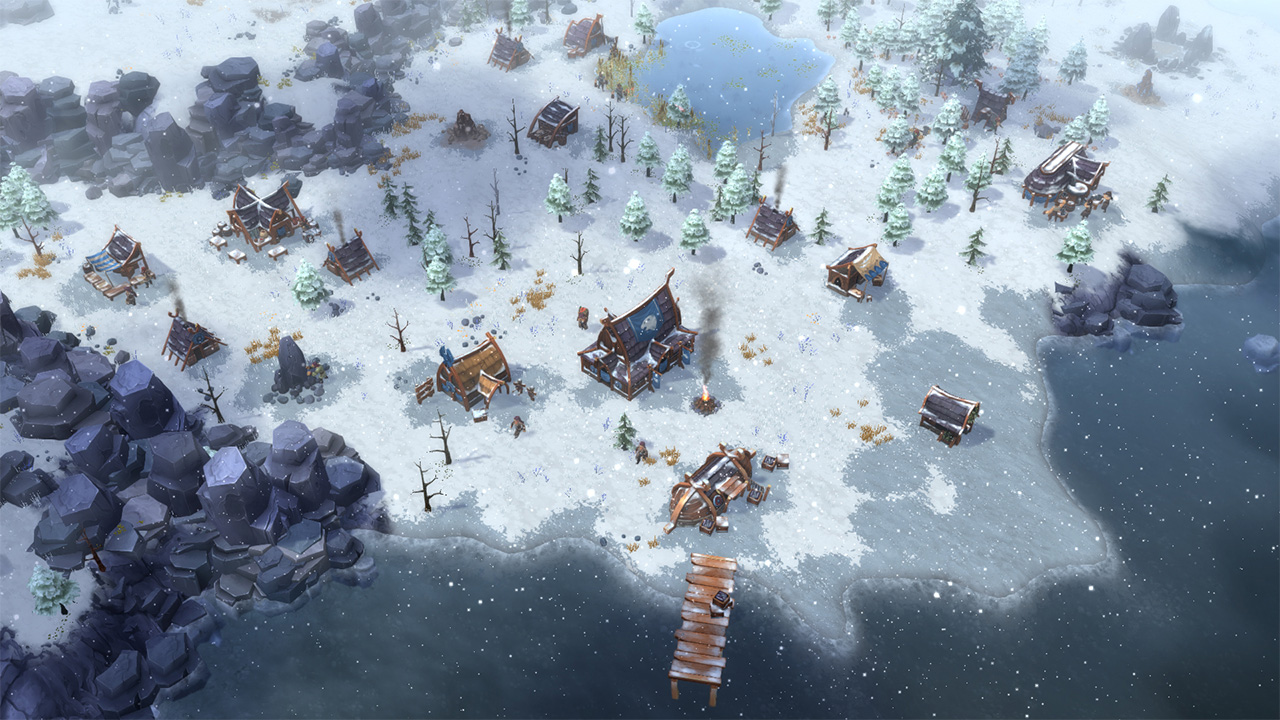 It took me a little while to warm up to this one, but once I did, I really enjoyed it. This is kind of a smaller-scale take on 4X games like Civilization where you guide a group of vikings and try to keep them alive. You'll have to scout nearby terrain, colonize it, battle hostile creatures and people, and try to ensure you have enough resources to keep everyone alive through the harsh winters. Random events throw wrenches into the works but are always telegraphed enough that you can try to mitigate them. The interface works surprisingly well with sticks and buttons once you get used to it, but I still would have liked optional touch support. The only real bummer here is the text size, which is absolutely tiny. Apparently a patch will be issued to deal with that, but here and now it's a problem for handheld players. Cool game otherwise.
SwitchArcade Score: 4/5
80 Days ($12.99)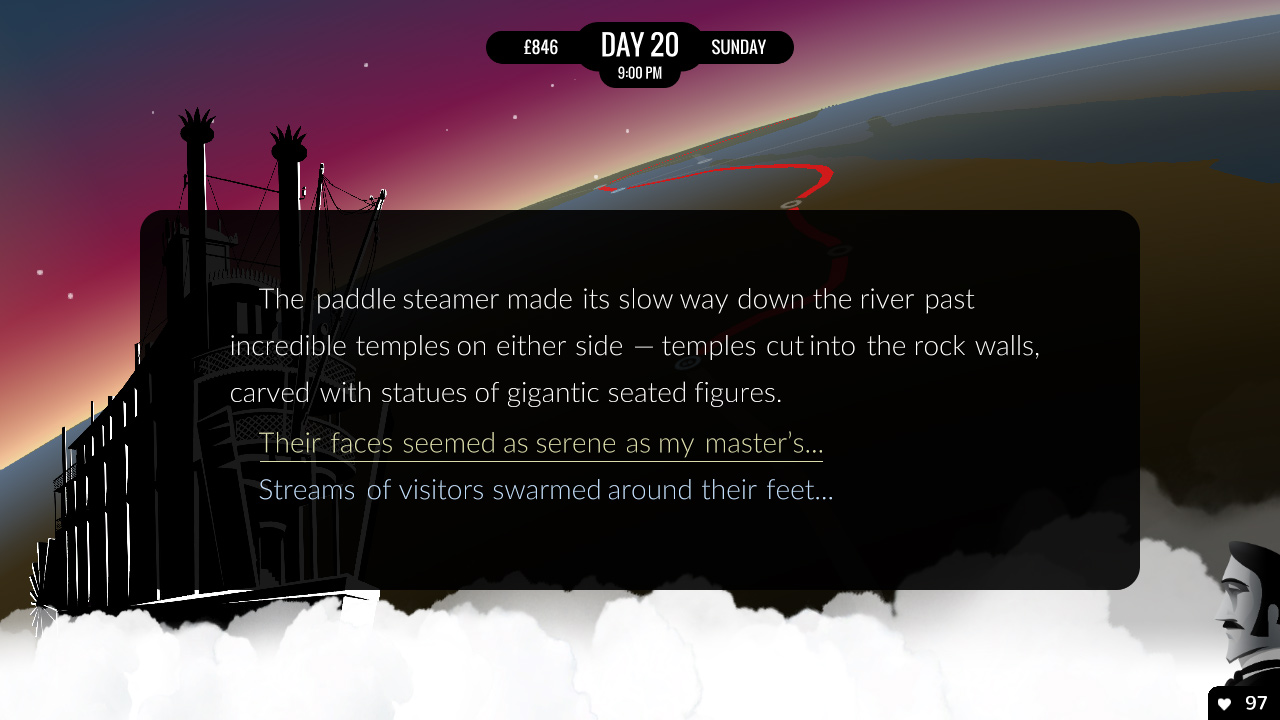 Was it really over five years ago that I reviewed the iOS version of 80 Days? Apparently. Well, this game is now on the Switch, and it's marvelous. Unlike a lot of games that make the trip over from mobile, particularly the ones that were played in portrait mode, 80 Days is adapted so well you would never realize it wasn't a Switch game to begin with. Play with buttons or touch controls and enjoy all of the added content that came to the mobile version post-release. If you're not familiar with 80 Days, this is a narrative adventure game where you have to help Phineas Fogg win his bet to get around the world in 80 Days. You play as his valet Passepartout and need to make arrangements for every step of the trip. Things tend to go awry, often as a result of Fogg's pride and absent-mindedness, and you need to deal with all of it and pull things back on course. Just a great game that is incredibly replayable, and it's perfectly at home on Switch.
SwitchArcade Score: 5/5
Sayonara Wild Hearts ($12.99)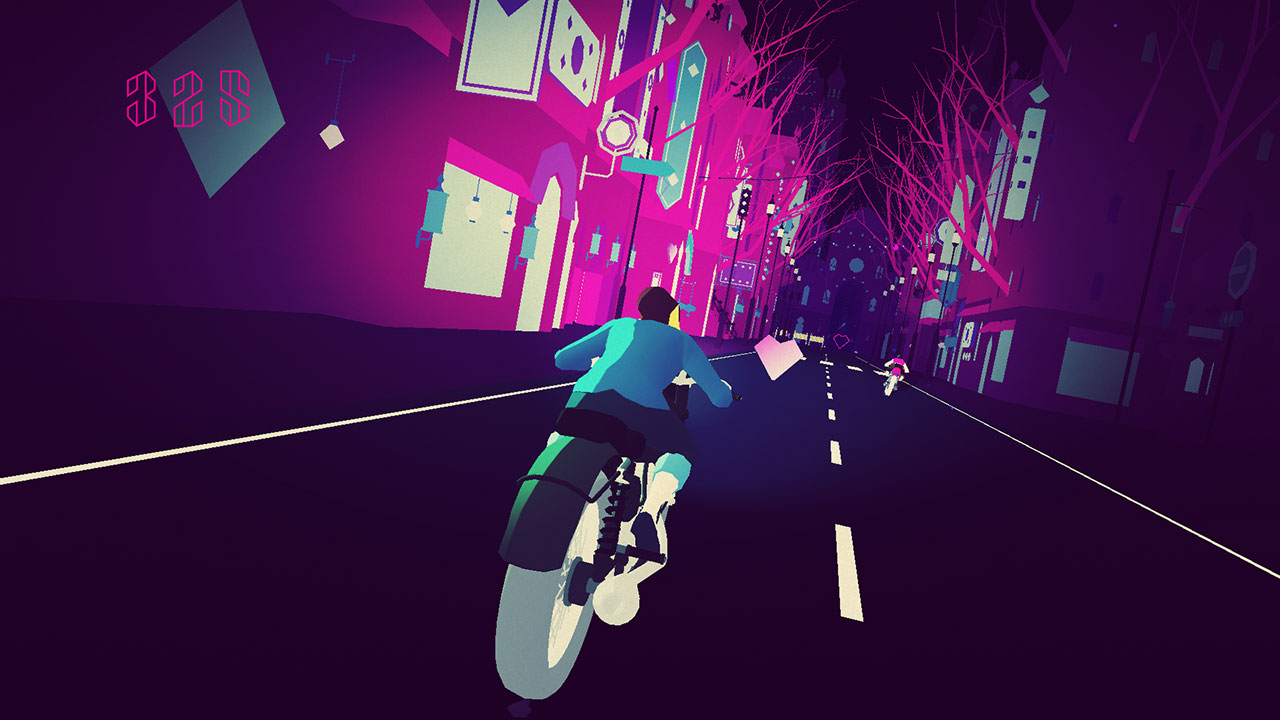 Simogo really are an incredibly talented bunch. You never quite know what to expect from their games, except that it's going to be something memorable. And Sayonara Wild Hearts is certainly that. It's a musical game that is a little bit rhythm-based tapping and a little bit of driving. Travel through gorgeous, stylish stages with great tunes playing, swinging back and forth to pick up hearts and other goodies, do some timed presses for special actions, and try to get the highest scores you can. It's a fantastic game that goes down a little too quickly if you're just aiming to get through it. That said, you can play this on Apple Arcade and it's perfectly fine there, so unless you want a version to keep I'd recommend that route if you have a mobile device that can run it.
SwitchArcade Score: 4/5
New Releases
Spooky Ghosts Dot Com ($4.99)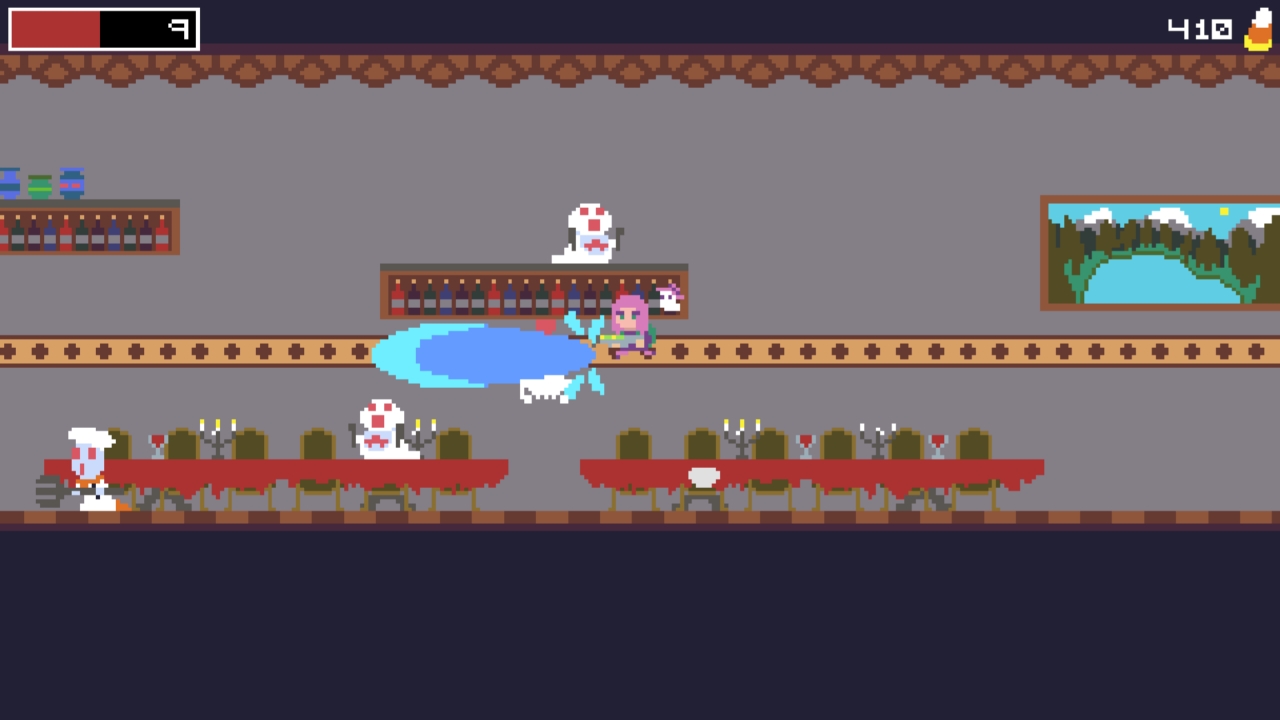 It is October and there is time for – what? I already did the Klax joke a couple days ago? Ugh, fine. I admit that I found the title of this game quite intriguing. Would it be the story of a dot-com about spooky ghosts? Do the spooky ghosts work there? Are they just investors? Sadly, the dot-com part doesn't seem to mean much. It's just an exploratory platformer about a girl going through a haunted mansion of sorts. Five different areas, more than fifty different rooms, and six bosses means this isn't the biggest Metroidvania around, but for a fiver I'm not sure what people should expect. Seems cute, if nothing else.
Sales
Another big list today, and it's another odd one. Not so many super high-quality titles as yesterday, but there are some goodies in there if you're looking for them. 99Vidas is a decent brawler for a fiver, Penguin Wars is good fun, and Psyvariar Delta is a nifty shoot-em-up if you happen to be running low on those. Not too much to fret about in the outbox. Most of it will be back around before too long, and little in there is especially exciting.
New Games on Sale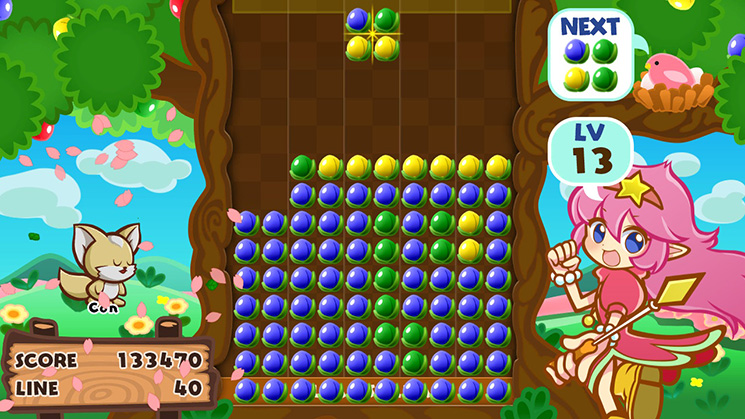 Soldam: Drop, Connect, Erase ($1.99 from $7.99 until 10/20)
It's Spring Again ($0.99 from $1.99 until 10/21)
Grab the Bottle ($1.74 from $4.99 until 10/21)
The Mooseman ($4.19 from $6.99 until 10/21)
State of Anarchy ($2.39 from $7.99 until 10/21)
SkyTime ($1.49 from $2.99 until 10/21)
99Vidas – Definitive ($4.99 from $9.99 until 10/15)
Energy Cycle Edge ($2.49 from $4.99 until 10/21)
Ethan: Meteor Hunter ($2.99 from $9.99 until 10/13)
Inside My Radio ($2.99 from $9.99 until 10/13)
A Ch'ti Bundle ($4.99 from $15.99 until 10/13)
Awesome Pea ($3.89 from $5.99 until 10/21)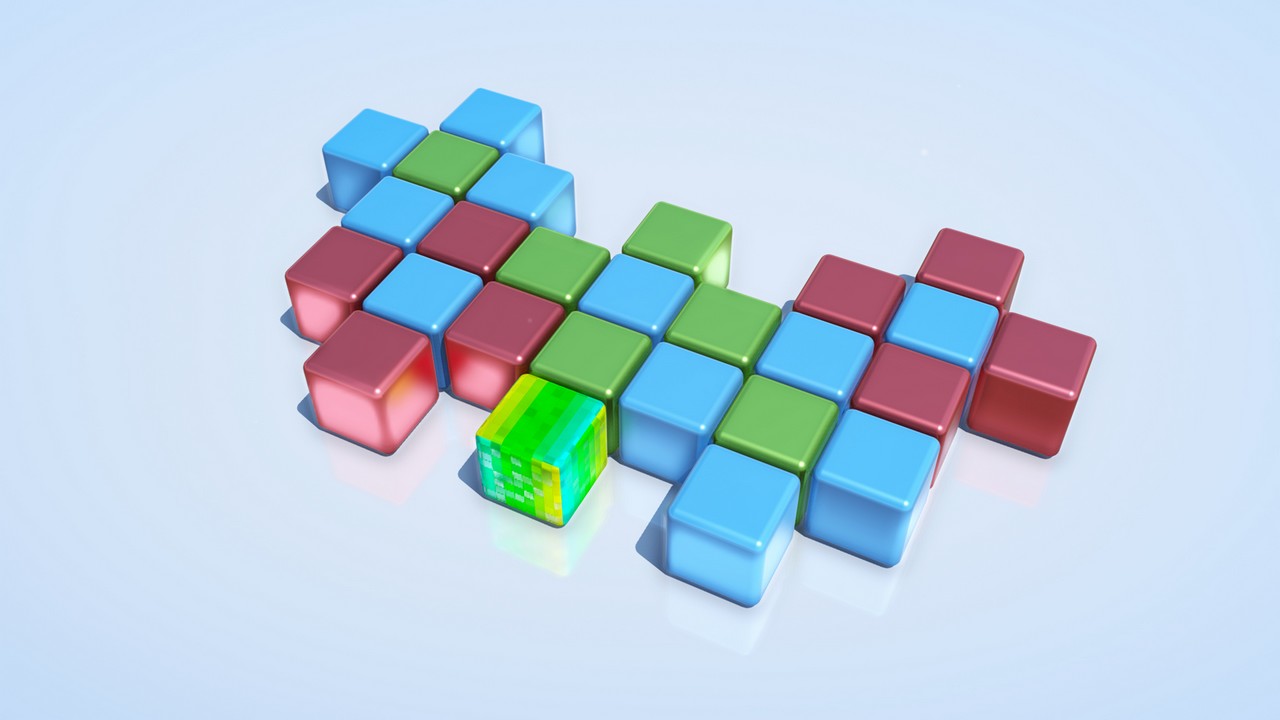 Box Align ($0.99 from $1.99 until 10/15)
Shalnor Legends ($7.49 from $9.99 until 10/8)
Super Skelemania ($3.49 from $4.99 until 10/17)
Vosaria: Lair of the Forgotten ($7.49 from $9.99 until 10/8)
Penguin Wars ($7.49 from $14.99 until 10/20)
Psyvariar Delta ($19.99 from $29.99 until 10/20)
Switchy Road ($1.99 from $4.99 until 10/20)
Let's Go Nuts ($0.89 from $9.99 until 10/11)
The Tower of Beatrice ($4.49 from $5.99 until 10/21)
Pantsu Hunter: Back to the 90s ($10.39 from $12.99 until 10/21)
Lanternium ($8.99 from $9.99 until 10/8)
Aldred – Knight of Honor ($0.99 from $1.99 until 10/15)
Sales Ending Tomorrow, Thursday, October 3rd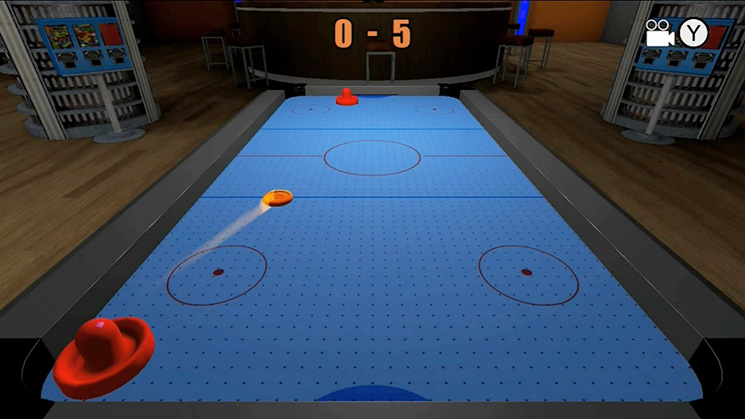 Air Hockey ($1.99 from $9.99 until 10/3)
Button Button Up! ($10.79 from $11.99 until 10/3)
Caveblazers ($7.49 from $14.99 until 10/3)
Construction Machines Simulator ($26.54 from $29.49 until 10/3)
Dead in Vinland – True Viking ($22.39 from $27.99 until 10/3)
Dungeon Rushers ($4.49 from $14.99 until 10/3)
Forest Home ($9.74 from $14.99 until 10/3)
Galaxy Champions TV ($4.89 from $6.99 until 10/3)
Gnomes Garden: Lost King ($6.99 from $9.99 until 10/3)
Little Friends: Dogs & Cats ($39.99 from $49.99 until 10/3)
Lovers in a Dangerous Spacetime ($8.99 from $14.99 until 10/3)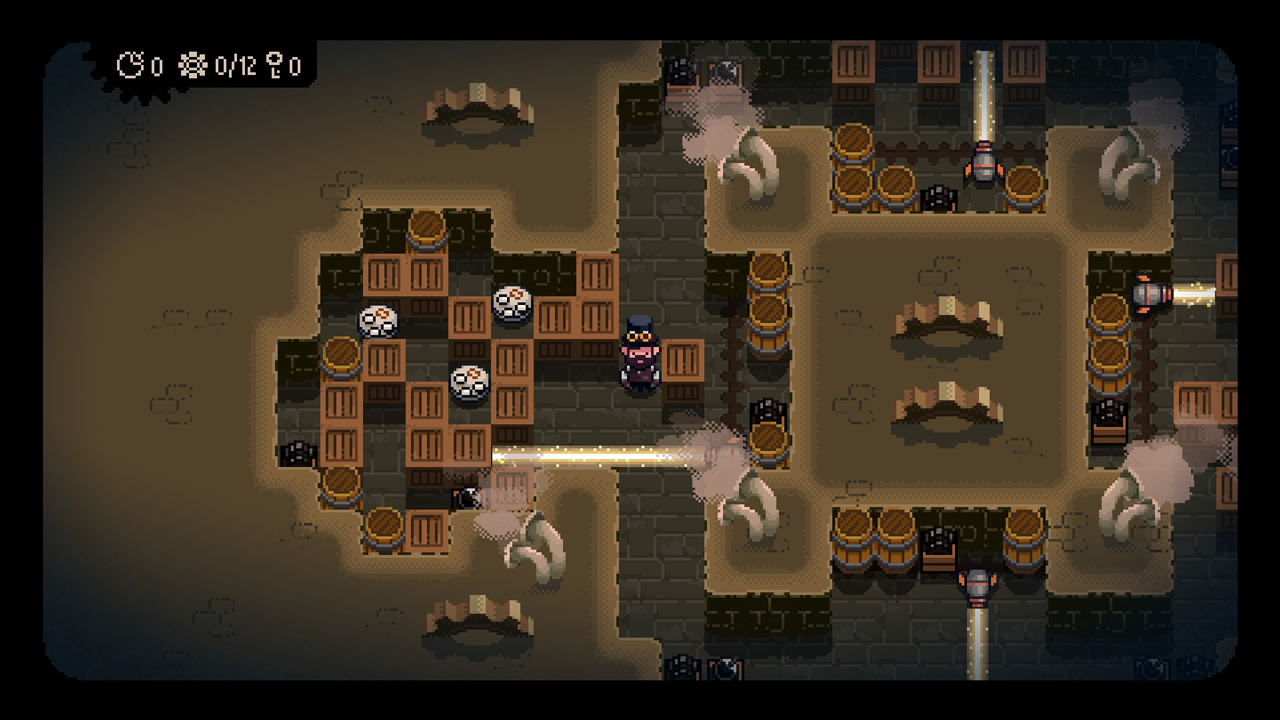 Mad Age & This Guy ($4.49 from $4.99 until 10/3)
Pool ($1.99 from $9.99 until 10/3)
Preventive Strike ($1.79 from $1.99 until 10/3)
RiME ($9.89 from $29.99 until 10/3)
Robothorium ($4.49 from $14.99 until 10/3)
Saboteur II: Avenging Angel ($7.20 from $8.00 until 10/3)
Saboteur! ($7.20 from $8.00 until 10/3)
SpaceColorsRunner ($4.19 from $5.99 until 10/3)
Starman ($0.99 from $8.99 until 10/3)
The Jackbox Party Pack ($12.49 from $24.99 until 10/3)
The Jackbox Party Pack 5 ($17.99 until $29.99 until 10/3)
The Rainsdowne Players ($1.19 from $3.99 until 10/3)
Ultrawings Flat ($9.99 from $19.99 until 10/3)
That's all that's good for today, friends. Tomorrow is Thursday, and you know what that means: Shaun is going to be aggravating his barely-healed tendinitis something fierce. We'll have summaries of all of those new games, along with whatever news and sales happen to come along in the next day. I do hope you'll join me as we take a look at all of that. Have a great day, and as always, thanks for reading!