Grenoble
, November 25, 2005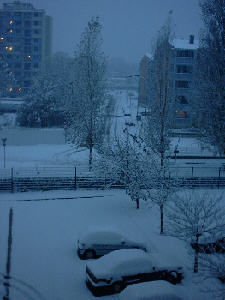 Dear diary
,
This night it was
snowing for the first time
. The dogs are daily losing heart and condition and the men's hopes of making a heroic journey slowly fading away. There is nothing we can do but to press on as far south as we can and when the dogs can do no more hauling, we simply will do the hauling ourselves. On
November 25, we became the
first to cross the 80th parallel
, beyond which all maps were blank. It has always been our ambition to get inside that white space and now we are there so the space can no longer be a blank; this compensates for a lot of trouble. We cannot stop, we cannot go back, and there is no alternative but to harden our hearts and drive. The events of the day's march are now becoming so dreary and dispiriting that one longs to forget them when we camp; it is an effort even to record them in a diary. Our utmost efforts could not produce more than three miles for the whole march.
On November 25, 1902 Robert F. Scott crossed the 80th parallel. On November 25, 2005 Thomas Steiner experiences Grenoble's first snow of the year.
Image from
south-pole.com