Chaos In Nigeria After Soldiers Open Fire On Large Anti-Police Demonstration
Tyler Durden
Wed, 10/21/2020 - 19:20
Late Tuesday night chaos broke out in the Nigerian capital of Lagos as demonstrators calling for an end to police brutality were reportedly fired upon by national soldiers or police attempting to clear the streets. At least one person was killed and one or more others were severely wounded, while dozens more were reported injured as the crowd of about 1,000 fled, according international reports.
Amnesty International initially reported fatalities among the protesters while citing "credible but disturbing evidence" that security forces were responsible. The standoff with security forces came during a curfew and as protesters attempted to erect a blockade. 
It further comes a day after another 'live fire' incident may have resulted in injuries, and as authorities attempt a crackdown while imposing a 24-hour curfew. There's been an estimated total of ten deaths during the recent wave of anti-police protests across multiple cities, in a situation the government says in spiraling out of control into a "monster".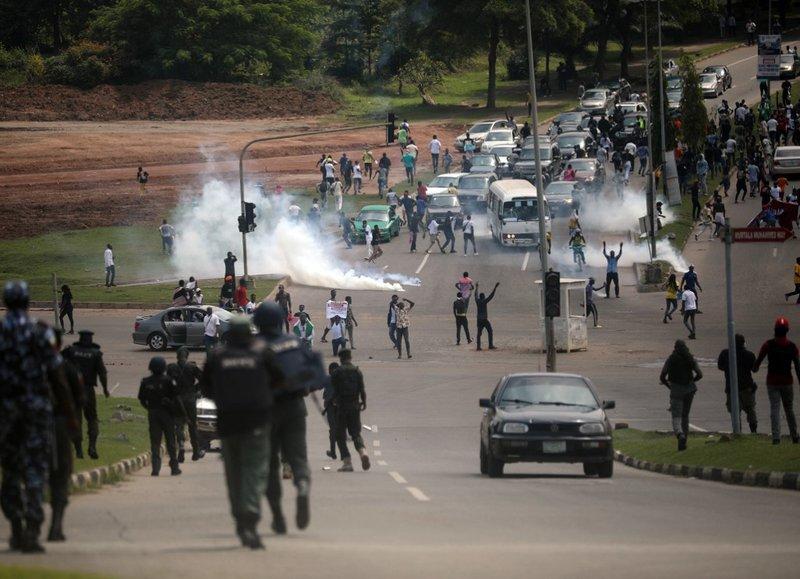 While there are conflicting accounts, eyewitnesses told Reuters of the scene: "More than 20 soldiers arrived at the toll gate in Lekki and opened fire," resulting in at least two people shot.
The mass protests and clashes with police have been growing more intense after a little over two weeks ago a video surfaced and went viral purporting to show officers with an elite police task force beating and torturing a man. 
The video purports to show the notorious tactics of the Special Anti-Robbery Squad, known as SARS, which has long been despised especially by Nigeria's youth. Mostly young people have been seen in the streets demanding the permanent disbanding of the SARS unit, something the government has vowed to do. Lagos is also promising further reform efforts among police and security branches.
But Nigeria's military is denying it was behind the latest shootings on protest crowds, dismissing it as "fake news" in official statements.
"They are shooting at them at Lekki toll gate."

Witnesses say security forces opened fire on #EndSARS protesters gathered in defiance of a curfew in Lagos, Nigeria. pic.twitter.com/yfXWewWTkE

— Al Jazeera English (@AJEnglish) October 21, 2020
President Muhammadu Buhari, meanwhile has downplayed the state security shootings while calling for calm and promising reform. Amid greater international media scrutiny US Democratic presidential nominee Joe Biden weighed in.
"I urge President Buhari and the Nigerian military to cease the violent crackdown on protesters in Nigeria, which has already resulted in several deaths," wrote Biden. "My heart goes out to all those who have lost a loved one in the violence. The United States must stand with Nigerians who are peacefully demonstrating for police reform and seeking an end to corruption in their democracy."
This is Nigeria today

RT @cnbnewsgo: Nigerian soldiers open fire on unarmed protestors in Lagos, Nigeria. At least seven #EndSARS protestors have been shoot dead and several others seriously injured.#Genocide pic.twitter.com/boh0DgkCZc

— Jme (@JmeBBK) October 20, 2020
Meanwhile Nigerian military and police officials have blamed most of the violence on the protesters themselves as well as what they've identified as armed gangs taking advantage of the chaos to unleash violence.