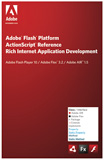 Check out the latest Adobe tutorial, it's jam packed with information on how to debug your AIR application. Showing you step by step what to do; it makes it so easy anyone can do it!
To get your very own printed copy of The Adobe Flash Platform ActionScript Reference for Rich Internet Application Development (delivered to your door), all you have to do is read the article Debugging your AIR Application and then take the quiz.
There's only 200 printed books so get in quick! If you miss out though, don't worry, you can always download the PDF version.
If you are using Flash, AIR or Flex then this book is THE book to have in your library so don't miss out. Last time it took a matter of hours for all of them to go. So…
Read the article and take the quiz now.