So your little tyke wants to ride a dirt bike?
Regardless of whether it was the influence of the upstanding parenting of you moto moms and dads out there, or Johnny Rocket down the street was flaunting his shiny red 2019 Honda CRF50F in front of your kid again, he or she has caught the bug (and I don't mean the ever-circulating flu at school) to ride. Now it comes down to coughing up the money. Well, 2020 has a wide variety of dirt bikes, dual sports, and trailbikes for under $5,000 to attract many ages and budgets alike. We will start with the smallest displacement and work our way up…
2020 Yamaha PW50: $1,499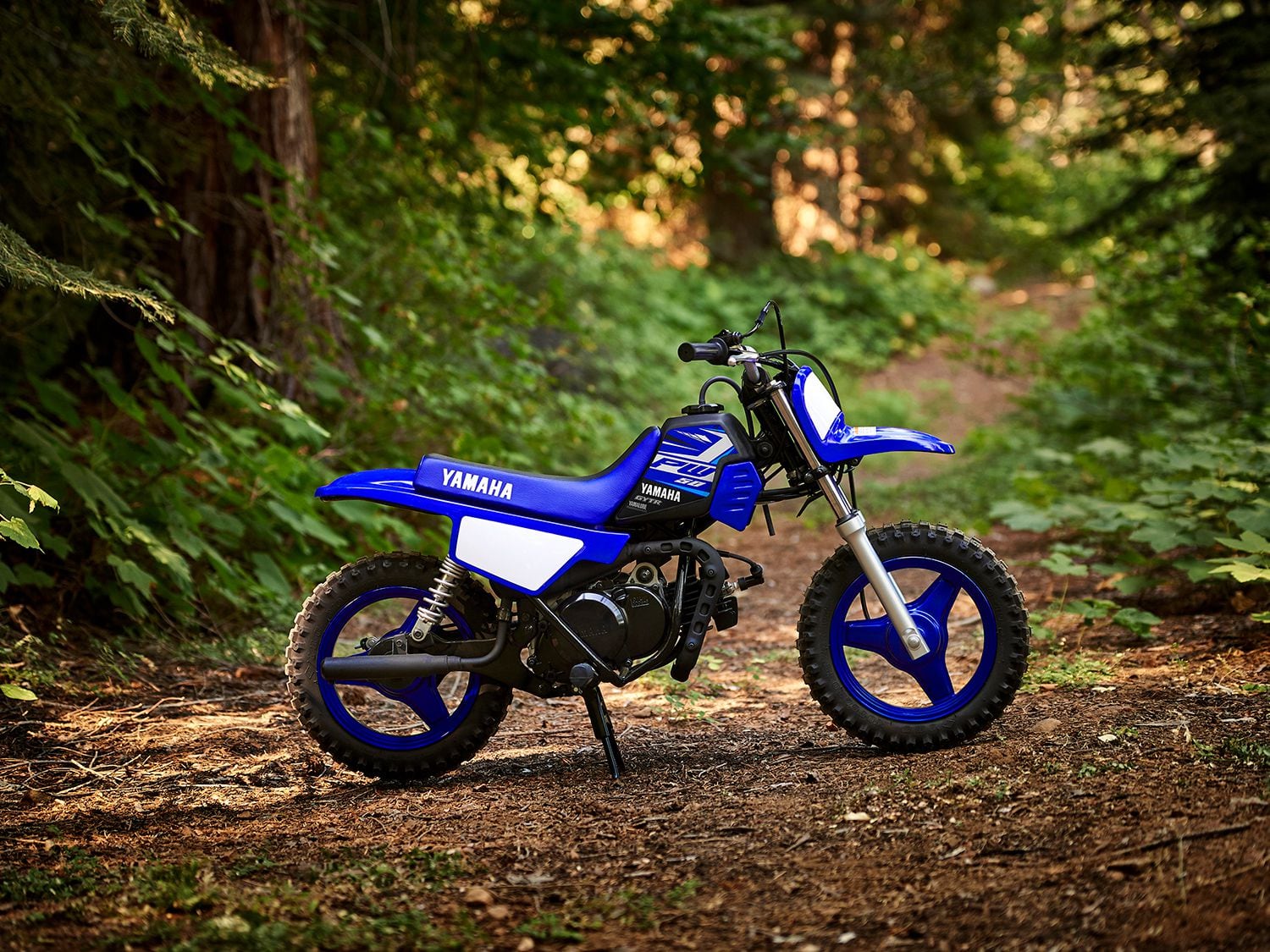 2020 Yamaha PW50: $1,499 (Courtesy of Yamaha/)
Debuted in 1980, the PW50 has been bringing young riders into the sport for nearly 40 years. With pros like Chad Reed, James Stewart, and Ricky Carmichael having spent time on a PW in their youth, you'll want to get your aspiring racer on one too. Shifting is not necessary on this two-stroke Yamaha PW50 because of the fully automatic, single-speed transmission, making it easier for the rider to learn the ropes of riding. Just a twist of the wrist and the little one will be on their way. The amount of power delivered from that twist of the wrist can be modulated with the adjustable throttle stop screw, so parents can increase or decrease the amount of power as needed. Instead of spoked wheels (like you see on the TT-R50E) you will find mag-style wheels which limit maintenance tasks like checking spoke tension or spoke replacement that you should perform on other spoked-wheel dirt bikes. If your purchase comes down to your kid's shorter inseam, then you might want to consider this trailbike over the TT-R50E or even the CRF50F because the PW50's seat height is only 18.7 inches whereas the others increase to 21.9 and 21.6, respectively. _Cycle World _ claimed this as a best used bike in 2015, so after the little one grows up resale value should be reasonable.
Related: 2018 Yamaha PW50
2020 Honda CRF50F: $1,549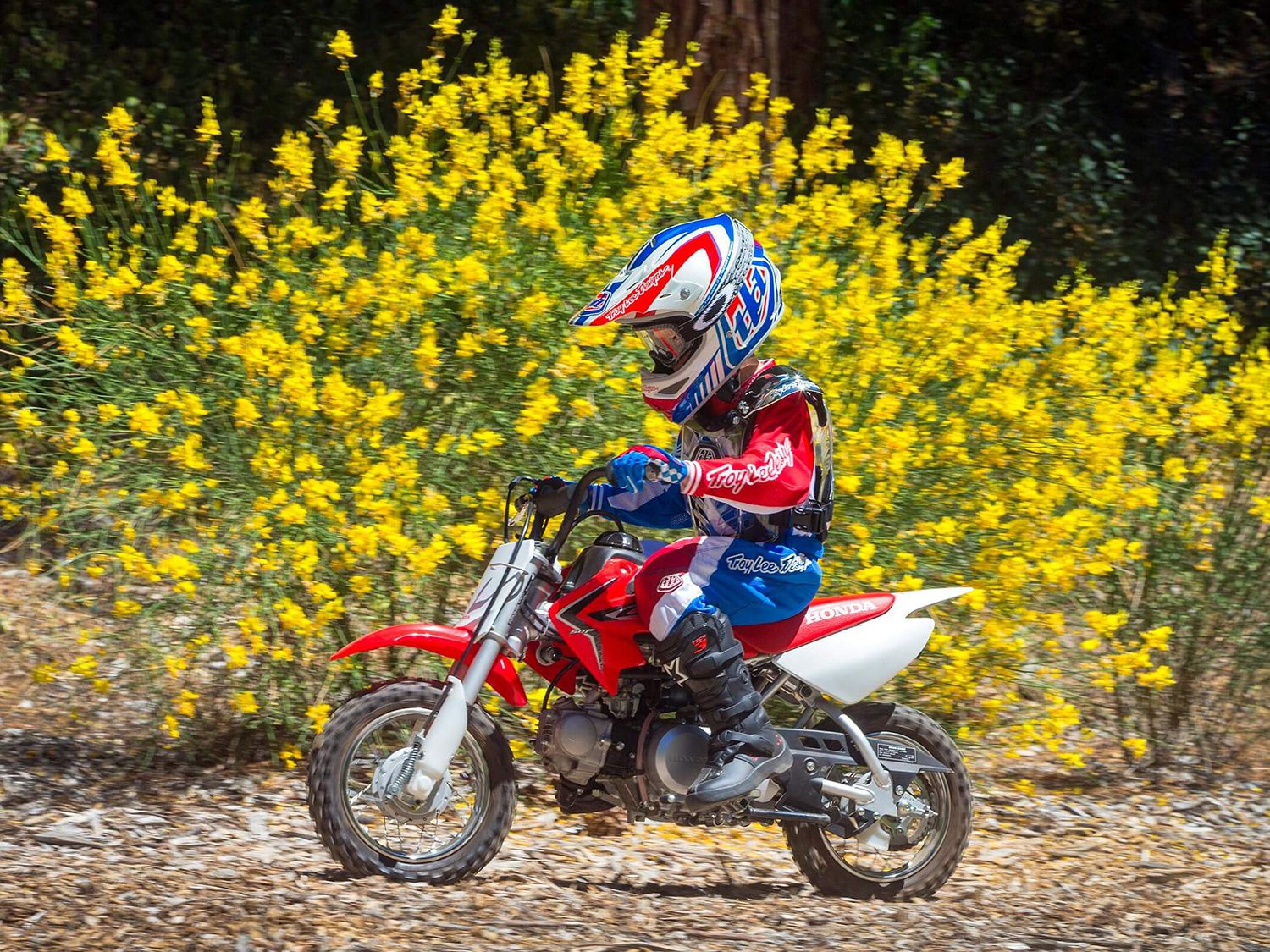 2020 Honda CRF50F: $1,549 (Courtesy of Honda/)
The smallest of the family will have their turn at two wheels aboard Big Red's CRF50F. In the past, we claimed the CRF50F has all of the ingredients needed to get younger beginner riders into the sport. The main ingredient of the 2020 four-stroke trailbike features an automatic clutch, so the beginner won't have to worry about a clutch lever, but will still get a taste of shifting through the three gears with the shift lever. The seat height is 21.6 inches with a ground clearance of 5.8 inches making it more of a stretch to the ground compared to the PW50. Parents will be in control with the adjustable throttle limiter and keyed ignition. While the little one will be so focused on riding, they may forget to check in to fill up the 0.7-gallon tank; luckily, there is 0.2 gallon on reserve.
2020 Yamaha TT-R50E: $1,699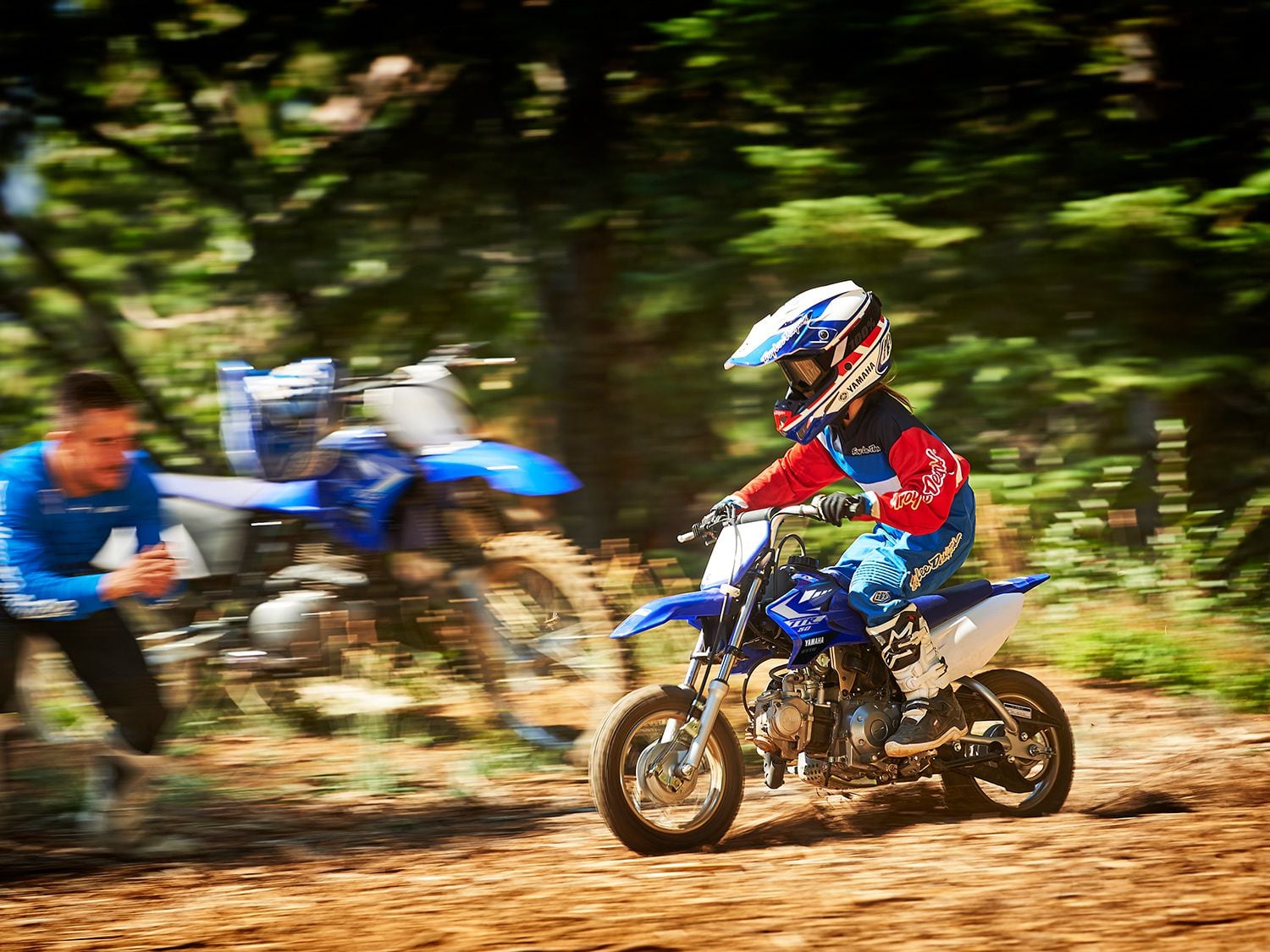 2020 Yamaha TT-R50E: $1,699 (Courtesy of Yamaha/)
Parents teaching their young riders and the young riders themselves will appreciate the simplicity of a three-speed automatic transmission trailbike like the TT-R50E. Like the CRF50F, the lack of a clutch lever will keep the child's focus on the trail ahead as well as motions of working through gears with the shift lever. Available in November 2019, the little TT-R (21.9-inch seat height) is beginner friendly with the approachable power of the 49cc four-stroke engine. Also featured is a push-button electric start (hence the "E" in the name). If your family camping trip is taking you to the woods, the upswept exhaust system houses a USFS-approved spark arrestor so you won't have trouble with the powers that be. In a past Dirt Rider comparison of the PW and TT-R50E, we claimed the TT-R50E is a blast for both kids and adults to play on, so you parents have something to look forward to as well with this purchase.
2020 Suzuki DR-Z50: $1,749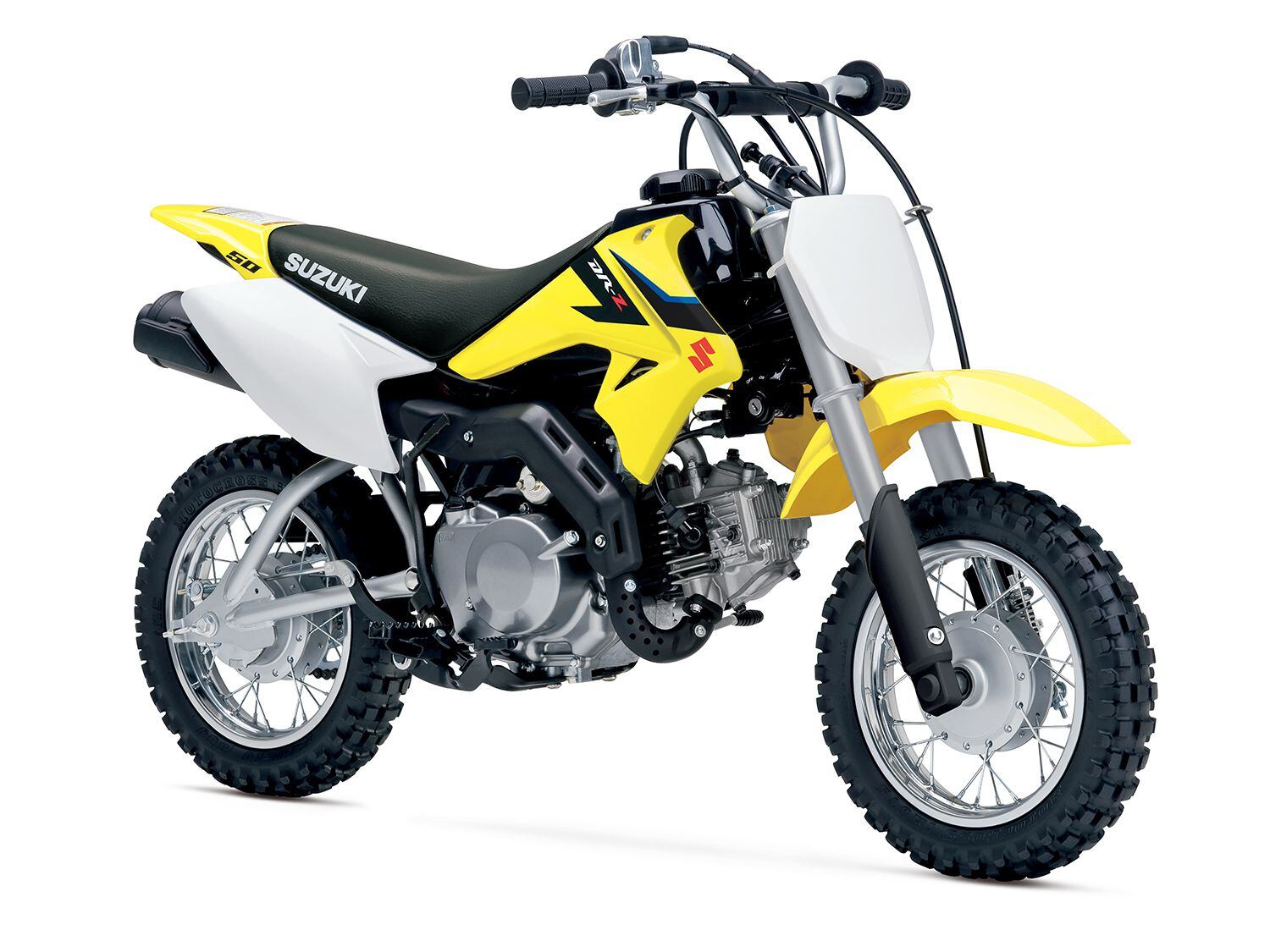 2020 Suzuki DR-Z50: $1,749 (Courtesy of Suzuki/)
First introduced in 2019, the smallest of Suzuki's off-road family is the DR-Z50 and returns in 2020 with updated graphics. This mini allows for beginner riders who are seven years of age or older (manufacturer age recommendation) to get a feel for the two-wheel life. Adults will be pleased with the ability to adjust power levels to suit the child's skill levels. The automatic clutch and three-speed transmission make it more approachable as well, since they will still be learning the shifting techniques needed for when they grow into bigger bikes. Versatile in its start-up, the DR-Z50 can be fired up with either the electric start button or kickstart. This allows for the rider to learn both options: the kickstarter, so they can bring the power of his/her leg directly to the transmission, or modern tech of easy starting with the push of a button.
2020 KTM 50 SX Mini: $3,849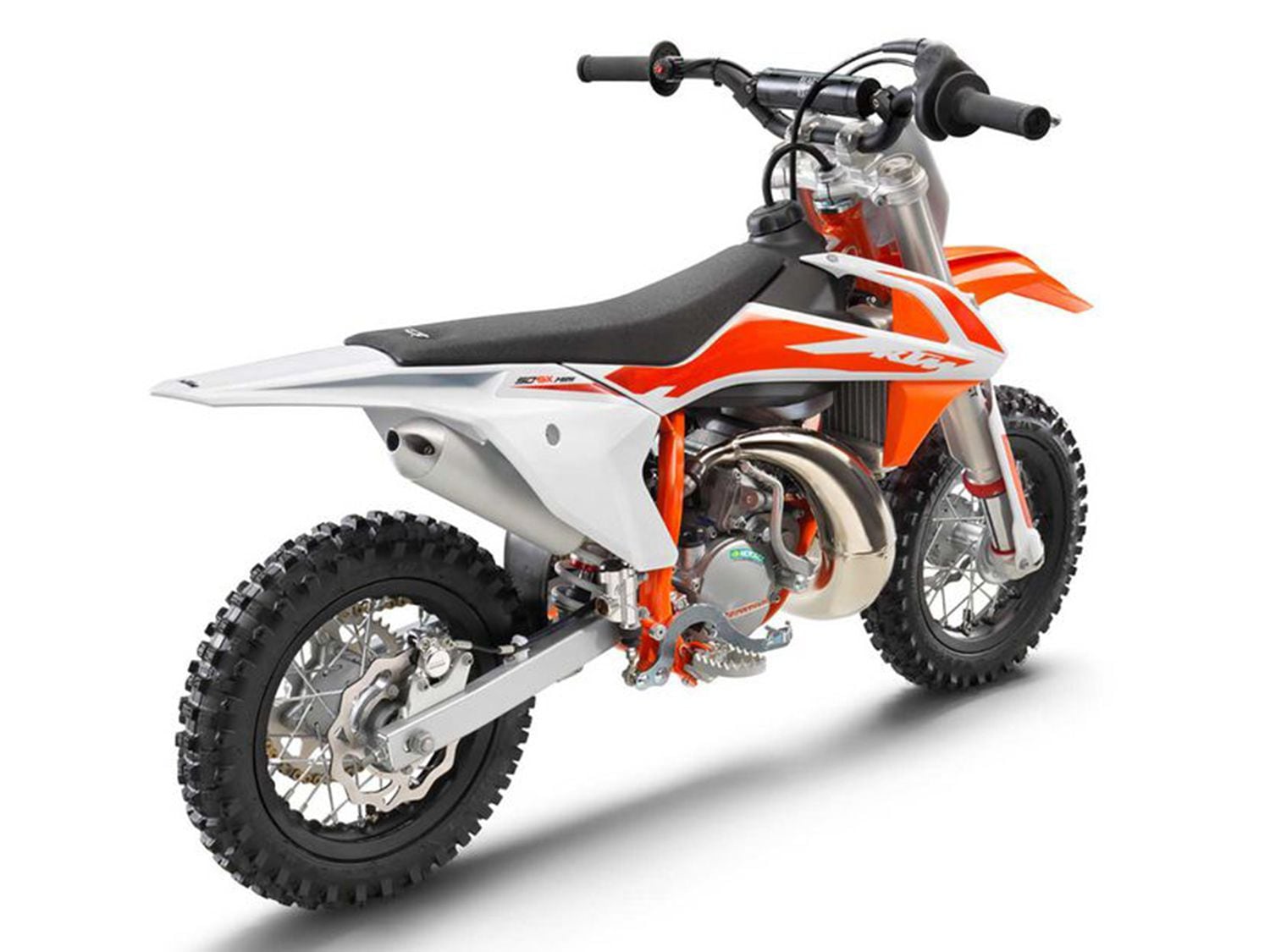 2020 KTM 50 SX Mini: $3,849 (Courtesy of KTM/)
Youngsters between the ages of four and 10 can also look to the KTM 50 SX Mini. Like the KTM 50 SX and Yamaha PW50, this model has a single-speed automatic transmission. Front suspension is an inverted WP Xact 35mm fork paired with a WP Xact shock absorber in the rear, which is linked directly to the swingarm, is fully adjustable, and allows for 5.8 inches of rear wheel travel. Maxxis knobbies surround the black anodized aluminum rims. Also like the 50 SX, the handlebar is made from aluminum alloy (for strength and flexibility in comparison with steel handlebars) and has a pad around the center brace to protect the rider. Updated graphics are the only change you will find on the 2020 compared to the previous model year.
Related: 2020 KTM Youth Motocross Bikes First Look
2020 KTM 50 SX: $4,349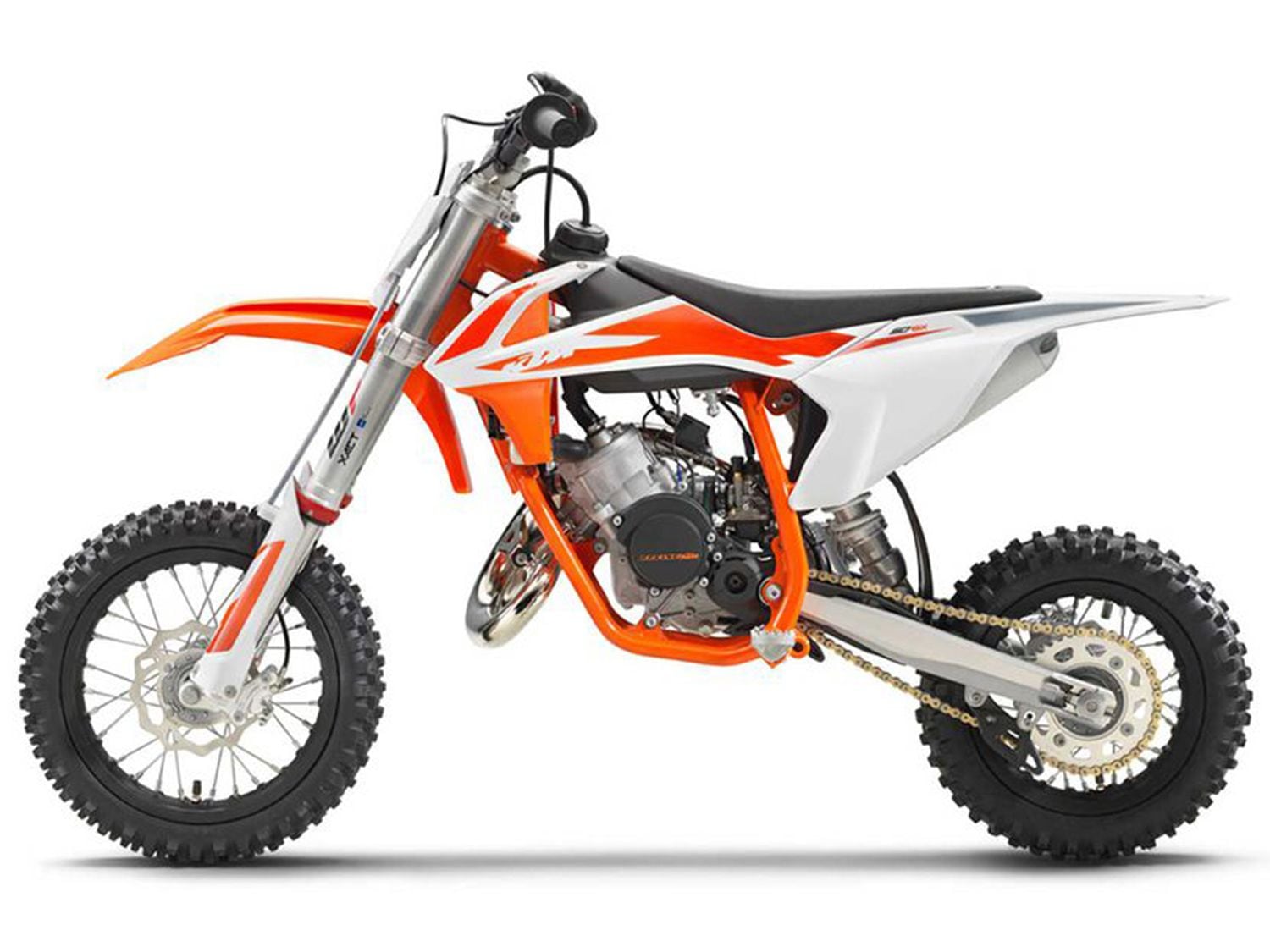 2020 KTM 50 SX: $4,349 (Courtesy of KTM/)
Another orange option for the 4–10-year-olds in your family, the KTM 50 SX features a lightweight chassis that follows the developments made in 2019. More specifically, as detailed in our First Look, the 50 SX features a new cast-aluminum swingarm designed to improve stability. The frame cradles the two-stroke, 49cc, single-cylinder engine that will get your little rider across the finish line. The little guy or girl will be kickstarting this mini machine to life and will stop it with the help of 160mm disc brakes in both the front and rear. Like the Mini model, KTM equips the 50 SX with a WP Xact 35mm inverted fork and a WP Xact shock.
2020 Kawasaki KX65: $3,699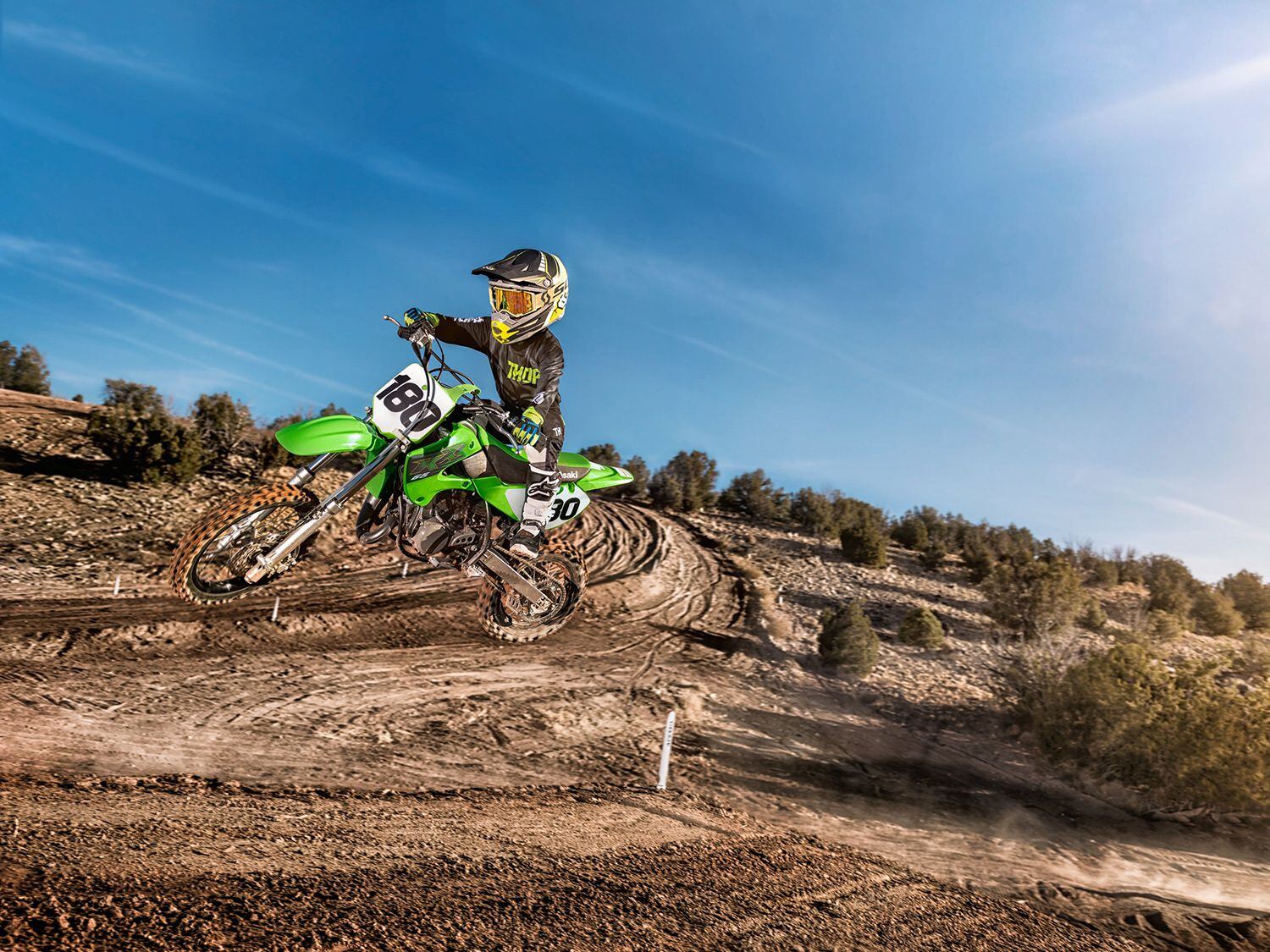 2020 Kawasaki KX65: $3,699 (Courtesy of Kawasaki/)
If speed is what the youngin wants, then speed better be what the youngin gets. You do, however, want to make sure they ease themselves up to that speed. This entry-level 64cc engine can help them build up to bigger-displacement motocross machines. In comparison to the KX85 and KX100 seat heights (32.7 and 34.3 inches, respectively), seat height is low-ish at just 29.9 inches, so the rider won't feel too intimidated swinging their leg over. The 12-inch ground clearance will also allow the child to ride on rough terrain, and the 8.3- and 9.4-inch front and rear travel, respectively, will provide a smoother ride over larger obstacles. Front and rear 180mm disc brakes are ready for when that need for speed must come to a halt. Our 2018 buyer's guide coverage on the model suggests the KX65 is an ideal choice for riders who show riding aptitude, focus, and responsibility. For 2020, we continue to recommend the same since it features a six-speed transmission, a manual clutch, and disc brakes that require more advanced skills.
2020 Yamaha YZ65: $4,599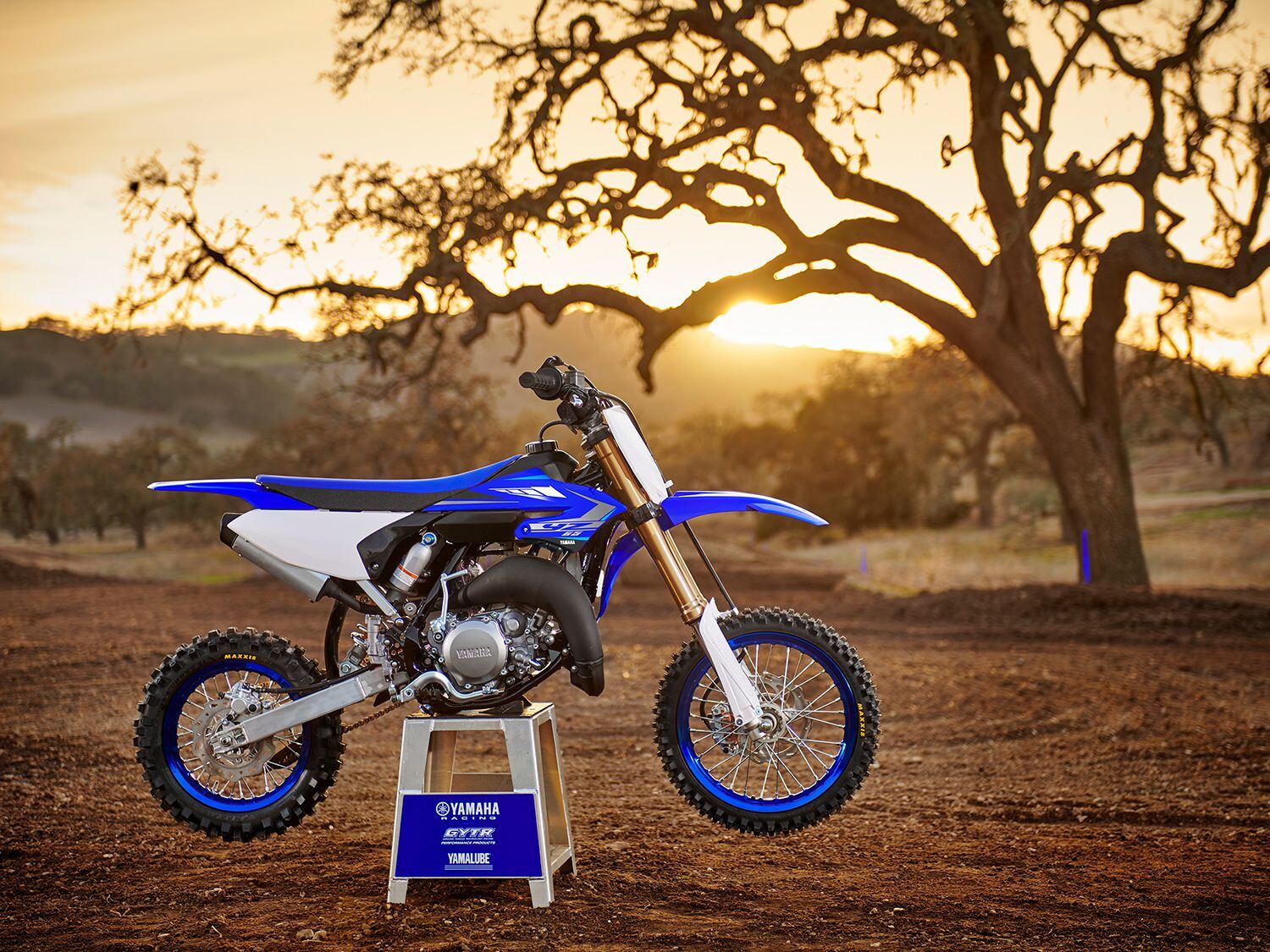 2020 Yamaha YZ65: $4,599 (Courtesy of Yamaha/)
Little rascals look up to their older siblings, and such is the case with this YZ65 being that its 65cc two-stroke engine pulls tech like the Power Valve System from its elder siblings, the YZ125 and YZ250. The Yamaha Power Valve System (YPVS) works by spreading out the power delivery across the rev range for smooth, predictable riding suited to a wider range of rider skill levels. The adjustable front and rear suspension can be tailored to whatever setting feels most comfortable and best performing. The YZ65 has a clutch lever, so your kid will start getting familiar with the full shifting concept as well. Situated between the PW50 and YZ85, the 65cc displacement is a valid option as your child takes the next steps up the engine-size ladder. We were impressed with this bike right from the get-go after testing it in 2018, so we hope that 2020 will continue that trend.
2020 Suzuki RM85: $4,249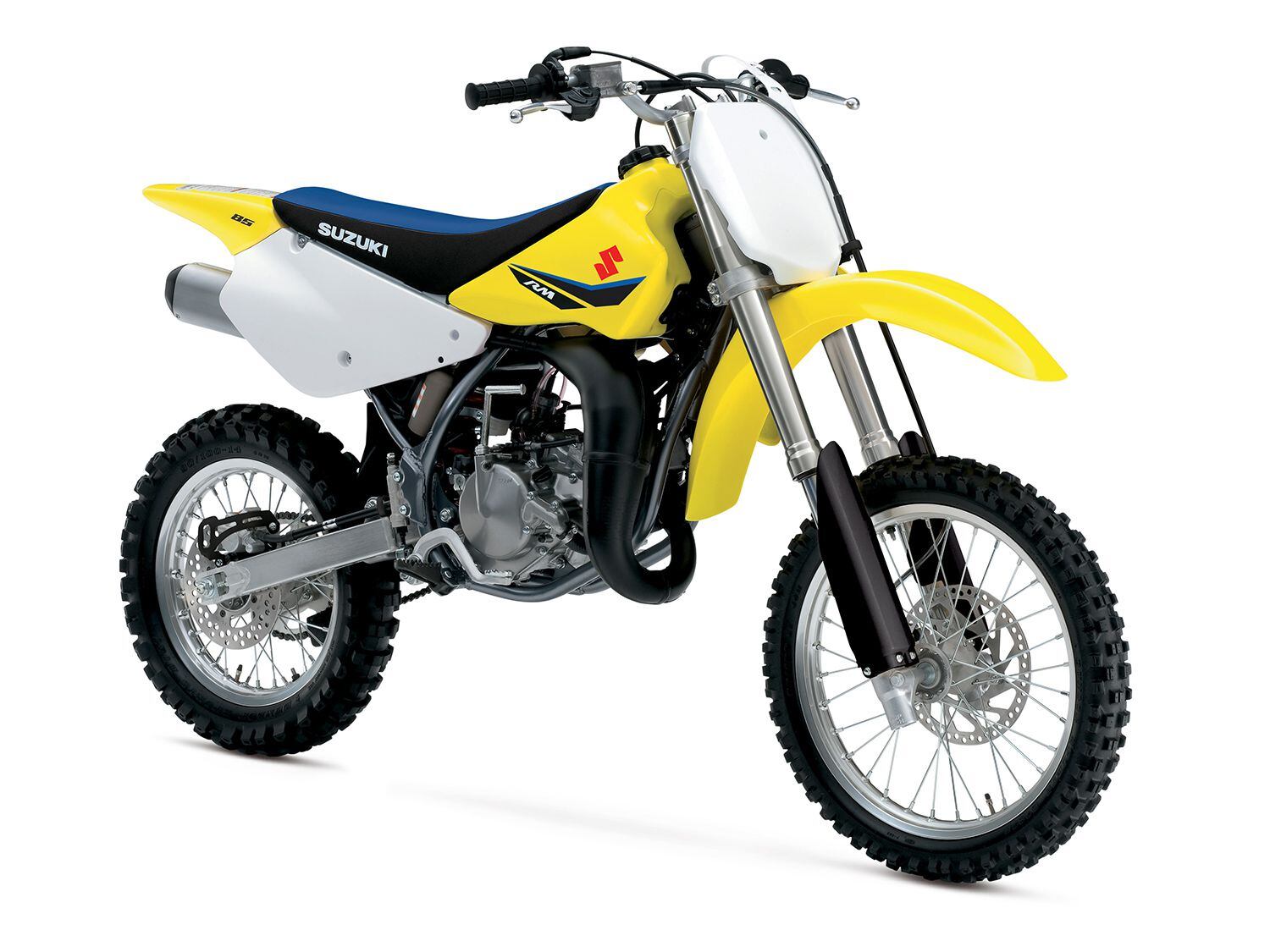 2020 Suzuki RM85: $4,249 (Courtesy of Suzuki/)
Does your little racer look up to the JGRMX/Yoshimura/Suzuki Factory Racing team riders? The RM85 takes styling cues and handling from the RM-Z line, so you could have an Alex Martin mini-me riding around the local track. A grasp at the clutch lever will get your racer shifting quickly and easily. A Showa inverted fork at the front and Showa shock at the rear will provide a plush feel and deliver 10.8 and 10.9 inches of travel, respectively, to soak up the ruts, bumps, and jump landings. Your kid will be sitting comfortably and securely on the textured seat, which allows for better grip between the rider's knees. Like previous model year iterations, seat height remains at 33.5 inches, slotting it perfectly in between playbikes and full-size MX racers.
2020 Kawasaki KX85: $4,349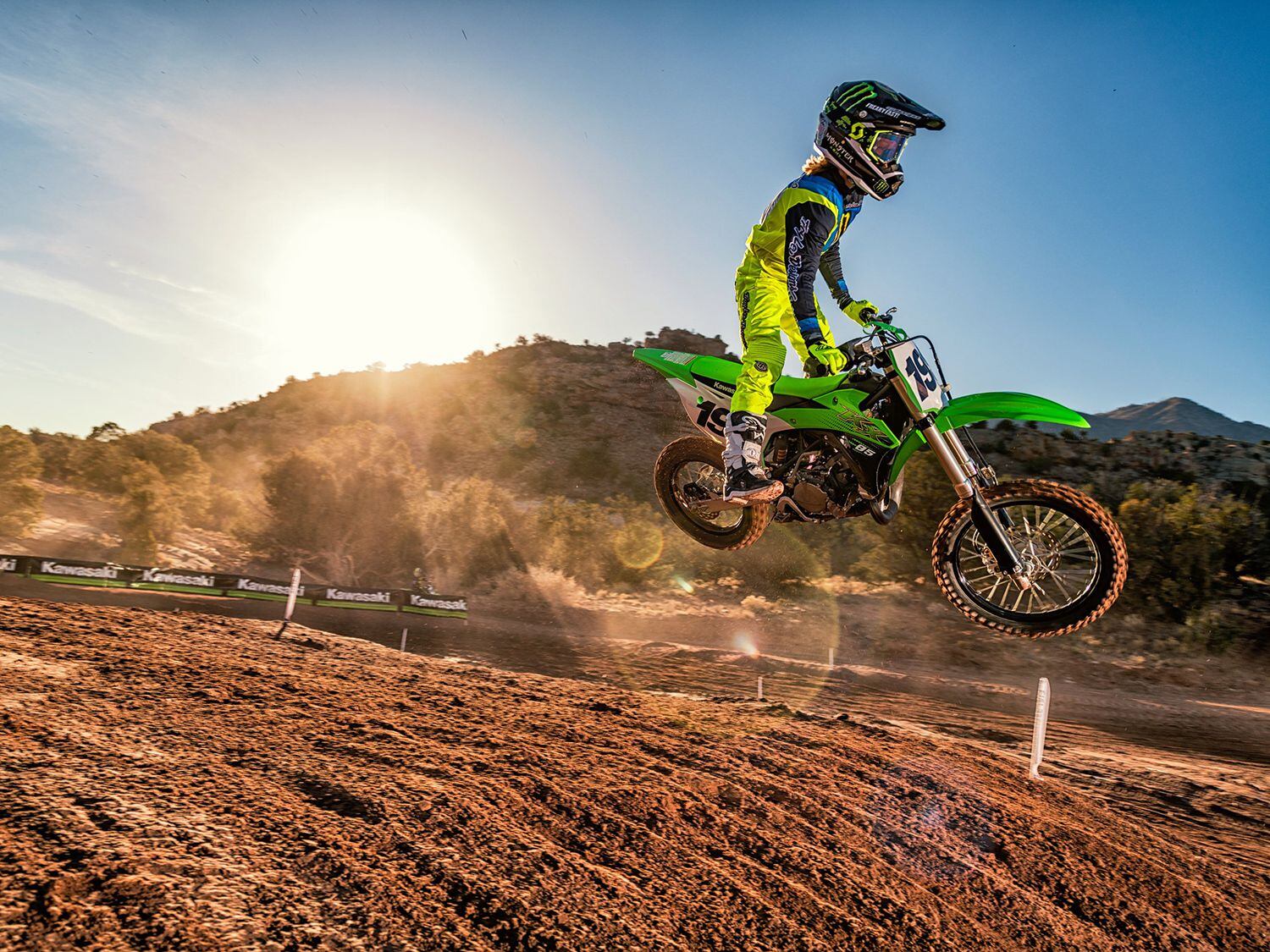 2020 Kawasaki KX85: $4,349 (Courtesy of Kawasaki/)
Like the KX100, the KX85 is equipped with Ergo-Fit adjustability with a six-position handlebar mount, so your racer can feel more ergonomically comfortable at race pace. The 85cc liquid-cooled engine boosts the displacement up for growing riders looking to increase and hone in on their skills. The package, structured with a high-tensile-steel perimeter frame, weighs in at a claimed 165 pounds. The seat height is 32.7 inches for your Jack or Jill, while ground clearance is a claimed 11.4 inches, making it a valid option for the growth-spurt stages when their inseams elongate and their choice of trails get more rugged. Suspension travel is 10.8 inches front and rear. If track riding is the goal for the KX85, you should note that in our past 2016 85cc shootout, the KX85 won over riders at the tight desert track.
2020 Yamaha YZ85: $4,699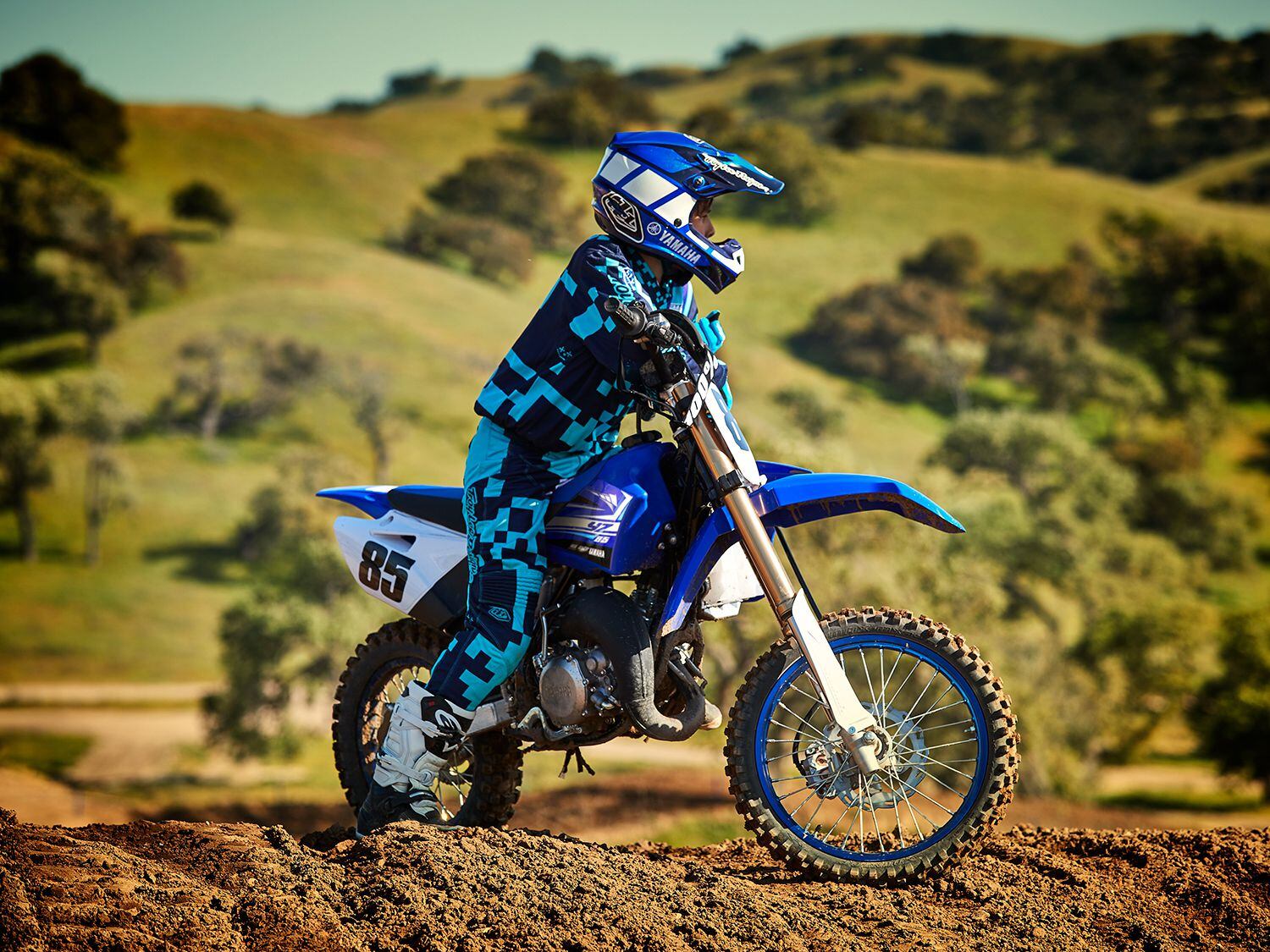 2020 Yamaha YZ85: $4,699 (Courtesy of Yamaha/)
For just one Benjamin Franklin more than the 2020 YZ65, your kid can swing his or her leg over a six-speed bike with 20cc more displacement than the YZ65. The 2020 Yamaha YZ85 boasts fully adjustable suspension and adjustable ergos, which give the rider some freedom to morph the bike to their particular track-racing needs. In fact, the bike gained praise in our past 2016 85cc shootout for its cornering capabilities and its ability to soak up bumps compared to the five other shootout entrants. Does dad need to do some maintenance? The rear subframe is easily removable to make for a simpler procedure. A push-style chain adjuster is adopted from the YZ125 for trouble-free maintenance and the wave-style brake discs are self-cleaning and run cooler than solid rotors.
2020 Kawasaki KX100: $4,599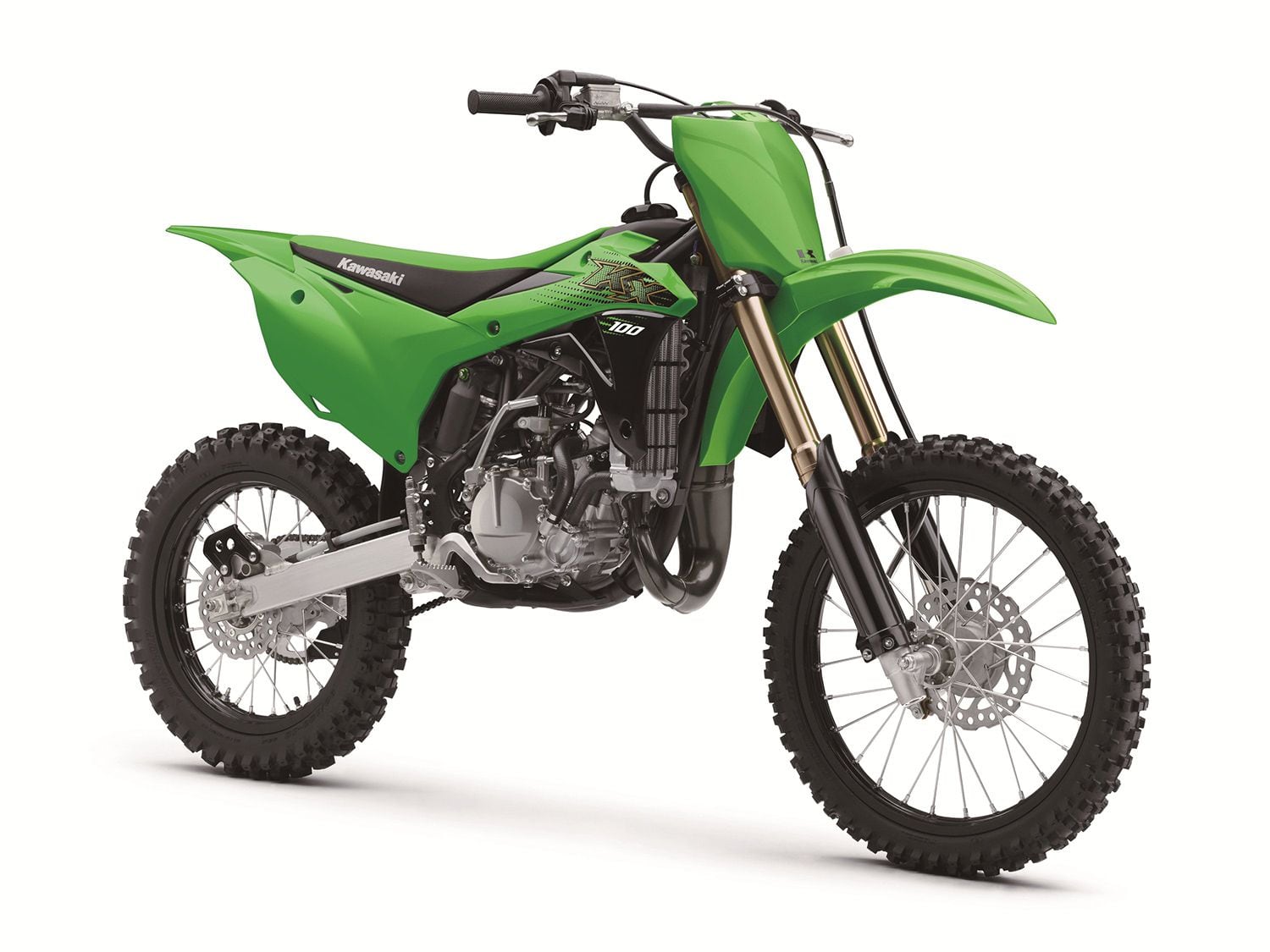 2020 Kawasaki KX100: $4,599 (Courtesy of Kawasaki/)
For those kids who are more track-oriented, a motocross bike would be a great option for them. In order to absorb the impacts from the tabletop jumps and rhythm sections, suspension needs to travel accordingly. For the KX100, both the front and rear suspension travel is a long 10.8 inches. Although fuel capacity decreases to 1.3 gallons, which is slightly less than some of the other Kawasakis in this list, less gas in the tank equals a lighter package; and lighter equals faster. Note that this bike's seat height goes up to 34.3 inches. If you are comparing it to previous models, the latest update for the 2020 model includes the number plate color swap from white to green.
2020 Kawasaki KLX110: $2,299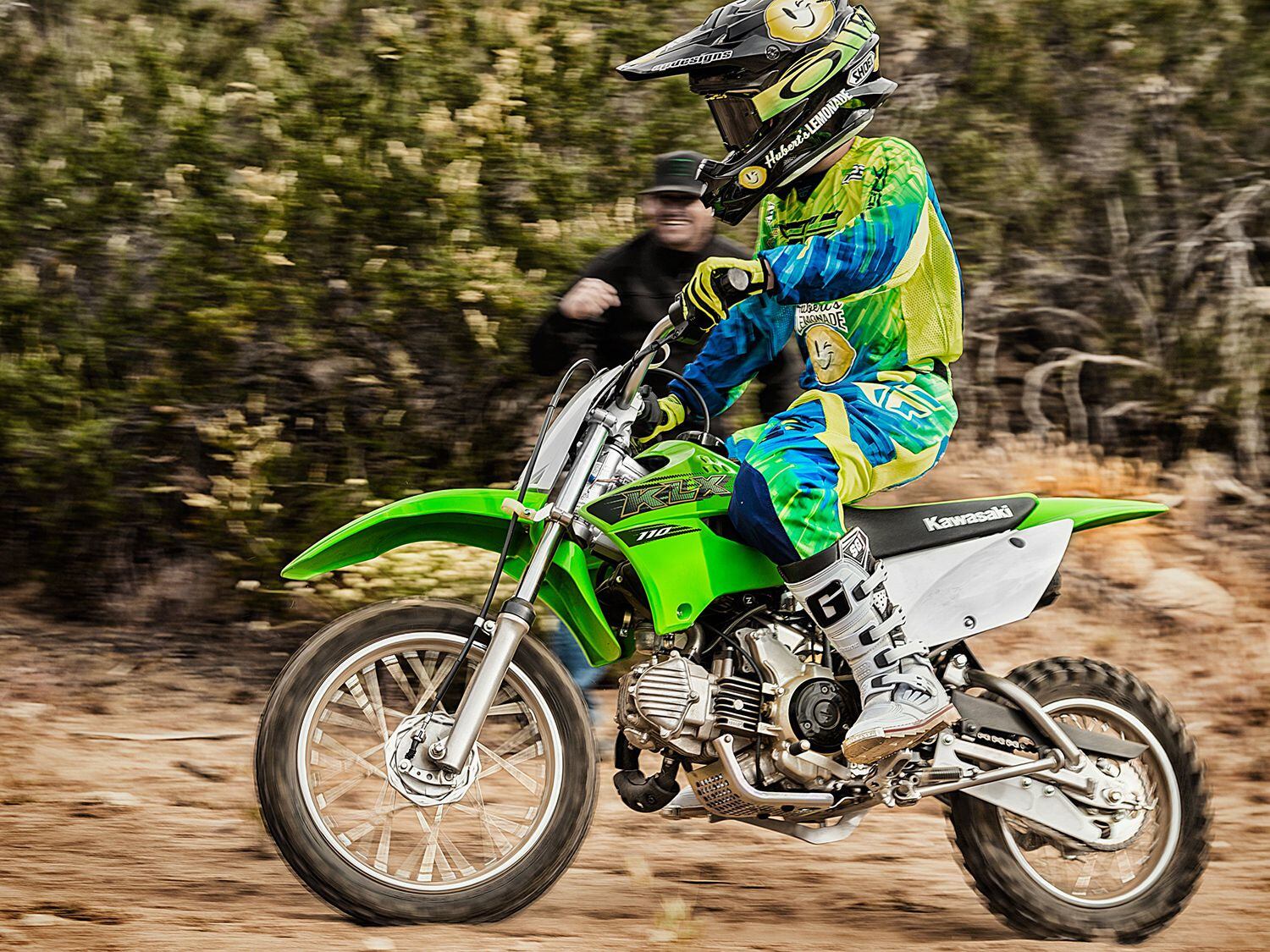 2020 Kawasaki KLX110: $2,299 (Courtesy of Kawasaki/)
Nine years ago, we stated the KLX110 "defined the class with outstanding standard performance, solid reliability, and a boatload of additional potential." It is still here in 2020 to defend our past claim. Instilling confidence in the youth is the four-speed transmission with an automatic clutch; this will ease them into the process of riding (with one more additional gear than the 50s of this list) without the worry of pulling in the clutch lever. A screw-type throttle limiter helps control speed when the child is transitioning into the larger-displacement off-road bikes. Leave the teeter-totter at the park and make sure your kid can confidently flat-foot it with the KLX110's low 26.8-inch seat height. Curb weight is a claimed 168 pounds. Pricing is neck and neck with the competition like the TT-R110E, so there are a few options for the 112cc-displacement rider in your family.
2020 Yamaha TT-R110E: $2,299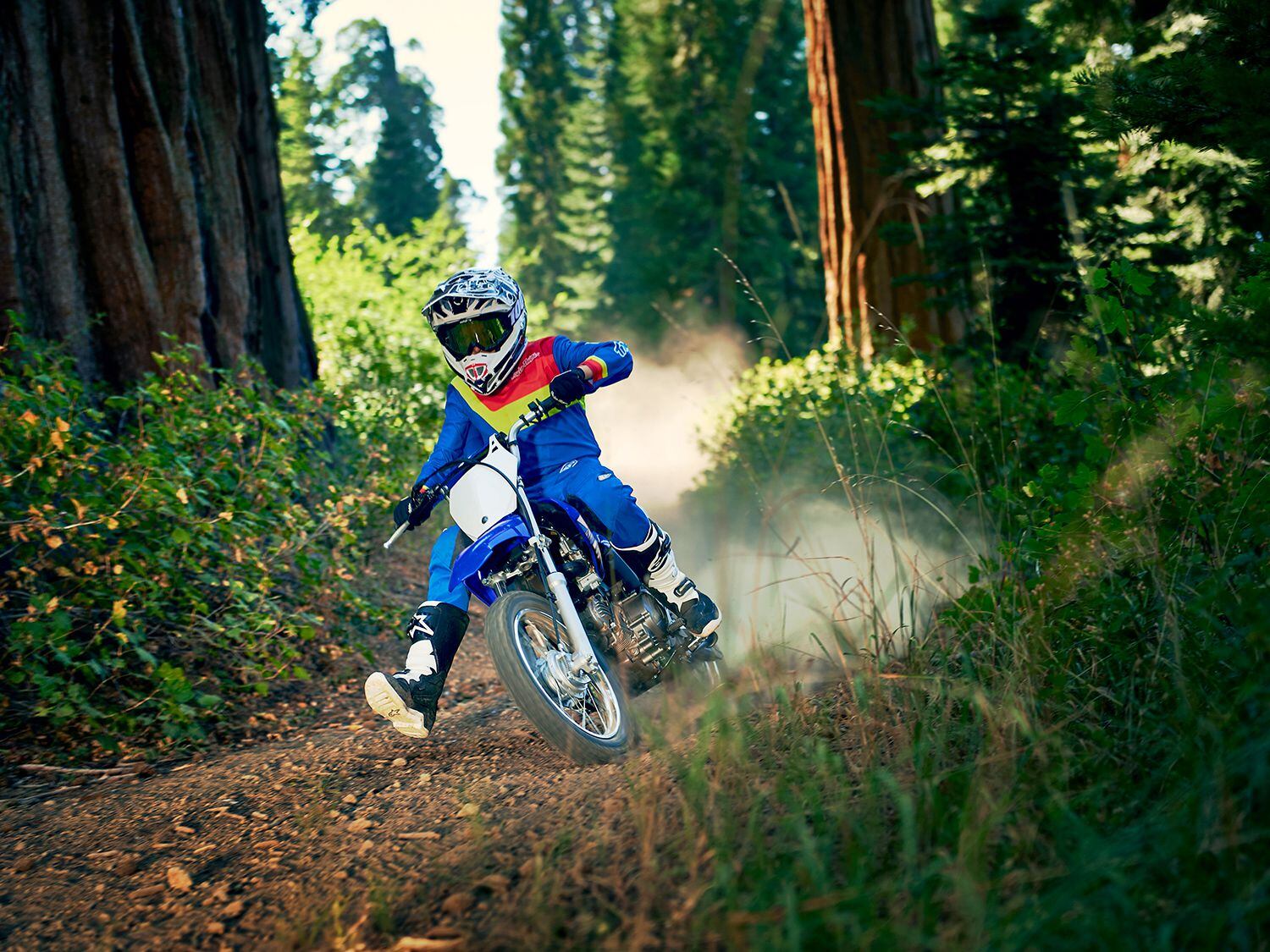 2020 Yamaha TT-R110E: $2,299 (Courtesy of Yamaha/)
Back in 2008, the TT-R110E replaced the TT-R90 and gave a little boost in the displacement department, up 20cc with an updated engine; other changes included updated styling. Fast-forward to 2020 and the TT-R110E remains in the tuning fork company's lineup as a semi-mini trailbike. According to Yamaha, the 2020 TT-R110E 110cc four-stroke engine with its 9.3:1 compression ratio produces peak torque at 4,000 rpm and max horsepower at 7,500 rpm, providing low-end grunt to pull the rider up steep hills or through sand washes. This TT-R pulls in YZ styling with its gripper seat, Team Yamaha-inspired colors, graphics, and number plates. The light steering and 26.4-inch seat height are due in part to the 14-inch front and 12-inch rear wheels. The 31mm telescopic fork and Monocross shock offer 4.5 inches and 4.3 inches of travel, respectively. Drum brakes on both the front and rear stop the machine in its tracks.
2020 Honda CRF110F: $2,399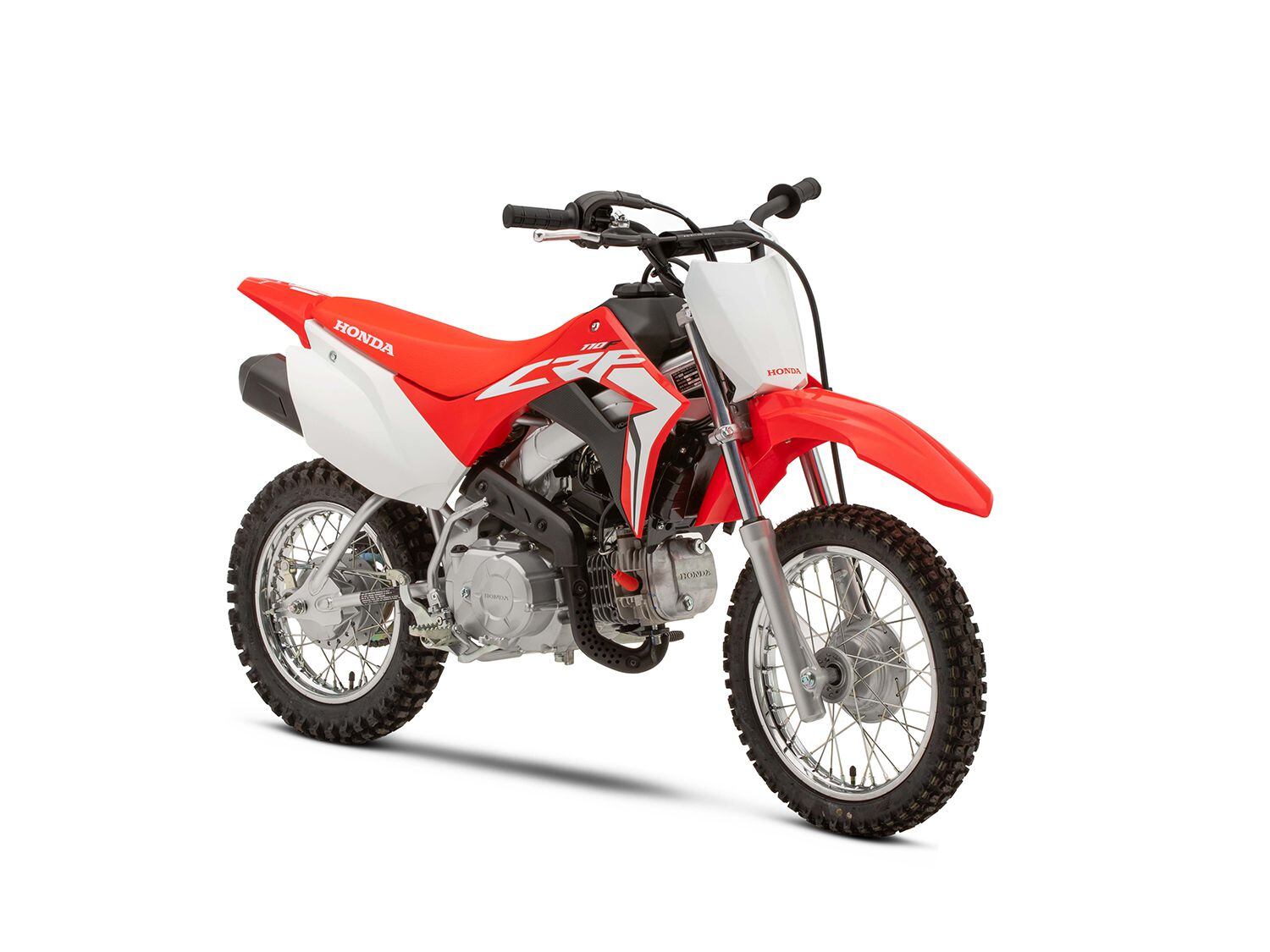 2020 Honda CRF110F: $2,399 (Courtesy of Honda/)
Capable and ready for youngsters, the CRF110F houses a fuel-injected four-stroke 109cc engine. It was as true in the past as it is now, the CRF110F is an excellent way to graduate your child from a smaller type of bike to a slightly bigger, faster machine. The automatic clutch will get the rider familiar with the feeling of shifting with their foot, but will not require them to operate a clutch lever. Travel of 3.9 inches at the front and 3.8 inches at the rear are shorter than bikes like the TT-R110E, which means the Honda minibike will bottom out more easily on a larger impact such as a G-out or jump landing. Parents will appreciate the throttle limiter, which will help keep speed controlled for beginner riders. As a backup, the CRF110F also comes with a kickstarter in addition to the electric starter, so fun will be had regardless of how you choose to start it.
2020 Kawasaki KLX110L: $2,499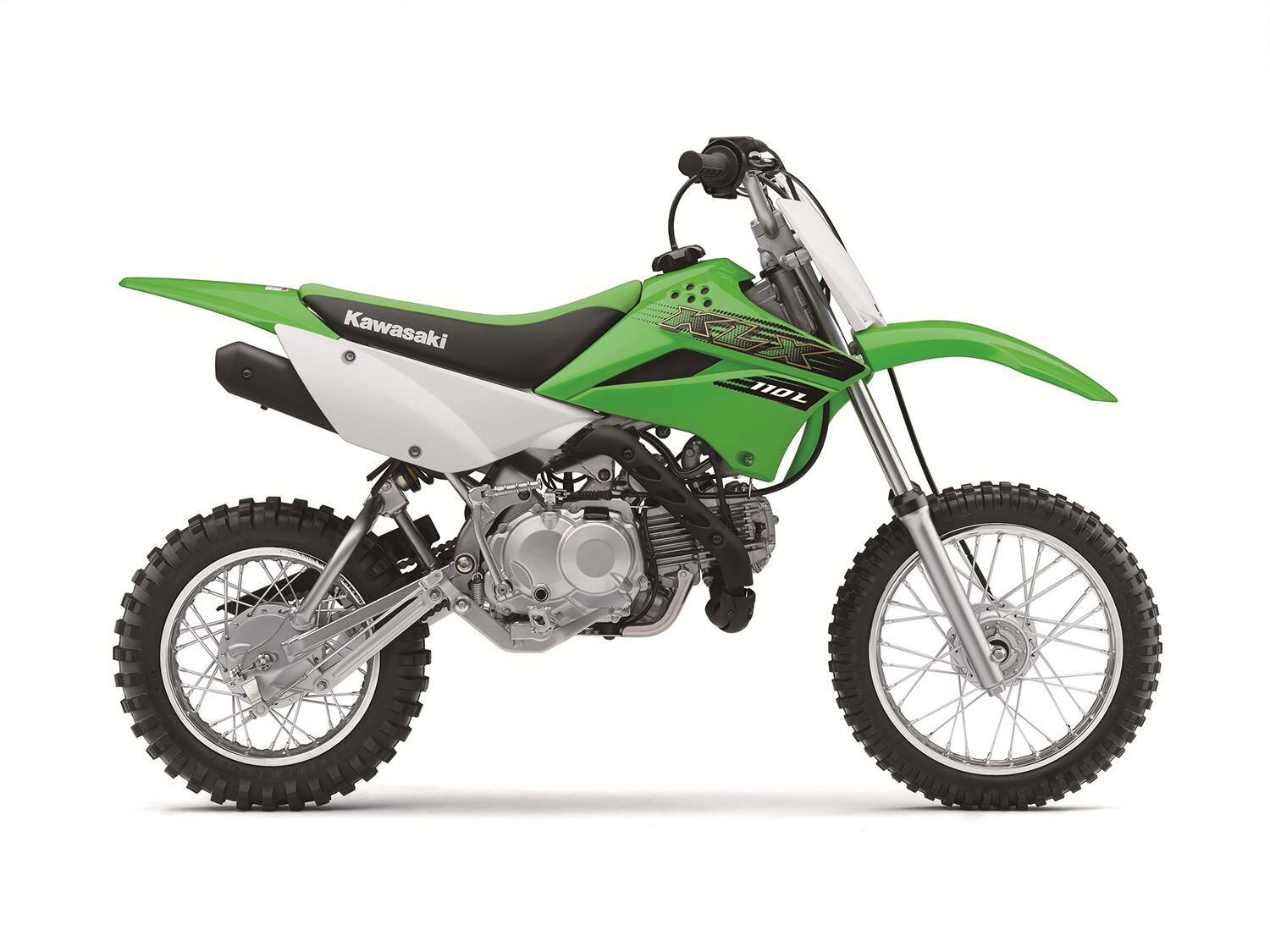 2020 Kawasaki KLX110L: $2,499 (Courtesy of Kawasaki/)
Are you putting another mark on the height-tracking doorframe? As your boy or girl gets taller you will also need to keep an eye on motorcycle options that have a taller seat height. This small-displacement bike offers a 28.7-inch seat height and 10.4-inch ground clearance, just right for those stretching legs. Additionally, the taller seat height makes this KLX a fun pit bike for adults too. As youngsters develop, they can also handle more controls so a manual clutch makes its way onto the L model. Mechanical drum brakes bring this KLX to a stop (90mm in the front, 110mm in the rear).
2020 Honda CRF125F: $3,099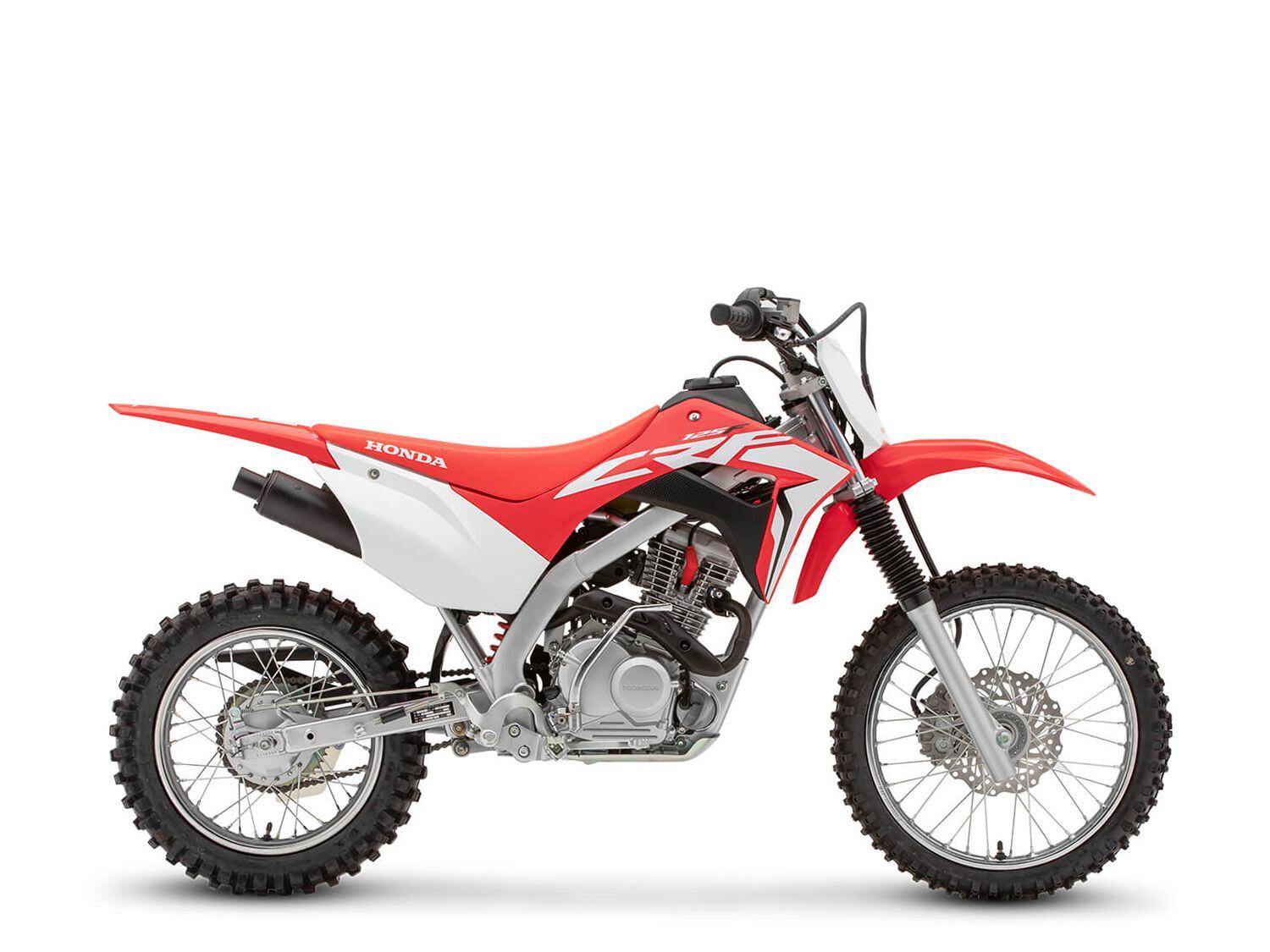 2020 Honda CRF125F: $3,099 (Courtesy of Honda/)
In comparison to its Big Wheel brother, the Honda CRF125F is equipped with smaller wheels with a 17-inch front and 14-inch rear. However, the brakes are the same with a 220mm disc up front and a drum brake in the rear. The CRF125F sheds 5 pounds from the Big Wheel, tipping the scales at a claimed 194 pounds. Ground clearance is understandably dropped down to 8.3 inches in comparison with the Big Wheel (10.3 inches), but regardless it is still tall enough to instill the intermediate rider with confidence to conquer an obstacle-filled route. Further, it was an appropriate machine when we taught a younger brother the ropes of riding before he moved up to CRF250F.
2020 Suzuki DR-Z125L: $3,299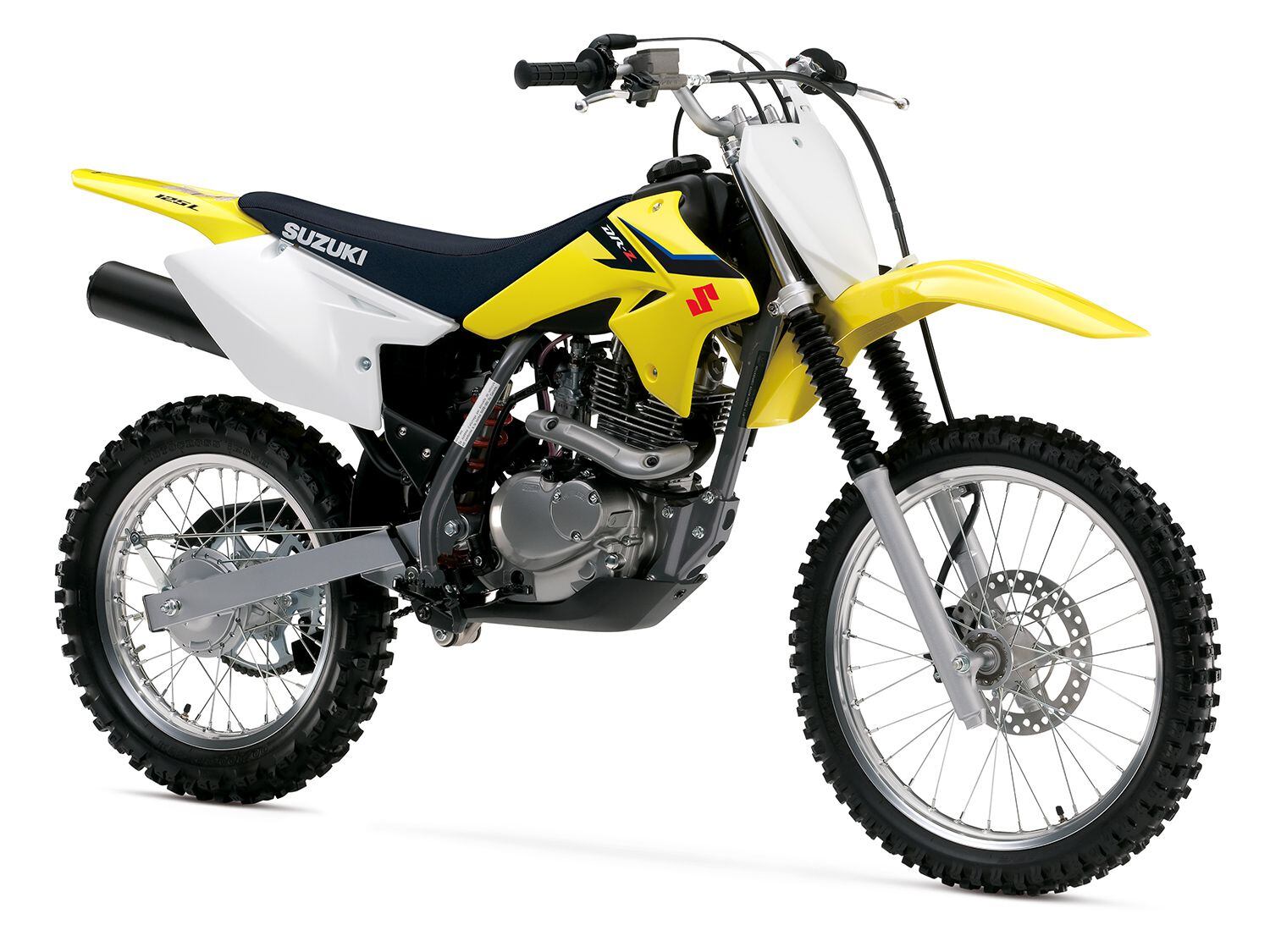 2020 Suzuki DR-Z125L: $3,299 (Courtesy of Suzuki/)
Where you're going you don't need roads, take the DR-Z125L on that off-road escapade with the younger rider in your family. With its compact 124cc engine that is EPA emissions and California red sticker compliant, you can take on the great OHV areas the West Coast has to offer, but you will only be able to ride during designated times of the year. Designed for off road, the DR-Z125L has a lightweight, high-rigidity steel tube frame and rear beam-style swingarm, as well as a lightweight plastic skid plate. The claimed curb weight is 196 pounds. As recently covered, the only update from the previous model years are different graphics.
2020 Yamaha TT-R125LE: $3,349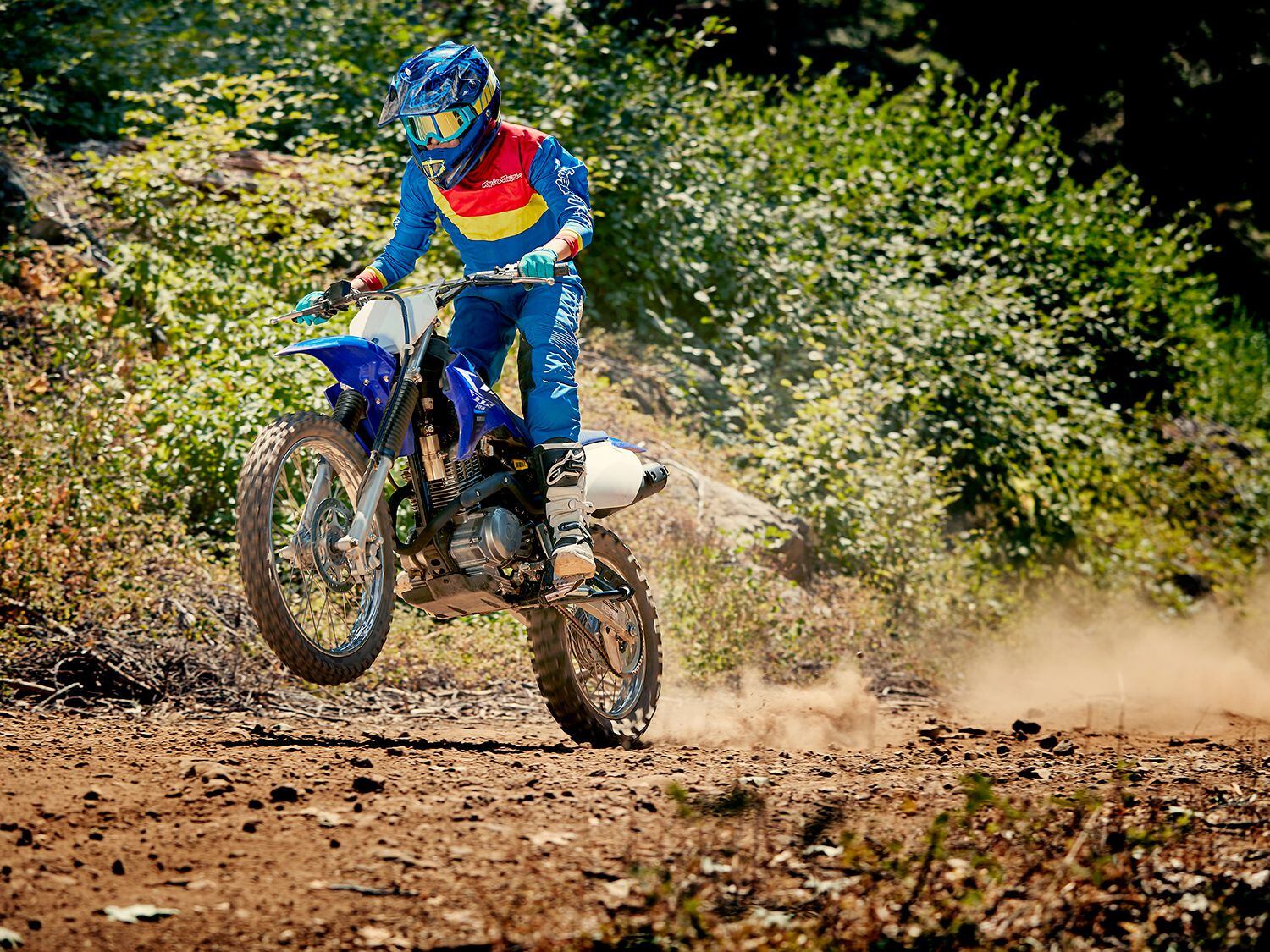 2020 Yamaha TT-R125LE: $3,349 (Courtesy of Yamaha/)
With its adjustable suspension, 124cc displacement, and 50-inch wheelbase, the TT-R125LE is geared more toward young adults and grown-ups who want to master trails aboard a "small trailbike with soul" since it has more engine power and a larger wheelbase than the TT-R110E (110cc displacement and a 42.5-inch wheelbase). Chew up the paths with the 19-inch front and 16-inch rear tires and 31mm telescopic fork and single shock rear suspension, and come to a stop with its front disc brake and rear drum brake. Like the TT-R230, this model also has the automatic cam-chain tensioner and aluminum box-section swingarm with snail-type chain adjusters.
2020 Honda CRF125F (Big Wheel): $3,499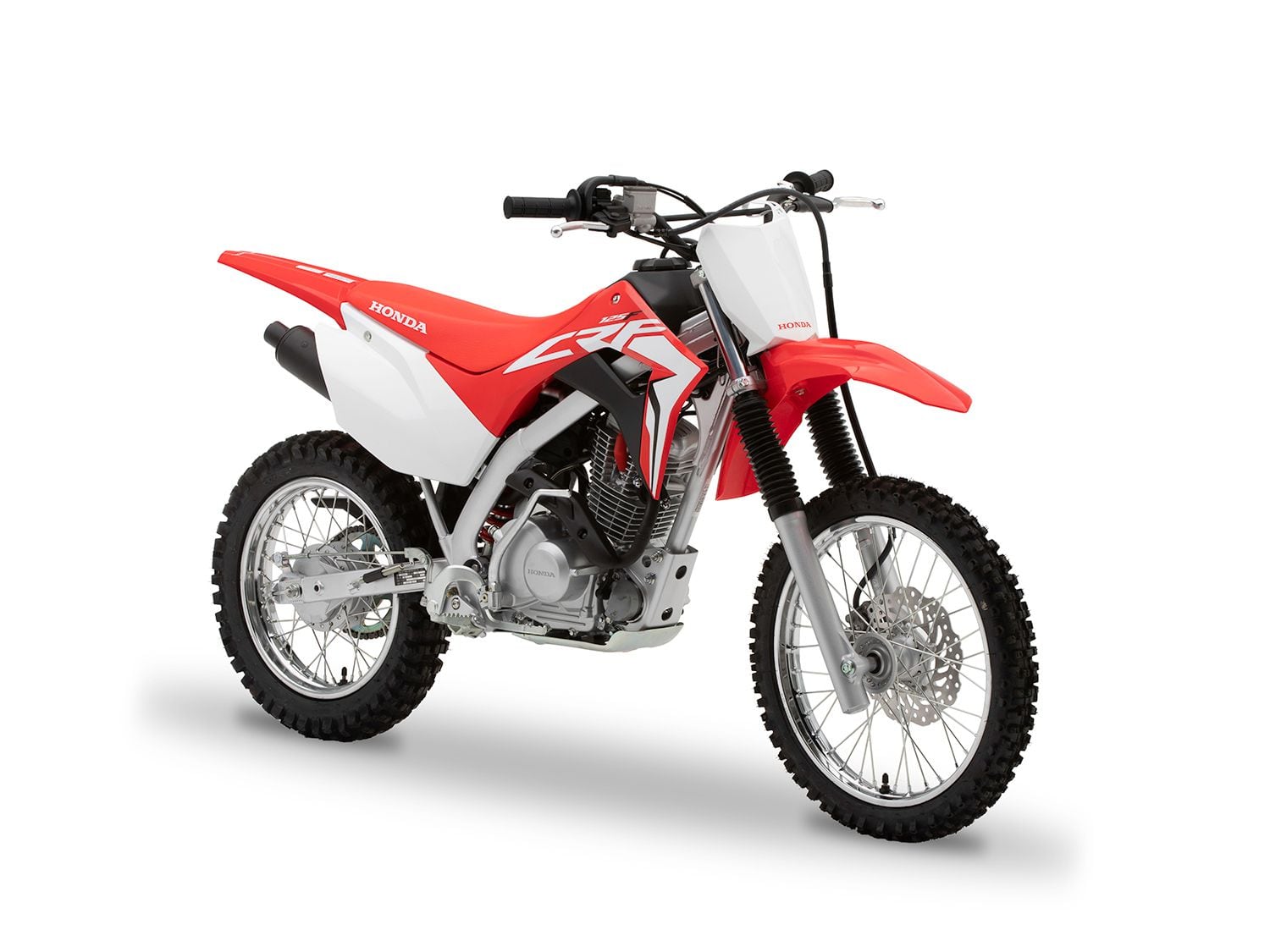 2020 Honda CRF125F (Big Wheel): $3,499 (Courtesy of Honda/)
For $400 more than the CRF125F, this Big Wheel version is just as the name implies. It comes equipped with bigger wheels that are more suitable for taller riders. Instead of the 17-inch front and 14-inch rear wheel on the CRF125F, the Big Wheel is fitted with a 19-inch front and 16-inch rear. Stopping power is provided by a 220mm disc up front and a drum brake in the rear. The seat height is at an intermediate 30.9 inches and the bike weighs a claimed 199 pounds. A keyed ignition allows for parental control of riding times.
2020 Kawasaki KLX140: $3,099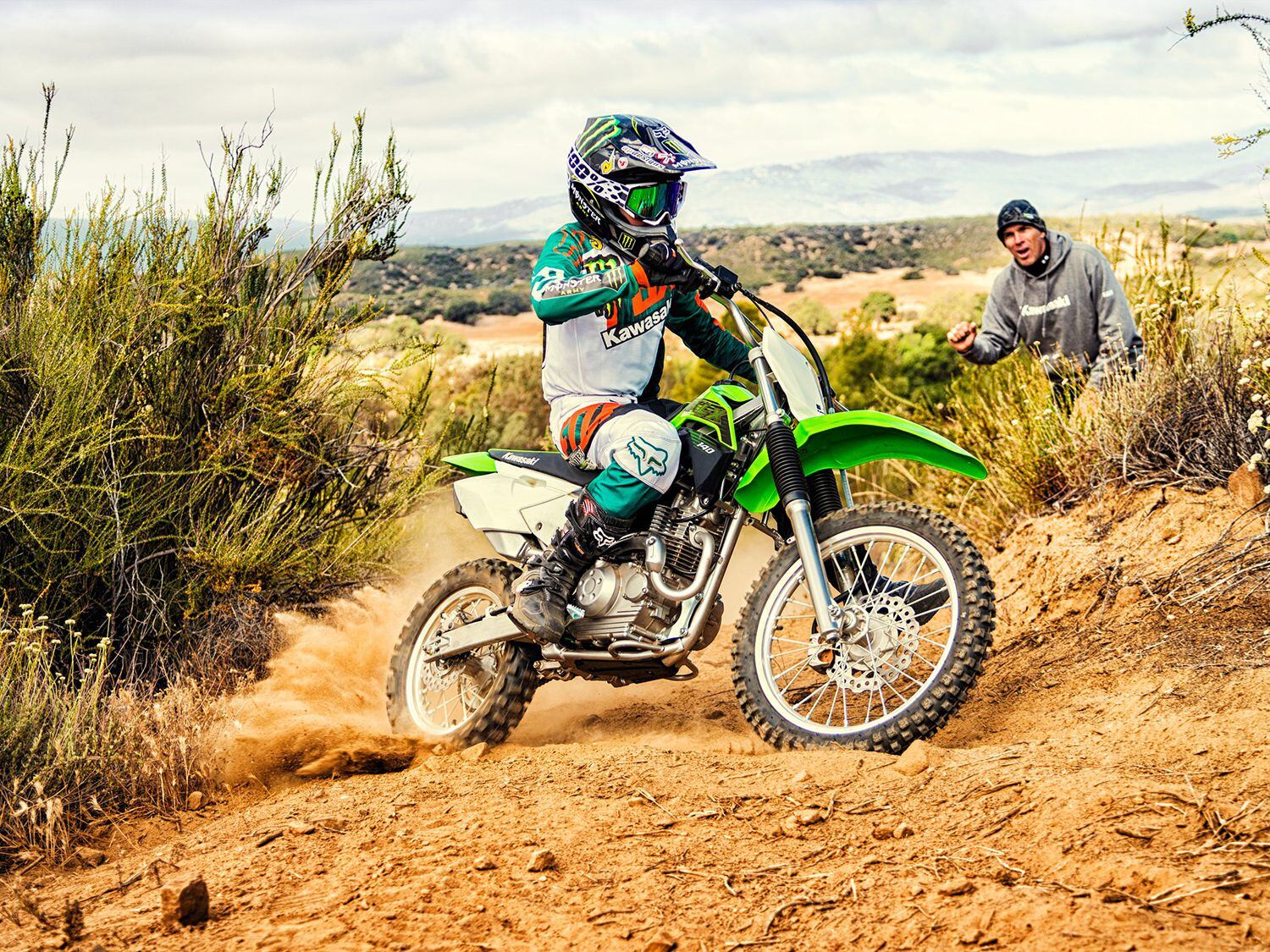 2020 Kawasaki KLX140: $3,099 (Courtesy of Kawasaki/)
In order to feel like the older kids, preteens will be excited to get into the higher-displacement bikes like this super-friendly 144cc Team Green ride. The rider will have to pull a little bit more of their own weight because, as expected with the engine-size increase up from Kawi models like the KLX110, the weight bumps up nearly 40 pounds more. Whereas the KLX110 weighs a claimed 168 pounds, the KLX140 hits the Kawasaki scale at a claimed 205 pounds. At $600 more than the KLX110L, this is a step in the right direction as their riding skills improve with its added fifth gear and disc brakes front and rear.
2020 Kawasaki KLX140L: $3,399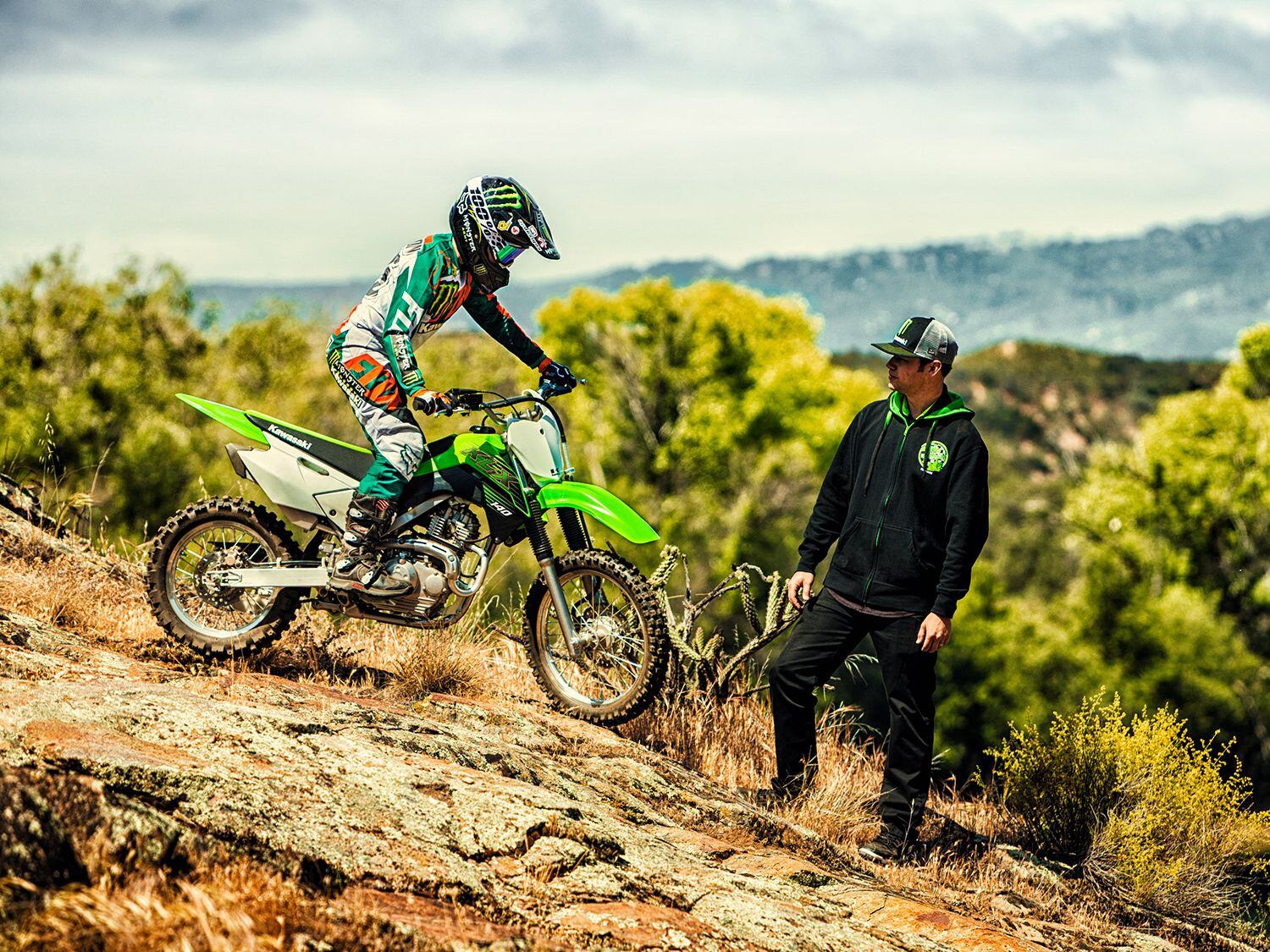 2020 Kawasaki KLX140L: $3,399 (Courtesy of Kawasaki/)
The L version of the KLX140 brings the seat height up to 31.5 due to the increased wheel sizes (19-inch front and 16-inch rear, compared to the respective 17-inch and 14-inch on the KLX140). Although wheel diameter is increased, the KLX-L gains only 4 pounds from the base model to bring it to a claimed 209 pounds. Furthermore, the 10-inch ground clearance will allow the rider to tackle more rugged terrain of deeper ruts and larger obstacles while providing a total 31.5-inch leg stretch to the ground. Suspension travel is 7.1 inches front and rear, which will help the rider soak up the earlier-mentioned obstacles.
2020 Kawasaki KLX140G: $3,699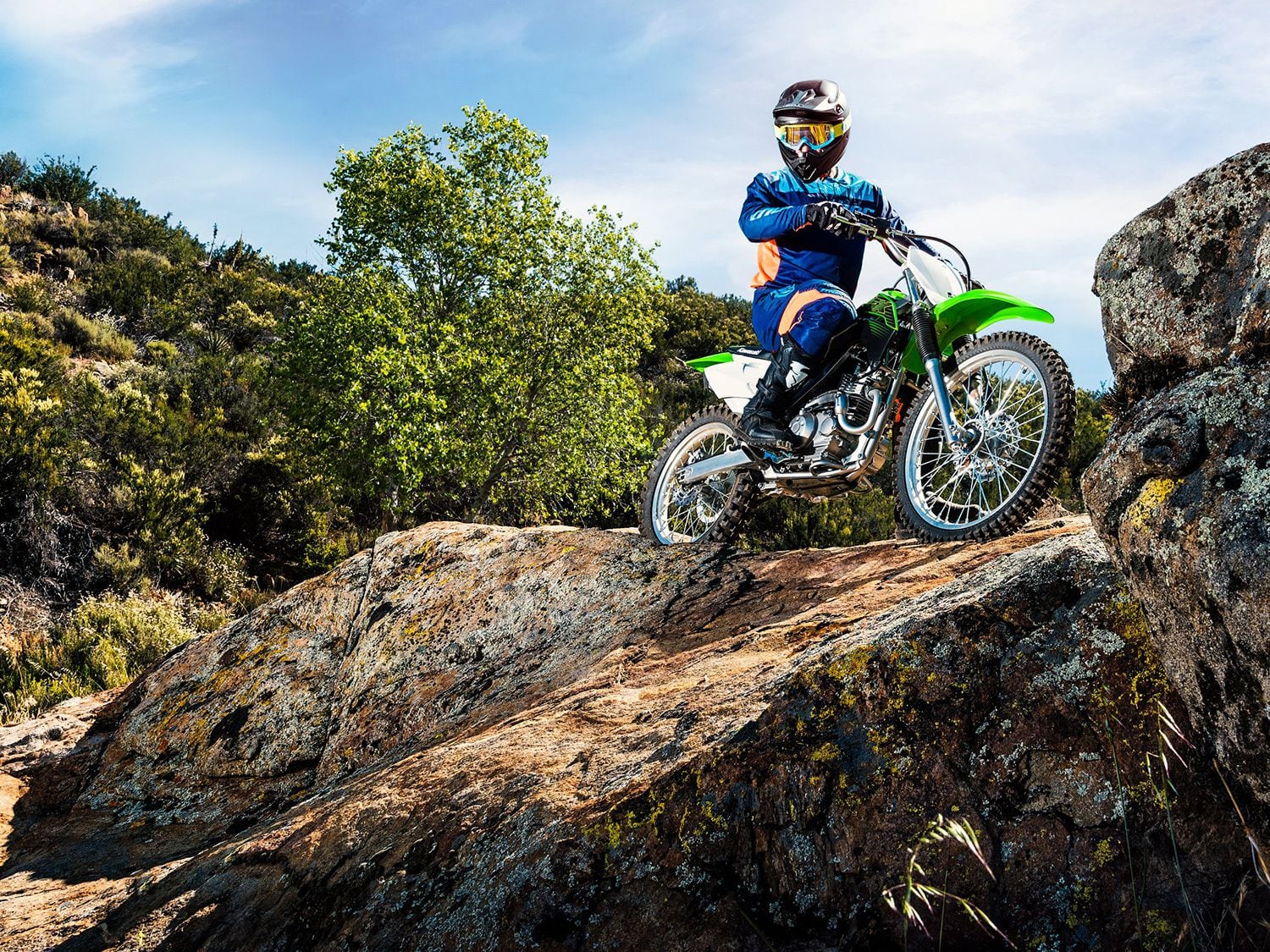 2020 Kawasaki KLX140G: $3,699 (Courtesy of Kawasaki/)
Wheel diameters increase yet again for the 140, resulting in the G sitting on a 21-inch front and 18-inch rear, that are fitted with knobby tires. Suspension travel likewise increases to 7.5 inches up front and 7.9 inches in the rear to ensure your little rider is staying in line, and if he/she is taking on bigger obstacles, then these suspenders will be able to soak up the impact. Different from the KLX140, the L and the G have a 22-way rebound damping and threaded preload adjustability on the shock, whereas the KLX140 has five-way preload adjustability.
2020 Yamaha TW200: $4,599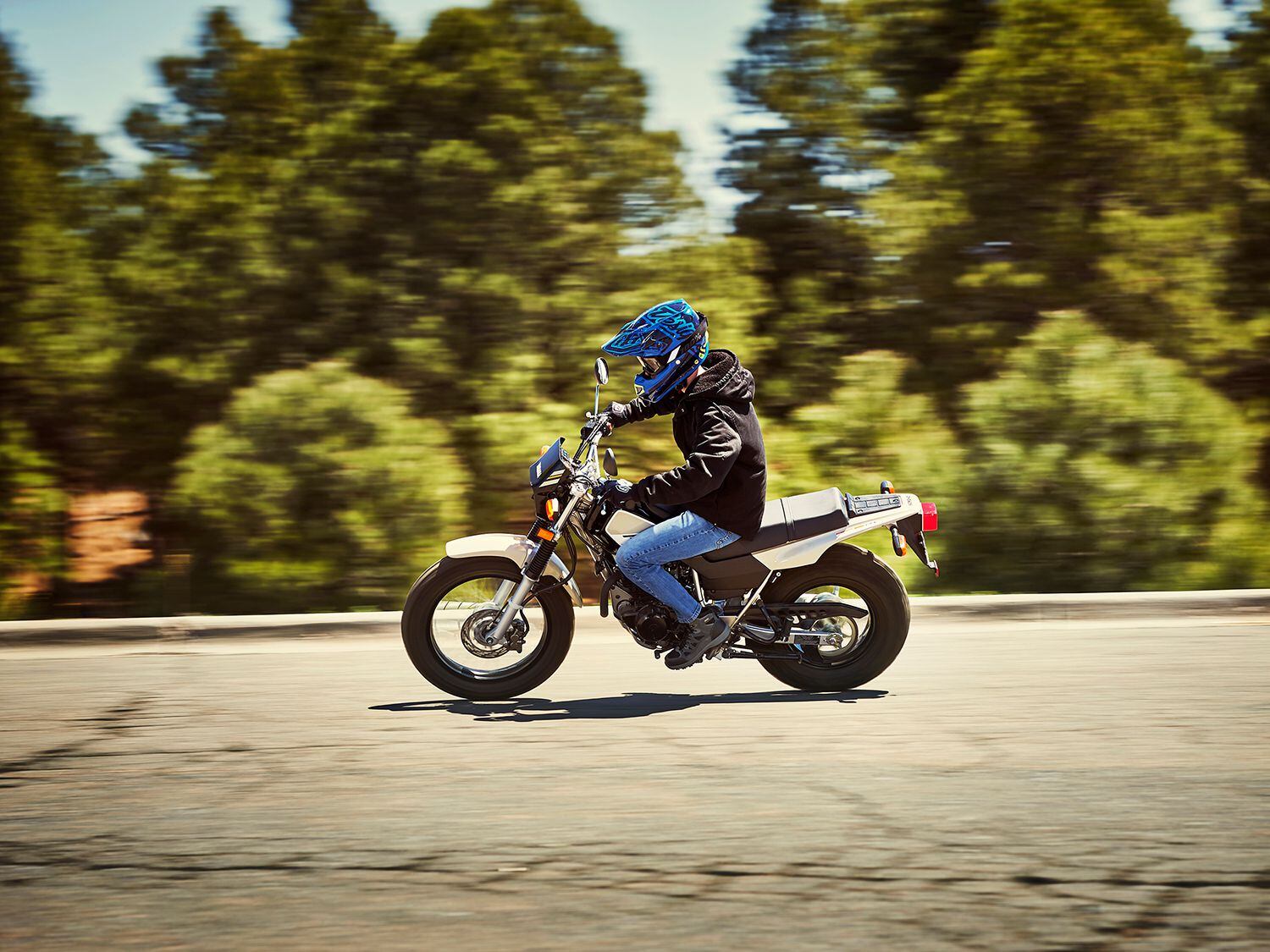 2020 Yamaha TW200: $4,599 (Courtesy of Yamaha/)
As a utility dual sport that can be used for anything from hauling stuff on trails and around campsites to riding the street, the TW200 created its own little niche of motorcycle. It is a fantastic way to introduce your teen to street riding, especially if they are already familiar with the dirt. While the turn signals, headlight, taillight, license plate frame, and 196cc engine prove the bike's street capabilities, the spoked wheels, motocross-style seat, protective fenders, and fork protection gear this ride up for the dirt. Yamaha claims 78 mpg and considering the 1.8-gallon fuel tank, you could be traveling roughly 140 dirt/street miles before needing a fill-up. A claimed 278-pound weight is supported on chunky 130/80-18 front and 180/80-14 rear tires that provide loads of traction and confidence-inspiring control for the rider.
2020 Kawasaki KLX230R: $4,399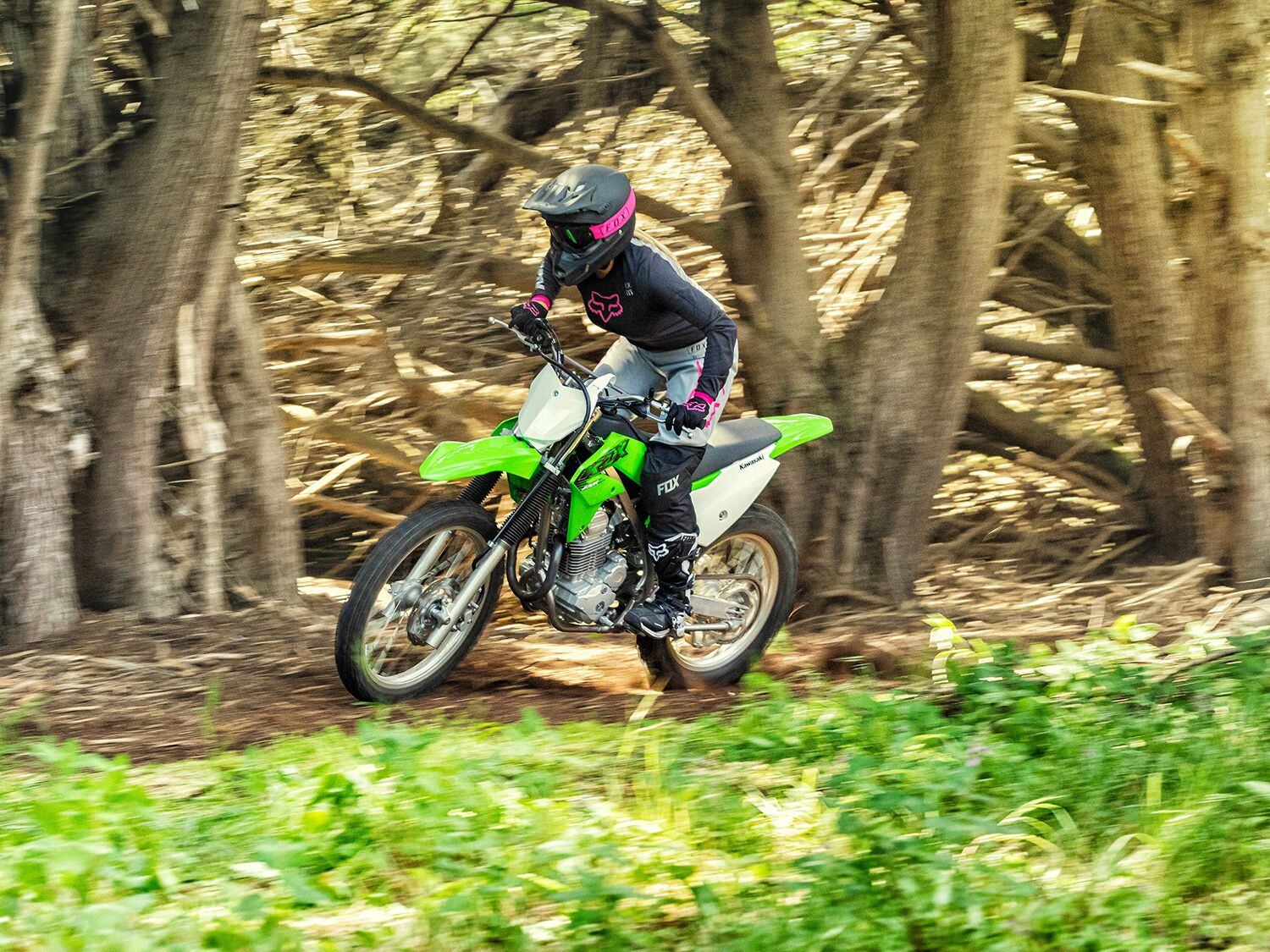 2020 Kawasaki KLX230R: $4,399 (Courtesy of Kawasaki/)
The KLX230R is one of three new KLX models for 2020, but it, along with the KLX230 dual sport, are the only ones that are priced under $5K (the KLX300R misses the mark with its $5,499 price tag). The KLX230R is a 233cc full-size dirt bike option for your teenager. The revised frame contributes to the narrower cockpit for easier handling. It bounds over rough terrain with the 37mm telescopic fork (with 9.8 inches of travel) and a Uni-Trak linkage system with adjustable spring preload out back (9.9 inches of travel). A 240mm front disc brake with a dual-piston caliper will help kids practice their stoppies, while braking at the rear is provided by a single 220mm petal disc with a single-piston caliper. According to Dirt Rider's initial coverage, "The California [KLX230R] model is green sticker compliant, allowing it to be ridden off road year-round. Instead of an on/off button, the California model features a key-type ignition cylinder and an on/off indicator lamp. The steel fuel tank on the California model is equipped with a lockable cap and meets strict environmental regulations."
2020 Yamaha TT-R230: - $4,449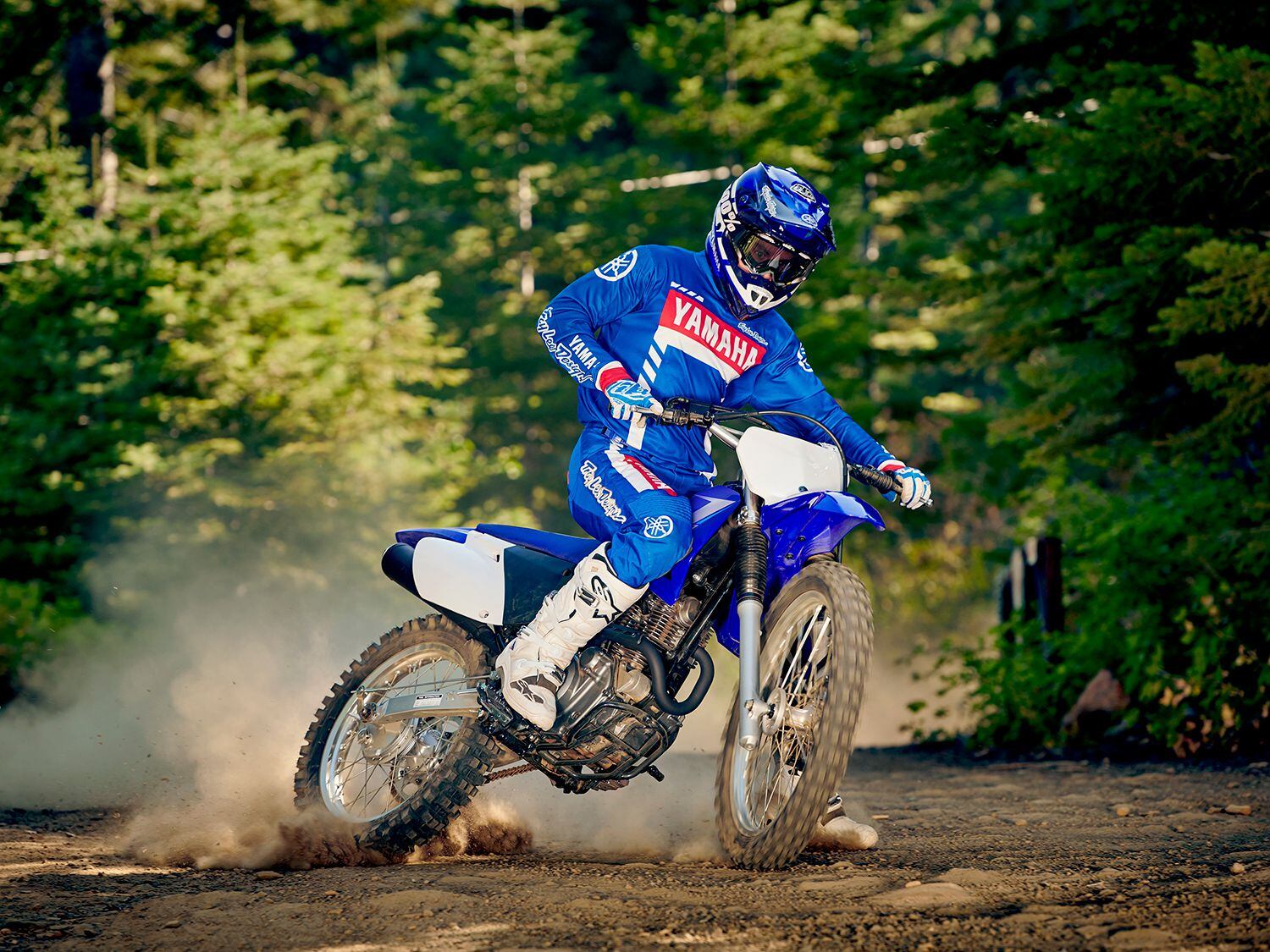 2020 Yamaha TT-R230: - $4,449 (Courtesy of Yamaha/)
Back in 2005, the TT-R230 replaced the TT-R225 and was a hit in all the right places. Now, the 2020 Yamaha TT-R230 is the highest- displacement trailbike in the Yamaha playbike lineup with its 233cc, air-cooled, SOHC four-stroke engine. Seat height is a taller 34.3 inches in comparison to the 31.7- or 26.4-inch seat heights of the TT-R125LE and TT-R110E, but like the R125LE and R110E, the rider gets a gripper-style seat and is standing on large cleated footpegs in order to keep them on board and in control. A tall 11.6-inch ground clearance will increase beginner and intermediate rider confidence by providing plenty of room when they ride over larger rocks and logs.
2020 Kawasaki KLX230: $4,899 with ABS, $4,599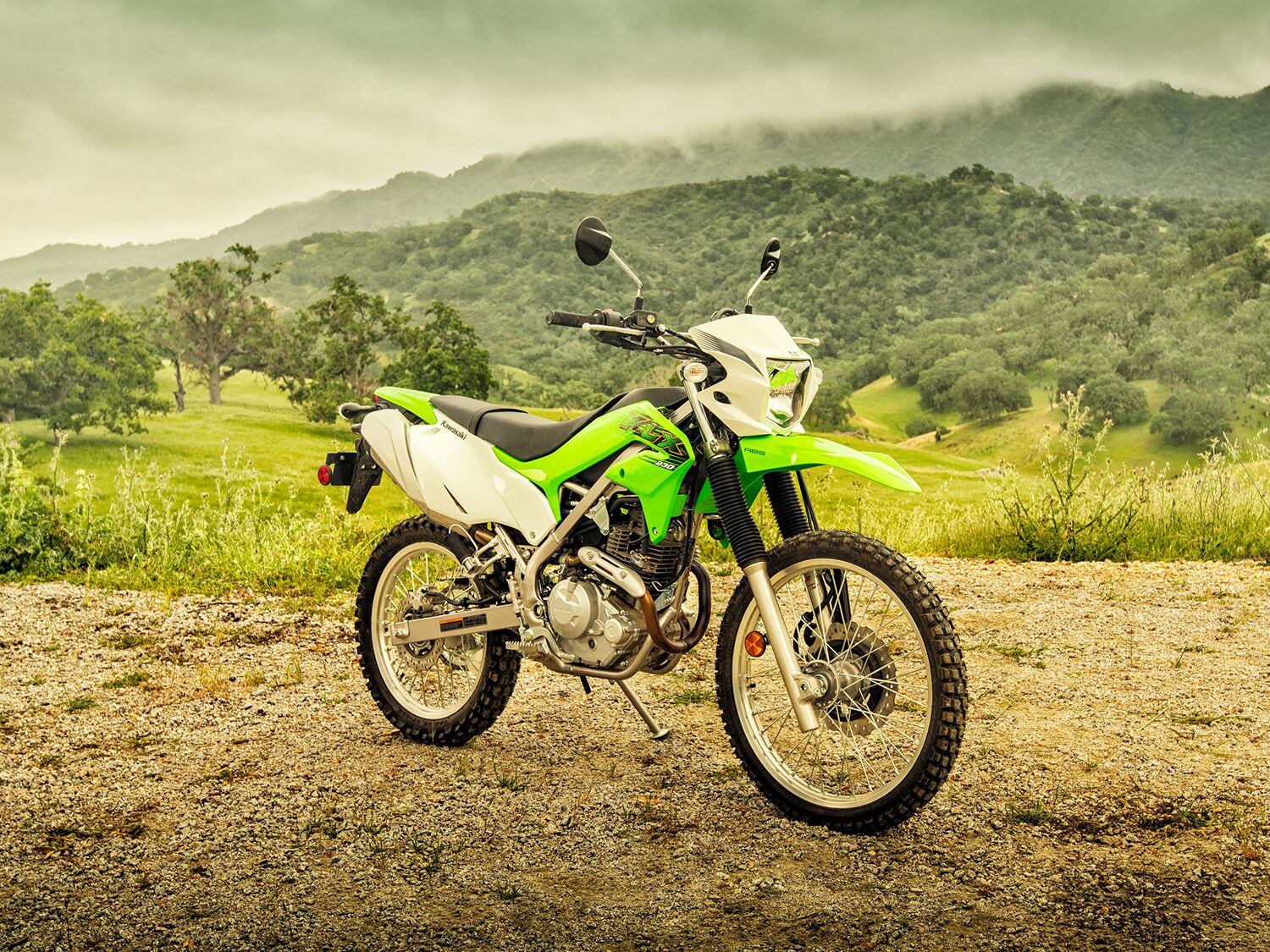 2020 Kawasaki KLX230: $4,899 with ABS, $4,599 (Courtesy of Kawasaki/)
While the KLX230R is off-road only, the KLX230 is a dual sport, so for some on- and off-road fun for your 16-year-old, the KLX230 will open the doors to a variety of dirt/street adventures for the freedom-seeker of your family. The 233cc, fuel-injected, air-cooled, four-stroke engine is similar to the KLX230R, but it includes a larger 2-gallon fuel tank. For added safety, a few hundred extra bucks covers the ABS-equipped version. The dual sport model of the KLX line also features passenger footpegs, a lockable toolbox compartment, and an all-digital instrument panel that displays the speedometer, odometer, fuel gauge, clock, and indicator lamps.
2020 Honda CRF250F: $4,599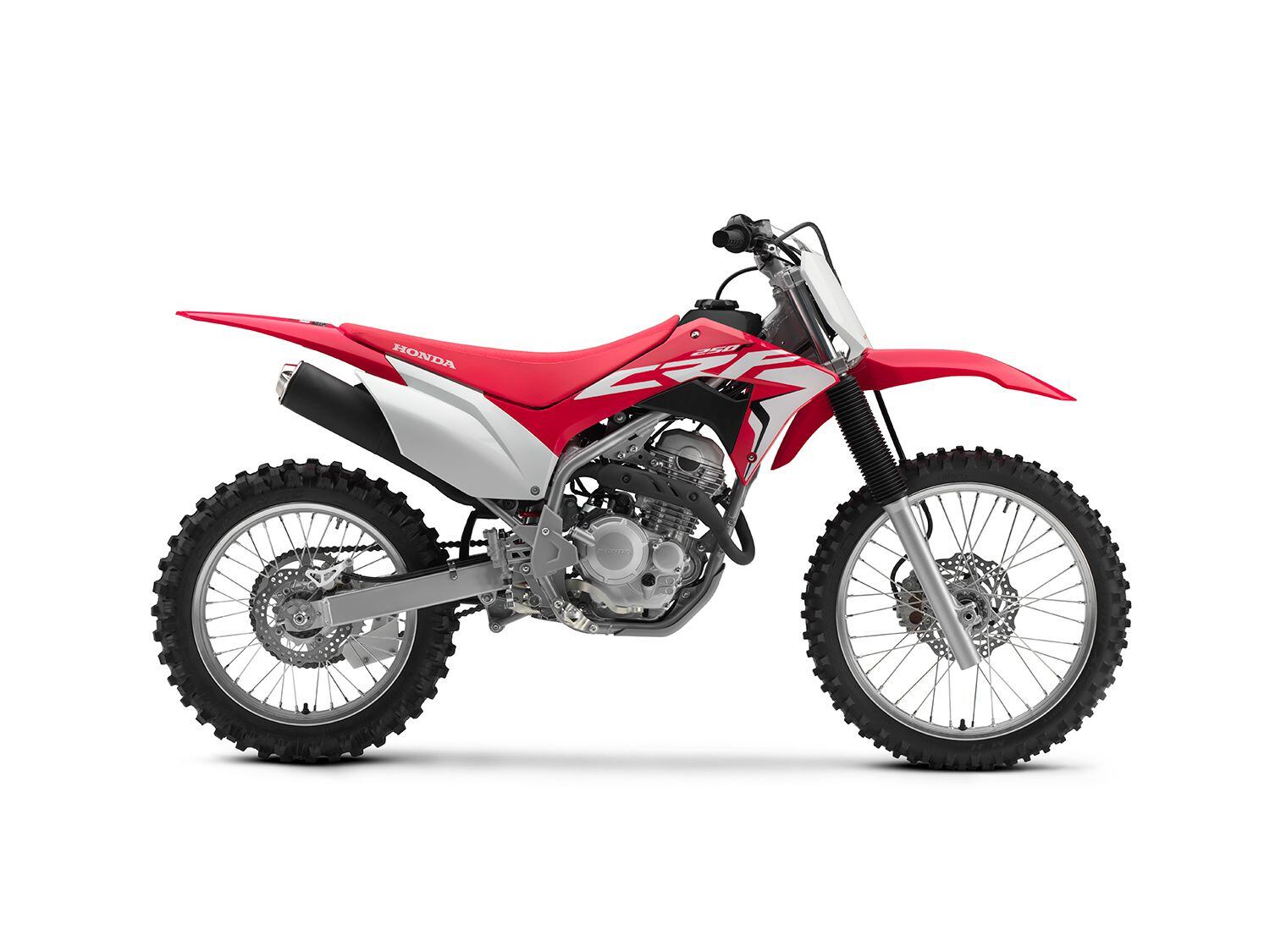 2020 Honda CRF250F: $4,599 (Courtesy of Honda/)
Honda is one of the only OEMs to produce a 249cc dirt bike for under $5,000 (SSR has a 300cc dirt bike which is discussed next). This single-cylinder four-stroke Honda CRF250F is great for a wide range of skill levels and offers MX racing styling inspired by its CRF450R and CRF250R brothers that will attract the checkered-flag-loving riders. However, when we reviewed the 2019 CRF250F, we found that this machine is less concerned about speed and jumps, rather it encourages the rider to discover the possibilities of where a motorcycle can take you. The engine is counterbalanced for smooth running and is fuel injected, meeting California's CARB emissions standards. The 21-inch front wheel and 18-inch rear wheel eat up trails with the help of a Showa telescopic fork and Pro-Link-equipped shock. Precise stopping power is attributed to disc brakes front and rear.
2020 SSR SR300S: $4,399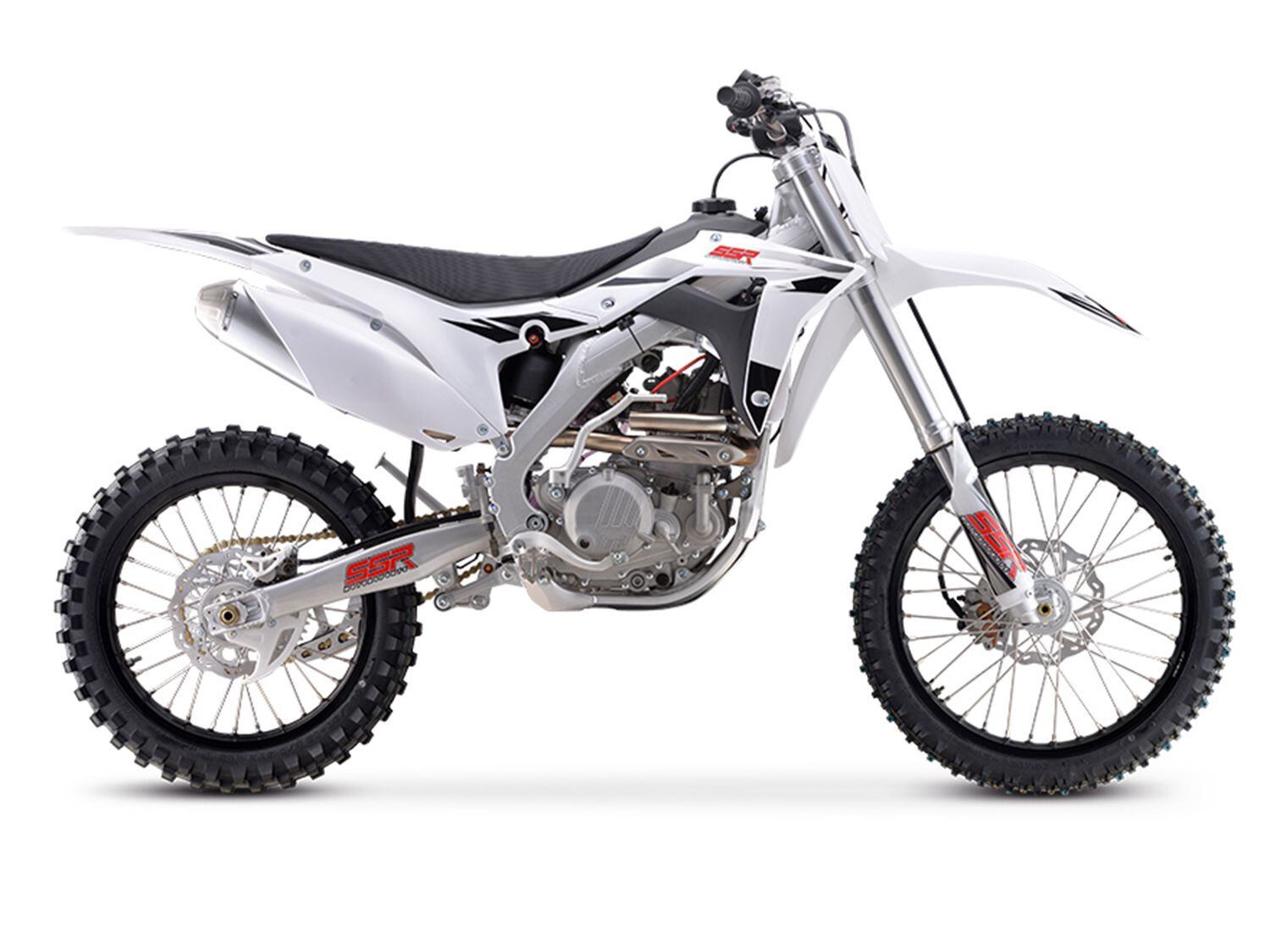 2020 SSR SR300S: $4,399 (Courtesy of SSR/)
Powered by a 300cc, liquid-cooled, four-stroke single, the SSR SR300S is the largest-displacement dirt bike on this list and produces a claimed 30.8 horsepower at 9,500 rpm. Compared to the 34.8-inch seat height of the CRF250F, the SR300S's 37.4-inch seat height forces the rider into a pretty long stretch to the ground making this suitable for taller beginner/intermediate riders. Although we thought the small wheel diameter (17-inch front and 14-inch rear) of the SR150 we tested a couple of years ago led to the wheels wanting to "dance around making it hard to carve a tight line," the SR300S has 21-inch front and 19-inch rear, which will potentially increase rider control and overall stability. Suspension travel is listed at 10.0 inches for the fork and 10.5 at the shock to nicely soak up jump landings. Like the Honda CRF110F, the SR300S is equipped with both an electric start and kickstart so you will be ready to run with backup start-up options.