TwentyFeet is like Google Analytics for social media.
TwentyFeet, Gmail Inbox Checker, WhoTweetedMe & 3 more!
Target audience: Marketing professionals, SEO specialists, PR pros, brand managers, businesses, nonprofits, educators, Web publishers, journalists.
Post by Andrew Lisa
For corporation founders like Bob Parsons of GoDaddy, managing social media workflow is paramount to staying in touch with customers and maintaining an existing client base. GoDaddy manages a social media account on Twitter, Facebook, Instagram, Flickr, YouTube, and Pinterest (and, likely, some that I've missed). However, if you're a solopreneur or small business owner, social workflow is just as important as it is to the big leaguers.
I'm not part of a social media marketing agency or huge corporation, but just handling social marketing for my own individual blog requires me to use tools to improve workflow. Keeping up with the daunting aspects of social marketing makes it almost impossible to do anything else. The right apps, extensions, and software, however, have helped me do the work of many by helping me become organized and efficient.
TwentyFeet
1Like Google Analytics for social media, TwentyFeet uses graphs and charts to show me the impact you have across all your social media channels. This single tool can turn you into your own social media marketing agency.
WhoTweetedMe
2WhoTweetedMe is an excellent tool for anyone who relies heavily on Twitter for marketing. If you're like me, you have lots of Twitter traffic and very little time. I use this tool to help me decide which people are the most important to interact with simply by cutting and pasting a URL into the tool's search bar.
Twylah
3I use Twylah to capture and preserve all my best tweets into a single attractive page. To avoid having to either waste precious time going through my feed or resigning myself to the fact that my finest updates are lost forever, I use the tool to centralize my tweets that relate to social marketing.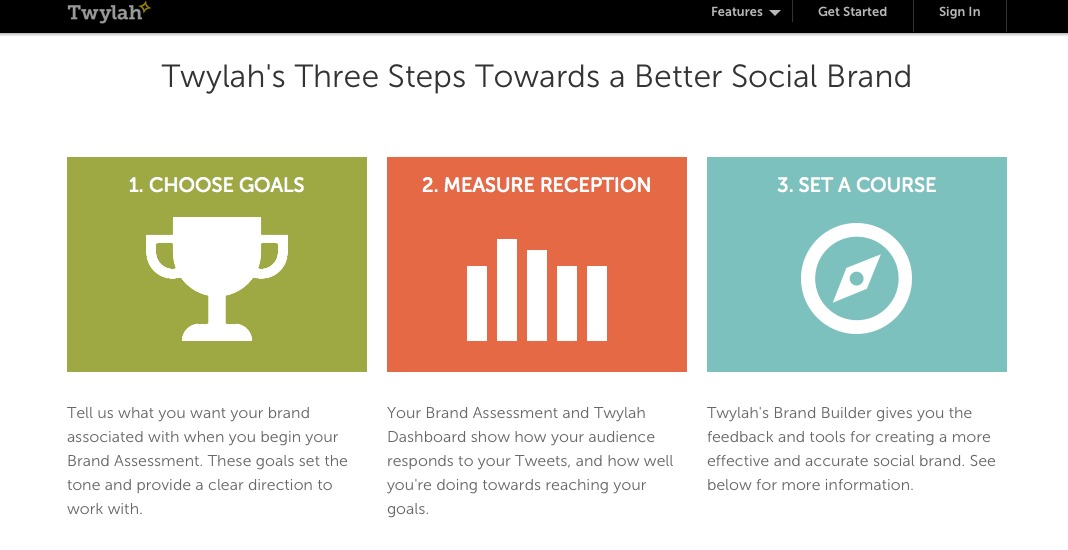 Twylah can turn your best posts into their own brand.
Buffer
4Of all the auto-posting apps, Buffer may be the best of the bunch – at least of those geared toward social marketing. Not only does it make it easy to share pre-loaded tweets, but scatters them out at the times that are most efficient for your specific account.
Let's Crate
5Similar to Dropbox, but better and simpler, Let's Crate uses a technique that could make any social media marketing agency more efficient. I simply drop my files in the crate, and the tool generates a single link for me to share across all my platforms.
Gmail Inbox Checker
6This Chrome extension is a very simple, easy solution for Gmail clutter. Infinitely better than all of Gmail's built-in priority-classification systems, Gmail Inbox Checker makes sorting, prioritizing, and responding to emails a piece of cake. It also lets me increase workflow by offering customized notification settings.
I don't know where I – or my social marketing strategy – would be without the help of the litany of awesome tools designed to make my life easier. Everyone's needs are different, so start with these, look around, and decide which ones are right for you. But remember – you're not alone and don't need to do it without help.
Andrew Lisa
is a freelance writer living in Los Angeles. He writes about social-media marketing, profiles online business tools, and writes about prominent business people.
Follow him on Twitter
.