A group of AI researchers has released a free-to-use competitor to GPT-3 – considered one of the most powerful auto-text generators on the planet.
Dubbed GPT-Neo, the AI-generated writing tool is somewhat less powerful than GPT-3, but still gives the formidable tech a good run for its money, according to Will Knight, a writer for Wired.
GPT-3 first turned heads last summer, enabling users to auto-generate articles, emails, blog posts, headlines, tweets and similar text with just a few lines of text input.
"The hype is real," observes Kelsey Piper, a writer for Vox.com who personally tried out GPT-3. "It has its shortcomings, but make no mistake: GPT-3 represents a tremendous leap for AI."
Despite GPT-3's experimental and imperfect nature, a number of start-ups are nevertheless attempting to tame the technology for specific commercial uses.
GPT-Neo's great advantage over GPT-3, of course, is that it cost nothing to use.
Companies looking to harness the power of the original GPT-3 – created by OpenAI – must pay a licensing fee.
(For an in-depth look at GPT-3, check out: "GPT-3 and AI Writing: Stunning, if Imperfect," by Joe Dysart.)
In other AI-generated writing news:

*Gartner: AI-Generated Business Reports are the Future: Market research firm Gartner predicts that database software capable of generating auto-written business reports is the future of business analytics.
During the past few years, increasing numbers of businesses have been adding AI writing capabilities to commonly used business intelligence programs like Microsoft Excel and Tableau — using plugins from AI writing firms.
Currently, AI writing plugins adding auto-generated written explanations of business data – and the often hard-to-decipher charts and graphs that accompany that data – are available for programs like Microsoft Power BI, Microstrategy, Qlik, Spotfire, SAP – as well as the aforementioned Microsoft Excel and Tableau.
Plus, some of the latest versions of business intelligence software come with their own auto-report-writing capabilities built-in – including Yellowfin and Tableau, according to Eric Avidon, a writer for Search Business Analytics.
By 2025, 75% of business intelligence software will offer some form of AI-generated report writing, according to James Richardson, a research director at Gartner.
(For an in-depth look at how AI is automating the writing of business reports, check out "Business Reports That Write Themselves," by Joe Dysart.)

*Virtual Talk on AI-Generated Business Reports Slated for April 13: AI-generated writing pioneer Narrative Science will be offering a talk on how the tech can be used to automate the writing of business reports.
Slated for 11 a.m. Eastern Standard Time, April 13, the online presentation features:
~Nate Nichols, chief scientist, Narrative Science
~Cassidy Shield, VP marketing, Narrative Science
~Kate Strachnyi, founder, DATAcated
*Automated Writing Tracking Coronavirus Vaccinations: AI writing firm Narrative Science is using its technology to auto-generate reports on the proliferation of Coronavirus vaccinations across the globe.
The updates — in the form of short texts — enable the everyday person to quickly grasp the progress on shots-in-arms, without being forced to wade through charts and graphs.
Says Dan Platt, technical product manager, Narrative Science, an AI-generated writing firm: "The vast majority of people in the world or in a city are not comfortable with getting the information that they need through graphs and dashboards.
"You can't just throw a bunch of charts in front of someone and expect them to make the best possible decision for them and their family.
"That's why I thought that this data — in particular — was a good display of what we do as a company."
You can check-out Narrative Science auto-generated reports on Coronavirus vaccinations in these categories:

~worldwide

~nationwide

~statewide

*AI and the Evolution of the Journalist: From Info Gatherer to Info Arbiter: Given the torrent of new information the world is confronted with every day, journalists will need to evolove from info-gatherers to info-arbiters, according to Francesco Marconi.
Says Marconi: "We have reached an inflection point. There's too much information."
The solution, Marconi says, are AI-powered tools that journalists are and will be using to uncover newsworthy events and trends.
No stranger to AI, Marconi helped spearhead AI implementations at The Wall Street Journal and the Associated Press.
Currently, he's founder of AI toolmaking company Applied XL.
And he's also author of the book, "Newsmakers: Artificial Intelligence and the Future of Journalism."

*AI Journalism: A Podcast Overview: For a quick study on AI's impact on journalism, you may want to check out this 12-minute podcast, featuring Mark van Rijmenam.
Van Rijmenam is founder of Datafloq.
Observes van Rijmenam: "AI journalists (robots) are increasingly 'employed' by publishers and organizations.
"The good news for human journalists is that there's still very much a need for their services when writing articles.
"But with machines now capable of doing more tasks than ever — and more complex ones — we face several important questions: What's the role of AI in journalism, and what are the challenges and considerations when bringing AI into the newsroom?"
*GPT-3 Spinoff Apps: 300+ and Counting: More than 300 new software programs are using GPT-3 as their AI engine, according to a post on OpenAI's blog.
Open AI – the creator of GPT-3 – wowed many in the AI community last summer with the release of the software.
Observes a writer for Open AI's blog: "Nine months since the launch of our first commercial product — the OpenAI API — more than 300 applications are now using GPT-3.
"And tens of thousands of developers around the globe are building on our platform.
"Developers can 'program' GPT-3 by showing it just a few examples or 'prompts.'
"We've designed the API (advanced programming interface) to be both simple for anyone to use — but also flexible enough to make machine learning teams more productive.
"We have a growing community of tens of thousands of developers around the world, with the majority across North America, Europe, Asia, and Australia.
"We've also found that many of our developers tend to be those without a traditional AI or software engineering background."
*A Look at Some Early GPT-3 Start-Ups: John P. Desmond, a writer for AI Trends, takes a look at some of the first entrepreneurs looking to capitalize on the power of the auto-text generator in this article.
Sahar Mor, an AI and machine learning engineer, for example, has built AirPaper, which works with invoices.
And OpenAI – the creator of GPT-3 – has released DALL-E, a program that generates images from text descriptions.
One of Mor's worries about GPT-3 is its potential for misuse.
Says Mor: "Can we trust a commercial company to self-regulate in the absence of an educated regulator?
"What happens once such a company faces a trade-off between ethics and revenues?"
*GPT-3: Swooning With Merit?: While some have characterized the accolades over GPT-3 as overblown, Alex Wilhelm, a writer for Tech Crunch, sees merit amidst the gushing.
Wilhelm has been test-driving some of the early products and applications that are using GPT-3 as an AI engine – including Headlime.
Observes Wilhelm: "I will keep playing with the tech and the various software wrappers that are being built to productize GPT-3 – more notes to come.
"But I wanted to pause and share my initial delight: This is cool.
"I can't recall the last time that technology actually shocked me.
"But well played GPT-3 — you're amazing."
*Next Up: AI-Generated Opinion: Scientific American takes a look at opinion generated by artificial intelligence – a technology that could be used by both the news media and everyday businesses in coming years.
Specifically, the article's focus is on Project Debater – AI technology under development at IBM.

Share a Link:  Please consider sharing a link to https://RobotWritersAI.com from your blog, social media post, publication or emails. More links leading to RobotWritersAI.com helps everyone interested in AI-generated writing.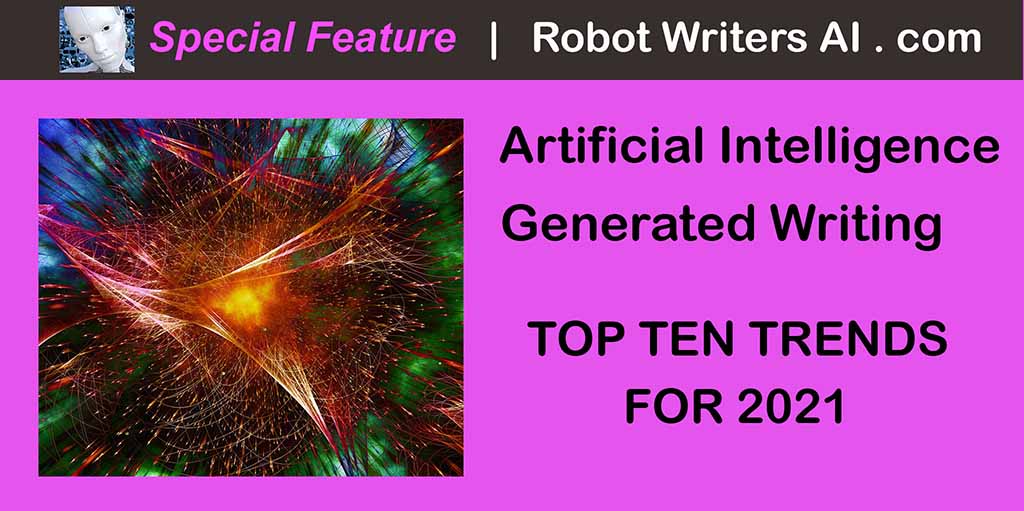 –Joe Dysart is editor of RobotWritersAI.com and a tech journalist with 20+ years experience. His work has appeared in 150+ publications, including The New York Times and the Financial Times of London.
The post Stunning AI Writing Power: Now Free appeared first on Robot Writers AI.