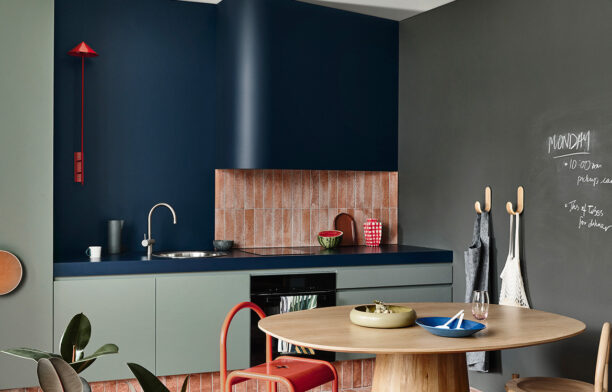 Constraints often challenge architects and designers to do their most creative work, and we see that here, in the very beautiful, very clever Studio Kitchen by Kennedy Nolan. Conceived as a kitchen for a small house or apartment, its design plays with scale, colour and texture to not only create a feeling of spaciousness and generosity but deliver maximum amenity from its minimal footprint.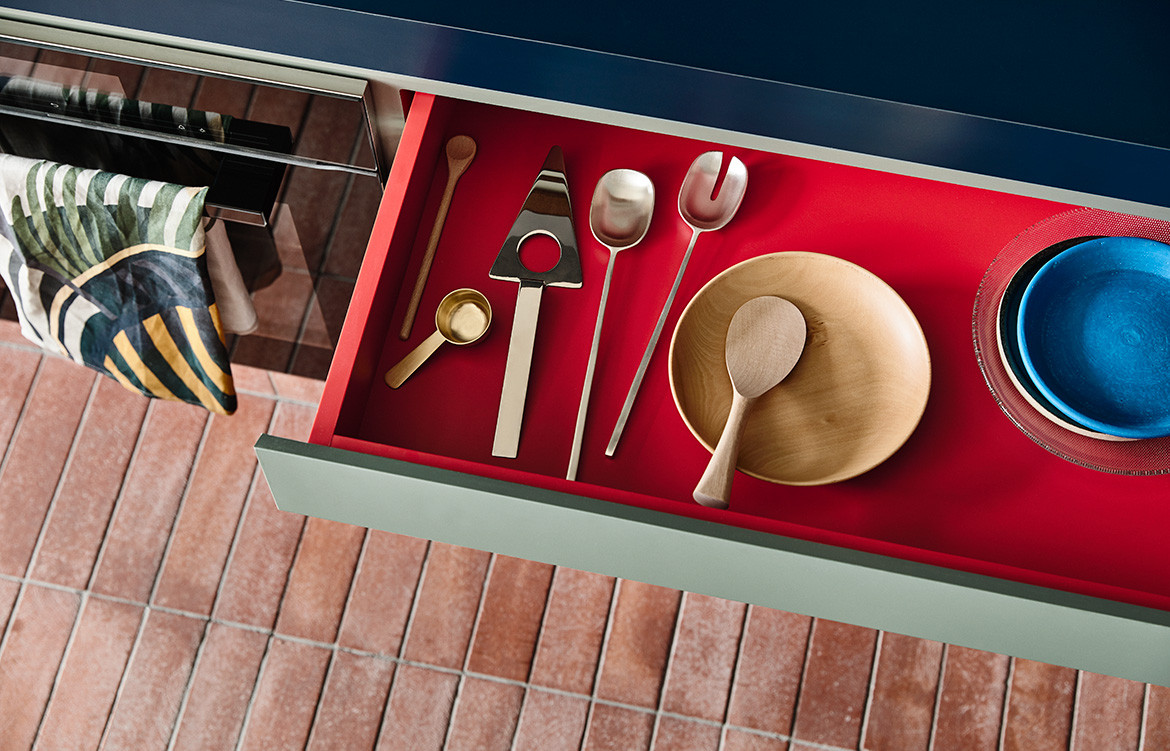 The material palette comprises a handful of products chosen for their rich colour, textural appeal and inherent tactility. Most prominent is ultra-matte Laminex AbsoluteMatte, specified in warm, earthy Green Slate for the tower and under-bench cabinetry, and in classic blue French Navy for the benchtop, splashback and elegantly curved rangehood cover. AbsoluteMatte's light-absorbing qualities give these surfaces a beautiful visual softness, and particularly in the deep blue of French Navy, help the kitchen to recede in the space, making it feel larger.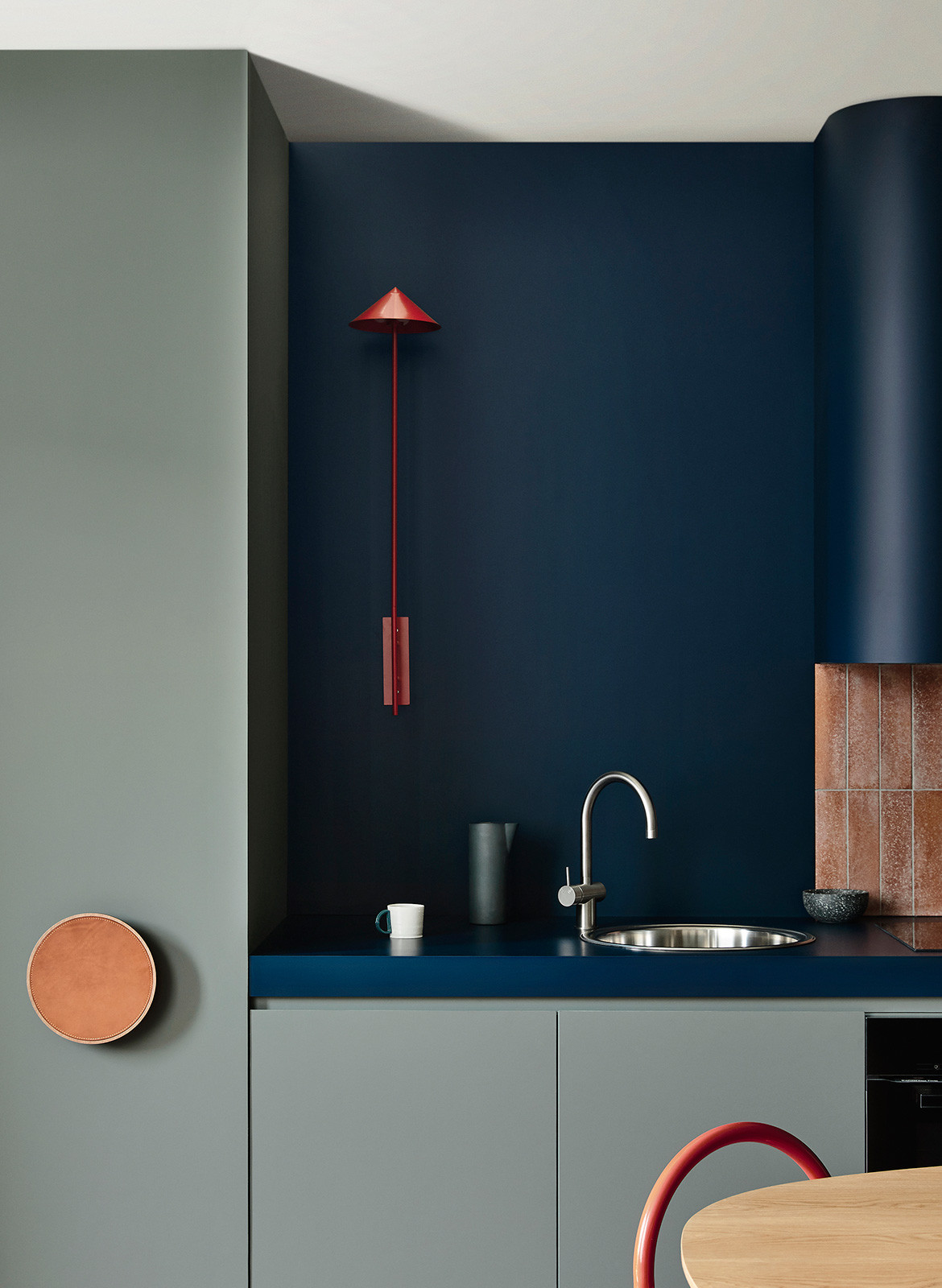 Terracotta brick tiles from Artedomus bring wonderful contrast with their warm tones and rustic texture. There's also a wall finished in blackboard paint, which coordinates with the darker colours and matte finishes. And then, two flashes of brilliant red – a custom-coloured Volker Haug wall light and hidden, waiting to be discovered, a drawer lined in Laminex Pillarbox.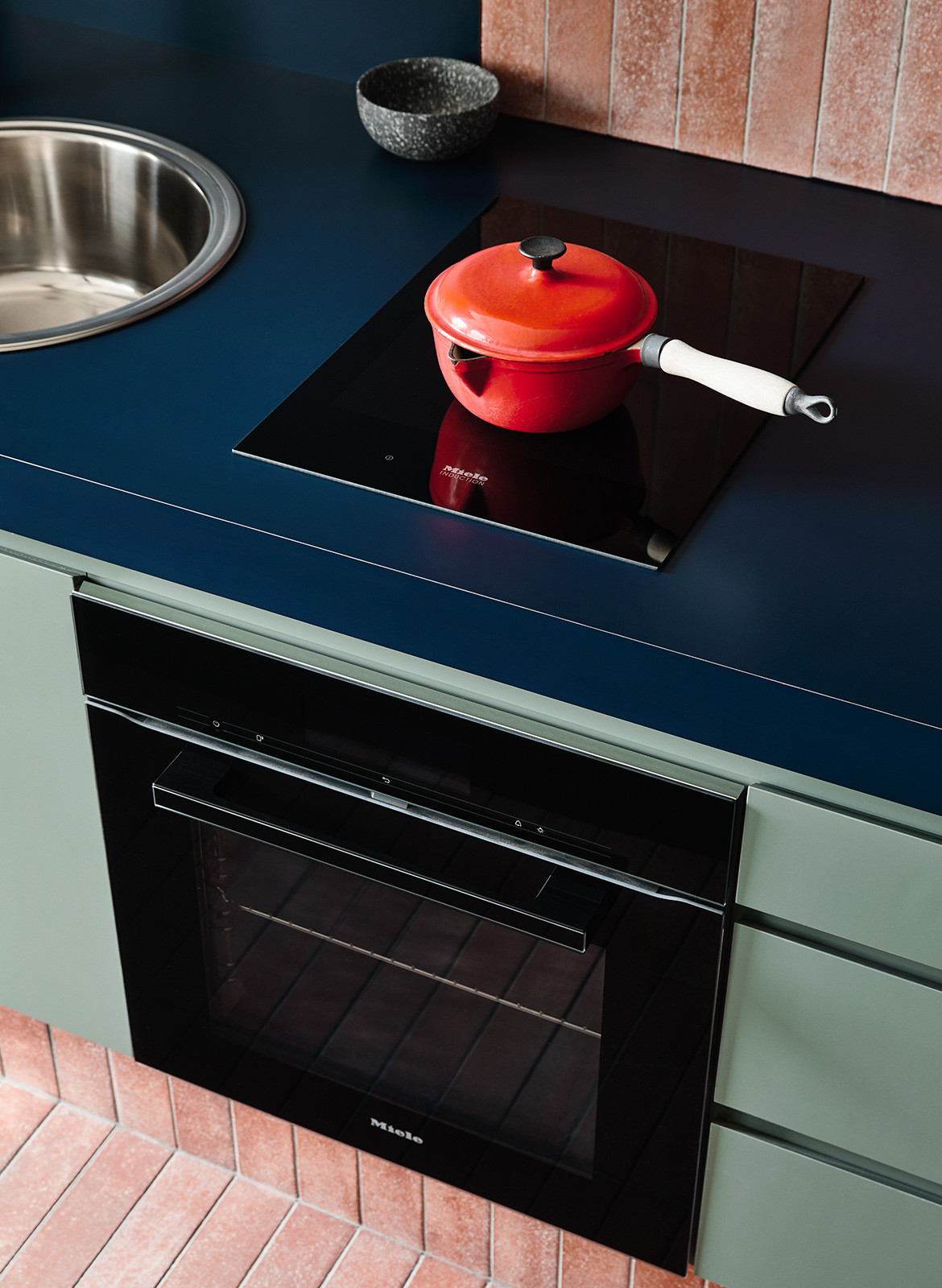 But what really sets this kitchen apart is the way Kennedy Nolan has brought these materials together, pushing certain elements beyond standard dimensions to achieve visual effects and deliver greater functionality. For example, instead of having a regulation 100mm kicker, the terracotta floor folds up the front of the cabinetry to the full height of one tile, making a feature of something that's often an afterthought. This is mirrored in the way the Laminex AbsoluteMatte French Navy above gives expression to a chunkier-than-usual benchtop. And the benchtop itself is 800mm deep – 200mm deeper than standard – so there's room for appliances and cooking staples to be pushed to the back, while leaving ample workspace in front. In a kitchen that can't accommodate an island bench, this will have a positive impact every single day.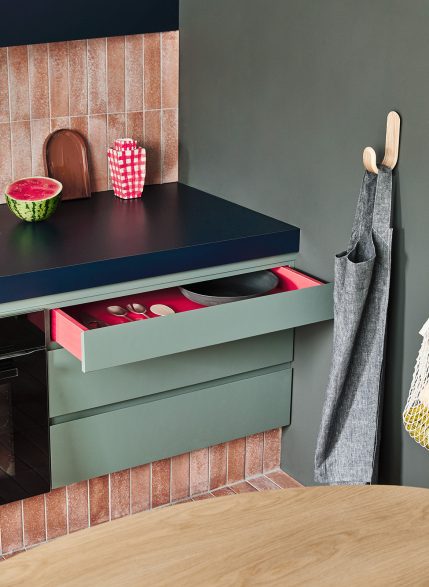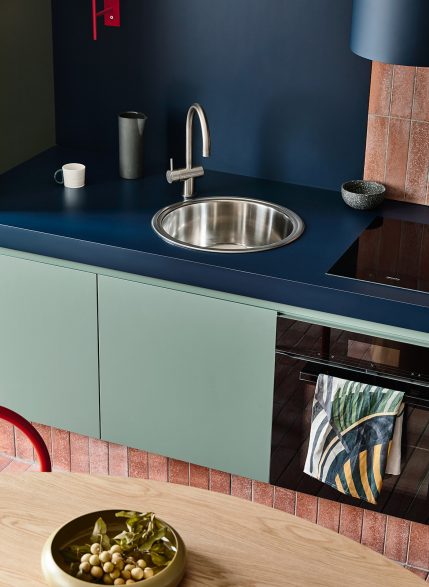 The same deep-blue decor is used for the splashback, designed to a width of 1200mm to match the laminate sheet size and avoid visible joins, and for the cold-formed curve of the rangehood cover, again crafted seamlessly from a single sheet of laminate. There are no overhead cupboards here, and this creates a feeling of openness at eye-level. Storage is instead provided in a substantial pull-out pantry beneath the benchtop, and in the tower cabinetry, which extends from floor to ceiling.
Describing her team's approach, Kennedy Nolan Principal Rachel Nolan says, "There's not much space, so when you make a gesture, make it generous!" Indeed, one final feature reinforces the point – all of the cabinetry is designed with discreet finger-pulls for doors and drawers, except for one massive circular In-Teria door handle, crafted from timber and leather, a beautiful focal point against its muted organic green Laminex backdrop.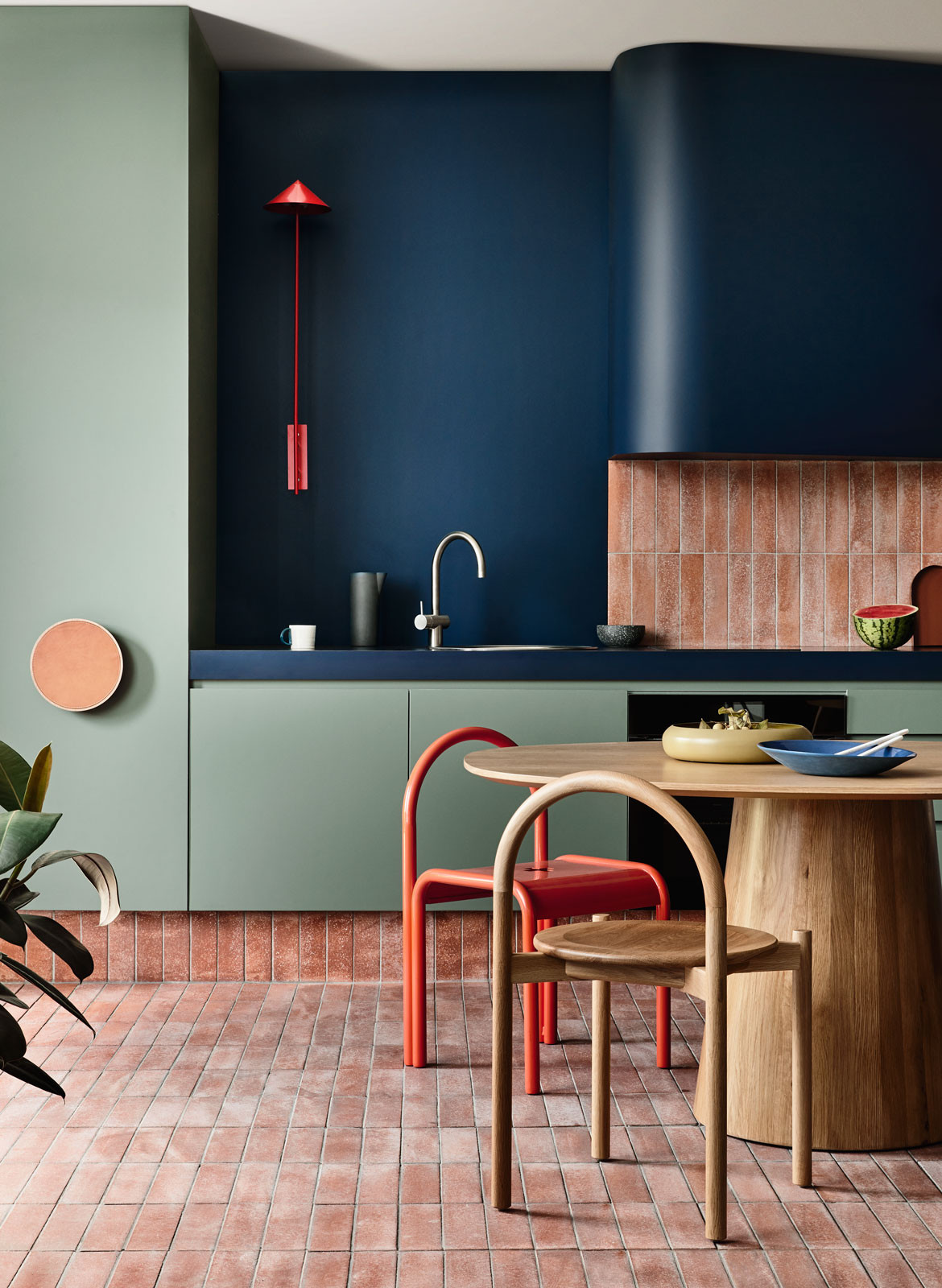 Studio Kitchen contributors
Interior Design by Kennedy Nolan
Photography by Derek Swalwell
Art Direction by Ortolan
Styling by Natalie James
Featured in this kitchen
Cabinetry: Laminex AbsoluteMatte Green Slate
Benchtop, splashback and rangehood: Laminex AbsoluteMatte French Navy
Drawer interior cabinetry: Laminex Pillarbox
Flooring and splashback: Artedomus Cotto Manetti Rustic Split
Handle: In-Teria, Big Moo
Wall light: Volker Haug
Sink: Oliveri Solitaire Round Sink
Tap: Sussex Tap
Cooktop: Miele CS 7612 FL
Oven: Miele 11128560 H 7860
The post The Studio Kitchen by Kennedy Nolan and Laminex appeared first on Habitusliving.com.