We're sure you're aware of the increasing impact that videos have on the marketing landscape. From raising awareness to getting clear ROI, having video content has become essential in maintaining your brand's presence on social media. 
Even though videos achieve great results, it doesn't mean they are your golden ticket to getting leads. You need to take your time to think both about the audience and your content to get the most out of video content.
A lot of brands miss some important steps that keep them from achieving optimal results, so let's go over the ways you can fix your videos and smash your KPIs!
Mistake #1: Not putting enough effort into your content
It may be hard to admit but a lot of brand videos are just not that interesting. We're sure you believe that you should say everything you can in your content, but a neutral audience most likely won't have the same level of investment.
The first step is having a clear message in your social media video and sticking to a concept. If you're all over the place, trying to be educational, fun, and innovative at the same time – it can be a little too much.
If you need inspiration, a good starting point is taking a look at some standard forms and the ways you can tweak them to get something that stands out.
Interviews/Q&A – when using your employees in videos, these shouldn't feel like a commercial. Have another look at your favorite podcast and think about the flow of the conversation. Even if it's just a single person talking to the camera, you can introduce some unexpected questions. For example, ask your CEO to dispel some frequent myths about your industry. 
Behind-the-scenes – storytelling is generally the best way to keep viewers' attention. Even if your brand targets a formal audience, having some true behind-the-scenes moments can help you show the best side of your company culture. This doesn't mean you should have scripted "fun" moments with your employees. They should really show ins and outs of a workday at your company and have either education or getting your audience to know you better in mind.
Testimonials – introduce a new perspective to your social proof videos. One of the best ways to do that is by creating vlogs. Instead of stiff, scripted videos, you should opt for a more sincere approach. When they are scrolling through their feed, chances are the viewers will be more inclined to stop at something that looks more native to the platform they're on. Try to stand out, learning from the best testimonial page examples for inspiration.
On top of that, the quality of your presentation can't be missed. No matter the resources you're working with, you need to have the basics in line to keep your audience:
Enough light 

Focused frames that show everything that viewers need to see

Clear sound

Same aspect ratio throughout
Additional elements to consider for stronger presentation:
Consistent transitions and cuts

Animations

Title cards for longer videos
Create Social Media Videos That Engage and Convert
with Wave.video
Try now
Mistake #2: Disregarding your audience
Many brands believe that their job is done after they create the video, but thinking about the audience is not only reserved for the production process.
Both while preparing content and when it's done, you need to consider where your video is going to reach the viewers and adapt accordingly. Being aware of the ins and outs of channels you're using helps you use them to their full potential.
Social media is often consumed in crowded environments, so one of the most important steps, that is often missed, is including closed captions. This one can make a difference in if your video gets the message across or it's just played a couple of seconds before scrolling down the feed.
Similarly, you can't just place a finished video on all of your social media in a one-size-fits-all manner. Viewer's habits are a good guideline here – think about how they interact with each platform and act accordingly. This means there are some clear ways to tweak your contact based on where are you addressing the audience:
Use shorter versions of your videos on Instagram and don't include a CTA that demands clicking links in the post caption as it's not possible on the platform.

Consider preparing vertical videos for mobile viewing. This should especially be a must when you're posting on stories.

Think about the use of branding – if you're sponsoring your content, consider adding the logo and/or name of the brand as a title card at the start so it's clear to users whose videos are they seeing.
Keep videos sorted on YouTube in the form of a playlist for convenience and easier sharing on other platforms. Take a look at Wave.video's YouTube channel for an example: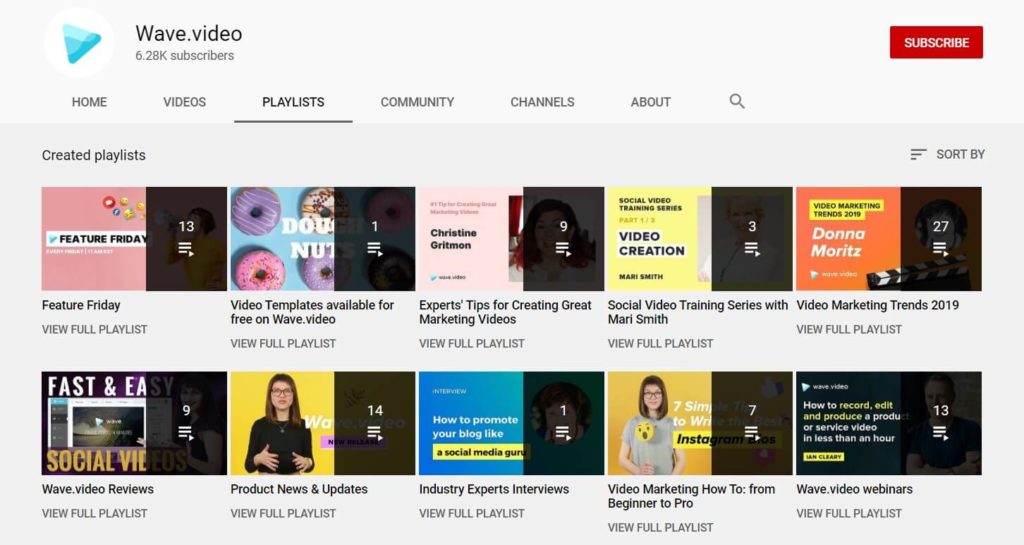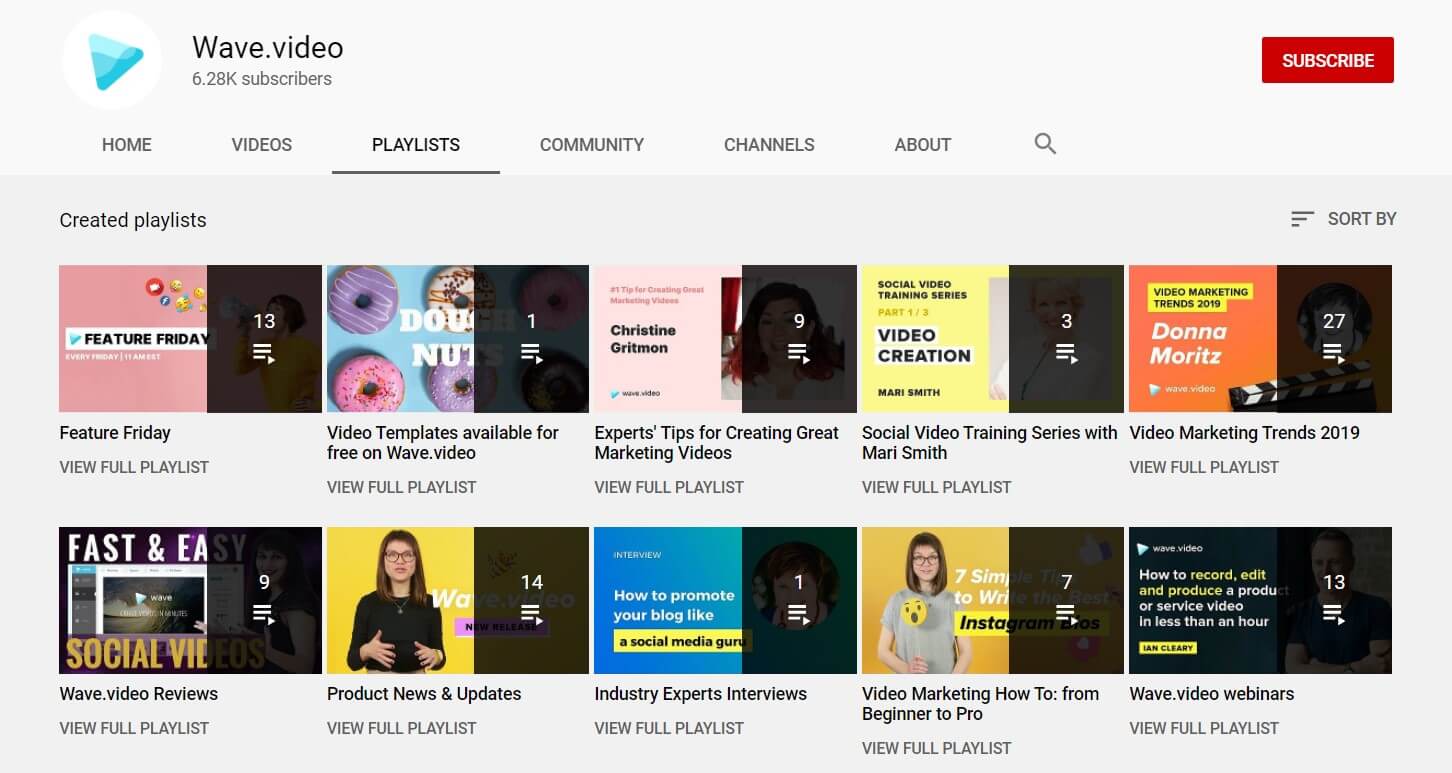 Aside from thinking in advance, another thing you need to remember is the importance of analyzing the way that your audience interacts with the videos you put out, but also their general activities. Ignoring the data you can get about your fans hurts the chances of getting any significant results.
Gather insights into how they search and use that in your video titles. Similar to how you'd approach increasing your website's SEO visibility score, use common topics and put keywords both in the name of your videos and the description.
Additionally, if your audience keeps gravitating to shorter videos, it's time to double down on that instead of making longer videos just to manage to say everything you wanted.
Mistake #3: Not having clear goals
When you're working on your videos, it's a given that you want them to do good. But the definition of that term is something that's often missing.
Getting leads should be embedded in every step of your advertising strategy. There are some steps to make your goals loud and clear.
You can't expect your viewers to engage with your content if there is a lack of clear calls-to-action. You need to make them easy and include them multiple times. If you're making a longer video, put them both in the start and later on, or just add one in the end for a shorter video, as well as one in the post caption. Find an example of a clear and straightforward call-to-action at the end of this video from Microsoft:
When you're gathering leads, plan for the next steps. This means you need to plan out the flow for the fans:
What's the incentive for them to click the link – will they learn more about the opportunity you're offering or is there a discount?

What's the funnel? Everything along the way needs to be aligned with the video you talked about. So for example you're posting a video about your culture – this is a perfect opportunity to generate leads for openings at your company.

How does it fit into your other content? This means that not every video should have the same CTA – consider first just establishing the connection and inviting the viewers to stay tuned. And then try with the lead collecting later on offering something of value for free like a white paper, case study, or

even an online course

.
Remember that it's always better going in-depth about a single goal than trying to cover all bases. Same as for the message of your content, if you go for everything at once, you're going to get lost in the middle.
One thing is in common for every bad brand video on social media out there – they were created without a strategy in mind. Start by thinking about your goals and your viewers. Then assess the resources at your disposal and create something that's worth seeing. Keep the message consistent, finish out with a strong call-to-action and watch the leads count increase!
About the author: Stefan Smulders is a SaaS Entrepreneur and the Founder of Expandi, software for LinkedIn automation.