Hello gentle readers, and welcome to the SwitchArcade Round-Up for May 21st, 2020. As we approach the end of the month, we're seeing more releases arriving. There are a lot of new games to check out today, and that's how we'll be spending most of our time here. There are also the usual lists of sales information, and that's about the lot. Let's check it out!
New Releases
Arrest of a Stone Buddha ($14.99)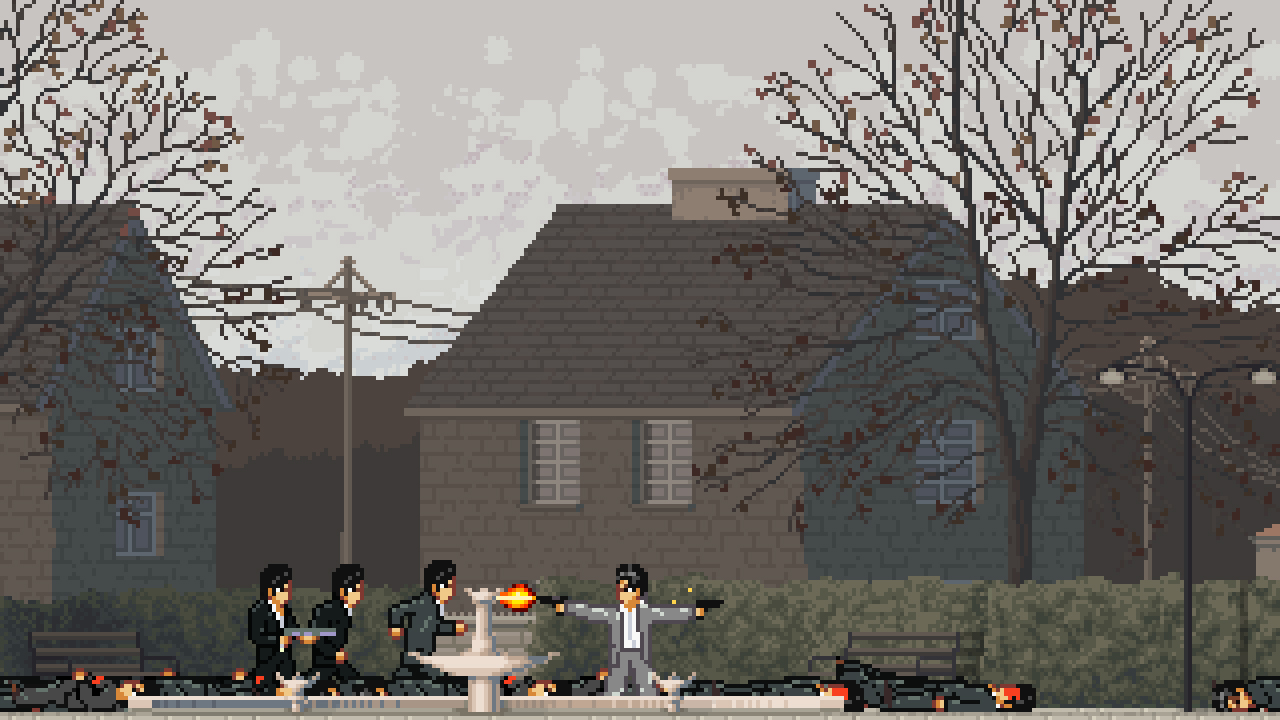 SwitchArcade Highlight!
One of the coolest surprises of last year was The Friends of Ringo Ishikawa from Circle Entertainment and developer yeo. On its face it was an homage to games like Kunio-kun/River City Ransom, but it was so utterly contemplative and unique that it got its hooks into me in a major way. Not for everyone, to be sure, but extremely cool in my books. Sadly it took me a little while to come to that realization, but that's not happening with the latest from that publisher/developer team. I've been playing Arrest of a Stone Buddha for a bit now, and it's another one-of-a-kind experience. You play as a hitman as he lives out one fateful month of his life in 1976 France, alternating between some genuinely hardcore shooting action and quiet slice-of-life moments in cafes and movie theaters. I'll have a full review of this one soon.
What The Golf? ($19.99)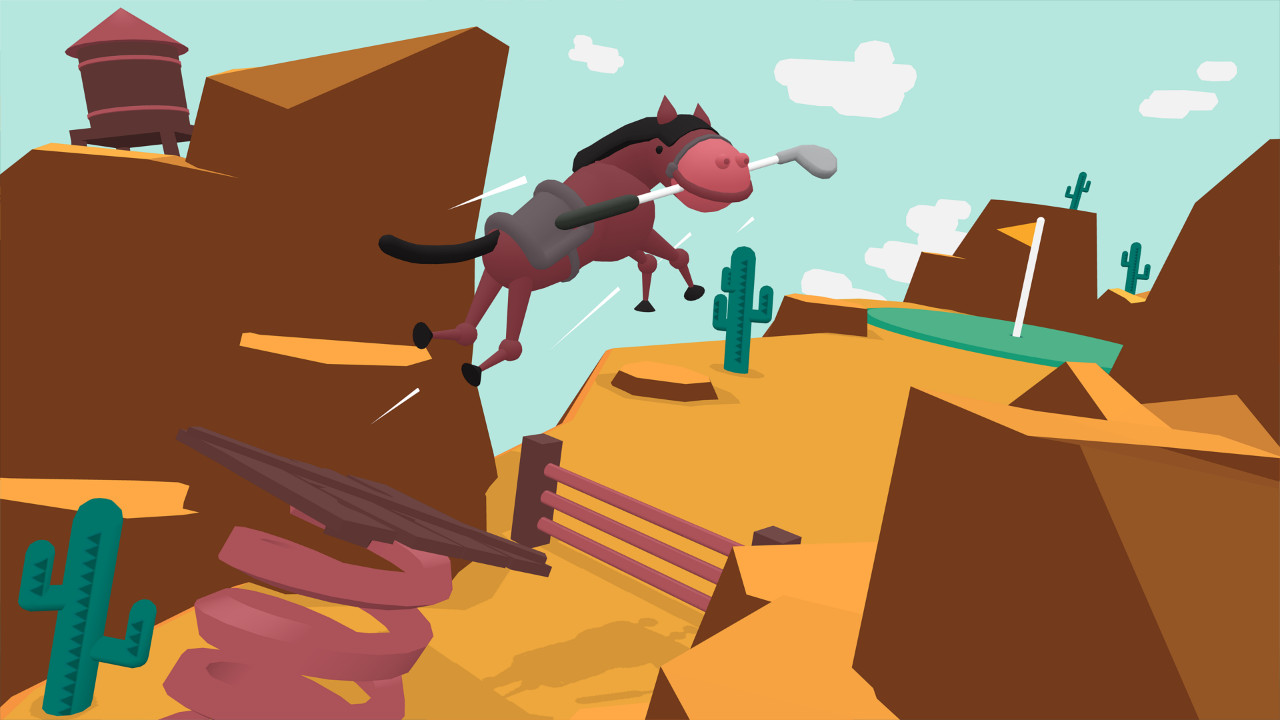 SwitchArcade Highlight!
This game is stupid as heck in all the best ways. You may have played it already on Apple Arcade, but this Switch version has a new Party mode that adds some extra content to the game. Is that extra content worth twenty bucks if you're happy with Apple Arcade? Probably not, but it is what it is. Anyway, this is kind of a golf game but kind of not. You're basically flinging things towards a goal, but the game does all kinds of weird stuff within those broad strokes. It's a good time whether you're playing alone or with a friend. No online multiplayer, unfortunately.
Aqua Lungers ($14.99)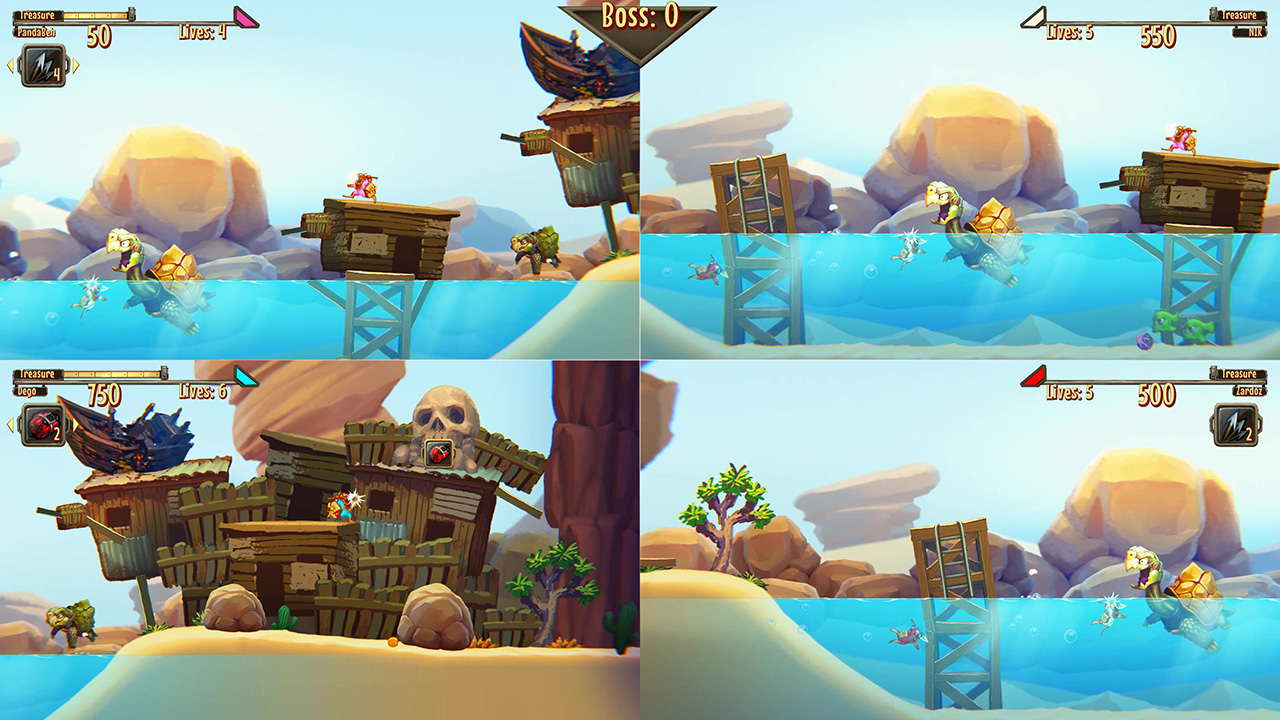 SwitchArcade Highlight!
This is a bit of a complicated game for a couch co-op affair, but if you have the right group, it's a real blast. Let's try to describe it in a paragraph. You're competing with other players to see who can haul in a certain amount of loot first. But you, the players, are also competing against the computer. If you screw around too much, there's a real chance the computer will win and you won't be able to move on. Matches tend to switch between sabotaging each other to forming temporary and highly unstable alliances quite quickly. You can play solo but it loses a lot of its punch. Multiplayer is local only, unfortunately. I think it's neat anyway.
realMyst: Masterpiece Edition ($19.99)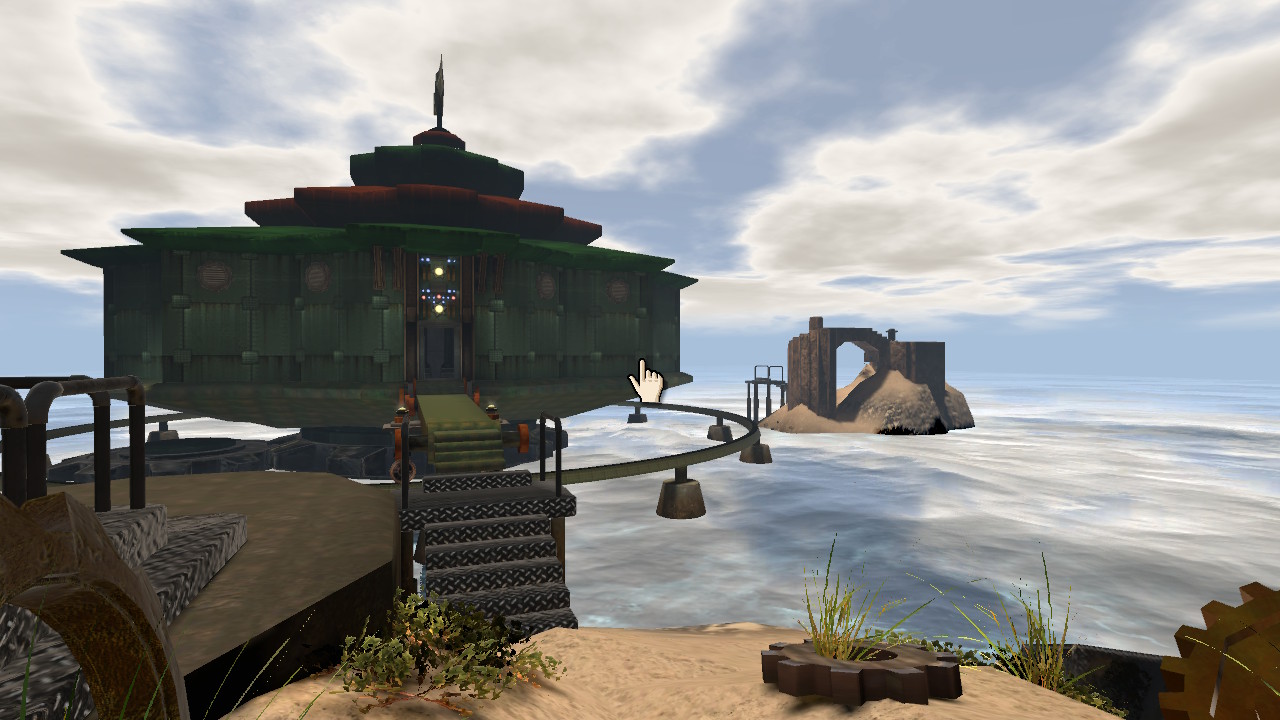 SwitchArcade Highlight!
I remember when Myst was the punching bag of the hardcore gaming circle. Heck, I joined in back then. When you're young and part of Gen X, whatever is popular is the least cool thing of all, I suppose. Well, you know what? Myst is a pretty solid adventure game. And realMyst, which lets you enter what was once a pre-rendered world and enjoy it in full 3D, is a great version of that adventure. And now you can play it on your Switch. If you haven't played Myst before, I think it still holds up well enough for those who can handle some nasty puzzles and a slightly cheesy story. If you have played Myst before and want it on your Switch, here you go.
Pushy and Pully in Blockland ($9.99)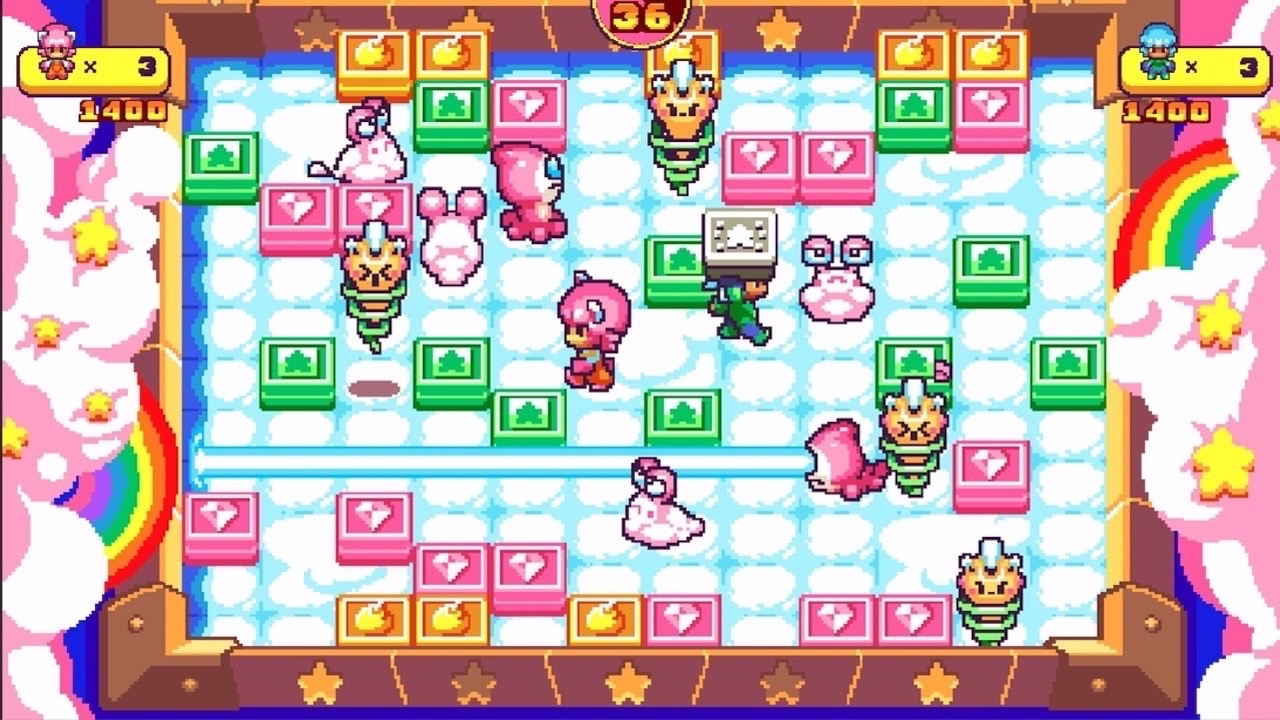 In this puzzle game along the lines of stuff like Adventures of Lolo or Kickle Cubicle, you have to push and pull blocks to defeat enemies in 50 tricky levels. You can play solo or have a friend join in for some local co-op. The game is a lot trickier with one player most of the time, as having a second player makes it easier to manipulate the blocks. There are five boss battles along the way that will test your skills and patience. Not bad for what it is. I find people are either into games like this or not, and that factors more heavily on whether or not they'll like any given game more than anything else. With that in mind, I'll let you decide if the game is right for you. It's certainly a well-made example of the genre.
Luxar ($7.90)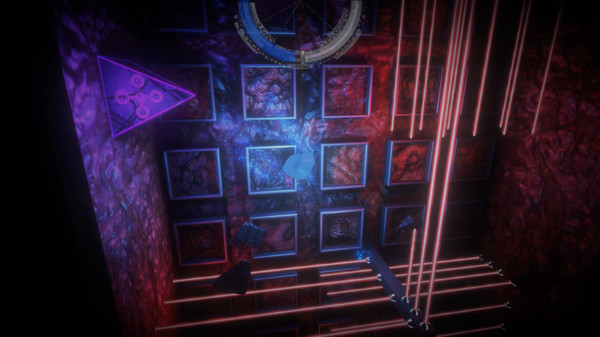 Okay, so first of all, don't confuse this for Puzzloop clone Luxor. This is Luxar, and it is totally different. You control an organism as it navigates through 16 increasingly challenging stages. You have a limited supply of air that dwindles as you go, and if you hit any enemies or obstacles you'll run out of it faster. It starts off promising enough, but it soon becomes a tremendous slog. Levels take too long and failure sends you all the way back to the start with probably zero motivation to retrace the last several minutes' worth of play.
Monster Prom XXL ($15.99)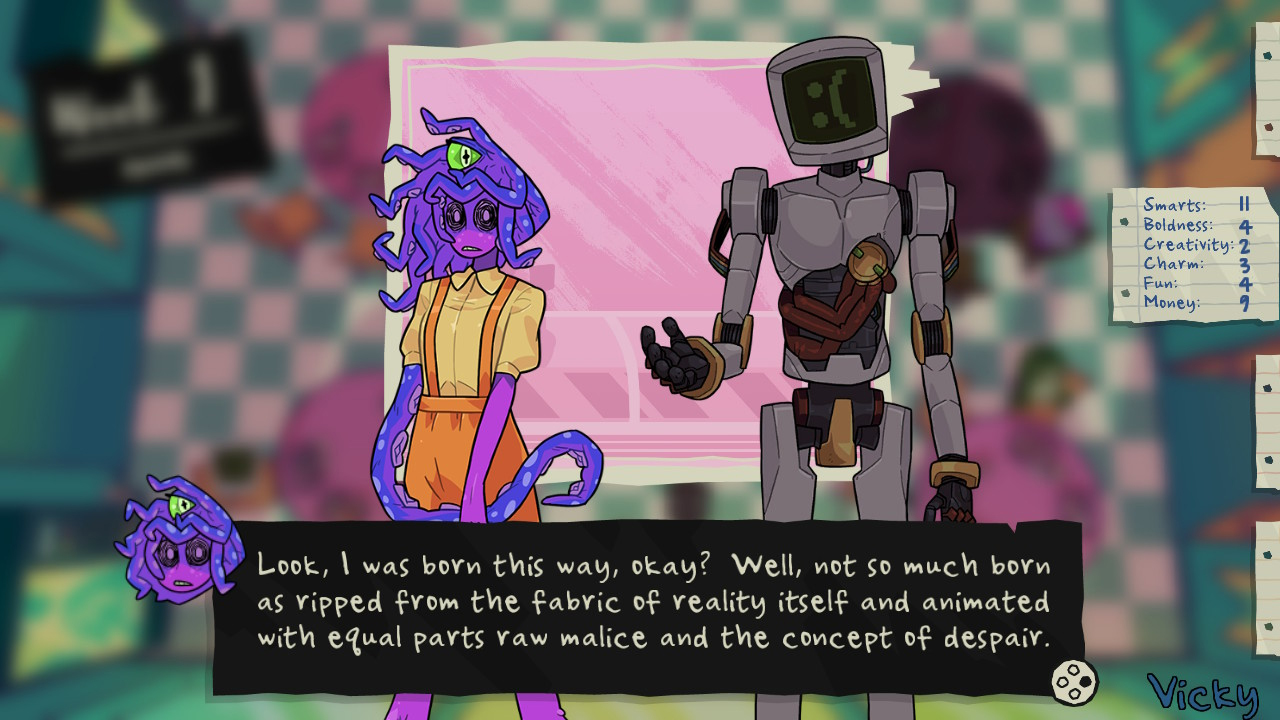 This game has a really interesting idea behind it. It's a competitive multiplayer dating sim that takes place in a monster high school. You have to woo one of eight possible candidates to be your prom date, but work quickly because if one of your friends sets their eyes on the same classmate things can get ugly. You can also play it by yourself, making for a slightly more standard experience. Reviews of this game on other platforms were quite mixed, but this Switch version has all the DLC and extra update content packed in from the start, which might make a difference. If I find myself pleasantly surprised by it, I'll let you all know.
Steel Rain ($14.99)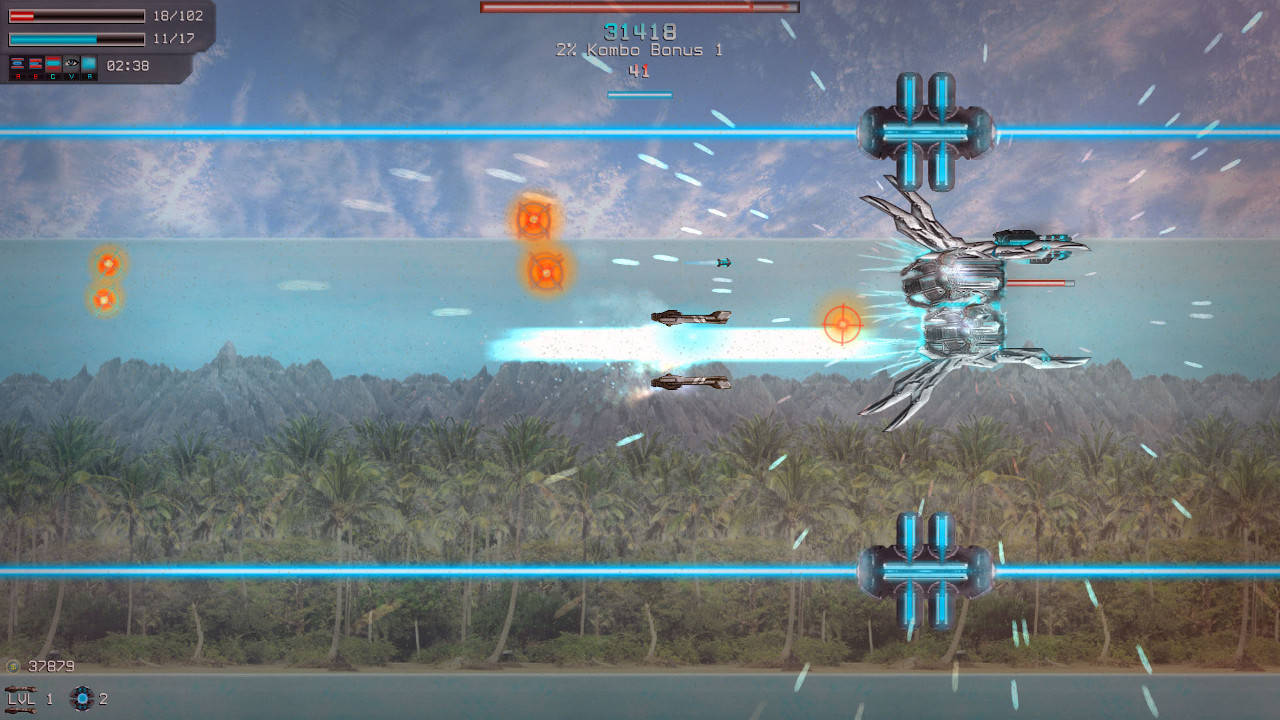 Well, this is an oddball title. There are basically three components to Steel Rain. At the forefront is the shoot-em-up part of the game. It's a horizontal shooter that takes cues from R-Type, Gradius, and so on. But after you liberate a planet, you can build a colony on it, which in turn provides you with resources you can use to keep on building and improve your ship. You'll have to defend your colonies if they get attacked, so it's not all cakes and candies. It's a lot of shooting, a little base-building sim, and a dash of idle resource collecting. I can't say it all clicks together flawlessly, but if you're tired of more orthodox shoot-em-ups you might appreciate this game's ambition.
Lost Artifacts: Time Machine ($9.99)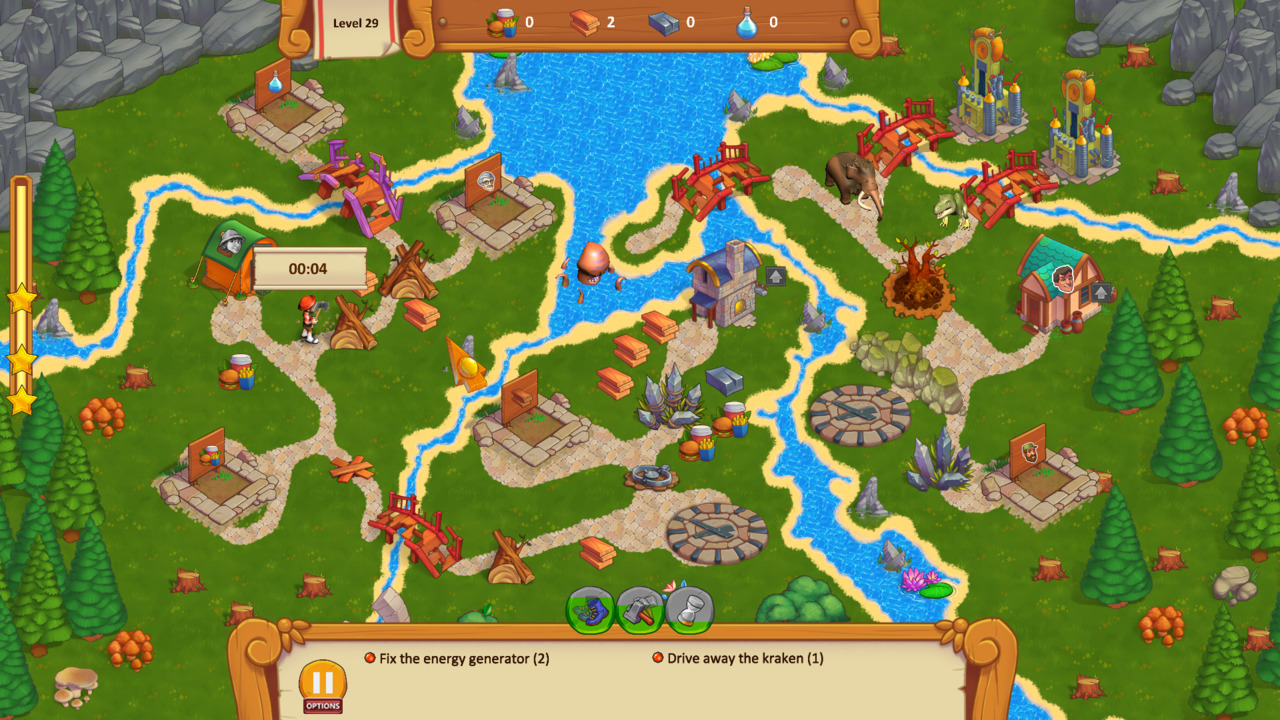 Another one of 8Floor's light strategy games and the latest in the Lost Artifacts series to make the jump to Switch. As always, you're tackling distinct stages that require you to clear obstacles, build structures, and so on. There are more than 50 in here, which should keep you busy for a while. Nothing too taxing, though getting three stars on every stage can be a little tricky. There's a story told as you go, which might be enough incentive for some to see the whole thing through. Well, I'm not the target here so I'm not going to get too far into the weeds talking about it. If you've enjoyed the other games from this developer, you'll probably like this one too.
Chess ($9.99)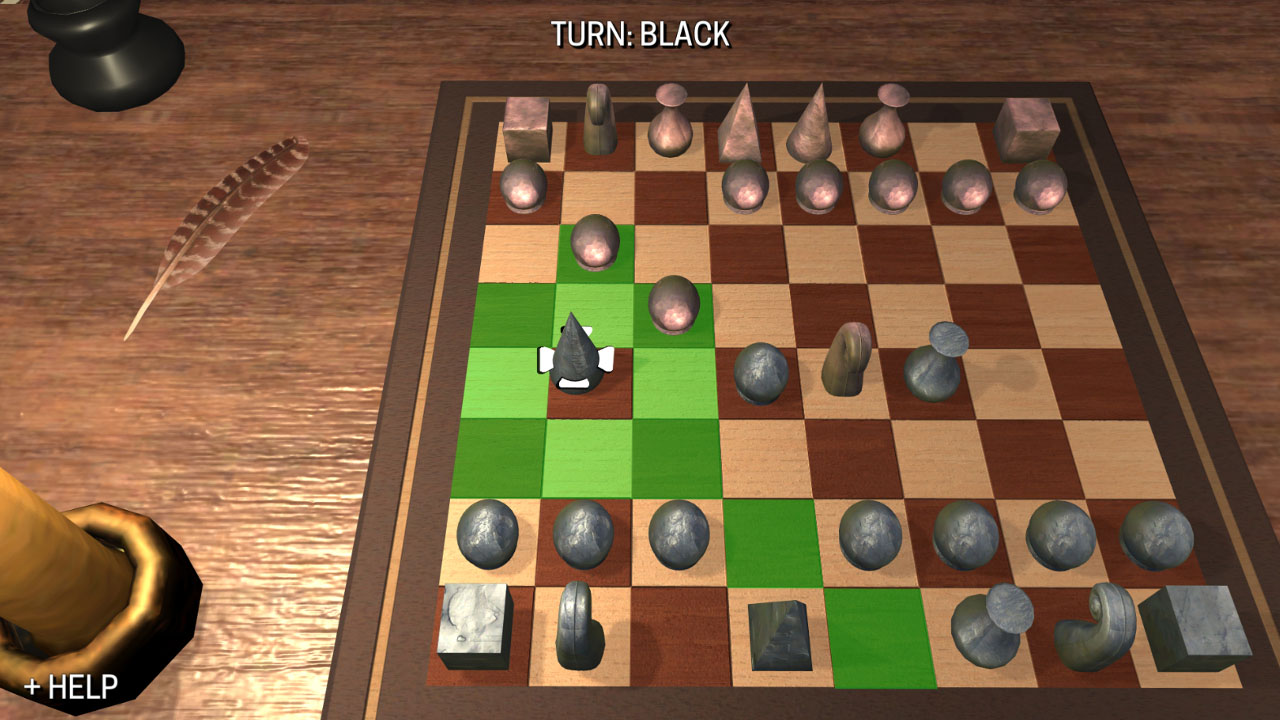 Oh goodie, Sabec. Well hey, I'll give them credit for one thing this time: they actually put a two-player mode into this game. Anyway, it's a bare-bones take on chess, but with some alternate pieces and boards to spice things up. If you don't have anyone to play with you locally, you can go up against the AI. The description in the store say it is smart, and store descriptions never lie. There are four different difficulty levels, which I would hope covers a decent range of player levels. Honestly, it's a strong effort by Sabec standards. But if you're willing to spend ten bucks on this, you'd be far better off finding a few more bucks and buying Chess Ultra, which is superior in literally every way and not by a little.
The Persistence ($26.99)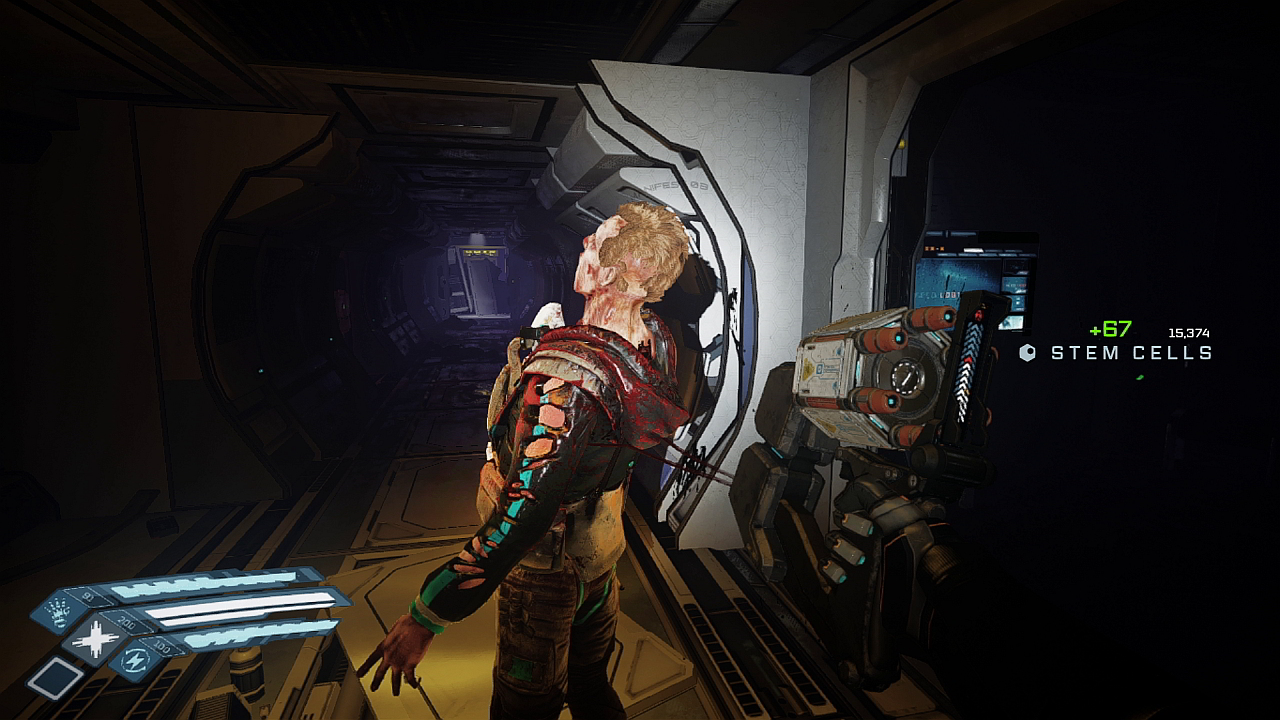 Hey, it's another VR game that has made its way over the Switch and dumped the VR element. But hey, at least it's not more expensive here. It's a first-person roguelite, something we've seen a few times before to generally good success. This one has a bit of a sci-fi/horror bent to it, and it's pretty decent. Still, I'd be lying if I said the game didn't lose a lot without the VR aspect going for it. If you have the means to experience it that way, I'd strongly recommend it. Otherwise, this is a serviceable take that should entertain those who've enjoyed stuff like Immortal Redneck.
Red Wings: Aces of the Sky ($17.99)
Ahh, that's a really nice blue sky. As you can probably figure out from the screenshot, this is a 3D shooter with a cartoony style that uses the rise and fall of the Red Baron as the subject of its story. There's a substantial campaign here with dozens of missions to play, and more than ten different historical warplanes you'll pilot. It kind of rides the line between trying to be historical and going deliberately over the top, but that's often the take with the romanticized retellings of this period. If you have a friend who wants to join in locally, you can play a few different modes in co-op and watch each other's backs. It's no Crimson Skies, but for some it will scratch the itch at least a little.
Skelly Selest & Straimium Immortaly Double Pack ($19.99)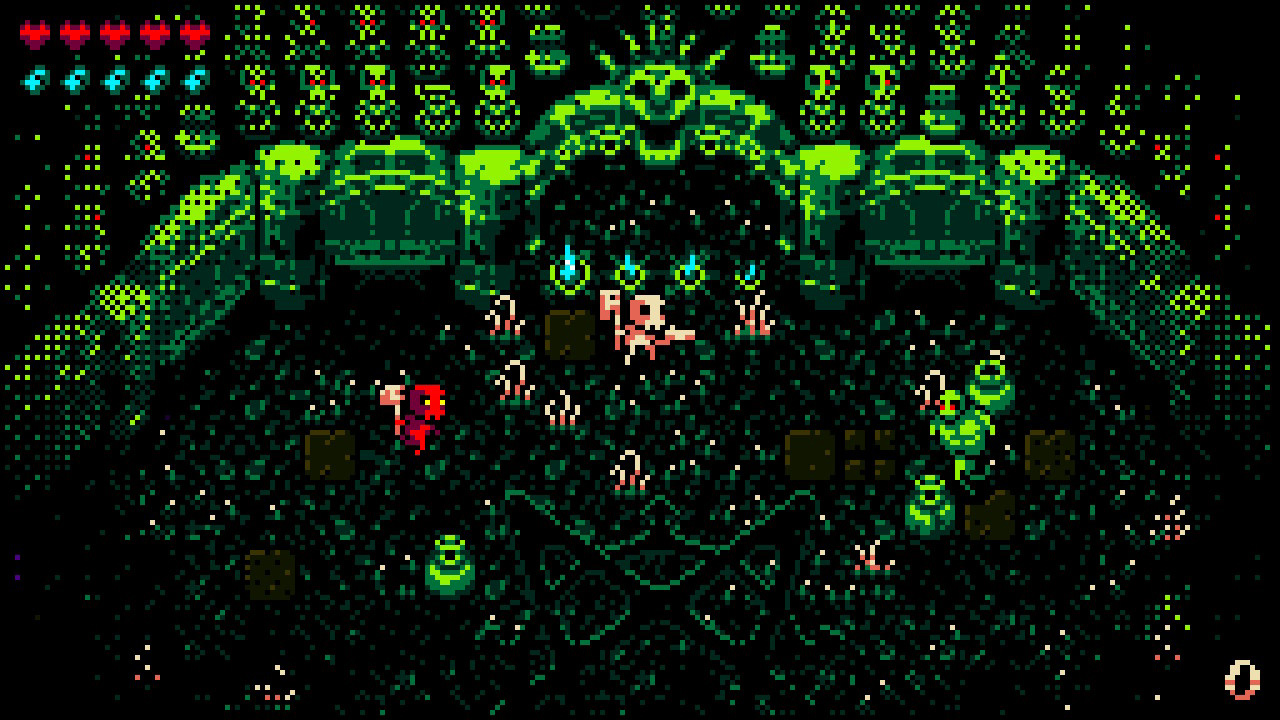 Another bundle from the folks at Digerati, this one combining run-and-gun Skelly Selest and roguelite Straimium Immortaly into one value-priced bundle. Both games are decent enough, but the usual warning applies here. These games go on sale often, so you should probably also wait for this bundle to go on sale before you consider buying it. And of course, if you already own one of the two games there's no particular benefit to buying this bundle.
Fluxteria ($6.99)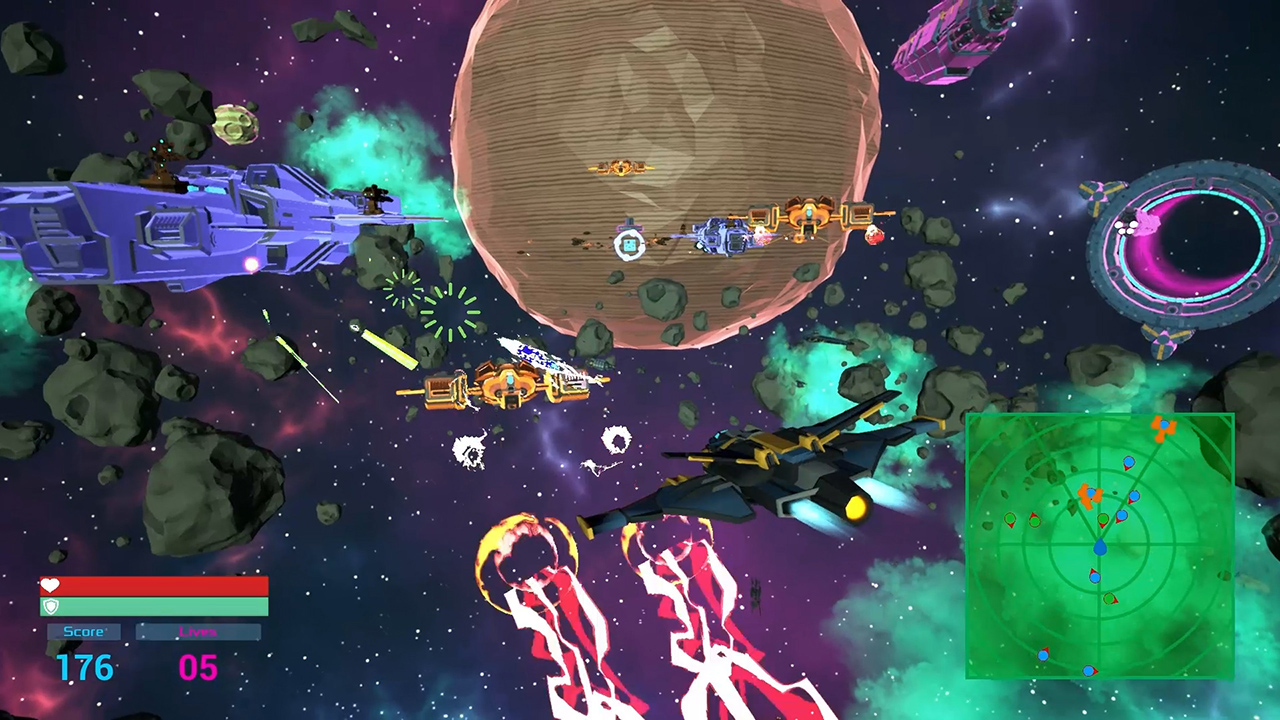 If you're on the hunt for another 3D space shooter, this is definitely one of those. It bills itself as being arcade-style, so don't expect any sim elements. You aren't on rails, and there are 20 reasonably-sized levels to explore. A nice variety of enemies populate those levels and it's more or less your goal to kill them all. Besides the main story mode, there's also a survival mode, a time attack mode, and an obstacle race mode. It's nothing too fancy but it does what it sets out to do, which is a fair enough accomplishment for a seven-dollar game.
Sales
(North American eShop, US Prices)
Yeah, the wave hasn't arrived yet as I'm writing this. There are a few interesting things here, though. Lines XL is a no-brainer pick-up at nineteen cents if you like puzzle games at all. Elemental Knights R finally drops down to a fair price, but I'd avoid it anyway as the game just isn't very good. Kissed by the Baddest Bidder is still my favorite title for a game ever. Lots of rare retro game sales are ending soon, so stock up on your Atari and Psikyo classics while you can.
Select New Games on Sale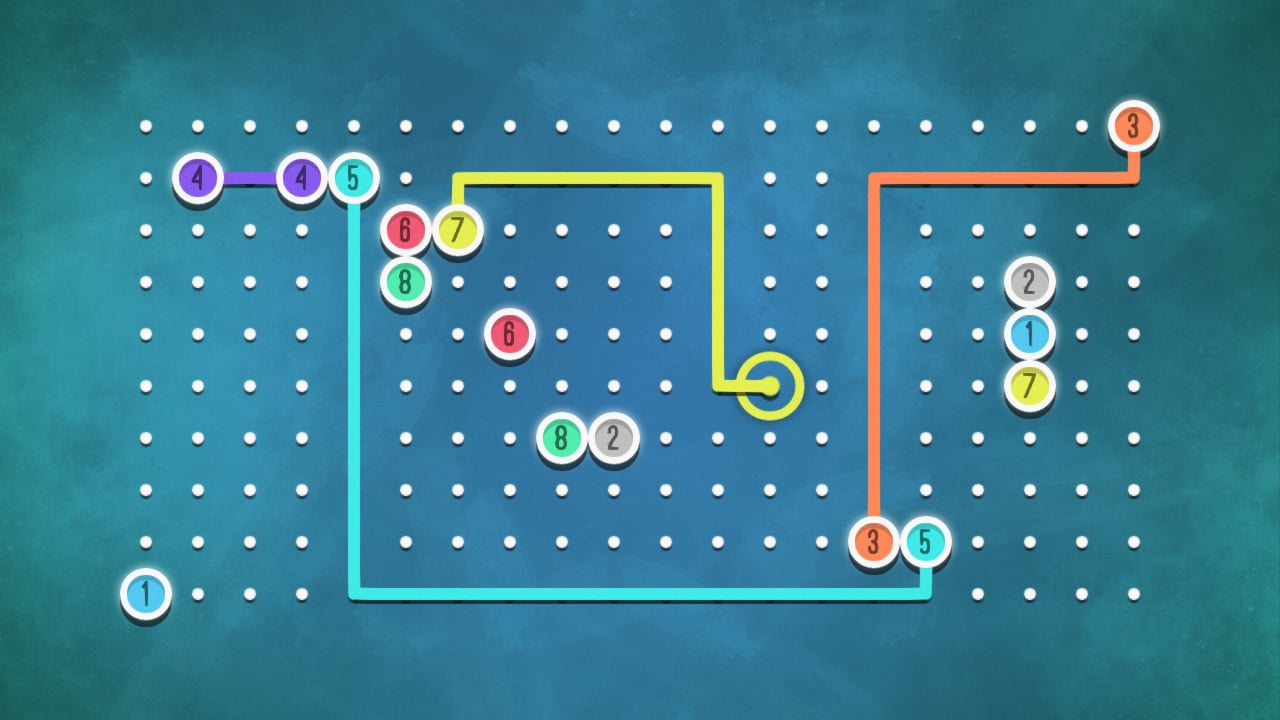 Lines XL ($0.19 from $1.99 until 6/8)
Lifeless Planet: Premiere ($3.99 from $19.99 until 5/27)
A Case of Distrust ($2.99 from $14.99 until 5/27)
Pinstripe ($2.99 from $14.99 until 5/27)
Let's Go Nuts ($0.99 from $9.99 until 6/9)
Where the Water Tastes Like Wine ($9.99 from $19.99 until 5/27)
Awesome Pea 2 ($3.99 from $4.99 until 6/3)
Madorica Real Estate ($9.90 from $14.99 until 5/29)
Elemental Knights R ($0.75 from $22.75 until 6/5)
Enchanted in the Moonlight ($13.99 from $19.99 until 6/5)
Star-Crossed Myth ($20.99 from $29.99 until 6/5)
Kissed by the Baddest Bidder ($17.49 from $24.99 until 6/5)
OMG Police – Car Chase TV ($3.99 from $4.99 until 5/28)
Fly Punch Boom! ($12.74 from $14.99 until 6/11)
Sales Ending Tomorrow, Friday, May 22nd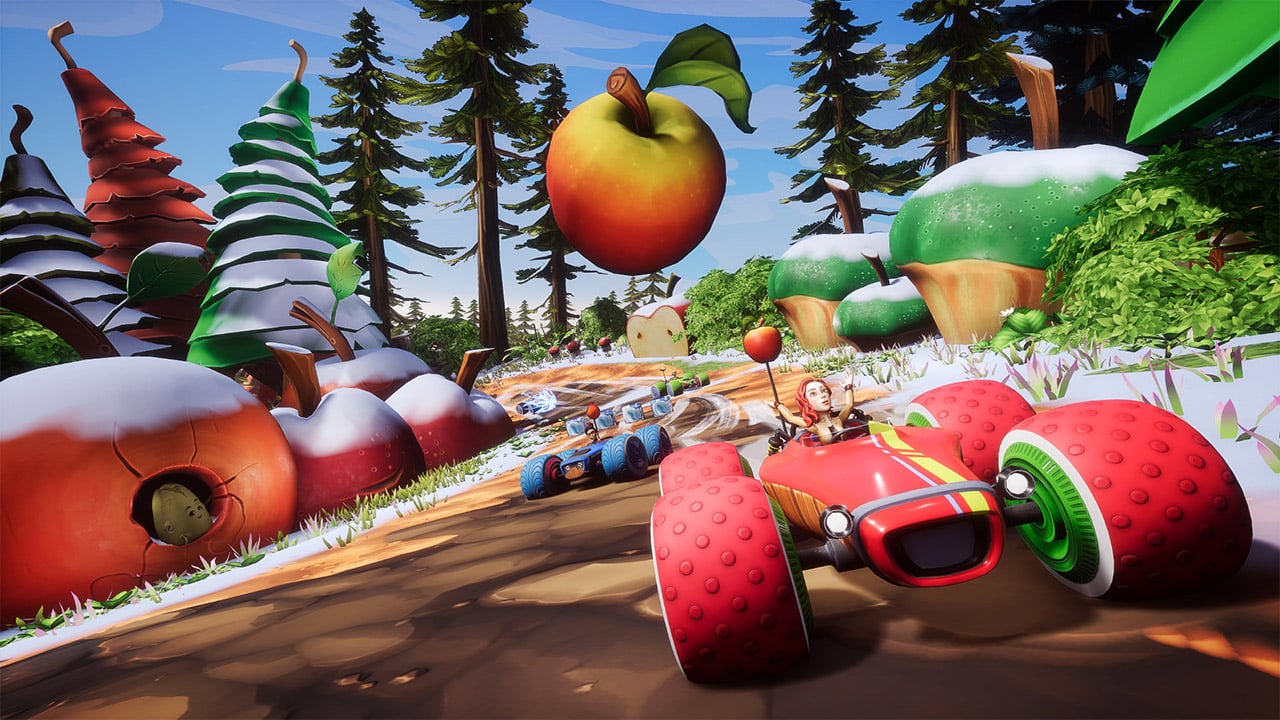 All-Star Fruit Racing ($12.99 from $19.99 until 5/22)
Atari Flashback Classics ($19.99 from $39.99 until 5/22)
Bargain Hunter ($7.49 from $12.49 until 5/22)
Breakfast Bar Tycoon ($3.49 from $4.99 until 5/22)
Crayon Shinchan: Kasukabe Runner ($6.99 from $9.99 until 5/22)
Dragon Blaze ($6.39 from $7.99 until 5/22)
Gnomes Garden: New Home ($0.99 from $4.99 until 5/22)
Gunbarich ($6.39 from $7.99 until 5/22)
Gunbird ($6.39 from $7.99 until 5/22)
Gunbird 2 ($6.39 from $7.99 until 5/22)
Hell Warders ($6.74 from $14.99 until 5/22)
Hot Gimmick Cosplay-Jong ($14.00 from $20.00 until 5/22)
Muddledash ($2.03 from $5.99 until 5/22)
Must Dash Amigos ($3.59 from $17.99 until 5/22)
Our World Is Ended. ($27.49 from $49.99 until 5/22)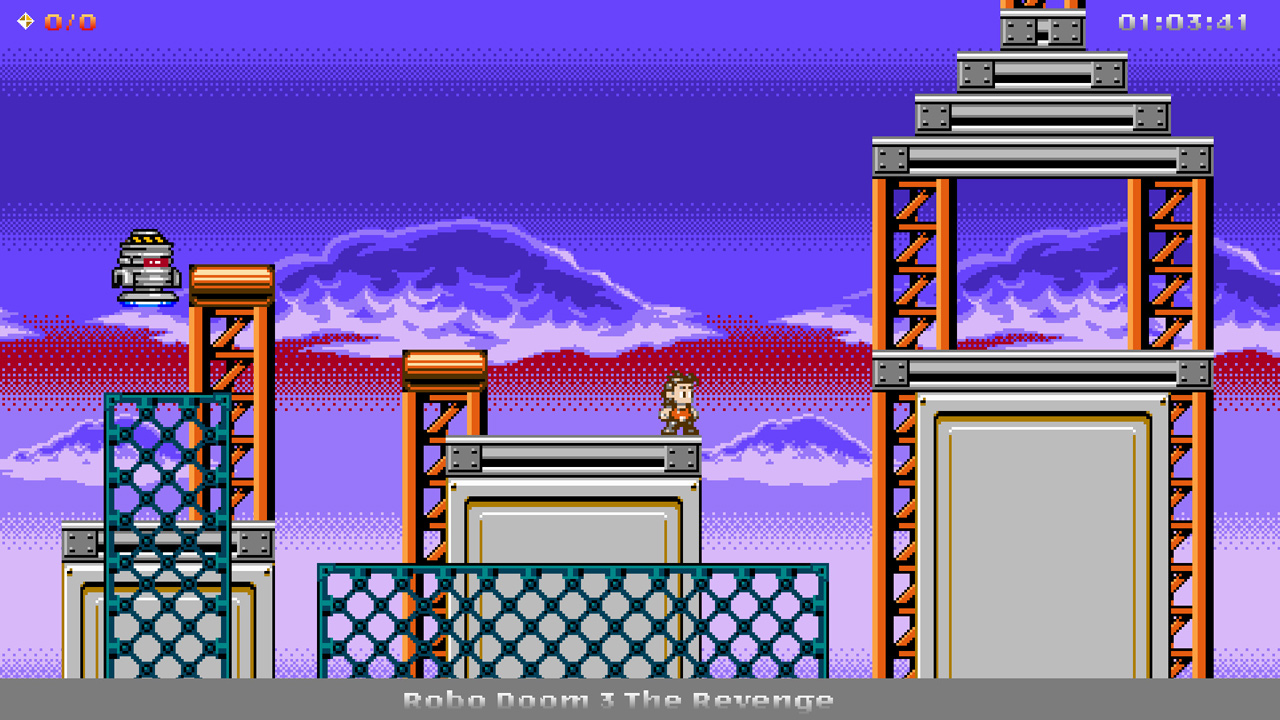 PlataGO! Platform Game Maker ($10.99 from $19.99 until 5/22)
R.B.I. Baseball 20 ($24.99 from $29.99 until 5/22)
Raging Loop ($22.49 from $29.99 until 5/22)
Razed ($4.07 from $11.99 until 5/22)
Samurai Aces ($6.39 from $7.99 until 5/22)
Sin Slayers ($9.99 from $19.99 until 5/22)
Sol Divide ($6.39 from $7.99 until 5/22)
Spartan ($1.39 from $3.99 until 5/22)
Strikers 1945 ($6.39 from $7.99 until 5/22)
Strikers 1945 II ($6.39 from $7.99 until 5/22)
Tengai ($6.39 from $7.99 until 5/22)
Tokyo School Life ($6.74 from $14.99 until 5/22)
Trover Saves the Universe ($17.99 from $29.99 until 5/22)
Zero Gunner 2- ($6.39 from $7.99 until 5/22)
That's all that's good for today, friends. Tomorrow will have a bunch more new releases to look at, and I suspect that will again be the biggest part of the article. We'll also have all of the sales that pop up and whatever big news comes along. I hope you all have a great Thursday, and as always, thanks for reading!