The introduction of collaborative robots has democratized the use of robotics in many manufacturing fields. Most industries were only using robots for heavy, dirty, or repetitive tasks that require enormous force and reach. Cobots being more flexible and easy to use, they can execute more precise tasks. Because of their human scaled features it is then more interesting to have one on the assembly line. The investment is also lower and the payback is faster than it used to be. Do all these advantages mean it is time to introduce these co-workers to work alongside your human co-workers?
The ''Rise'' of Robotics
Globally, the robot population is growing fast, with approximately 1.5 million robots worldwide and only about 230,000 of these on US territory, the robotic hype is getting bigger and bigger. With shipments of 180,000 robots in 2013 and a forecasted shipment of 200,000 for the past year, the numbers can't lie. There is an enormous hype around automation and it is projected to keep increasing over the next few years. Is it the introduction of ''easy-to-use-fenceless'' robots that have increased these numbers or it just a matter of money. In fact, companies are always trying to cut down price and delivery time and they will use whatever tools they have to do it. Collaborative robots are the perfect tool to achieve this goal. In fact, with an easy to program interface, a minimal investment, it is easy for a plant to justify the purchase of one of these.
In a past blog post, we introduced this European company, Trelleborg Sealing Solutions, that recently introduced more than 20 robots in less than 2 years and had an almost instant payback. It was worth the investment and definitively reduced the production cost and accelerated the delivery time.
Is Now the Right Time?
If you were asking this question 2-3 years ago, my answer would have been totally different. But now, collaborative robots have the edge, a lot of security devices and cool specifications are built-in into most cobots. Tools such as grippers are getting better and better and the installation of robotic cells are becoming easier. So yes, I think it is the right time! I don't think the enhancements that we will see over the next few years will be as huge as they have been over the last 2 years. So if you were worried about making the move, I think you should do it.
These robots are driving greater efficiency and have the potential to reduce labor injuries. With flexible cells and programming techniques, now is a good time for a company to introduce cobots into their workshops.
How Collaborative Robots Stimulate Innovation
The introduction of collaborative robots in manufacturing plants opens opportunities. First of all to actual employees, by ''taking'' their jobs, human workers can be relocated to other tasks that will result in greater innovation in the sector. In fact, instead on focusing on repetitive tasks, the human workers can bring ideas and ways to improve the process instead of just doing a task without thinking.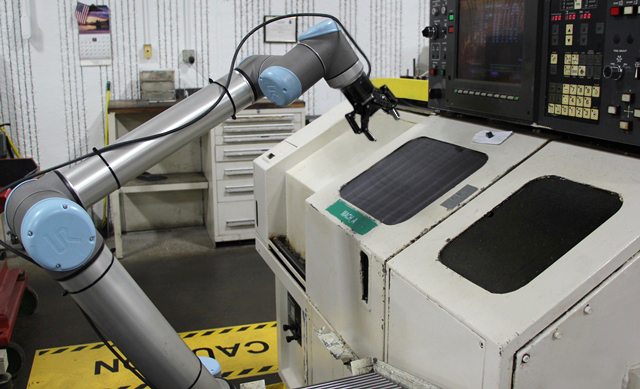 Robots can also do tasks that humans can't, like carry or place heavy objects, or for example, applications that require high precision or force limitation. Using robots for these tasks will open new opportunities to companies and maybe even increase the quality of the products being manufactured.
All of this being said, a robot could be economically viable and realistic to introduce into your manufacturing plant. They also stimulate innovation by repositioning human intelligence into other aspects of the process. This switches the nature of the job and naturally enhances the general intelligence of the whole enterprise by letting machines do the dirty work. If you are interested in the acquisition of a collaborative robot, we have built a comparative chart of the main collaborative robots on the market with all their specifications, so that it is easy to see at a glance the differences between the different robots. Take a look at the link below to get more information.