Today I shot my first Dynatrace video about digital performance. Yikes, not an easy task! But really, the point of this blog is to highlight "The Digital Performance and Transformation Audit", a fresh piece of global research that shows some interesting insights around:
The main barriers to digital transformation today
The number of hours typically lost dealing with digital performance problems
What teams would do if they recouped that lost time, and how it would benefit the business.
Here's my summary of the report which launched today:
So what's most concerning about this new set of findings?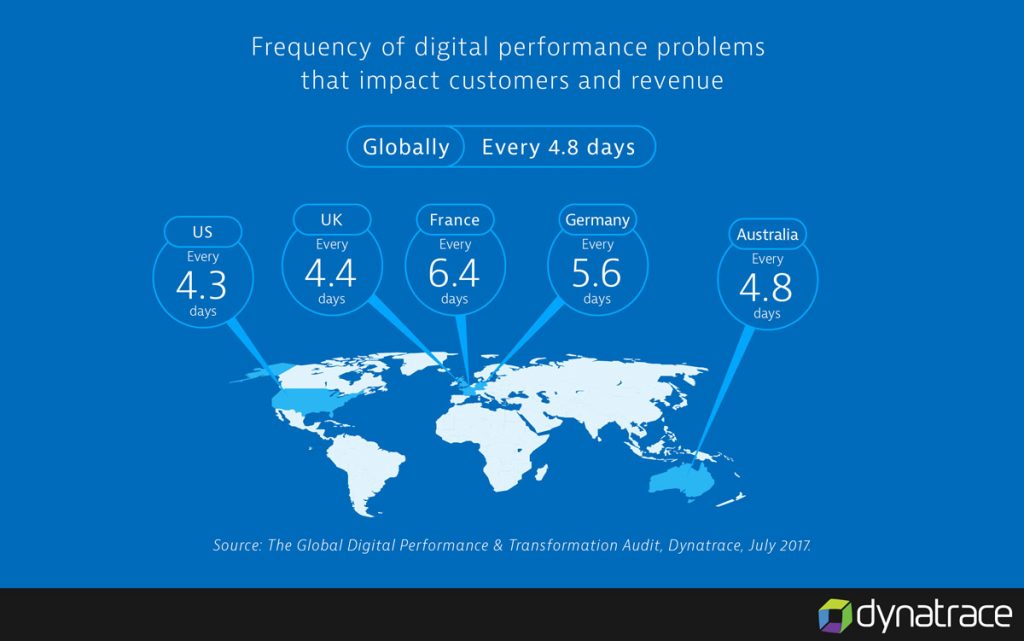 Let's list them out:
Organisations worldwide are facing revenue or customer-impacting performance problems once every five days
75% of organisations have low confidence in their ability to resolve performance problems
IT complexity is a MASSIVE hindrance to transformation success
Hundreds of hours are spent annually dealing with digital performance problem, when all people really want to do is get smarter and faster about the way they do things.
Am I surprised by the results? No. Hyperscale, hypercomplex cloud environments are making it harder and harder to manage digital performance. Especially if you have multiple monitoring tools all looking at different aspects of the IT environment.
Should organizations be concerned? Yes. Technology has, and will continue to, alter the very fabric of how we perceive everything in our daily lives; from business and education to entertainment and government services.
And the world of IoT is truly on our doorstep now, and it's only going to make performance delivery even more difficult. It's no longer possible for humans to manage the performance, and ultimately the user experience, of everything digital.
So how do we tackle the complexity challenge?
We knock it out of the park with AI, that's how.
We have one, single, automated, super-charged application performance monitoring solution that is automated and can see the full stack. Otherwise you end up with daily problems thanks to the billions of dependencies every single application creates.
Or, if you want to see just how simple, yet powerful performance monitoring can be, and you've only got a few mins spare, watch Dave Anderson run you through a rapid demo at his desk. You'll see our digital virtual assistant at play too – it's pretty cool.
If you'd like to listen to our customers to get a feel for our technical expertise, you better head to our YouTube channel and look for some great videos with Citrix, Raymond James, CooP, Travis Perkins and more.
To grab a copy, head on over to this page and let me know what you think of the findings.
And stay tuned here to see how this campaign plays out in the coming weeks. We're going to:
Watch closely to see how interested the business world is in our report, and
Share any interesting media coverage we pick up along the way
So, until then, I thank you for tuning in.
The post What's derailing your digital transformation? appeared first on Dynatrace blog – monitoring redefined.