Modern security cameras come with a lot of features: you can monitor them while you're away, they can send a short animated GIF to your phone when they detect motion, while some models even come with facial recognition features that can identify if there are strangers in your front door. However, a security camera that offers all these bells and whistles but fails on the most fundamental aspects is still a terrible product.
One thing a security camera must do is to provide good surveillance 24/7. Since most crimes happen after dark, this means that a good security camera must have reliable night vision. What are the best security cameras for those who consider night vision a priority? Check out our guide below.
How does night vision work?
For us to make a good decision on which night vision security camera to buy, we need to understand how night vision works in the first place. You've probably seen how night vision footage looks like in movies, which depicts them as either black-and-white videos or tinged with a green tint. How does night vision work and why do night vision videos turn out this way?
It's easy to spot a security camera with night vision capabilities. All you need to look for is a series of infrared LEDs surrounding the lens. You're not actually going to see these LEDs light up unless you look at them through a camera with a filter. This is because infrared light is not visible to the naked eye – but can be visible to cameras.
When a security camera detects low light conditions, it automatically turns on the IR LED lights surrounding its lens. This acts as a floodlight, bathing its immediate surroundings with invisible IR light. At the same time, the camera activates a filter that allows it to see infrared light. Thus, all objects within the range of the IR LEDs are made visible to the security camera.
The colors that we see when we look at night vision footage is merely processed by the camera since we cannot actually see the unprocessed videos. The default setting for night vision footage is black and white just because it provides the maximum contrast, allowing us to easier to identify people and objects. While it's theoretically possible to present the videos with some other hue (such as the green we often see in videos), doing so is simply impractical.
There are a few security cameras now that offer full-color night vision through the use of a special image sensor, which we'll get to later.
What to look for when choosing a night vision security camera
1. Night vision range
Now that we know how night vision cameras are able to "see" objects in darkness, then it should come as no surprise that night vision cameras have limited range. Most models have ranges from 20 to 30 feet. This should be enough for home installations and should cover the distance from your front door to the streets. If you're going to install night vision cameras for after-dark surveillance of a warehouse or a large production floor, then you might appreciate a model that offers extra range.
2. Black and white vs. color
By default, a security camera will display night vision footage in black and white. This has been a satisfactory standard for most surveillance systems for a few decades now, so it should serve you well enough for any application. However, you also have the option of going for a model that offers full-color night vision. Full color isn't always better, though, so you'll need to take stock of the other features that a security camera offers.
3. Video quality
Identifying people or objects in black and white night vision footage is hard enough, so the advantage of a high-resolution video becomes even more valuable. A good security camera should be able to record videos with at least 1080p resolution. If you can go up to 4K, then that will be great, but you should expect to spend a bit more.
4. Field of view (FOV)
The field of view of a camera is an indicator of how much it can see. The FOV of a camera is given in both the horizontal and vertical directions. We consider each one as equally important. Higher is generally better when it comes to FOV but going more than 180° horizontally, and 90° may already result in excessive distortion.
5. Power supply options
One of the more divisive aspects of selecting security cameras, you can choose to either get a camera with a hard-wired power supply or one that comes with a battery. A battery-powered camera is certainly easier to install and more appropriate for remote areas. However, they demand a bit more maintenance as you'll need to switch out the batteries for fresh ones every two or three months.
The best night vision security cameras available in 2019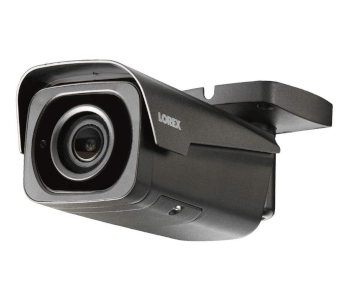 In terms of raw power, the Lorex Bullet Camera is a real heavyweight. It boasts of superior specs almost all across the board. This camera is part of the Lorex Nocturnal line of security cameras. Its all-black design only highlights how well-suited this camera is for use at night.
The 250-foot night vision range of the Lorex Bullet Camera is simply hard to beat. If you need night vision surveillance for a farm or a large warehouse, then this should be your go-to camera. Moreover, videos are captured in glorious 4K resolution. This means that you can zoom in up to four or eight times on the night vision videos and still see fine details.
It doesn't end there. The Lorex Bullet Camera also offers night vision footage in full color. In terms of the amount of detail that you can dissect from night vision videos, the Lorex Bullet Camera is basically unbeatable.
While an excellent product, this security camera is still far from perfect. As you can expect, the Lorex Bullet Camera is one of the more expensive security cameras you can get. It's also a power hog, so having several of these installed in your property can really jack up your electricity costs.
The 112° field of view of the Lorex Bullet Camera isn't the widest, which is probably a compromise that the designers had to make to extend the night vision range. Although the videos captured are at 4k resolution, their framerate is a measly 15 fps. Jittery videos may be problematic if you're monitoring a fast-moving subject. It would have been nice if the camera offered an option to lower the video resolution to gain higher framerate.
Lastly, the plastic casing of the Lorex Bullet Camera feels cheap and out of place for such a premium (and expensive!) product. This probably doesn't compromise the weatherproofing of the camera, but we can't help but feel short-changed on this aspect.
Tech Specs
Night vision range: 250 ft.
Resolution: 4K
Power: Hard-wired
FOV: 112°
The Pros
Full-color night vision
Superior night vision range
High video resolution
The Cons
Expensive
Plastic casing
Low framerate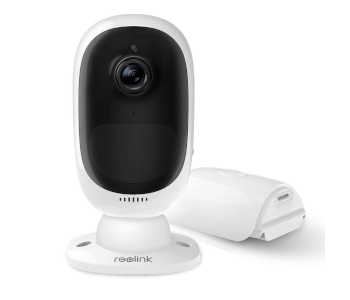 The Argus 2 is one of the flagship products of popular security brand Reolink. At around $100 per unit, this security camera isn't so expensive but isn't that cheap, either. One thing's for sure: it delivers the best bang for your buck.
The 33-foot night vision range of the Argus 2 isn't particularly impressive, but it makes up for it with the Starlight night vision sensor. This special CMOS sensor produces crystal-clear and full-color videos, even in darkness. The camera records 1080p Full HD videos, features two-way audio, and has a customizable Smart Siren.
Videos recorded by the Argus 2 can be saved on the cloud and backed up on an SD card. Real-time monitoring of the camera's video feed can be done through the companion mobile app, which allows up to ten users to view the simultaneously view the feed from the same set of cameras.
The most distinct thing that sets the Argus 2 apart from many other security cameras is the flexibility it offers in terms of mounting. The Argus 2 can either be powered by a hard-wired connection or by a removable battery. It even has a provision that allows you to hook it up to a solar panel (sold separately) for non-stop 24/7 power.
Looking at these specs, it's no wonder that the Argus 2 is one of the most popular security cameras today. More impressive is the fact that it only costs $100, so setting up multiple units of this model doesn't necessarily need to cost a fortune.
Tech Specs
Night vision range: 33 ft.
Resolution: 1080p
Power: Battery, hard-wired, solar
FOV: 130°
The Pros
Flexible power supply options
Provides remote access
Wide field of view
The Cons
Short night vision range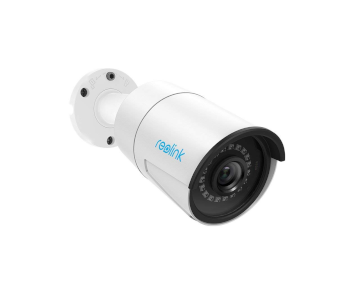 If anyone had told us that it was possible to get a high-quality night vision security camera for less than $50, we would have found it hard to believe. This PoE (powered over Ethernet camera) camera comes with all of the features that Reolink typically has to offer at an unbelievably low price.
To start off, this security camera can record videos at 2560 x 1920 (5 MP) resolution and has an impressive night vision range of 100 feet. This is an excellent range for your front yard, but also makes this security camera suitable for after-dark monitoring of warehouses and large office spaces. At 25 fps, the videos recorded by the Reolink PoE aren't going to be butter smooth, but they are clear enough to be scrutinized for details should there be an incident.
One of the best things about getting a security camera from such a well-established brand of security cameras is the fact that you can create a system of Reolink cameras for your home and manage them all using the companion mobile app. The app also allows you to monitor in real-time up to eight cameras without having to pay for a subscription plan.
A peculiar feature of the PoE camera, as its name implies, is the fact that it's "powered over Ethernet." This means that it is dependent on an Ethernet connection both for power and for communications. This simplified the installation process a bit, as it means that you only need to run one set of wires to your camera instead of two. However, this is still not as convenient as going completely wireless.
More so, the 80° horizontal field of view of the Reolink PoE camera leaves a lot to be desired. The fact that the field of view doesn't even breach the 90-degree threshold is a travesty and may mean that you'll need a surprisingly high number of these cameras to provide full security coverage for your front yard.
Even if that were the case, the fact that this is one of the cheapest security cameras in the market today is still enough of a consolation. The Reolink PoE camera is proof that you don't need to settle for a poor-quality night vision security camera if you're working with a tight budget.
Tech Specs
Night vision range: 100 ft.
Resolution: 2560 x 1920
Power: PoE
FOV: 80° horizontal, 58° vertical
The Pros
Cheap
Superior night vision range
Provides remote access
Audio recording
The Cons
Requires Ethernet cables
Narrow field of view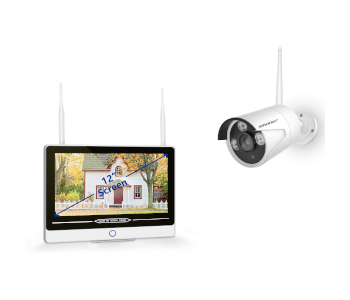 For those who are going all-in with a security system, buying just one or two security cameras at a time may feel impractical. If this the kind of situation you're in, then we recommend this four-camera set from SMONET that comes with a home station. Considering how much hardware comes with the set, this is product actually offers good value for money.
To start off, the base station comes with a built-in 1TB hard drive. This effectively eliminates the need for any cloud storage, as you can be confident that all your hours of security footage are safe in local storage. The base station does not come with a built-in monitor, though, so you'll need to hook up a TV or external monitor via a VGA or HDMI cable.
The SMONET cameras will need a hard-wired power supply, which makes installation a bit challenging. Once you've drilled all those holes and run all the wire through the different rooms in your house, the cameras can then communicate wirelessly to the base station. This connection allows for real-time surveillance of the videos through a mobile app on your smartphone.
The night vision range of the SMONET cameras can reach a maximum of 100 feet, which is quite impressive for a budget security camera. The 1080p resolution should provide enough detail to help you identify a culprit if needed. The SMONET camera is advertised as having a wide-angle lens. However, SMONET does not provide any concrete details on its field of view.
Tech Specs
Night vision range: 100 ft.
Resolution: 1080p
Power: Hard-wired
FOV: No info
The Pros
Cheap
Good night vision range
Comes with 1TB hard drive
The Cons
Requires hard-wired power
Requires external monitor
Black and white night vision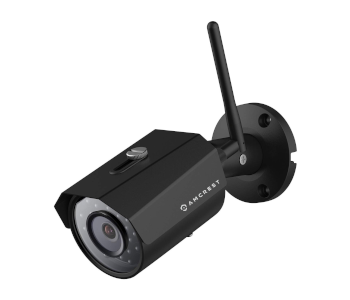 The Amcrest Wireless Security Camera may be a bit more expensive than many other budget options, but we like how simple it is to set it up and sync it to your mobile phone. It also has excellent night vision capabilities considering its price.
The built-in IR LEDs of the Amcrest Security Camera gives it a night vision range of up to 98 feet – more than far enough for most cases. Its 92-degree field of vision isn't the worst in this list, but it isn't exactly impressive. The 1080p video resolution meets the standards we set, so no complaints there.
We like how the Amcrest camera does not need a base station to monitor it via your smartphone. All it takes is for you to scan the QR code that can be found at the back of each camera using the Amcrest View mobile app.
All recorded videos from the Amcrest camera are stored in 4-hour cloud storage that comes free with each Amcrest product. You do have the option of extending cloud storage to at least 7 days, but this will cost you a monthly subscription fee. You also have the option of backing up any videos locally on a microSD card.
Where Amcrest seems to have dropped the ball is in their documentation. Despite the seeming simplicity of the setup process, it can still be a frustrating experience because of the lack of clear documentation and instructions. This lack of user assistance even extends to the companion mobile app – it does not give a tutorial that takes you through all of its features and what each button does. Instead, you're pretty much left to figure things out on your own or to seek help from fellow users. This should be easy to remedy for Amcrest, and we suggest that they get on it as soon as possible.
Tech Specs
Night vision range: 98 ft.
Resolution: 1080p
Power: Hard-wired
FOV: 92°
The Pros
Good night vision range
Comes with free cloud storage
Easy to set up
Cheap
The Cons
Narrow field of vision
Poor documentation
Final thoughts
Most crimes, petty or otherwise, happen at night under the cover of darkness. Security experts have known this for a long time, resulting in night vision capabilities becoming pretty much standard features in security cameras. However, not all types of night vision technology are created equal.
If you're setting up a network of security cameras specifically for surveillance after dark, then it's worth your time to look up for cameras with the best night vision features. While the range of night vision is certainly one of the more important aspects, you still must not fail to consider the video resolution. There are also other things to take into account, such as the ease of mounting and the camera's field of view.
Lastly, going for a model that offers full-color night vision may be a good option. There aren't many of them, but they sure beat having to look at black and white videos all the time.
The post 5 Best Night Vision Cameras of 2019 appeared first on 3D Insider.