Each year, CRN honors exceptional women leaders within the IT channel through its "Women of the Channel" recognition. These leaders are recognized for their outstanding work, vision, and unique role in driving channel growth and innovation.
This year, we're thrilled to have three Google Cloud honorees receive this esteemed accolade: Carolee Gearhart, Nina Harding and Aimee Catalano.
Carolee, Global Channel Chief, Vice President of Worldwide Channel Sales, leads the worldwide channel business for Google Cloud Platform (GCP), G Suite and Chrome. She has made the "Women of the Channel" list six other times since 2012, and was named one of the "50 Most Influential Channel Chiefs" in 2019.
Nina leads Global Partner Programs & Strategy and is responsible for cultivating  our global partner ecosystem across all partner models, behaviors, and solutions. Her team supports companies to best drive success with Google Cloud. She also serves as an executive sponsor for our thriving Women@Google employee resource group.
And finally, Aimee leads our Global Partner Marketing organization, leading joint marketing strategy and execution across the portfolio of Google Cloud partners. She, too, has been previously recognized as a "Women of the Channel" recipient in past years and is an advisor in Google Cloud's 12-month career development and sponsorship program that aims to accelerate the development of Google's high potential women and build more diverse executive leadership.
On the heels of this latest CRN announcement, we wanted to connect further with Carolee, Nina and Aimee to learn more about what it takes to excel within the channel industry. From memorable mentors to shattering ceilings and more, these three executives shared with us their keys to being successful leaders.
Let's kick off the conversation with advice you think is important for every leader to know. What would you offer?

Nina: Start by listening. You learn more by listening than by speaking. Listening enables you to build understanding, connection, trust, and illuminate perspectives missed by your own experiences or research. Often in listening, your detractors can become your advocates. Having a moment to voice praise or challenge to someone is nice, but having them know that you care and are open can mean all the difference in the world. It took some discipline for me to refrain from initially diving into creating and iterating, and instead, to take the time to begin with active listening, but now, listening is the fundamental first phase of any project, job or engagement I pursue. There is magic in it—kernels of brilliance and insight that propels you forward to exceed stakeholders' expectations.
Carolee: Keep in mind that more experience doesn't mean that someone is intrinsically more gifted or intelligent that you are. At times, I had a particular image of senior leaders and imagined they were functioning on a different level because they might have something I didn't. And it was true, but not because of something I couldn't change about myself, but often because of the wisdom, insight, knowledge and expertise they had gained through personal experience.
You will accrue experience over time, but you can accelerate the pace by never being afraid to ask questions. Fears will be your biggest inhibitor to growth, so exercise a healthy curiosity and don't be afraid to ask what to do, and also why. Often it is the why that can unlock insights from another's expertise they've picked up in the trenches.
Aimee: Always feel confident to bring your whole self to work. There was a time when I felt I needed to change my physical appearance to have more "executive presence." But that was so uncomfortable for me on many levels. Throughout the years, I've learned—and now wholeheartedly promote—that it's a leader's contributions and impact that drive success, not his or her appearance.
Has a mentor significantly impacted your career trajectory?
Nina: I had the pleasure of shadowing Adaire Fox-Martin who leads JAPAC and EMEA teams at SAP. For a three-week period, I experienced a day in her life, beginning at 6 a.m. and ending at 11 p.m. I had a backstage pass into her customer meetings, internal strategic and business reviews, product launches, speaking engagements, press engagements and travel.
Access at that level is incredibly rare and an amazing opportunity to understand prioritization, connection, and a drive for results. My greatest takeaways: be your best authentic you, make time for you, provide permission to invest in your personal life and know that the most important thing you can do for the business is connect with your employees, your customers and the market. She showed me the power of personal connections and the need for investment in your people in every conversation. The act of connecting was never a standalone instance; it was part of every single discussion she had. I have cherished that time and tried to make that central to my life, style, and approach.
Carolee: My father Richard Gearhart had the biggest impact on my career success. I've often been the only woman in a room full of men, and yet I've been able to be comfortable and even thrive because of the tools my dad gave me when I was growing up.
Although I lived in a household that reflected a more traditional division of duties—my father the primary breadwinner, my mother the caretaker with part time work—my mom was a valued household contributor and an equal participant in decisions and discussions. As importantly, my dad did not shy away from challenging me or questioning me. I grew up feeling it was both my right to speak and also my responsibility to think through what I said. He taught me both respect for myself and for others, and the confidence to take a position and defend it.  
Now as a mother with my own son, it has been especially powerful for me to reflect on my father's influence. I get to experience firsthand the incredible impact that parenting can have on equipping a child to fully realize his or her potential in the world. I want to give a special shout out to dads who support and push their daughters, and to moms raising sons to view women as equals in every sense of the word.
Carolee, diving deeper into what you shared about often being the only woman in a room full of men, what can we do to ensure there's more women leaders—and more diversity—in the tech industry?
Carolee: I want to first acknowledge the tremendous impact women have already had across STEM, around the world. From Grace Hopper, both an inventor and computer scientist, to Florence Nightingale, a reformer and a statistician. Whether it's mathematician Katherine Johnson, computer programmer and engineer Radia Perlman or astronaut and neurologist Roberta Bondar, the list goes on and on. Women have already changed this industry and we all stand where we are today because of the sacrifices they made (as well as their achievements!). I also have the pleasure of working with many women in technology having incredible impact, including both Aimee and Nina who have joined me in this conversation! We need to continue to tell stories of ceiling-shattering women, to ultimately inspire the next generation of leaders and normalize female leadership within the industry.
Additionally, we need to keep showing up and speaking up. So while bringing your perspective as a woman in technology often still means you may be the lone voice in a room at least for now, our presence, opinions and suggestions are critical. Diversity in all its forms is an innovation accelerator.
Aimee: Companies have tremendous value to gain in developing women leaders and all under-represented groups. The data speaks for itself on increased success, when supporting diverse teams. Companies who invest in developing more diversity also provide enhanced growth and development for individuals to learn from one another who are different than them. And, it's key that diversity is not only at the team level, but also at the leadership level. To support this change, every hiring manager, regardless of level, should take personal responsibility for seeking a range of diverse candidates for every new position they hire for.
Nina: Technology is a democratizing enabler and an increasingly powerful tool to drive better information, connection and insight. But to work successfully, we also need diversity in the people who build, define, deliver, and market these powerful offerings. The world comprises both men and women. We need to embrace, deliver for and share with the market in a way that captures the passion of all people and shares innovation in a way that embraces both connection and perceptions. Together we are stronger.  Projects are better for it, companies are better for it, and people we're helping are better for it. It's in this blending of perspectives that we arrive at better messages, products, opportunities and understanding.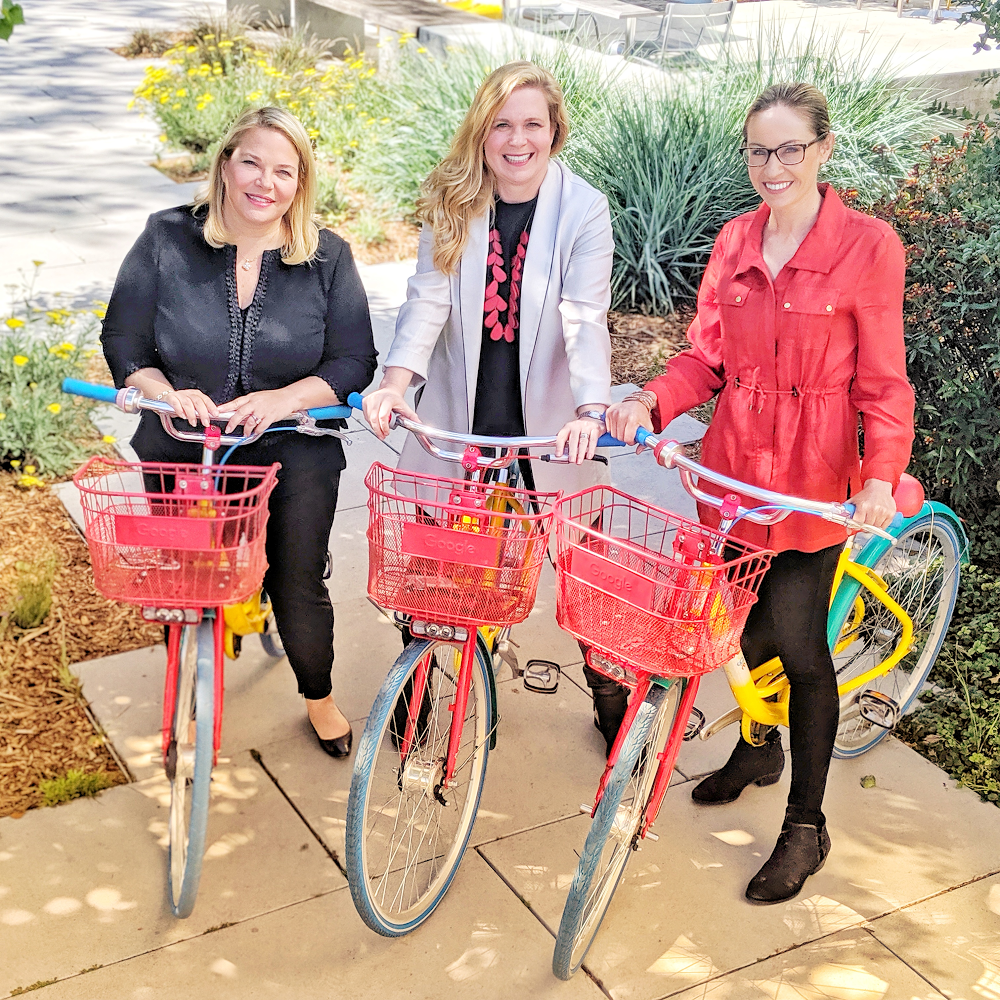 Let's segue into your work at Google Cloud. Can you share more about one exciting project or opportunity here or why you initially joined?

Nina: Going back to what I was saying about listening, our new partner program Google Cloud Partner Advantage was actually born from listening, and it's been incredible to see those results. We put our hearing skills to test by tapping into 23 focus groups around the world with more than 260 partner voices guiding us on how we could move from managing partners to fueling partners.
Aimee: As I've gotten to know many of the partners it's pretty fantastic to see how well it's paid off for those who invested early. A big reason for that is Google's superior technology across so many key areas that customers value most, which also provides a major opportunity for potential new partners. It's exciting to be in a position to bring this level of new business opportunity to so many partner companies around the world.
Carolee: When I looked to where my personal experience and expertise in Enterprise B2B technology, Google Cloud was an obvious group within Google where I knew I could make an impact. I was one of the lucky ones where the right role also came along—where the division needed someone with my particular channel sales expertise—and I knew what my team and I could yield positive results for the company.
On a larger scale, Google's mission "to organize the world's information and make it universally accessible and useful" deeply resonates with me on a personal level. I've been a lifelong learner with the library, a place to seek out more knowledge, being my first true love. I strongly believe that education through information is one of the most powerful levers in equalizing inequality and bringing about a more just world. Google is a company that has global impact, and that's exciting to see it help bring about this equalization.
We're down to our final question. If you could describe leadership in three words, what would it be?
Carolee: Well, almost three words!  Swap Shoes, Show Up and Step Up
Nina: Learning, Integrity, Family
Aimee:  Courageous, empowerment and compassion