Last updated - March 9, 2020
If you have a WooCommerce store, you know Storefront is one of the best themes available for you. As it is created by the same team who developed WooCommerce, you can expect a perfect integration with your store. You can also be assured that there won't be a lot of conflicts with some of the essential plugins that you use. However, it might prove not enough if you want to give a more personalized outlook on your site. Interestingly, you can choose from a wide variety of child themes available on the WooCommerce site. Here is a list of some of the best WooCommerce Storefront child themes.
Checkout one of the best free Elementor themes to customize the design and layout of your WordPress site.
WooCommerce Storefront
Storefront is actually one of the most flexible and intuitive themes that you can get for your WooCommerce store. There won't be any site downtime due to conflicts between WooCommerce and any of the popular extensions that you use. This is really important to gain trust from your customers for long-term business success.
The storefront is based on Underscores starter theme, which is used to make some of the awesome WordPress themes. That makes it really light and well organized. Another reason for the efficiency of Storefront is that it is based on a fully customizable Sass (a scripting language that can be converted to CSS) grid known as the nestable grid. It also ensures great results in search engine optimization (SEO) side with features like responsive layout and schema markup.
Another trait of Storefront theme, particularly the focus of this article, is its simple, highly customizable design. This makes it very easy to integrate other plugins and child themes on your site. You can easily customize your store's front-end with a design that is matching to the interests of your customers.
How Storefront allows customization
Storefront maintains its flexibility to allow customization by keeping itself really light. You won't find a lot of fancy features in Storefront, which some other themes might be loaded with. It is intended to be a functional, no-nonsense theme. As a result, you need to get a different plugin or a child theme, if you need some of the extra embellishments. Therefore, you won't find any shortcodes, sliders or page builders out of the box with Storefront. However, if you want any of them, you can install the suitable plugins and Storefront will smoothly integrate the features. The storefront is compatible with WooSlider, Visual Composer (now WPBakery Page Builder), Beaver Builder, Site Origin PageBuilder, Storefront Designer, etc.
The homepage template is organized really well with options to display your recent update, top-rated, featured and on sale products effectively. You can also display product categories. It follows accessibility guidelines methodically and makes sure your site reaches a wider audience. You don't need to worry about language issues with Storefront, as it is translation ready and fully localized.
Best WooCommerce Storefront Child Themes
The storefront has quite a few beautiful child themes that you can install in your store. You can select these according to your aesthetic considerations and customer preferences. All of the child themes require Storefront already installed on your store. Let's see some of the best Storefront child themes and what sort of stores you can use them for.
Boutique
This one is a simple theme that suits small stores quite well. It presents a simple layout and much of a traditional design scheme. You will be able to create your own logo, and a preferred color scheme that you think is best for your store.
You can get it from WooCommerce site for no extra cost and simply install on your store. Remember, you need to install Storefront beforehand to use this theme.
The visible difference that you may notice when you install Boutique is that the homepage layout is slightly different. There is a sidebar, where you can add widgets, and a homepage content section on top. If you don't want to add any content, you can simply not update the section. While using this Storefront child theme, you may notice that Storefront Designer and Storefront Customizer are disabled. This is because the design of Boutique is not compatible with those extensions.
Deli
The earthy design sets Deli apart from other child themes available. If you are selling organic products or you have an affinity towards natural design language, this one is for you. On the appearance side, it emanates a wacky sensibility, when underneath it packs the stabilizes itself on the solid foundation of Storefront.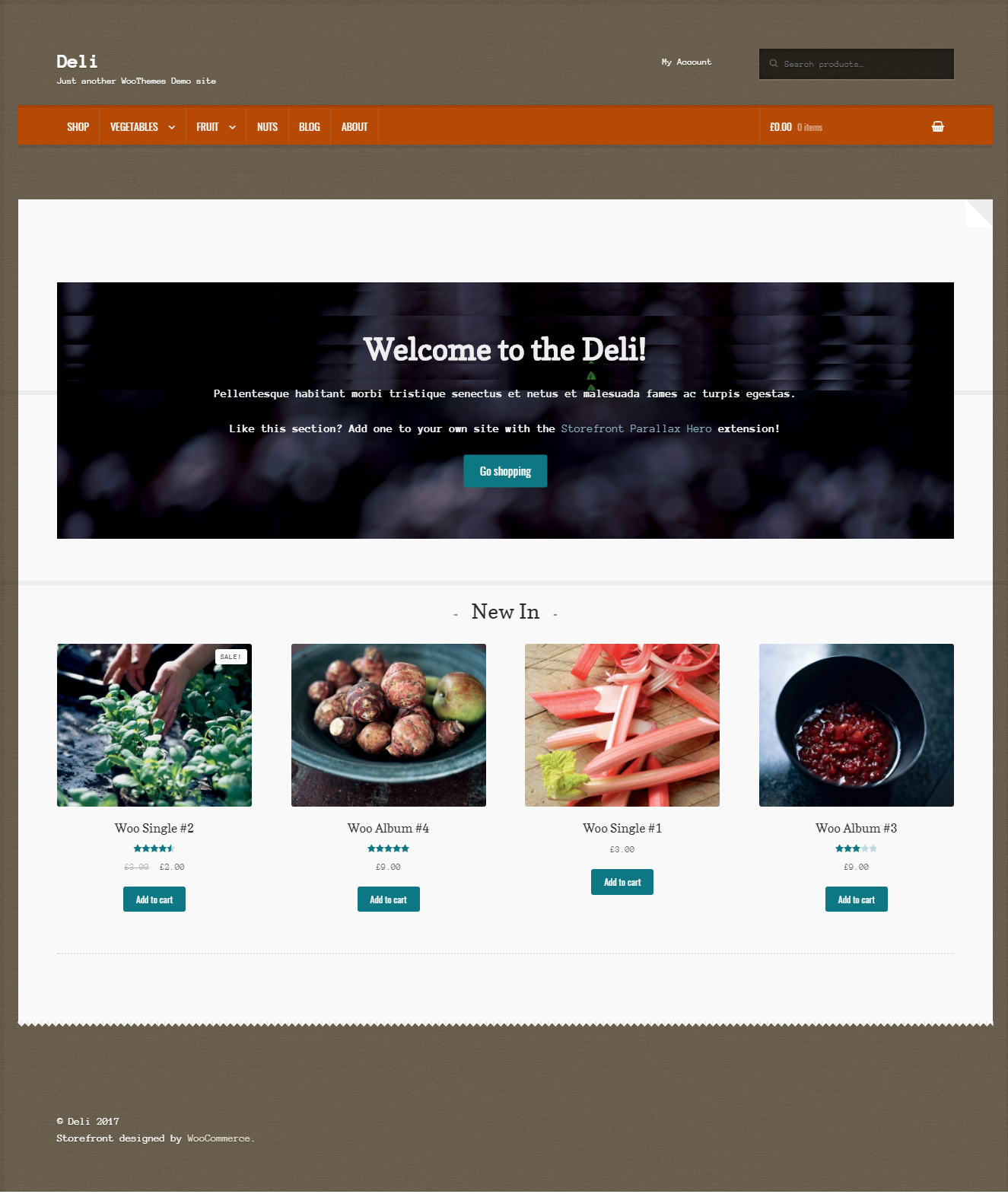 Some of the popular store types that prefer this unique theme are those selling handmade products, organic goods, health food, gardening essentials, etc. Overall, it is a sensible choice if you prefer displaying your store's identity in a visually liberating way.
This one too is available for free on the WooCommerce site, and you can easily install. If you are using Storefront designer, you won't be able to change some elements like buttons on this site. Also, if you want to change the alignment of home page content, you can easily manage that using a custom CSS provided in the documentation.
Galleria
Galleria is for fashion stores. It gives a catchy appeal to your clothing and designer products. If you have a clothing store and want to portray a minimalist design detail, this one is for you.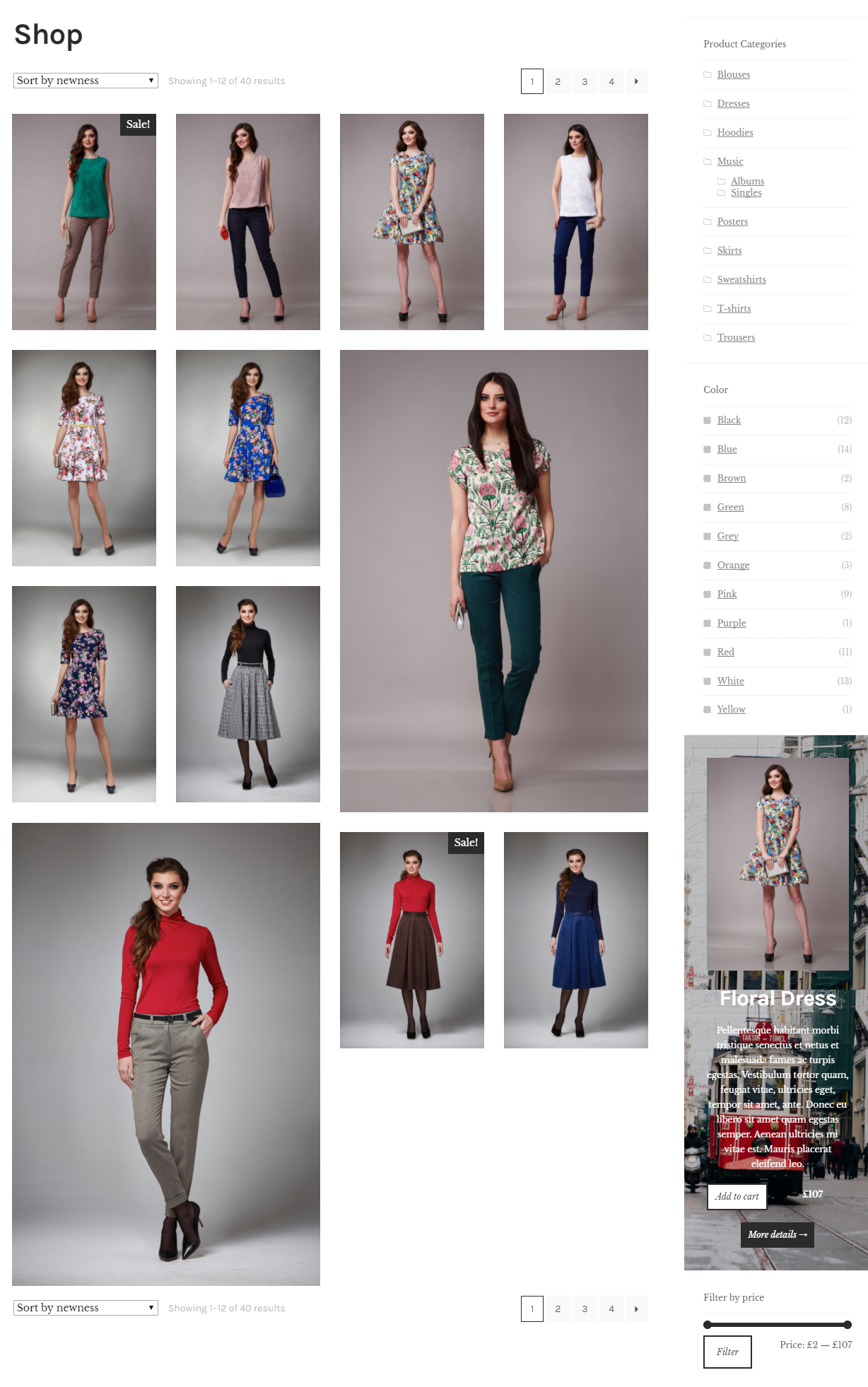 For fashion stores, it is really important to present the products in a stylistic way. The store should be able to create an impact in the minds of customers as a classy fashion store. Galleria theme does everything to help you in such a scenario. All you have to do is purchase the extension from the WooCommerce site at $39.
Galleria has a unique design and layout. The pattern it uses to display products is called 'Masonry' layout, which organizes products adjacent to one another irrespective of variation in height. There is another unique design element for this theme, which enlarges the focused product on the Shop page. These design elements effectively create a chic appeal for your WooCommerce fashion store.
You will find three different demos for this one  – men's fashion, women's fashion and art shop, so as to get a different perspective. If you are trying to include any custom codes to this theme, the developers advise to create a customization plugin and add code snippets to that.
ProShop
If you are specializing in sports apparel and equipment, you can go for ProShop theme. It offers a modern design that aligns well with a metropolitan customer base. It really helps you accentuate the character of your products effectively to your customers with its unique design elements. However, if you prefer to customize the look and feel of your site with this theme, you can get hold of some of the efficient Storefront extensions.
You can customize multiple aspects of your store such as blog and WooCommerce pages, checkout flow, etc using plugins compatible with this theme. Take a look at Storefront WooCommerce Customizer and Storefront Checkout Customizer to understand different possibilities.
The sticky primary navigation you can see on the demo site, however, affects the visibility of the products. Thankfully, it's a feature of Storefront designer plugin, and you can totally choose to let that go if you don't like it.
You can purchase ProShop for $39.
Homestore
This one takes design inspiration from all the leading department stores across the world. It is suitable for stores of all sizes. For example, it suits a small shop selling to primarily local customers and aligns equally well to the needs of a global retailer. The simple and organized layout is sure to win the hearts of your customers, as it presents easy navigability and visual appeal.
This WooCommerce Storefront child theme is available for $39. One aspect that you need to focus while installing this theme is that you have to assign a custom menu to the 'Homepage' menu location. This will make sure the homepage menu is displayed, where which won't happen by default.
Outlet
If you are looking to design a tech store, you may want to provide somewhat of a functional look to it. Outlet provides an abundance of that. Actually, it provides a blend of subtle sophistication and everyday practicality. So, whatever you are tech stuff that you are selling you can rest assured of its presentation with this awesome child theme.
The tech theme is portrayed with subtle hints of imagery in the backdrop. The design is clean and intuitive with a tabbed interface that displays products and categories effectively. Obviously, you can upload your own header image and logo to your store while using this theme. However, similar to Homestore, you need to create a custom menu for Homepage location to displayed as a separate menu.
Like Homestore, the live demo of this one too has a relatively large sticky primary navigation area. This is taking a lot of screen space and sort of hampering a presentable view of the homepage.
ToyShop
With vibrant colors and a playful design, this one is ideal for toy stores and flower shops. If you are looking at creating a store that will have colorful products, ToyShop really helps to enhance your products. Seasonal updates option for the footer is another signature trait of this theme. By default, the footer has a summer theme., which you can change accordingly. So, if you are running seasonal offers on your store, this option would prove to be really useful.
The design is primarily aimed at kids, but very well suits a gardening store or flower store as well.
Bookshop
The homepage layout clearly indicates how it is a suitable theme for a bookshop as the name suggests. There is a display of different categories and each category has a set of products stacked under it. As intended, this instantly gives the vibe of a bookstore and will be quite a visual tactic to lure in bookworms to your store. On the product archives, you can display author name and format of the book as well. However, for this, you need to set these as attributes thought. Read more about WooCommerce product attributes here.
Another kind of product that you can sell effectively with this theme is wine. The subtle hint of stacking works well with wine connoisseurs too. You can easily change the display attributes according to the type of products you are selling. And, as with most of the paid child themes, this one too you can get for $39.
Conclusion
If you are looking for a suitable theme for your WooCommerce store, Storefront is one of the best options available. This is particularly because it is coming from the same team of WooCommerce. Similar to the case of WooCommerce, Storefront too exhibits awesome flexibility in adding additional functionalities through extensions and child themes.
Storefront child theme directory really manages to provide options for a large variety of stores. Whatever kind of WooCommerce store you are planning, there will be something that suits your sensibilities. Actually, this is really helpful to those who are starting out with their WooCommerce business. If you really don't know much about themes, you can easily select one of the child themes purely based on the nature of your store. We have tried to compile a list of the best WooCommerce Storefront child themes in this article. If you have any suggestions or insights regarding this article, kindly let us know through the below comments section. You can also read our article on the Best Free WooCommerce themes or Best Responsive themes if looking for more options.