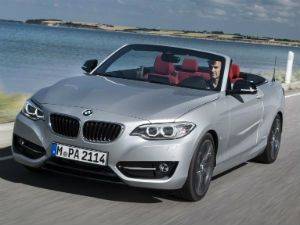 BMW will debut the 2 Series Convertible at the Paris Motor Show but before its live showcase, the Bavarian carmaker has released images of its latest offering. The 2 Series Convertible replaces the 1-series convertible as the entry point to BMW's range of flip tops. The 2-series convertible looks identical to the coupe except for the electrically folding softtop. The roof can fold or open in 20 seconds at speeds under 48kmph/30mph and tucks away neatly behind the rear seats when folded. The roof is soundproofed and insulated and will be available in 3 colours andndash; black, anthracite and brown.
In time for an early 2015 launch in Europe, the 2 Series Convertible will be offered with a choice of four engine options andndash; three petrols and one diesel. The entry spec petrol engine is a 2.0-litre unit available in two states of tune. The base spec 220i dishes out 187PS/270Nm and does the 0-100kmph sprint in 7.6 seconds. The second option is a more potent 228i M Sport 248PS/350Nm unit capable of hitting the ton from standstill in 6.0 seconds. The range topping twin-turbo six-cylinder engine in the M235i punches 330PS/450Nm and hits the 100kmph mark in just five seconds. The sole diesel engine option is the 2.0-litre mill in the 220d with power and torque output of 193PS/400Nm. The torquey diesel gets to the ton in 7.4 seconds.
The 228i can be specified with the M Sport packages that gives it different finishes, wheels and trims. This is a step below the proper M-Spec M235i but the 228i can be fitted with the Track Handling Package which includes an Adaptive M Suspension, Michelin Pilot Super Sport tires, 18-inch wheels, Variable Sport Steering, and M Sport Brakes.
The 2 Series convertible also comes with free updates for the navigation system which is directly sent to the vehicle's sim card when available. It happens automatically and lets the navigation function even while the update is in progress.