This week Bosch hosted a new event called "What's new with Blue" where they showcased their new cordless 18V Profactor power tools and other new items like 2nd gen Blaze laser measures, new Visimax 5 point laser levels, Revolve Green horizontal rotary laser, and new power tool accessories including a new line of screwdriving bits called Driven, new SDS accessories, and new X-Lock accessories.
Full disclosure: This is not a review, this is tool news. Tool Craze cannot guarantee the accuracy of the information/specifications/features of any tool listed in this article. Manufacturer marketing claims may not always meet expectations. Tool Craze is not responsible if products do not live up to claimed expectations. Please do your full research before buying any products. Tool Craze is an Amazon Associate and places paid links including those from other retailers that Tool Craze is an affiliate partner with. If you purchase something through a link on the Tool Craze site, Tool Craze may get a small share of the sale.
Profactor Brushless Power Tools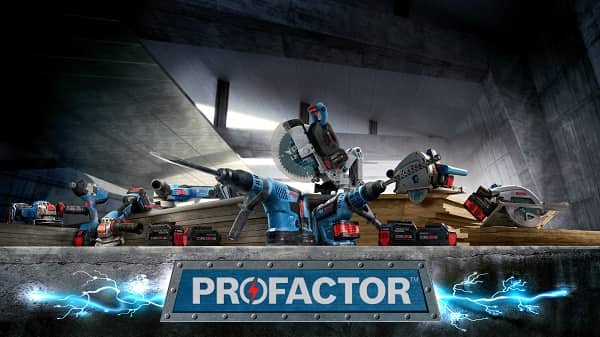 We'll start off with the new info on the Profactor product launch. Much of this was already covered prior to this event so I will only include new info in this article. If you want to check out prior details, please click here to view the original article on the new Profactor products.
Bosch has confirmed that the new Profactor cordless 18V power tools are optimized for the CORE18V batteries and recommend using the CORE18V 8.0ah and 12.0ah batteries to get the most out of these tools. We also learned that the Profactor power tools are backwards compatible with all Bosch 18V slide pack lithium ion battery packs just keep in mind these tools are optimized for the 8.0ah and 12.0ah CORE18V batteries for best performance. Bosch claims that the Profactor power tools when using 8.0ah and 12.0ah CORE18V batteries offer performance similar to corded power tools. While compactible with all Bosch 18V batteries, they recommend not to use the new 4.0ah CORE18V slimpack batteries on Profactor tools.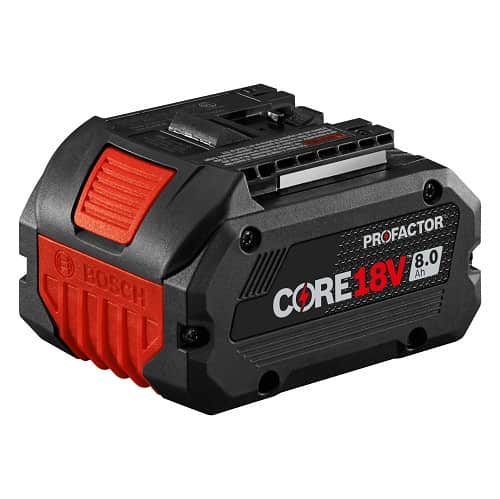 Their new 8.0ah and 12.0ah CORE18V batteries will be labeled "Profactor" as seen in the above image with the 8.0ah battery being compatible with all Bosch 18V power tools. However the new 12.0ah CORE18V Profactor battery is labeled as "Profactor Exclusive" which means that it will ONLY work on the new Profactor tools. This is a strange decision as it will no doubt cause user confusion and frustration. The question as to why this battery is only Profactor tool compatible came up and the Bosch rep said that (long story short) it's because of research they conducted. Some of the reasoning was also because it wouldn't make sense to use such a large 15 cell battery on a smaller tool for example an impact driver. I do agree on this however I still think it would have been a better idea to leave that battery compatible with their complete range of 18V tools and let the user decide on what to use it with. Sure such a big battery is overkill on an impact driver or drill however it makes perfect sense on something like a circular saw, reciprocating saw, and cordless miter saw since these are power hungry tools. Even if these legacy tools aren't optimized to take full advantage of the new 12.0 ah battery, they would still benefit from longer runtime due to its larger capacity.
Now moving on to their Profactor power tools. All the new Profactor power tools feature a brushless motor which they call BITURBO with a drivetrain that is claimed to "withstand the toughest jobs". All of them are connected ready (with the exception of the two impact wrenches) and in kit form are kitted with the Hell-ion fast charger. The SDS+ 1-1/4″ rotary hammerGBH18V-34CQN is said to offer 4.3 ft-lbs of impact energy, the Hitman SDS Max 1-9/16″ rotary hammer GBH18V-36CN is said to offer 5.2 ft-lbs of impact energy, and the Hitman SDS Max 1-7/8″ rotary hammer GBH18V-45CK  is said to offer 5.2 ft-lbs of impact energy. They will feature soft start and antivibration handles.
The biggest Profactor power tool of the bunch is the Surgeon 12″ Axial Glide dual bevel miter saw GCM18V-12GDCN which offers glide arms (that let the tool rest up to a wall for a smaller foot print which takes less counterspace), upfront bevel controls, variable speed, and eco mode that offers up to 20% more runtime.
The angle grinders have the Spitfire name and have 5-6″ capacities and are said to offer corded like performance, similar to 13 amp corded grinders according to Bosch. They come with electric brakes and come in two models with a spindle and X-Lock mount model.
They did show off their new Profactor impact wrenches and these are high torque impact wrenches that don't hold back the power. They announced not one but two new models with a 1/2″ model that has up to 1180 ft-lbs of breakaway torque and a 3/4″ model with up to 1200 ft-lbs of breakaway torque. The 1/2″ model comes with a friction ring anvil while the 3/4″ model offers the choice of either friction ring or thru-hole.
Their Profactor circular saws are called Strong Arm and both feature 7-1/4″ blades with up to 2-1/2″ 90 degree cut capacity and a 360 degree dust vacuum port that allows you to rotate in which direction you want dust to shoot out or for better vac hose positioning. One of those models is the more featured model with the addition of making it track compatible so it doubles as a track saw and offers eco mode with up to 30% more runtime when eco mode is engaged.
In addition to the two above mentioned Strong Arm circular saws, they also have an official genuine 18V 5-1/2″ tracksaw which also features the 360 degree rotating dust port and eco mode that offers up to 30% more runtime when engaged.
X-LOCK Grinders and Accessories
There was a small segment on X-Lock angle grinders and accessories. They will have new basic X-lock mount grinders, some with electric brake and will come in both corded and cordless models – some of which were covered in the Profactor announcement. They also reminded us that the X-Lock wheel accessories are backwards compatible with regular spindle angle grinders however I will add that their X-Lock mount grinders are not backwards compatible with regular wheels and only use X-Lock mount accessories.
Laser Point Tools
They announced new laser point products with new second gen Blaze laser measures,  Visimax 5 point laser level, and Revolve horizontal rotary laser and the big announcement on all of these is that they now use green lasers for improved visibility over red lasers!
The Blaze 2nd gen laser measures offer a rugged design that offers water and dust protection, a function wheel with simple measuring, wall area and rounding feature. They also have the added feature where you can walk off the starting point, or walk away from such as you would with a traditional tape measure. It seems this feature is designed for familiarity for those used to using tape measures, to help ease newcomers to fancy new tech such as laser measures even though they've been around for ages. They also offer a tutorial for accurate measurements and these units can take either 2 AA batteries or use their rechargeable li-ion battery packs. There are 4 new units launching in May 2021.
The Visimax 5 point laser level also offers green lasers for better visibility and feature a durable housing that's IP55 rated for water and dust resistance. They are said to be compact in design with integrated mounts that have improved magnet strength and have the ability to use in transport mode.
Driven Screwdriving Accessories
The new Driven power tool accessories are impact rated screwdriving bits. These are a claimed big upgrade to their current line of bits that are said to address tip breakage and stripped screw/cam out. They are rated for up to 50x the life of standard bits with elongated head for better precise tip. The Driven line also includes new customizable cases that have removable bit strips and the bit strips offer bits to fold upwards for easy access.
SDS Accessories
They now offer a new longer bushing tool and a new SDS+ floor scraper accessory which they claim is now in the SDS+ system.
Digital Services
They also announced two digital services with the Refinemysite and Bluehound services.
RefinemySite is an easy-to-use digital construction platform where project teams can plan, collaborate, communicate and document project information in real-time. The platform works lockstep, with the Last Planner System® to implement the Lean Method. What does that mean? It means you can coordinate your entire construction process – from planning to management to documentation – all from a cloud-based, user-friendly digital interface. In short, your work becomes easier and your team works better together.

Bosch Bluehound offers a top of the line solution to your asset management needs by bringing inventory transparency to your jobsites. Bluehound combines Bluetooth® connectivity, engineering and the cloud to enable real time asset tracking. Bluehound is designed with the large contractor in mind and is built to help simplify complex scenarios and drive productivity from warehouse to jobsite.


Free 2 day shipping – Try Amazon Prime 30-Day Free Trial

DISCLOSURE:
Tool Craze does not sell this product or any product on the Tool Craze website. Tool Craze does not handle the sale of any item in any way. If you purchase something through a link on the Tool Craze site, Tool Craze may get a small share of the sale. Please refer to the About section for more info. Tool Craze cannot guarantee the accuracy of the information/specifications/features of any tool listed in this article. Please do your full research before buying any products.

The post Bosch What's New With Blue Event appeared first on Tool Craze.