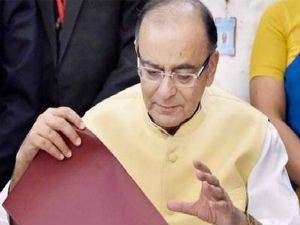 Finance Minister Arun Jaitley Saturday began presenting India's national budget for the next fiscal, saying the state of the country's economy was better placed today with its credibility re-established by a series of measures taken by his government.
"I am presenting the union budget in an economic environment which is far more positive than in the recent past. While major economies of the world face difficulties, India is poised for higher growth trajectory," Jaitley said as he started his budget speech in the Lok Sabha.
"The real GDP growth is estimated at 7.5 percent for this fiscal, making India the fastest-growing large economy of the world," said Jaitley, watched keenly by Prime Minister Narendra Modi, seated next to him.
"We inherited a sentiment of doom and gloom and have come a long way by proper actions," said the finance minister, adding: "Our objective is to improve quality of life and to pass benefits to common man."
He also said a double-digit growth was now feasible. "Our objective is to conquer inflation. It will be only 5 percent by end of year."
Earlier in the morning, Jaitley met President Pranab Mukherjee, who was himself a finance minister, and was also present at the customary meeting of the cabinet, presided over by Prime Minister Narendra Modi inside Parliament House.
This is Jaitley's second annual budget, with the first one tabled in the middle of the year after a major victory in the national elections for the Bharatiya Janata Party (BJP).