Have you ever wondered what all the hype is around "design thinking?" Although this playful approach to problem-solving has been around for decades, it really started to gain popularity in the past 10 years. These days, "design thinking" (or "human-centered design") is a term that is embraced by the corporate world. Learn more about the history of design thinking, here. 
About the Duke MBA Design + Innovation Club 
We are a student-led, professional club that focuses on helping Fuquans hone their design thinking skills, and on making the connection between these skills and post-MBA careers. 
Here at Fuqua, we believe that design thinking is a fun, creative way to answer questions, design products, and ideate process improvements. We strive to introduce these skills and provide a fun environment in which to practice them. Our belief is that every industry—from health care to tech and everything in between—can benefit from the fresh perspective that design thinking brings to the table.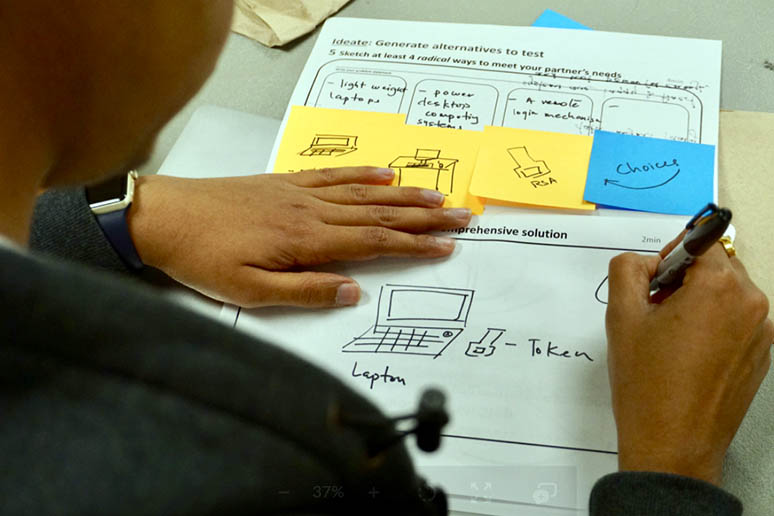 Some of our club events include: 
Introduction to Design Thinking. This event is led by the renowned Professor Robert Twiss of Duke's Pratt School of Engineering. Professor Twiss walks us through the core tenets of design thinking and an exercise that allows us to apply what we've learned to a real-world problem. 
Career Upskilling. This is a series of events designed to teach human-centered design skills. Topics include things like A/B testing, conducting user interviews, and more! 
Ethical Tech Workshop. This event is led by Kat Zhou, the creator of Design Ethically. Participants learn how to evaluate ethical issues in tech—from biased algorithms to smartphone addiction to data ownership—and how to avoid unintended consequences. 
Design Summit. The inaugural Design Summit is coming in 2021! This event will bring leaders from across all industries together to talk about how their respective industries and companies value design thinking. 
Can the Club Help Me Find a Career in Design Thinking? 
Traditionally, careers in design thinking were limited to the 'big names' in design consulting (like IDEO and Frog). While these firms introduced design thinking to the masses, companies across all industries are increasingly interested in hiring people with these skills. Our club's goal is to help students who are interested in this space prepare for and navigate their career search. Our careers cabinet is primarily focused on supporting club members throughout this process. 
What Our Members Are Saying
"Early on in my internship, I ran an ideation and prioritization session with my team to determine what I should work on for the remainder of the summer. Afterward, I got feedback that the team was impressed with my structured way of thinking to frame a question and then work my way down to get to the answer. Design thinking skills and the practice that I got with the Design + Innovation Club helped ensure that I made an impact during the internship!" 
– Catherine Bhattachar, MBA Intern at IQVIA, Strategic Partnerships and Pricing
"My favorite Design + Innovation event last year was the 'Intro to A/B testing' session. This session—which was focused on UI/UX design, defining key success metrics, and the basics of A/B hypothesis testing—was instrumental in providing me with a better high-level understanding of how to approach product innovation and in introducing me to several tools and methodologies to aid with design. Both of which I put to good use during my internship!" 
– Michael Gilkenson, MBA Product Manager Intern at Microsoft
Want to Learn More?
If you are considering pursuing an MBA at Fuqua and are interested in learning more about the Design + Innovation club, please reach out here. 
The post Building Post-MBA Skills with the Design and Innovation Club appeared first on Duke Daytime MBA Student Blog.