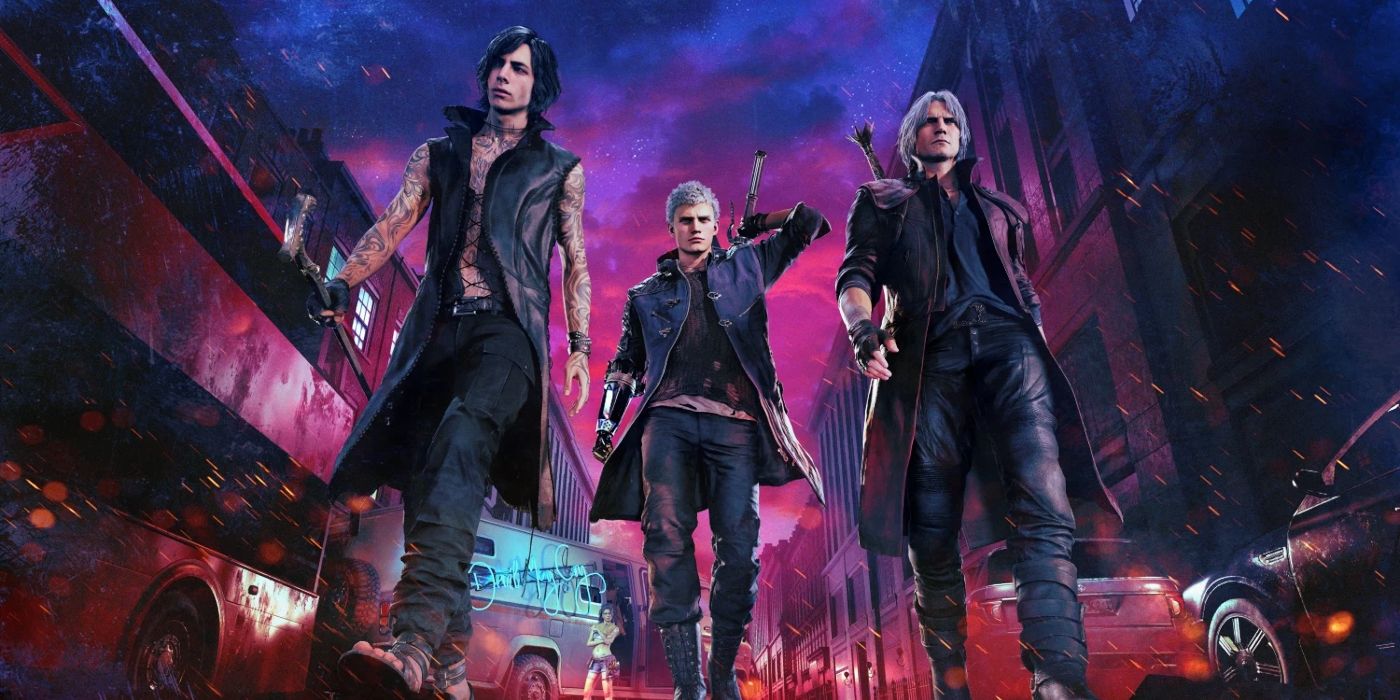 Devil May Cry 5 released in early 2019, but fans are already hoping for news regarding a sequel. While there was DmC: Devil May Cry's release in 2013, many Devil May Cry fans have been waiting since 2008's Devil May Cry 4 for a true follow-up. Many hope that Devil May Cry 6 will come soon, but nothing is guaranteed. However, Devil May Cry 5 director Hideaki Itsuno, for his part, does have a tease for fans.
Itsuno posted a message to Twitter in celebration of New Year's Day. The tweet includes a photo of the development team, and a message where Itsuno bids everyone a happy new year and asks his fans if they've gotten the chance to play the new Devil May Cry 5 DLC. If they haven't, Itsuno asks that they please try it out and play as Vergil. Then, to close out the message, Itsuno teases that the team is currently working on a new project.
RELATED: New Devil May Cry 5 Mod Ramps Up The Number of Enemies in Levels
Those hoping for a proper announcement or a more robust teaser are going to be disappointed, however. All Itsuno says is that another project is currently being worked on. Yet the framing heavily implies it's a new game being worked on and not another DLC project, and the only extra detail provided is that it was being worked on alongside the development of the recent Devil May Cry 5 DLC.
Fans are speculating that Itsuno is confirming that work has begun on Devil May Cry 6, but he can't name the game for obvious reasons. There's no real evidence of that, however, as Itsuno could be working on Devil May Cry 6 or he could be working on something else entirely. After all, Itsuno has been the director of many other games, including Dragon's Dogma, which is rumored to have a sequel in the works.
In this case, it may be best for fans to keep their expectations in check. Capcom recently suffered a major internal leak, which revealed many of the studio's upcoming projects and plans. The leak made no mention of another Devil May Cry game releasing through 2024. Other projects that Itsuno could be involved in include Dragon's Dogma 2, a new Onimusha game, or remakes of either Final Fight or Power Stone.
After the release of Devil May Cry 5 in 2019, Itsuno said he wanted to prove intense action games still had a place in the modern gaming industry. Devil May Cry 5 was quite successful, so perhaps that was enough for Itsuno and he has other plans now. However, he could also have a surprise in store for fans of the long-running series.
Devil May Cry 5 is available now for PC, PS4, PS5, Xbox One, and Xbox Series X.