Is E-commerce safe? This is the most important question for online shoppers and retailers. Are online retailers able to protect their customer's data, bank details, contact number, email ID, credit card details etc.. Cybersecurity is one of the most crucial features of electronic commerce. There is a risk that hackers can misuse customer data or the E-commerce portal can be hacked by hackers.
Do merchants have multiple layers of security to protect customer data?
Lots of E-commerce companies had been hacked in the past and if you remember the top brand names like eBay, Target Corporation, Starbucks, Zappos, these are some companies had got hacked and had spent lots of money to recover. If we talk about the British company Talk Talk spent £50 million recovering from a cyber-attack, so this can happen with anyone if the E-commerce companies aren't aware about the latest technologies which can protect them from the cyber-attacks.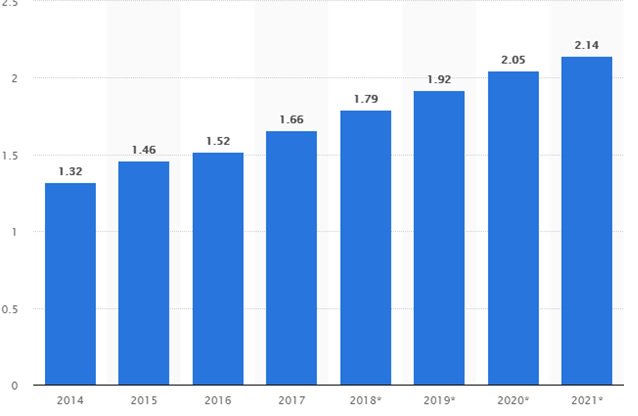 As per the Statista report, 2.14 billion people worldwide are expected to buy goods and services online and it is risking for payment fraud, the hackers are continuously looking to break the security layers.
Is every E-commerce portal offer secure e-commerce transactions and protect customer's data? Do they know their level of security management and what they can do to secure their online store with advanced security systems?
Check out below what online stores can do to protect customer data:
• Use a high level of SSL certification to secure connection
• Select the best hosting provider that has multi-layered security
• Require a strong password that must be changed from time to time
• User advanced cybersecurity tools
You probably heard about identity theft, there are numerous credit card fraud activities that happen day to day, as per Identity Theft Statistics there were 174,523 cases of identity theft in the UK in 2017. So, how are the e-commerce companies protecting your bank details, credit card or debit card details from cybersecurity.
Let me share a few important cybersecurity tools with you:
IBM QRadar Advisor
IBM recently announced QRadar Advisor with Watson, AI Based security platform which protects company data from cyber-attack and other cybercriminal behavior. By using IBM's QRadar Advisor, companies can protect their customer or employee data and reduce the risk of data and identity theft.
This tool automatically investigates the incidents and block threads to access, check malicious files, suspicious IP addresses, detect suspicious activities and identify high priority risks.
Symantec's Targeted attack analytics (TAA)
This tool had been developed by Symantec, the word largest security company in cyber-security with ATP (Advanced threat protection). This tool helps to identify thread automatically and take action. With the combination of advanced machine learning and artificial intelligence, it has the functionality to identify dangerous cyber-attacks and keep customer data secure.
TAA determines each activity, actions and unwind any suspicious activities and collect data of individuals and hunt for anomalies across endpoints. The tool is also available for advanced threat protection and enhance organization security infrastructure and protect data from cyber-attack and identity theft. It has pre-built app for IBM QRadar and automatically integrated using Phantom.
SSL Certifications
If you are running an e-commerce business and taking payment online then you must have to set up an SSL certificate on your website to protect your customer financial data.
An SSL certification is a secured socket layer, the latest technique to protect web communication and prevent from cyber-attacks, this technology help encrypting and decrypting messages between browser and server in a secure manner also protect from any malware and virus attacks.
For example, you have never seen any bank and other payment transaction website without SSL, and if you found a website without SSL then I would suggest avoiding making any payment online.
If your customer feels that their data compromised then they wouldn't buy your products and abandon using your website. To protect customer data or run a successful e-commerce business, you must have to implement security label for your customer from various attacks. To build trust in customers and ensure them about the security of data every E-commerce website must add SSL certification on their website.
Comply With PCI Regulations
The purpose of cyber-attack and identity theft is to destroy or misuse user finance by hacking credit card, debit card, and bank details. If you run an E-commerce business then as per PCI security standards council you can't store the payment history of the customers, you must secure your checkout process and ensure that your client's data are secure.
If your E-commerce company is accepting payment online through credit and debit card then your company need to host your data with PCI compliant hosting provider, it provides you multiple layer security and that will help to protect customer card data.
Also, you must have to choose PCI compliance data hosting providers to protect your website from hackers and customer personal and financial information.
Gnu PG: Guarding Your Privacy
Have you ever thought that your emails can be read during transferring from your sent items to the recipient? Unfortunately, email transferred with the help of SMTP and delivered directly and indirectly.
The GNU Privacy Guard is a free tool which is used for encryption of file and emails. Best tool to improve your email security and privacy. With this tool, you need a public key to pair and access files and easily integrated with applications.
GnuPG helps you to make secure communication and you can easily encrypt and decrypt your data, you can generate a public and private key to access.