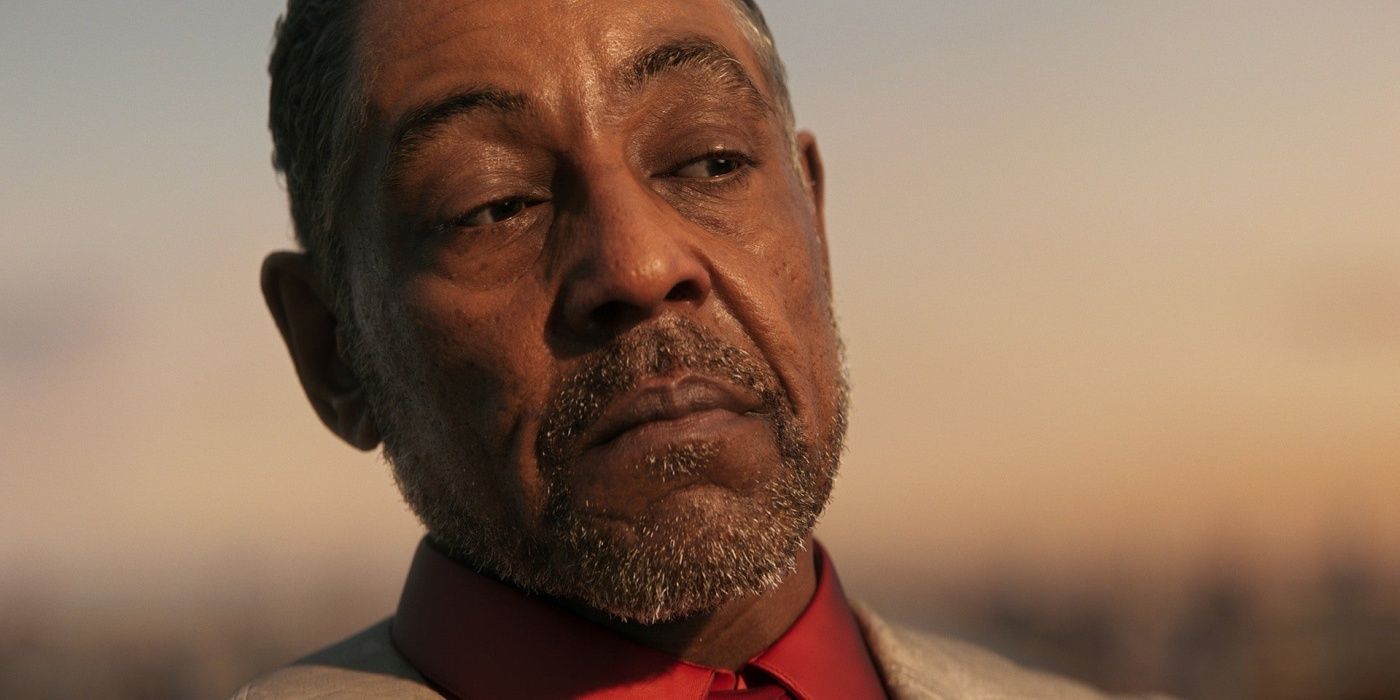 A behind-the-scenes video for Far Cry 6 features a closer look at actor Giancarlo Esposito's performance as Anton Castillo, the franchise's latest big bad. Following a series of leaks and rumors, Ubisoft unveiled Far Cry 6 during a Ubisoft Forward event in July 2020. Quite a few of the leaked details were proven correct, too, including Giancarlo Esposito's involvement and the Caribbean island setting.
The Breaking Bad and Mandalorian alum assumes the role of Anton Castillo, the fascist dictator who mercilessly rules the fictional island of Yara. Far Cry 6's announcement trailer depicts Castillo coaching his 13-year-old son Diego on how to adopt a certain level of coldness when engaging with the island's citizenry. The dictator obviously harbors a cruel vision of leadership, one underpinned by Castillo's use of a live grenade during the demonstration with his son. What especially sells this particular scene is Esposito's performance, all captured on the mocap stage.
Related: Is Far Cry 6's Release Date Coming At Ubisoft Forward?
Ubisoft hasn't share too many details about Far Cry 6 of late, but a behind-the-scenes video recently appeared on Vimeo, showcasing Esposito's role in the announcement trailer from another perspective. In parts of the video, the actor is seen delivering his mocap performance. Such scenes are then intercut with footage of the stages required to bring the captured physical performance into the digital realm. Clips of the environments being digitally built around the characters in real-time is a treat to see, too. Check it out in the video linked below:
Hopefully, additional videos of this nature will hit the web prior to and after the eventual release of Far Cry 6. While inside glimpses at video game creation has become more common over the last several years, it's still a far cry (pardon the pun) compared to the emphasis on behind-the-scenes footage and production deep dives shared in other mediums.
Ubisoft previously planned on releasing the first-person shooter in the early part of this year. At one point, it even had a February 2021 release date. Far Cry 6 has since been delayed with no new due date attached, though the French publisher did confirm in an earnings report that the game will arrive by the end of March 2022.
Next: What Far Cry 6 Reveals Players Can Expect In 2021
The eagerly-anticipated Far Cry 6 is now scheduled to hit PC, PS4, PS5, Xbox One, and Xbox Series X|S platforms no later than March 2022.
Source: Vimeo