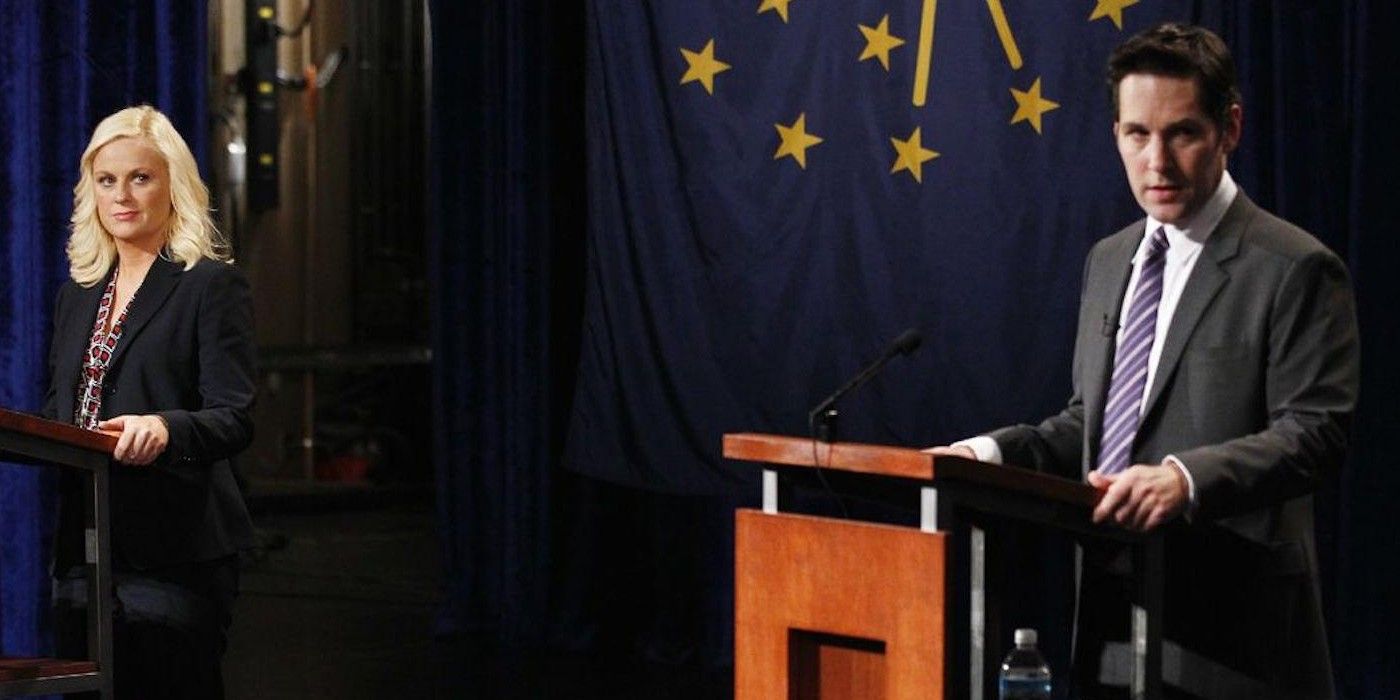 So the debates leading up to the US presidential election this year have been...a lot.Debate season is coming in hot. Flies. Lies. And nobody apparently able to stop talking when their time is up. Instead of further threatening a nation's collective blood pressure, perhaps it's the perfect time to reflect on some of the greatest fictional debates. 
For years, debates have been an interesting topic tackled in television and movies. They can blend in with any genre; there is always the funny kitsch in pitting an under-qualified goon against a successful and educated candidate, while there is also the waves of seriousness that comes with questioning policy and human safety. It is a balance that Saturday Night Live has been trying to manage with their political skits based on spoofing real-life political situations. However, many shows stray from imitating actual politicians. Instead, they create their own and throw them into fictional debates, allowing audiences to escape their reality and lose themselves in a fictional world with fictional problems. 
RELATED: Presidential Debate Aftermath: Worse Than Fantastic Four and Sharknado
This episode positions Leslie Knope in a debate against adult film star Brandi Maxxxx, gun enthusiast Fester Trim, and Knope's biggest competitor, Bobby Newport, played by the unbelievably goofy Ant-Man star Paul Rudd. Knope's competitors deliver anecdotal and unfeasible solutions while she stammers and works to deliver her policy platform. There is a hilarious montage of debate topics: "Sure, I agree that movies should be more faithful to the books they are based on, but what does that have to do with this debate?" and "I was in favor of closing the Borders bookstore, not the border to Mexico!"
Another city council debate. In "Little Bo Bleep" Claire Dunphy (Julia Bowen) is competing against Duane Bailey, a councilman who has served six consecutive terms and is running for reelection. He is played by Arrested Development funnyman David Cross. After being called unlikable by newspaper critics, the Dunphys decide to help coach and prepare her for the debate, only resulting in disaster after disaster. Things only get worse as her husband goes viral at the actual debate. 
"It's time for America's first drag queen president!" This episode of season 12's RuPaul's Drag Race was hosted by guest judges Jeff Goldblum and Rachel Bloom. It is juicy and topical, as the show's remaining contestants improv, embodying a character while delivering comedic answers about American politics. While the episode doesn't fail to be anything short of hilarious, it has moments of sincerity as the contestants deliver anecdotes and answers about topical situations that affect them. The lighthearted mood is saved though, as they crawl down the catwalk dressed like cats and lip-sync to Katy Perry's "Fireworks". 
Before the now-canceled Netflix series of the same name, Dear White People was a movie. Thor's Tessa Thompson played Samantha White, a student competing to lead an all-Black residential house campus. In this debate scene, she goes head-to-head with the popular Troy Fairbanks, attacking his character and calling him a "legacy kid" as he is the son of the school's dean. 
This Netflix show by Ryan Murphy satirizes the political experience with season one focusing on a student body president debate at Saint Sebastian High School and season two surrounding the main character Peyton (Ben Platt) running for New York Senate while his mom, played by Gwyneth Paltrow, runs for Governor of California. The two are showcased in multiple debates, all of which center around dramatic, fan-servicey speeches. Picture Gwyneth Paltrow in a blue satin suit during a televised debate, arguing in favor of California seceding from the union to a gasping audience, "This state is in a bad marriage, and what do you do when you're in a bad marriage? You get a divorce." 
The Campaign, starring Will Ferrell and Zach Galifianakis, follows two men, Cam Brady and Marty Huggins, running for a seat representing North Carolina in Congress. They both resort to dirty tricks, throwing each other into scandals and controversies. The situation intensifies as the two candidates debate and reveals that each side has large support following. The movie is filled with humor and comes off as a two-hour SNL political skit.
Although this movie does not surround a debate, there is the notorious classroom scene where peppy Valley girl Cher Horowitz participates in a debate about oppressed individuals seeking asylum. Cher compares the situation to party culture, saying "the more, the merrier" and the government should get in the kitchen, rearrange some things, and then we could "totally party with the Haitians."  Not to mention it's the scene with one of the most iconic lines from Clueless, "It does not say RSVP on the Statue of Liberty." It is certainly a debate scene to remember.
MORE: Glow is the Latest Series to be Renewed and Then Canceled Due to Covid