Building a business without leveraging Google My Business is a rookie mistake.
Fortunately, you can avoid this mistake without spending a penny. And while you're setting up your Google My Business profile, including a winning video is one hot tip search-engine experts swear by.
But what is this deal about Google My Business? What is the right Google My Business video format and are there any guidelines to follow?
More importantly, how to add video to Google My Business?
Well, we know how important it is to position your business with information that matters to your prospects. And we also know that an excellent Google My Business video is going to help you do that.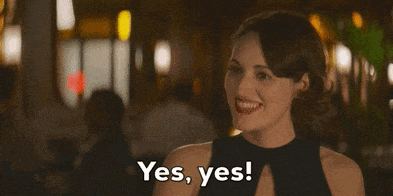 So, let's walk you through the process.
What is Google My Business?
Google My Business (GMB) is a tool that helps businesses manage how they appear in Google search results and on Google Maps.
Setting up a GMB profile is free, and you can include details like your company website, contact information, map, business hours, services, photos, etc., besides videos.
Why does Google My Business even matter?
Okay, so let's make one thing pretty clear: Google dominates.
Most of us have used the search engine to find local businesses.
For instance, if you type a query on Google like "fine-dining near me", it will take you to search results.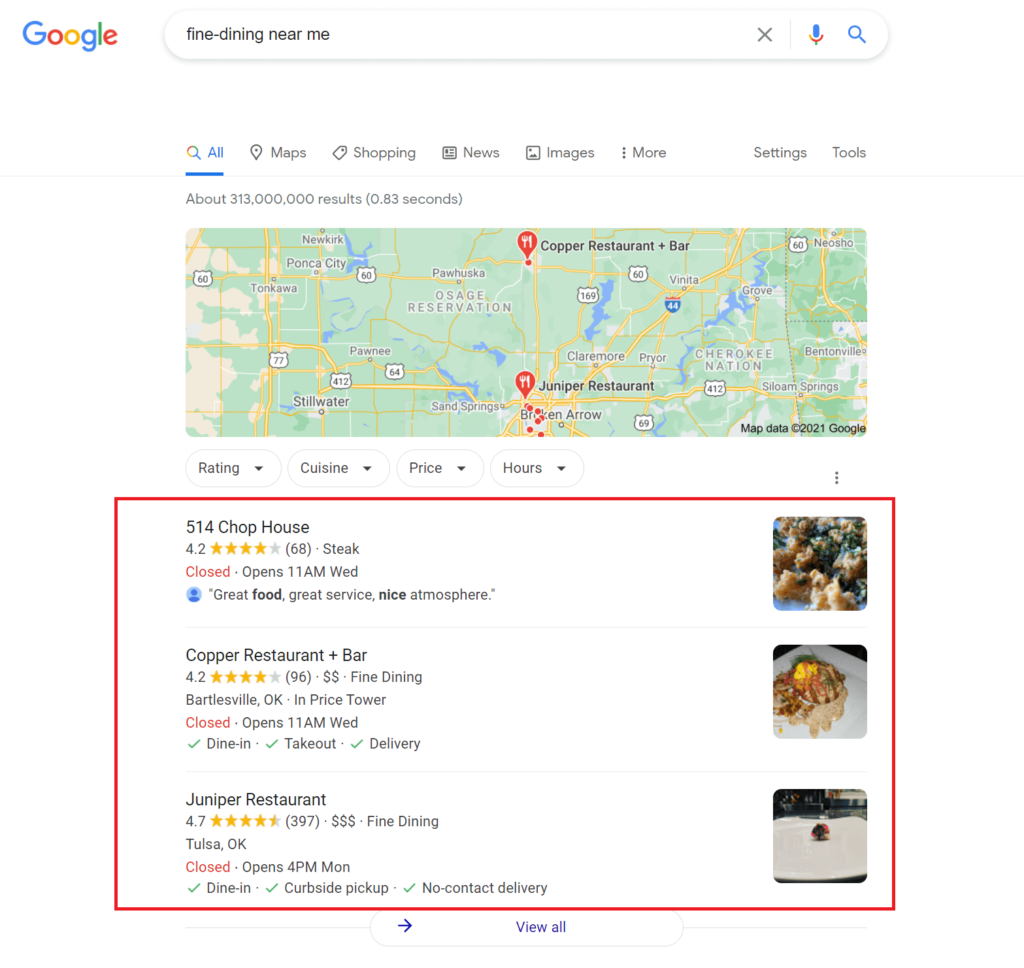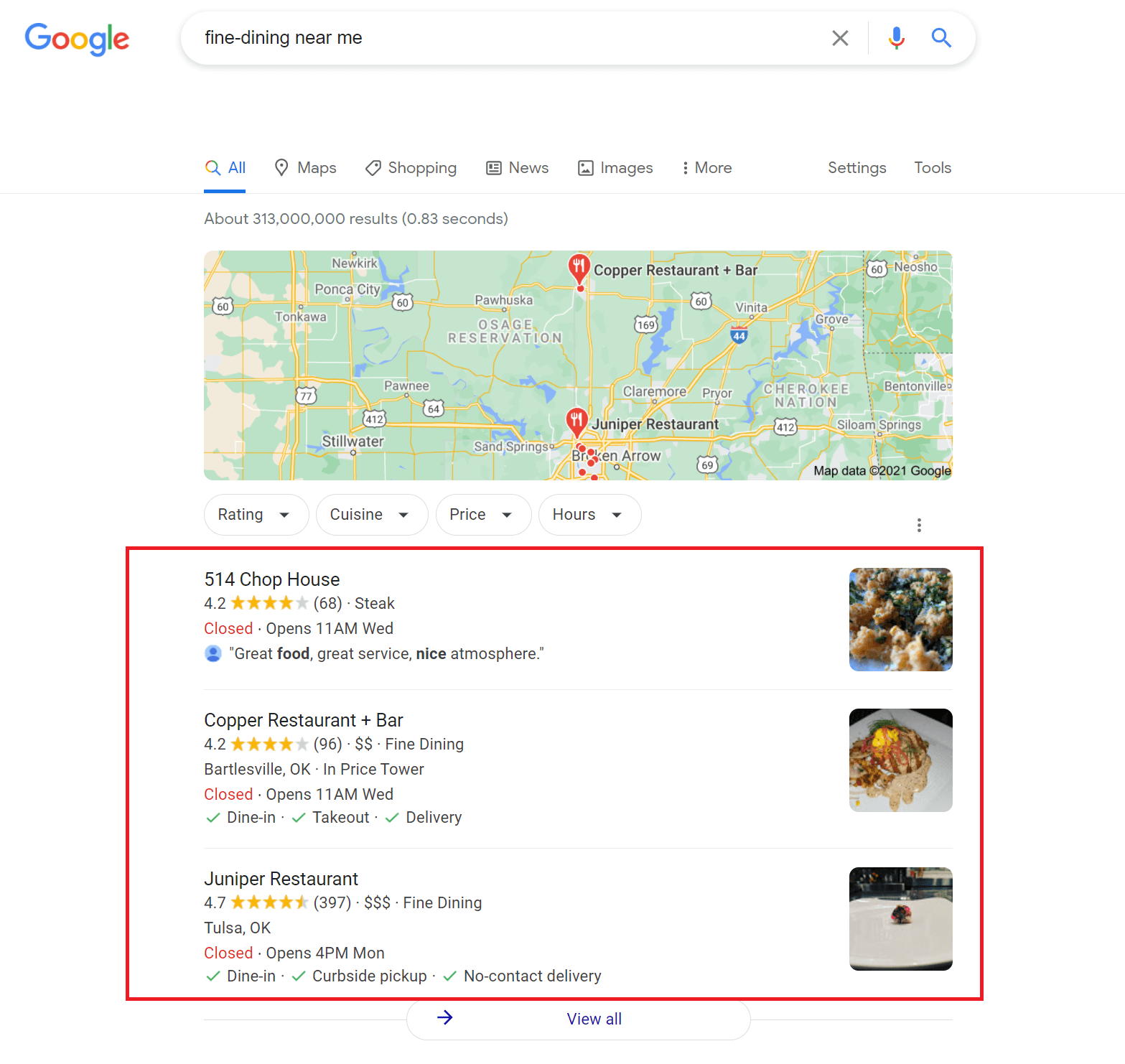 On the SERP (Search Engine Results Page), the three local business listings appearing on the top are GMB profiles of those businesses. And without them, those businesses may have lost the opportunity to convert you as a customer.
That's why businesses must tap on their Google My Business profiles and optimize them to expand their reach.
So, rather than losing this opportunity, claim your business on GMB before someone else does.
By creating your profile on Google My Business, you can also utilize Google Analytics better and gain insights like what keywords customers are searching for your business and how they engage with your listing.
Why add video to Google My Business?
Before we discuss Google My Business video format and guidelines, let's understand why you need to add video to your GMB profile.
Sometimes all a customer really needs is a little nudge to try your products and services. A video on your Google My Business profile provides precisely that.
Sometimes all a customer really needs is a little nudge to try your products and services. A video on your Google My Business profile provides precisely that.
Here's how it can help you:
Get the social proof you need to attract more customers and convert them
Exhibit your past work (which is primarily essential for beauty salons, landscapers, architects, etc.)
Give your customers a better shopping experience
Demonstrate or explain your products and services
Market your USP and inform your prospects why you're better than the rest
Google My Business Video Guidelines
1. Relevance
Google My Business Videos must be relevant to the business and taken by its owners/users, not by other parties.
2. Location
The videos must be taken at the business location.
 3.
Specifications
Google My Business requires your videos to meet the following requirements:
Google My Business Maximum Video Duration: Up to 30 seconds

Google My Business Maximum Video Size: 75 MB

Google My Business Minimum Video Resolution: 720p
4. Adjustments
Google also allows stylistic adjustments (filters) in videos as long as they are minimal and do not change the place's representation.
5.
Quality
Use images and footage of good resolution only. Shaky, out of focus, or footage with bad exposure should not be uploaded.
6. Content
Google recommends that superimposed content (text or graphics) must be relevant and should not take up more than 10% of the photo/video. It must also be limited to a single edge. Besides, superimposed content should not be distracting.
Pro Tip: Do check Google's Prohibited Content guidelines to ensure that your videos conform to them.
How to make a Google My Business video?
You can always add a raw video with your business taking center stage. But adding some killer intros and outros can take your Google My Business video to another level.
As they say – the first step is always the hardest. To help you take that first step with absolute ease, Wave.video brings a host of ready-to-edit templates. Choose the one that suits your business and get started with your video creation.
You can also begin from scratch if you want. All you'd need is to upload your video onto Wave. video's editor and start the finetuning process with the useful elements we've in store for you.
Pro Tip: Make sure you upload your business location's footage relevant to your business to get Google's approval.
To jazz up your video, you can add animations and music chosen from our comprehensive library.
Once done, hit that "Download" tab, and your Google My Business video will be on your computer, ready to grab the attention of your buyers.
Create Engaging Videos That Drive Sales
with Wave.video
Try now
How to add video to Google My Business?
Follow this step-by-step guide on how to add a video to Google My Business account:
Step 1: If you haven't already, then register your business on Google My Business and log into your account. After that, click "Photos" in the menu on the left.
Step 2: Next, click "Video" in the top menu and hit the "+ Post videos" tab.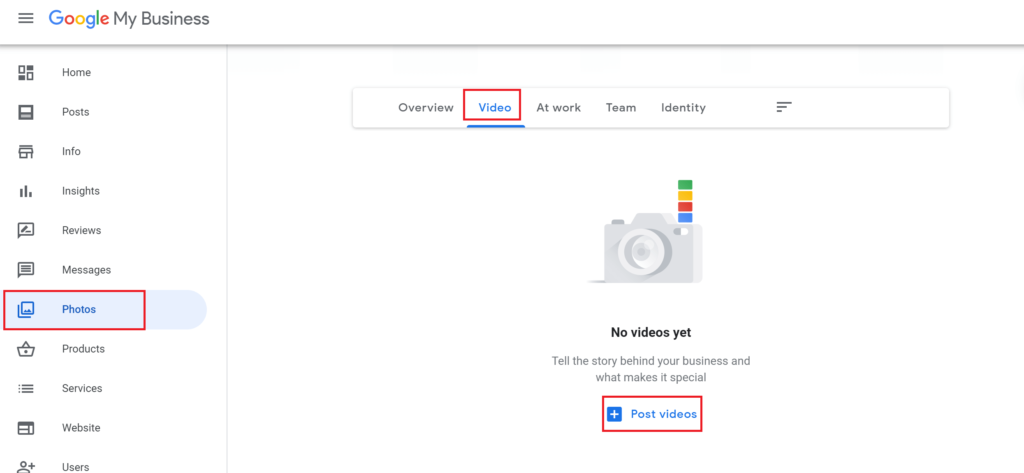 Step 3: Now, drag and drop your video to the screen or upload one by clicking "Select videos from your computer".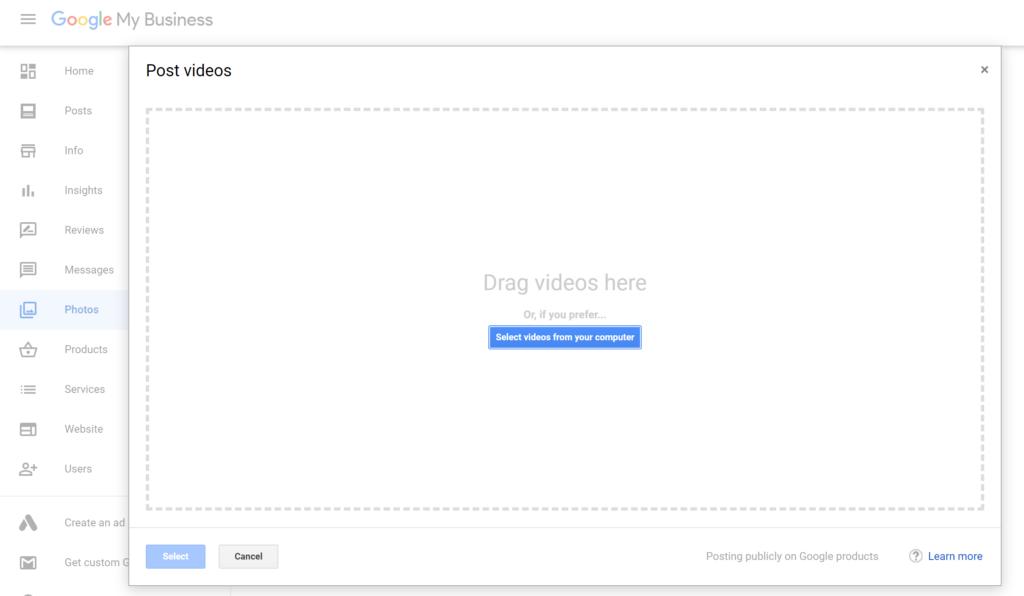 And that's all you need to add video to Google My Business. It's amazingly straightforward.
7 Excellent Ideas For Google My Business Videos 
No matter whether you're just starting with Google My Business Video or have been a regular, you'd need a constant supply of ideas, especially when you are running out of them.
So, here are some excellent ideas you can use to keep them videos coming:
Following-The-Trend Video
Keeping your Google My Business videos updated with the latest trends tells a lot about your zeal to deliver a terrific customer experience. Show your visitors how you're in the know and following the industry protocols/dynamics through videos.
For example, Salon Deauville's GMB videos show how they have been following the recommended health and safety protocols, including the salon's staff wearing masks at all times.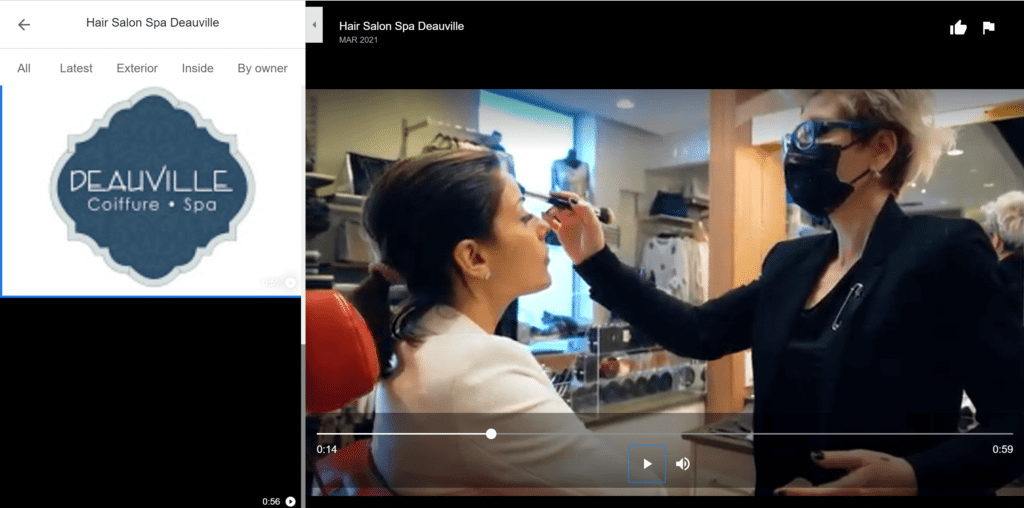 Introduction Video
These videos are perfect for breaking the ice and getting your Google visitors acquainted with your business. Tell them who you are and what you do. Highlighting your USP can help you win masses through the intro videos.
Some perfect examples here are Ritual Hot Yoga's Google My Business videos that show you a little about their work and a lot more about who they are.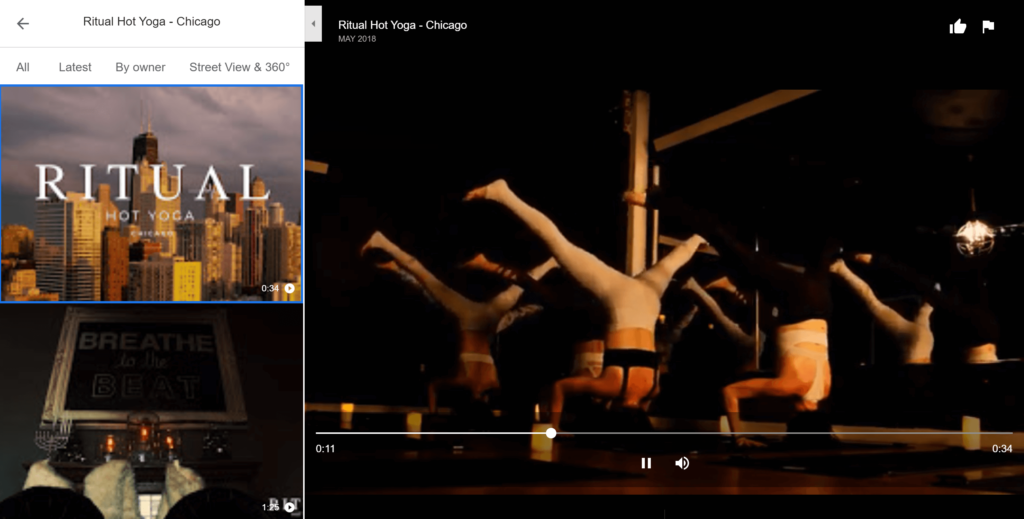 Explainer Video
Explainer videos work great when it comes to presenting the work-in-action. You can convince your potential customers why to choose you over your competitors by showing them how you do a task.
Just like JD Flores Landscaping do in their videos on Google My Business.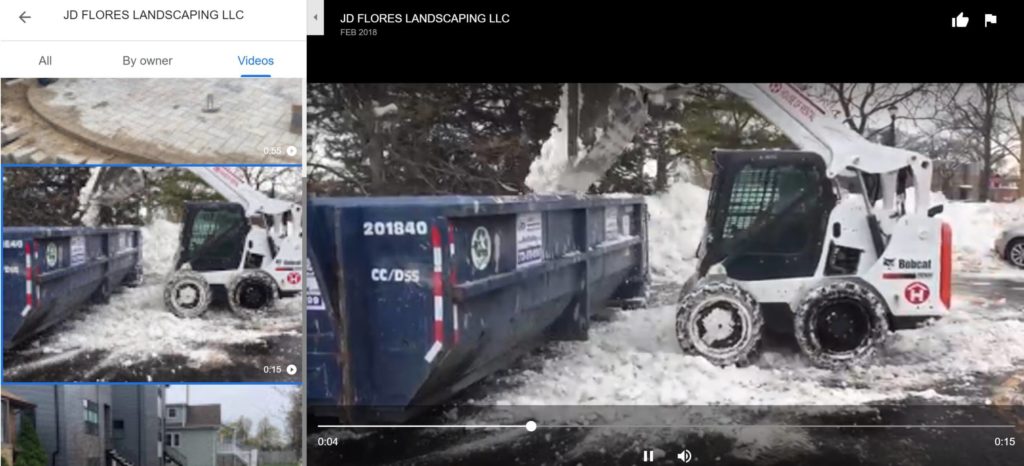 Presentation Video
Well, this one is pretty much what its name says it is – a presentation. You can create a simple slideshow video listing your achievements or announcing some critical company updates and add it to your Google My Business, like trepwise.
Virtual Tour Video
You may not know it, but a virtual tour video is your key to increasing your in-store traffic.
How?
Apart from helping you gain credibility, a virtual tour on your Google My Business profile can also help your visitors understand your office better and sense how things work at your place of business.
And, hey, you don't really need to have a big office space to leverage this video. A small yet well-organized workspace can also do the trick — for example, these fabulous office tours by Zanet Design in their GMB videos.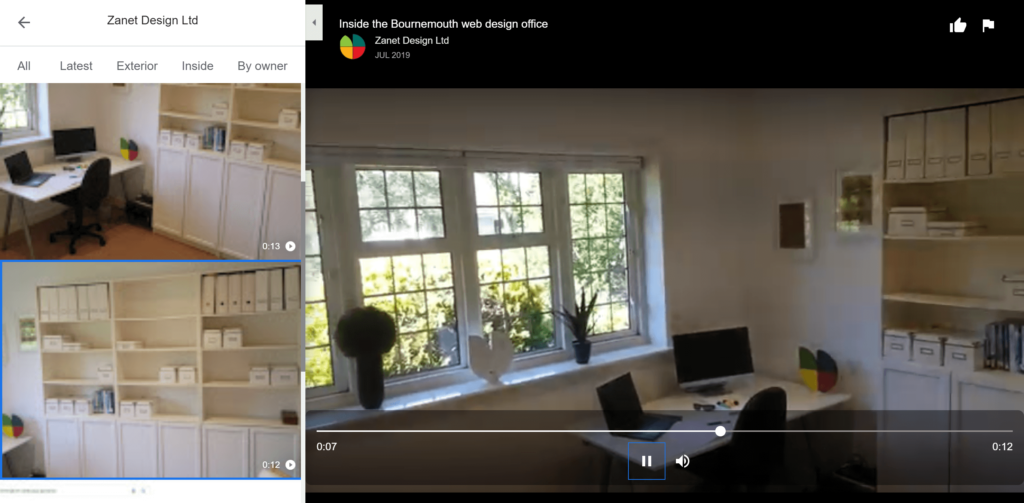 Previous-Work Video
If the explainer video shows how you do a task, this video shows how well you have done it in the past. Consider it as a unique take on testimonials/portfolios. Just that you need it to stand out by highlighting your work like a pro.
Check out Kobi Karp Architecture & Interior Design doing justice to this idea through their wonderful Google My Business videos.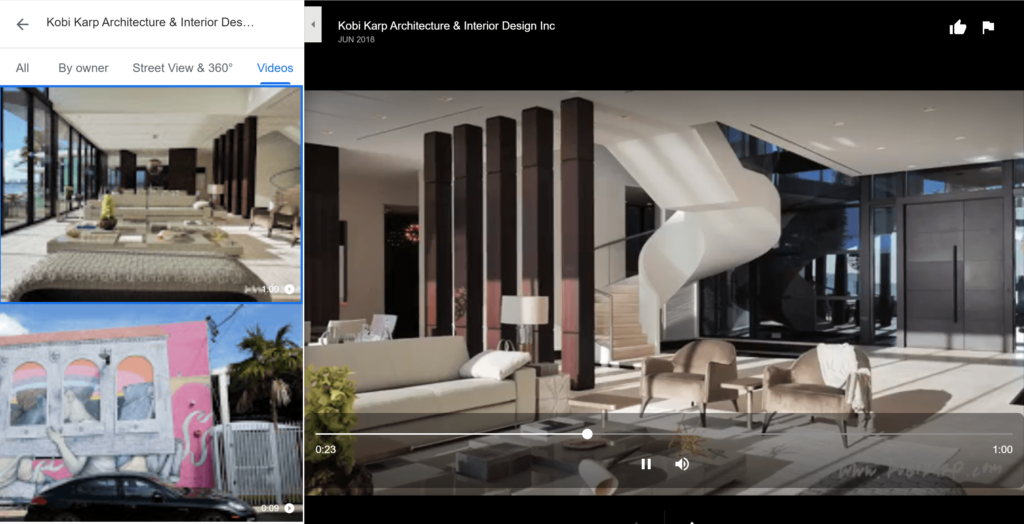 Human-Connection Video
Okay, so virtual tours and work videos are all good. But humans crave connection. Well, you can easily build that by including humans in your GMB videos. You can ask your employees or your customers to be a part of your videos to give that "real" feel to your business profile on Google.
See how the Easy Italian Language & Art have videos where they show all about learning Italian.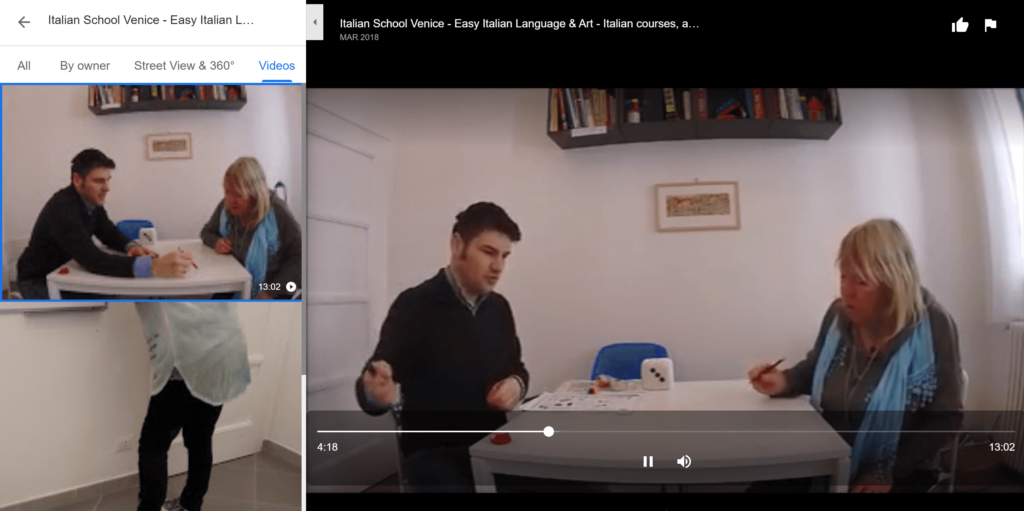 Adding Google My Business Videos – Best Practices
 Check the content that goes live: Whether you like it or not but customers can add photos and videos to your Google business page. That's why you must keep a tab of the content that goes on your business profile and immediately flag any inappropriate video from your dashboard.
Add videos as posts: You can also add videos to Google My Business as posts. This way, they won't get hidden under the photos and will show on your knowledge panel. A little extra video love is all your business profile needs.
Stay consistent: Alright, adding Google My Business video isn't a one-time activity like adding a description or updating business information on your profile. You can keep uploading videos to your GMB as and when you produce more relevant video content that you think will help bring customers.
Use analytics: If you regularly upload videos — no matter whether you put them on a weekly, monthly, or yearly basis — you can always use analytics to know which video is getting more views or what's the response to specific calls to action. All this information can help you finetune your local search strategy so that you can get in front of your customers.
All set to attract more customers?
Listen: Google My Business is a search engine optimization magic wand. Use it well, and you can improve your company's local visibility by leaps and bounds.
Add videos to the tool, and you're ready to highlight your business's strengths — for that perfect first impression that attracts more customers.
So, just go on — connect with your local customers better with videos that matter.