Content marketing used to be primarily about creating and promoting blog posts.
Today, however, there are many content formats you must include in your strategy. One of them is video.
Don't worry, though. You don't have to hire a Hollywood production team to help you join the video marketing fray. You just need to know how to turn your blog posts into YouTube videos.
5 Reasons You Must Turn Your Blog Posts into YouTube Videos
Before we dive into why you should turn your blog posts into YouTube videos, let's quickly build the case for video marketing.
1. Not Everyone Reads Blog Posts
No matter how superb your writing may be, some people don't like reading. Their preferred content format is video. By repurposing your blog posts into videos, you tap into an audience you wouldn't have otherwise been able to reach.
2. Extend Your Reach
With over 2 billion users, YouTube is a massive platform that you can't afford to ignore, especially since it's the second most visited website after Google.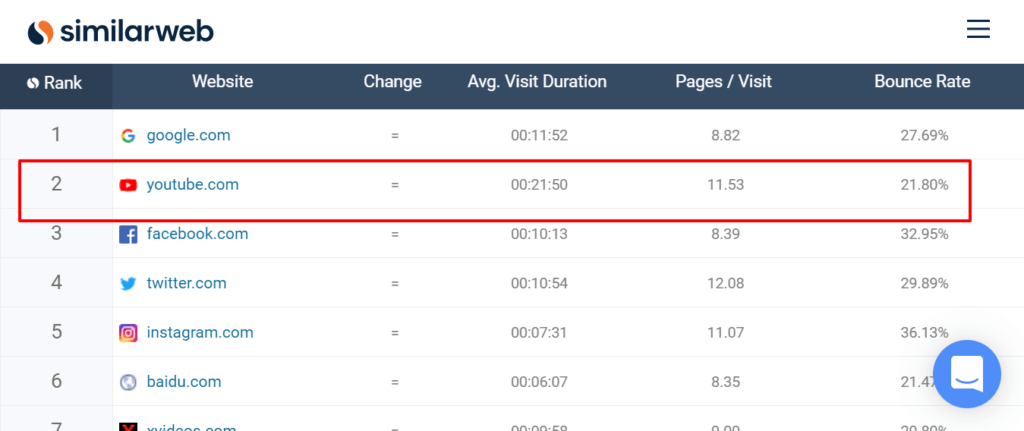 Turning your blog posts into YouTube videos is a great way to extend your reach and tap into an entirely new audience.
3. Video Helps You Connect on an Emotional Level
Sure, your writing may tug at your audience's heartstrings. But when it comes to connecting on an emotional level, nothing beats seeing someone's face, facial expressions, and body language. This connection goes a long way in creating a tribe of highly engaged and loyal followers.
4. Videos Make it Easier to Communicate
Particularly when creating tutorial content, video content makes it easier to convey your message. This is especially true for tacit knowledge as you can use screencasting software to show your audience what you are trying to say. 
5. YouTube Videos can Help Drive Traffic to Your Blog
Another great reason to create YouTube videos from your blog posts is to help you drive traffic to your blog. If you optimize your YouTube video well, it will rank well and attract a lot of traffic. And if your target audience enjoys your content, they'll be compelled to check out your blog too. 
How to Turn Your Blog Posts into Captivating YouTube Videos
Now that you know why it's essential to turn your blog posts into YouTube videos let's repurpose your blog posts.
Pick the Right Blog Posts
The first step to turning your blog posts into YouTube videos is choosing the right blog posts to repurpose. What you want is to create YouTube videos that your audience will resonate and engage with.
How do you know which blog post will turn into engaging YouTube videos?
Simple. 
Look at your blog posts' metrics. 
If a blog post performed well in written form, the chances of it doing the same in video format are high. That's because the content was relevant to your target audience. 
Craft a Captivating Script
Once you've decided which blog posts you'll repurpose into video format, make a list of the key takeaways. Use these to craft a captivating script for your YouTube video.
Yes, writing a script is one of the best ways to look confident on video. Spontaneity, contrary to popular belief, can ruin your video.
To create a captivating YouTube video, you must craft a script. While we have an in-depth guide on how to write and read a YouTube script, here are a few tips to help do so:
Nail the intro

. Your intro is where you hook your readers and convince them to watch the rest of your video.

Craft an engaging title sequenc

e. Your title sequence sets the tone for the rest of your video in much the same way the opening sequence of a movie does. Make sure to craft it engagingly.

Frame the problem

. Agitate your viewer's pain point and put it into context. Doing so is building up anticipation for your video's climax.

Share the solution

. The last act of your script is where you share the solution to your viewer's pain point. And just as in your blog, it must have a clear and compelling call-to-action (CTA). 
If you can repurpose your blog posts to fit into this script framework, you're bound to create captivating YouTube videos from there. Make sure to keep your scripts short as the optimum length of YouTube videos averages at 4 minutes. However, the optimum length varies by industry and purpose of the video.
Record a High-Quality Captivating Video
Now that you're armed with a script, it's time to record your video.
Again, you don't need to splurge on expensive equipment to do this. You just need a decent camera and an excellent mic. You can even use webinar software to record a live discussion of your blog posts and then turn that into a YouTube video.
A few tips to creating professional-looking videos include:
Use plenty of light

. Lighting plays a massive role in the quality of your video. Make sure to use plenty of soft light. If possible, use as much natural light as you can. 

Carefully consider your background

. To get a professional look, you can either use a solid background or shoot your video in a professional background (your workplace, for example).

Pay attention to your sound

. No matter how great your video may be, if your audio is poor, you'll lose your audience. Make sure to invest in good audio equipment and record your video in a quiet environment.
Get these three aspects right, and turning your blog posts into captivating YouTube videos will be a cinch.
One of the main reasons you should consider recording a video of your blog post is that it allows you to "make eye contact" with your audience. While you may not be able to look into their eyes, they can do so through your video. And that's important when it comes to engagement and building an emotional connection.
Once you're done recording your video, make sure to use a video editor to polish it up.
Create a YouTube Video from Your Blog Post Using Stock Visuals
Not everyone is comfortable behind the camera. 
And some people just don't have time to sit and make a video recording of their blog posts.
If you relate to any one of those scenarios, don't worry. You can still turn your blog posts into captivating YouTube videos.
The solution is to use your images or stock images and videos.
To use this method, you need a video creation tool like Wave.video. Wave.video's AI-powered solution allows you to automatically convert blog posts to engaging customizable videos.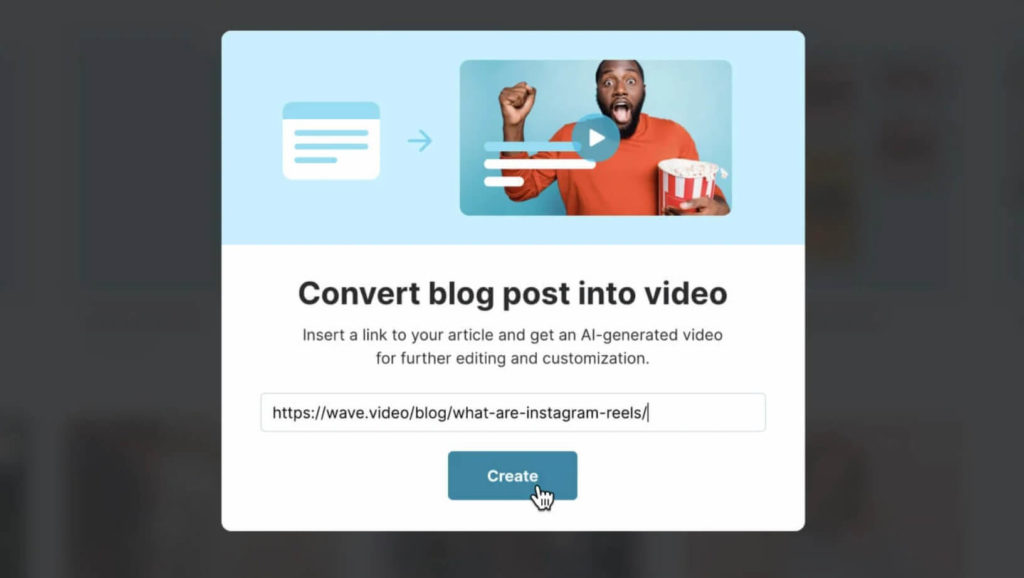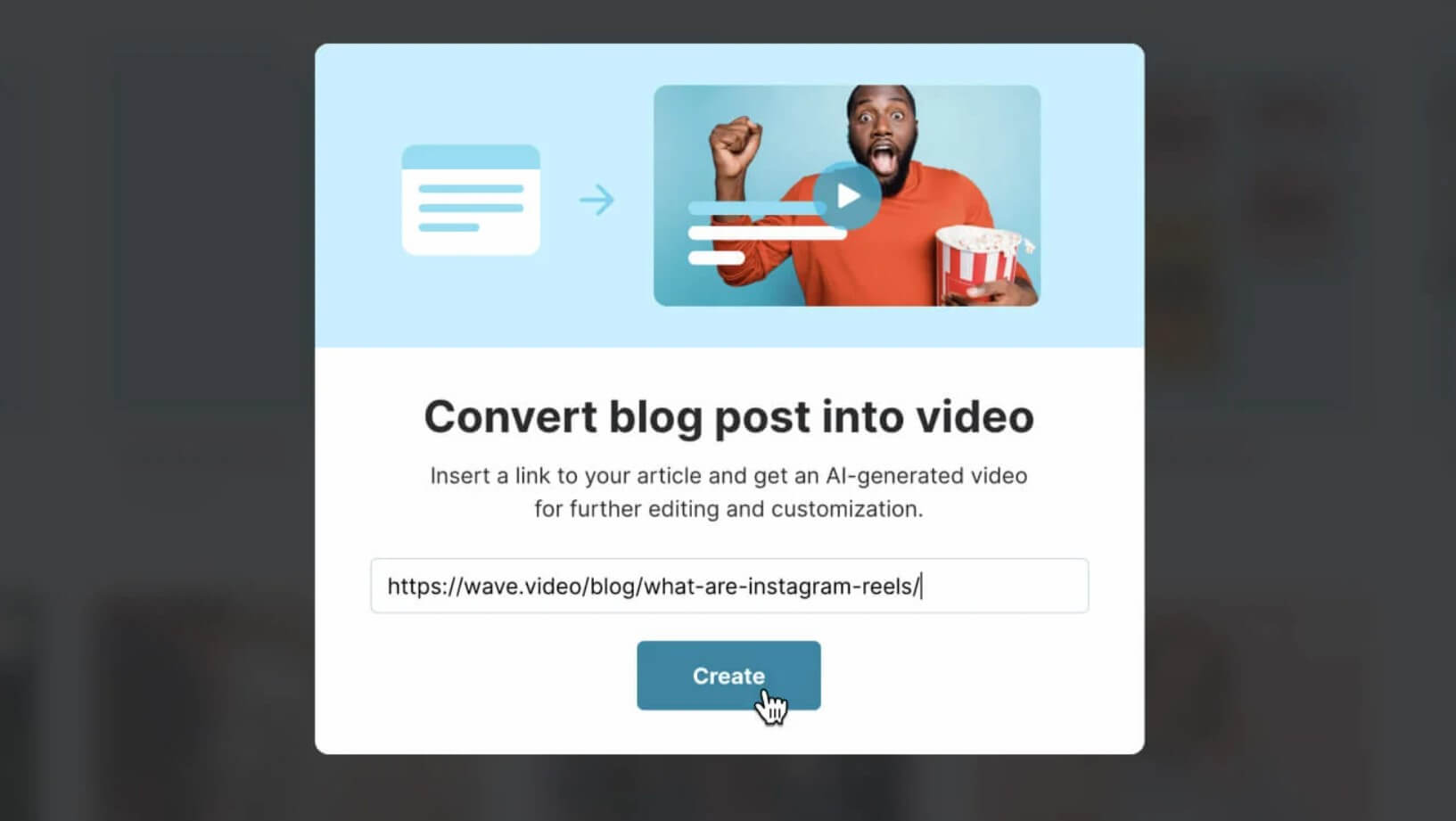 All you have to do is paste the link to your article and click a single button to start creating. The converter will grab the text from your blog post, select stock visuals that will accompany the text, and generate a video that you can later customize to your taste. It's that easy!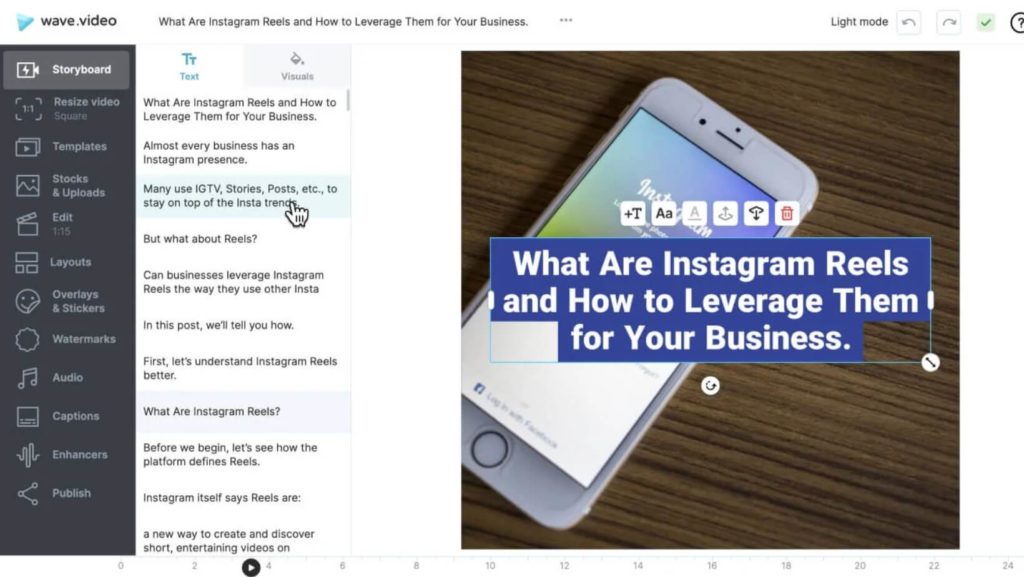 An alternative method is to turn your script into a PowerPoint slide. Upload your slide into Wave.video and read from the slide into Wave's video editor. As simple as that and you've got yourself an amazing YouTube video from your blog post.
Turn your blog posts into videos effortlessly
with Wave.video
Try now
Create Eye-catching Thumbnails for Your Videos
A video thumbnail is the preview image that highlights what your video is about. Because it's the first thing people see, it plays a massive role in attracting users to your video. More than that, designed well, it can encourage them to click and watch your video. 
And because the competition for attention is high on YouTube, you must craft yours to be eye-catching.
While platforms like YouTube automatically generate thumbnails, they're not optimized. That's why you must create custom thumbnails. A few tips for doing that include:
A catchy image.

Use one of the best frames in your video for this, or use a relevant image.

The right background

. Use a background that makes your image stand out

Text to give context

. Keep your text short but punchy. Your text must act as a CTA enticing people to click on your thumbnail.
Thankfully, creating a thumbnail is not difficult, as you can use Wave.video's thumbnail creator.
Driving Traffic to Your Blog-Post-Turned-YouTube-Video
Uploading your video to YouTube is not a guarantee that you'll get eyeballs on it. To increase the chances of your video being viewed, you must be proactive in making it visible to your target audience. Here are a few ways to do that:
Implement YouTube SEO Best Practices
One of the best ways to make your video discoverable is to implement YouTube SEO. This involves:
Using keywords in your video description.

Creating a video keyword-rich video transcript.

Add tags to your videos.

Encourage viewers to engage with your video (likes, comments, and shares).
Thankfully, there are many SEO tools you can use to optimize your YouTube video. 
Share Your Videos on Different Platforms
Another great way to drive up your video's views is to share it on as many platforms as you can. These can include:
Your blog. Embedding your video in your blog post gives your readers an alternative method of consuming your content. It also helps grow your YouTube channel as your fans will likely subscribe. 
Social media

. Social media is a great place to promote your YouTube videos and you can create short clips of them to increase engagement with your channel.

Your email list

. If you don't have one yet, use email list-building tools to build an email list. Your subscribers are bound to be your most engaged audience. You can use your YouTube videos as teasers to sell a high-end offer like a course by integrating with

one of these platforms

. 

Forums

. Forums are an excellent place to promote your YouTube video. Make sure not to be a spammer but to share it where relevant (like answering a question related to your video).
Promoting your video is one of the most important parts of turning your blog post into a YouTube video. That's because if no one sees it, you would have wasted precious time and valuable resources.
Turning Your Blog Posts into Captivating YouTube Videos is Easier Than You Think
Many bloggers fear repurposing their blog posts into videos, thinking it's a lot of work. Hopefully, you've seen that it's very easy. Especially with the right tools, turning your blog posts into YouTube videos (professional ones at that) doesn't take much time.
So go ahead and use this guide to get started.
About the author: With over 500,000 monthly readers, Adam Enfroy's mission is to teach the next generation of online entrepreneurs how to scale their influence at startup speed.