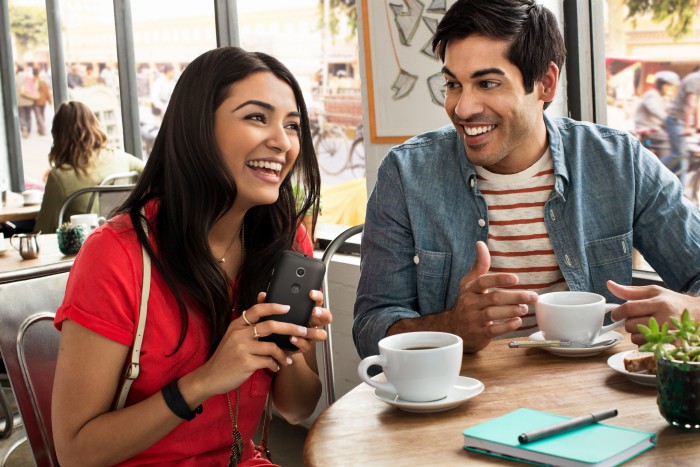 Morning Coolsmartphoners. Hope you're all well. We're just about to board our private jet to Barcelona so that we can be all over that Mobile World Congress thing. It's going to be huge, and already there's the likes of Motorola trying to jump the gun with limelight-grabbing announcements ahead of the big event.
Before I go on, please don't get me started on these images. How come he has a spoon for his coffee which is far too large for his cup eh? Where's her spoon? Has she lost it? Did he not get her a spoon? What's going on there?
Sorry..
The entry-level Moto E smartphone is grabbing those wanting to get on the smartphone ladder and plonking them squarely into a connected-world of TwitterFace, YouVine and SkypeShazam. Now the Moto E has had a bit a refresh and will be arriving in the UK today with the liked of motorola.co.uk, Carphone Warehouse, Tesco Retail, Tesco Mobile, Amazon, Argos and Virgin Mobile. It'll only set you back a mere £109 too.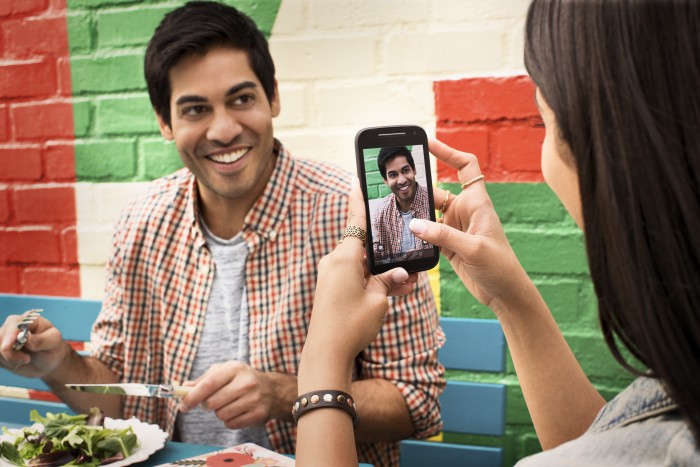 Look. He's eating a salad now and she's taking a photo. If that was my wife I'd ..
a) Not be eating a salad, it'd probably be a steak or something
b) I'd be going mental because I've got a camera stuffed in my face while I'm trying to eat something.
c) Probably not have teeth that white
Sorry. sorry. I've vented now.. I'm done..
The first-gen handset only appeared about 6 months ago but now the second-gen unit will be available on both 3G and 4G, with a 4.5″ and running Android 5.0 on a 1.2GHz quad-core CPU, it'll also have a 5 megapixel rear shooter, VGA front and 8GB of on-board storage with a microSD slot for more space.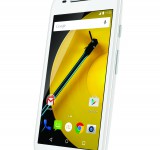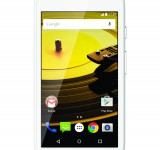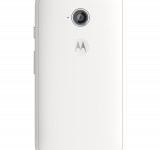 You also get a 2390mAh battery which, Motorola quite honestly admit, is designed to last "a whole day". Blimey, that's something we don't hear from the smartphone PR people. Usually we get crazy "standby times" which aren't valid in the real world. Here's LenovoMoto admitting the truth – getting a day of battery life is an achievement. Well done you people.
Anyhoo. It's available in black and white versions. We reckon that they should use this music video in their advertising. Yes..
Get more info on StartwithMotoE.com
Choose to start your mobile journey with the new Moto E
London UK, 25 February 2015: We're big on firsts at Motorola. Whether that's your first job, your first phone or your first status post. We live in a world where access to new experiences and information are at our fingertips and that's exactly what we want to give more people more access to. There are millions of people that haven't yet joined the smartphone revolution because they either haven't found the right product or they don't want to spend hundreds of hard earned pounds to start the journey.
That's why last year we launched Moto E, a new class of smartphone tailored for those looking for a great mobile experience at a price that wouldn't break the bank. Now, we're taking Moto E a step further. We're introducing the next generation, packed with more features and functionality to give people around the world even greater access to life's possibilities – without a hefty price tag. Because we believe access to the mobile internet should be a choice, not a privilege.
Meet the new Moto E. The new Moto E helps you connect to the world like never before. Now available with 4G LTE speed1, a 4.5-inch qHD display, front-facing camera, the latest Android™ software (Lollipop) and even more customisation options. And, for the first time, we're bringing personalised software experiences that we introduced with Moto X to our most affordable device. The new Moto E packs a bigger smartphone punch for a fraction of the average smartphone cost.
Meet the New Moto E:
Start connecting at 4G LTE / 4G speed1
We took an already great smartphone and paired it with the best 4G network in the world. Start browsing the web, streaming music, playing games and watching videos all at 4G LTE speeds. The new Moto E will also be available in a 3G version.
Do more, faster, with a quad-core processor
The new Moto E features a powerful Qualcomm® Snapdragon™ processor with a 1.2GHz quad-core CPU and advanced graphics. Start switching back and forth between your favourite apps without slowing down. Or listen to music and surf the web at the same time – without missing a beat.
Keep going with an all-day battery
With a 2390 mAh battery, the new Moto E is designed to last a full day2. Dash to school or work in the morning. Meet up with family or friends. Then head out for the evening. All without worrying about stopping to recharge.
Take more shots with two cameras
The new Moto E comes with a 5-megapixel rear-facing camera and a second camera in front, making it perfect for selfies or video calls with family and friends. With two twists of the wrist, you can launch the camera with Motorola's Quick Capture feature. Want to take a selfie? Just twist your wrist again to switch to the front-facing camera. All without touching the screen.
Start with the latest Android™ OS, Lollipop
The new Moto E runs Android™ Lollipop, the latest version of the world's most popular mobile operating system.
Let the fun begin… just add colour
Give your phone a splash of colour with interchangeable Motorola Bands and Grip Shells3. Start with a black or white phone and then choose from six Motorola Bands like turquoise or raspberry, or attach a colourful Grip Shell for added protection from scrapes and spills.
Make it easy with Moto software experiences
With the new Moto E, you get premium Moto experiences like Moto Display for notifications and updates without interruptions and Moto Migrate to quickly and easily transfer contacts, photos and videos to your new phone.
The new Moto E will be coming to more than 50 countries and is available in the UK starting 26th February from £109.00 at motorola.co.uk, Carphone Warehouse, Tesco Retail, Tesco Mobile, Amazon, Argos and Virgin Mobile.
Please visit StartwithMotoE.com for further information.

The post MWC – Moto E updated and available now is original content from Coolsmartphone.