Consumer Reports has no financial relationship with advertisers on this site.
Recently, our engineers at the Consumer Reports Auto Test Center came across a serious problem with the 2021 Hyundai Elantra test car as they evaluated its pedestrian detection system. Although the automatic emergency braking (AEB) system successfully stopped the compact sedan and avoided striking our test dummy, the engine sometimes stalled in the process, requiring the driver to have to shift to Park and restart the engine.
When we contacted Hyundai, a representative told us that the company hadn't heard of the problem, and confirmed that the Elantra shouldn't operate that way. The automaker replicated our results with its own tests and issued a Technical Service Bulletin (TSB) to dealers so that they would know to fix the problem on cars that had already been sold. TSBs are created by the automaker and shared with dealers so that they have information about how to repair recurring problems.  
Omar Rivera, Hyundai's director of quality and service engineering, told CR in an email response that the company had solved the problem by updating the Elantra's transmission software. After a trip to a local Hyundai dealer to have the TSB applied, free of charge, the engine no longer stalled out during CR's pedestrian-detection evaluations. If you own a 2021 Elantra, take your car back to the dealership to get this fix. 
Though we understand the excitement about buying a brand-new car, early production teething problems are an all-too-common affliction with all-new or heavily redesigned models, as evidenced by how often we're forced to bring our test cars back to the dealer for TSBs, recalls, or repairs within the first few weeks or months we own them. These sometimes annoying—other times serious—issues are exactly why CR has long recommended against trying to be one of the first to own an all-new or heavily redesigned model.
While we put vehicles through more than 50 tests and log thousands of miles as part of the CR auto test program, we occasionally discover a problem—in the midst of our testing—that the automaker needs to address immediately, such as the one we uncovered with the Elantra. Below, we highlight some other findings CR discovered during testing that necessitated an automaker fix, including braking problems on the Tesla Model 3 and the Toyota Sienna. We also share some of the most recent TSBs, recalls, and repairs on the CR test fleet that required trips to the dealer, and we offer advice on how to find free TSBs for your vehicle.
CR's Annual Auto Surveys also routinely show that all-new vehicles tend to have more reliability problems in their first year compared with later in their life cycle. Jake Fisher, senior director of auto testing at Consumer Reports, says waiting just a few months to buy a brand-new or heavily redesigned model can be enough time for the automaker to work out kinks in the assembly process, not to mention avoid potential safety issues. 
"As a lifelong car enthusiast, trust me, I understand the appeal of driving the latest and greatest car," Fisher says. "But if you can have the restraint to wait even just six months or so to purchase a new model, you could save yourself the time and hassle of having to bring your vehicle back to the dealer to fix various issues." Toyota Sienna Hybrid Braking
Another example of early build teething issues cropped up during CR's testing of our 2021 Toyota Sienna. We found much to like about Toyota's all-new hybrid minivan, which we bought the first week it went on sale. It shined with a comfortable ride, a spacious and extremely functional cabin, and stellar fuel economy. But we didn't like the brake-pedal feel. Numerous CR drivers noted that the brakes were very grabby and difficult to modulate, which made coming to a smooth stop nearly impossible. This not only was annoying but also negatively affected the Sienna's CR road-test score.
When we contacted Toyota to see whether this was potentially a concern unique to our test car, we learned that the automaker had issued a TSB to address the problem. After taking the minivan to a local Toyota dealer to have the ABS (antilock braking system) module recalibrated, the Sienna's brakes improved markedly, with a much more natural feel, particularly during low-speed driving. If you own a 2021 Toyota Sienna hybrid and the brakes feel odd or difficult to operate, call your dealer to have the TSB fix applied as soon as possible—it's free, other than your time.   
This is a good reminder for owners to not be bashful about bringing their vehicle back to the dealership if a problem arises; sometimes there are solutions, and if not, your query may help spur a fix.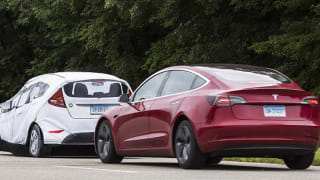 CR's Testing Program Led to an Important Tesla Model 3 Brake Fix
During the midst of testing the then-all-new 2018 Tesla Model 3 sedan, we found that its stopping distances were long and inconsistent. In fact, the 152 feet that the EV needed to stop from 60 mph was 7 feet longer than a Ford F-150, and 25 feet longer than Tesla's Model X SUV. 
Tesla addressed the problem via an over-the-air (OTA) update to the Model 3's ABS software, which improved the car's braking distance by almost 20 feet.
In our experience, initial quality control problems in auto manufacturing don't seem to be getting better, judging by our fleet of test cars. The large number of TSBs and recalls that crop up among our test fleet keeps John Ibbotson, CR's chief mechanic, shuffling cars back and forth to dealers on an all-too-regular basis.  
"Although the frequency of recalls seems to have stayed consistent, I've been seeing quite a few more TSBs compared with several years ago," Ibbotson says. "Of course, we're going to see more than the average customer because just about every test car we buy is one of the first to arrive at the dealer, since we're trying to get our road tests completed as quickly as possible."
Recalls, Repairs, and TSBs From the CR Test Fleet
In addition to the Elantra and Sienna, here are some other recent TSBs, recalls, and repairs to CR test cars which have merited trips to the dealer.
TSBs
Recalls
2021 Chevrolet Tahoe: recalled to repair an airbag harness, inspect the transmission lines for leaks, reprogram the brake module, replace the headlight module.

2021 Ford F-150 PowerBoost hybrid: recalled to update software for the heated mirrors, update software for the trailer-brake logic system.

2020 Land Rover Range Rover Evoque: recalled to update the emissions system, modify the headliner.

2020 Mazda CX-30: recalled to retorque the brake caliper bolts, repair a potentially leaking fuel vent line. 
Repairs
2021 Chevrolet Suburban: fixed the third-row seat, which wouldn't latch properly. 

2021 Ford F-150 PowerBoost hybrid: fixed misfiring engine. 

2020 Mercedes-Benz GLS450: addressed a check engine light.

2020 Tesla Model Y: replaced right rear door check-strap (the hinge-like device that keeps the door from opening too far) to stop the door from making a cracking sound as it opened.

2019 Volkswagen Arteon: fixed shaky headlights.  
And these are just a few recent examples from the CR test fleet. 
If you want to buy an all-new model, wait a few weeks or even months to minimize trips to the dealership. And if you experience problems with a car, be sure to contact the automaker. If the problem is safety-related, then file a complaint with the National Highway Traffic Safety Administration. Either is the prime means for how automakers track problems and prioritize solutions.
How to Find TSBs
To find a TSB, go to NHTSA's Safety Issues & Recalls page. Type in either your vehicle's unique 17-character vehicle identification number (VIN) or its year, make, and model. The site will display recalls, investigations, and complaints. There is also a tab for manufacturer communications, which is where you'll find TSBs, service campaigns, and other important information. You can sort these communications by type of problem. If you expand the tab for associated documents, you can even find the repair instructions that manufacturers send to dealers. Note that some TSBs released before 2012 will not be available and that the coverage period for older TSBs may have expired.

A dealership or repair shop can also look up available TSBs using the vehicle's VIN.

If you provide your VIN to a dealership, it should be able to tell you whether any active TSBs apply to your vehicle and whether you would be charged for the repair.