Ridgid just announced a bunch of new brushless power tools to their 18V line up! There's a lot however in this article we will discuss their new 18V Max Output batteries, new chargers and lights. All tools in this article are said to launch Fall 2021 except for the 2ah and 4ah Max Output batteries which are expected for April 2021. Buy now are links provided for each tool. If the link doesn't work, it's because they haven't been listed yet for sale.
A big thanks to Joshua B. for spotting the 6ah, 8ah batteries and chargers and lights!
Full disclosure: This is not a review, this is tool news. Tool Craze cannot guarantee the accuracy of the information/specifications/features of any tool listed in this article. Manufacturer marketing claims may not always meet expectations. Tool Craze is not responsible if products do not live up to claimed expectations. Please do your full research before buying any products. Tool Craze is an Amazon Associate, and also an affiliate with the Home Depot, Acme Tools, Ohio Power Tool, Lowe's, Ebay, and Walmart and places paid links to these retailers. If you purchase something through a link on the Tool Craze site, Tool Craze may get a small share of the sale.
We'll start off with the new Max Output batteries as seen above. There are 4 of them with a 5 cell compact 2ah, and the rest being 10 celled 4ah, 6ah, and 8ah respectively. According to Ridgid, these new Max Output batteries are said to offer "maximum power in any application". Everytime a manufacturer introduces new sets of batteries we hear claims like these but keep in mind these are all simply marketing statements so take them with a large serving of salt. The new Ridgid 18V brushless power tools discussed here are said to offer their maximum performance when paired with these batteries so it appears some of their tools will perform better if at all with these batteries. Marketing statements aside, we can see that with the exception of the 8ah battery, they appear to be noticeably more compact than similar capacity Ridgid 18V batteries. The 2ah battery is every bit as compact as the new 2ah battery that released with the still new Ridgid 18V sub compact power tools that are incredibly tiny. The 4ah and 6ah have the same overall width and depth dimensions as the 2ah but are almost twice as tall since they house an extra row of cells. They are noticeably more compact than regular 4ah and 6ah Ridgid 18V batteries, especially the length. The 8ah is the largest of the bunch but still appears roughly as tall as the 4ah and 6ah but is longer which means that they are probably spacing the cells a bit more in this one probably for better heat management. All batteries have 4 bar fuel gauges to check remaining battery charge. Prices are $99 for 2ah AC840020 , $119 for the 4ah AC840040 , $139 for 6ah AC840060 , and $169 for the 8ah AC840080 .
• Advanced electronics and innovative cooling technology for extended battery life
• Compact size (except for 8ah) reduces user fatigue
• Fuel gauge displays power level on the job
• 100% Compatible: Works with all RIDGID 18V Batteries, Tools, and Chargers
• Lifetime Service Agreement with registration within 90 days of purchase

Ridgid 18V Dual Port Parallel Charger R86095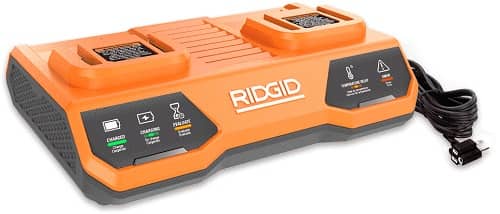 Here is a new 18V dual port parallel charger which means you can charge two 18V batteries at the same time. We can see the there are multiple lights to show charging and battery status as well as a pass through on the plug so you can piggyback another a/c appliance while this is plugged in. It's also wall mountable and Ridgid says it's now eligible for LSA (lifetime service warranty). It will be priced at $99.

Ridgid 18V 6 Port Sequential Charger R86096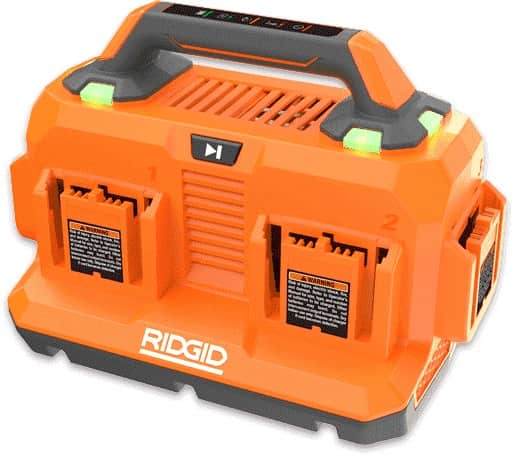 The other charger is an 18V 6 port sequential charger which means it can charge up to 6 batteries however one at a time. Though it doesn't speed up charging multiple batteries, it helps productivity by not needing to swap out batteries when one is done as they can all sit on the charger and wait for their turn while you worry about getting work done. Like the dual port charger, this one is also wall mountable and eligible for LSA (lifetime service warranty).  It will be priced at $129.

Ridgid 18V Worklight R8694B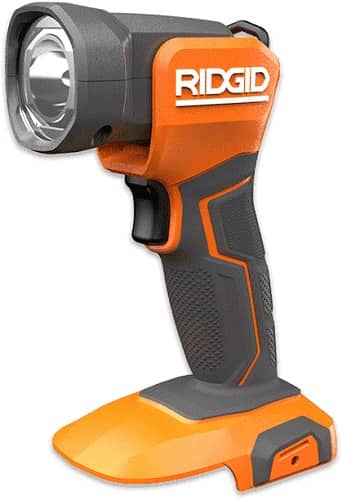 This looks like an update to the R8694B 18V torch light and offers similar brightness and functionality with the same 340 lumens and a rotating head. Unlike the previous model that required users to twist the head to rotate, this one has a pivot point for easier rotation of 135 degrees. The one new feature is that it has an integrated hanging hook and is priced $10 more now at $39.97

Ridgid 18V Stick Light R8696B

The 18V stick light offers an LED panel with several LED chips to provide 800 lumens and the light head can pivot 180 degrees to face down and up positions and in between and the head can rotate 270 degrees for side to side movement. It also has the integrated hook as the above light and will be priced $49.97.

DISCLOSURE:
We are a participant in The Home Depot Affiliate Program, an affiliate advertising program designed to provide a means for us to earn fees by linking to homedepot.com. Tool Craze does not sell this product or any product on the Tool Craze website. Tool Craze does not handle the sale of any item in any way. If you purchase something through a post on the Tool Craze site, Tool Craze may get a small share of the sale. Please refer to the About section for more info. Tool Craze cannot guarantee the accuracy of the information/specifications/features of any tool listed in this article. Please do your full research before buying any products.

The post New Ridgid 18V Batteries, Chargers, and Lights appeared first on Tool Craze.