Gratitude Mini Album Update
Hello there, friends! This month is one of reflection and gratitude, and earlier in the month I shared how I am recording that with a small tag book that I am creating using Elle's Studio products, including the Grateful For tags. Today I am here to share an update to my mini, so that you can see my progress. Keeping it simple and sweet has kept me successful in documenting gratitude each day, and I am so enjoying flipping through the finished pages. Let's take a look:
I am grateful for my body. We only get one, so we must be grateful for it, right? I kept this spread super simple, and I loved that I could add the "daily routine" sentiment using the Everyday Tabs stamp onto the navy November label.
Voting is always something I am grateful for, and I recorded that with a selfie pointing to my "I voted" sticker. I love that the teal pattern from the Home Sweet Home paper stack plays beautifully against the reds in my photo.
This was a first for me: I actually took a selfie of myself on the massage table before my masseuse walked into the room! The "life is complete" sentiment was perfect to add to my photo, and I also loved adding "rest and relax sentiment to the September label using the Everyday Tabs stamp.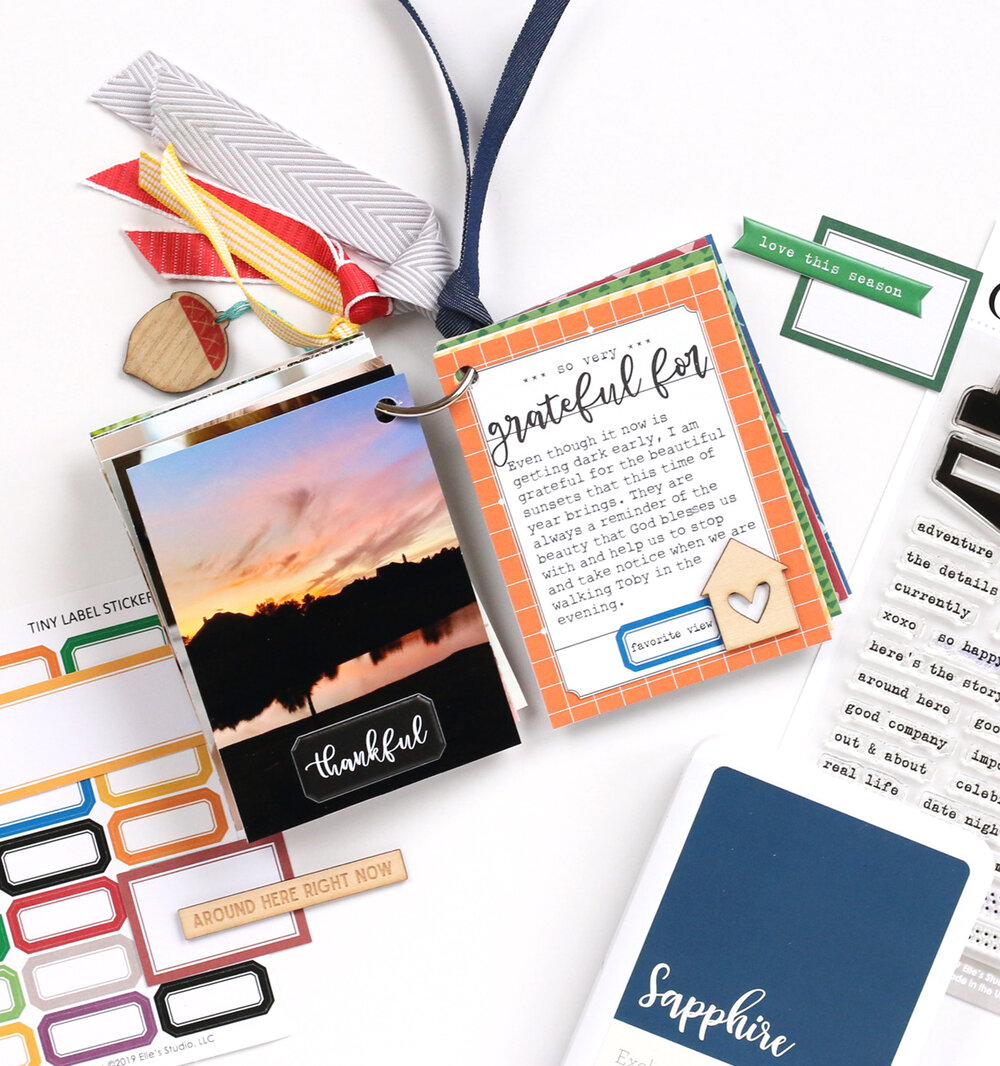 Beautiful sunsets are always something to be grateful for, and I love that the "thankful" puffy sticker from the Thankful puffy stickers fit so perfectly on the black negative space of my photo.
Is anyone else in love with their Instant Pot? I had to record that here on this spread, and the new Let's Eat stamp was perfect for adding the "yum" and "so good" sentiments to this simple design.
I worked really hard this week to compile my excess product to raise money for our local NICU, and I wanted to document my gratitude for being able to do this each year. I added the "love this view" phrase from the Everyday Tabs stamp directly to my photo and two simple puffy stickers.
I hit 4,000 followers on my Instagram feed last week, and I had to record this today. The "oh happy day" puffy sticker was perfect for this page.

Lastly, I recorded how I am grateful for my planner. It keeps me organized, without any extra fuss!
I can't wait to finish off this project by the end of the month! Be sure to check out the products I used to create this mini album at the shoppable gallery below. How are you recording your gratitude?
Gratitude Mini Album Update