How to Organize a Win-Win-Win WCS Workshop
A workshop weekend can serve to inspire your students, boost their improvement, and stimulate your community. Anyone can host one - it's not difficult, but it is complex and there are many potential pitfalls. Here's how to do avoid them and put on a productive, professional workshop that benefits the students, the guest teachers, and you!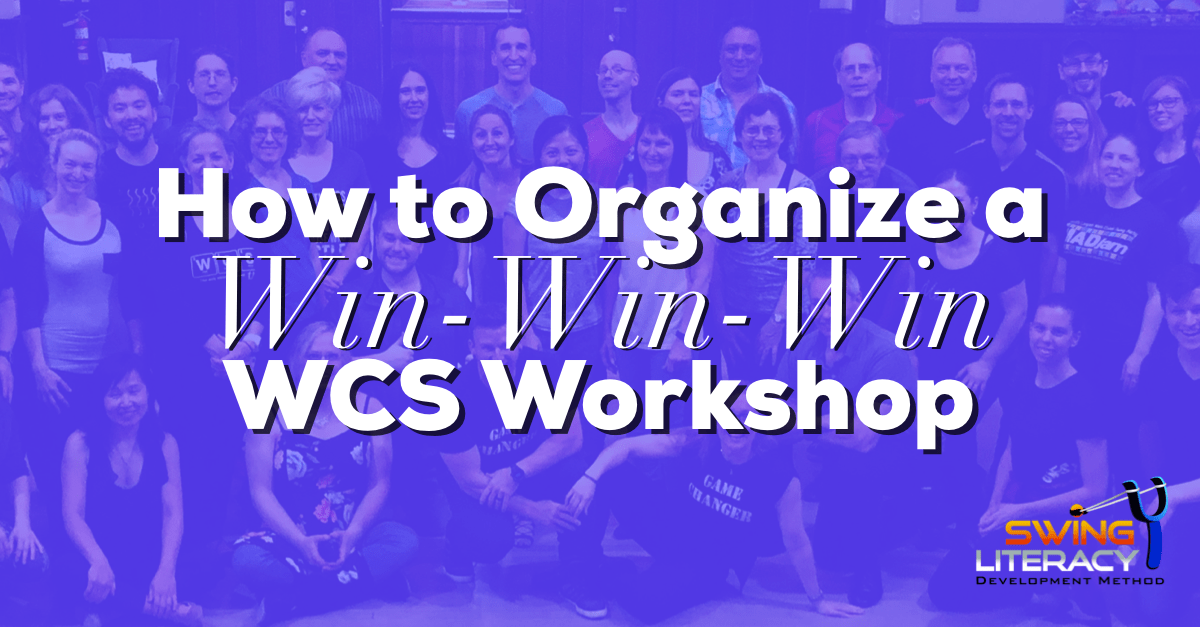 What's the benefit of workshop weekend?
Students win IF:
The promotion is early enough and compelling enough to entice them to register.
The event is well-managed, smooth-running, and considers the needs of the students.
The quality of the instruction is high, appropriate, practical, and delivers results.
Their teachers show up to maintain their education and are able to evolve and follow up in their regular curriculum.
Guest Teachers win IF:
The workshop and private lessons sell out 
The students want to learn, respect the teacher, and actively engage
The organizer is ethical and follows through on their contract agreements
As an organizer, you win IF:
The workshop sells out and you can cover your expenses or even profit
The students have fun, notice improvement, and share good reviews
The teachers deliver the services and results you invested in
How can you make sure everyone wins?
Our mission is to empower teachers around the world to #teachdancesmarter and rescue their students from struggling, like a superhero. But even if you are not a teacher and just a promoter or an enthusiastic community supporter, you can be a superhero in your community by running a kickass workshop weekend.
It's not difficult to run a workshop weekend, but it is complex - there are a lot of moving parts, and there are a TON of details that make a big difference when they are planned and executed well.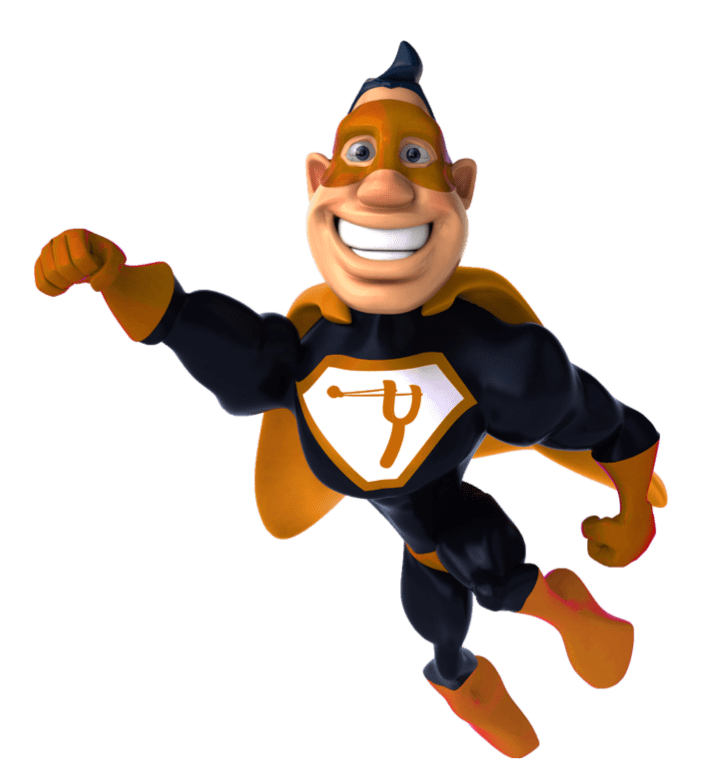 So we made you a few resources to equip you with the wisdom of all the workshop organizers who have gone before you. 
The "How to Organize a WCS Workshop" Workbook is a 20-page downloadable PDF that details every step of the planning process that could mean the difference between a smooth sailing and a crash landing.
Includes the "why", the "how", the steps and the pitfalls of each of these topics:
This information was collected from not only our decades of teaching dance workshops around the world, but also organizing workshops in a variety of non-dance contexts. We have taken the wisdom that we have delivered to Organizers in person or via Skype like a private coaching session for years and put it into a workbook. 
Rather than the cost of a private lesson, or even the cost of an instructional video, we wanted to make this package of information super accessible, so it's only $7.
Downloadable PDF workbook: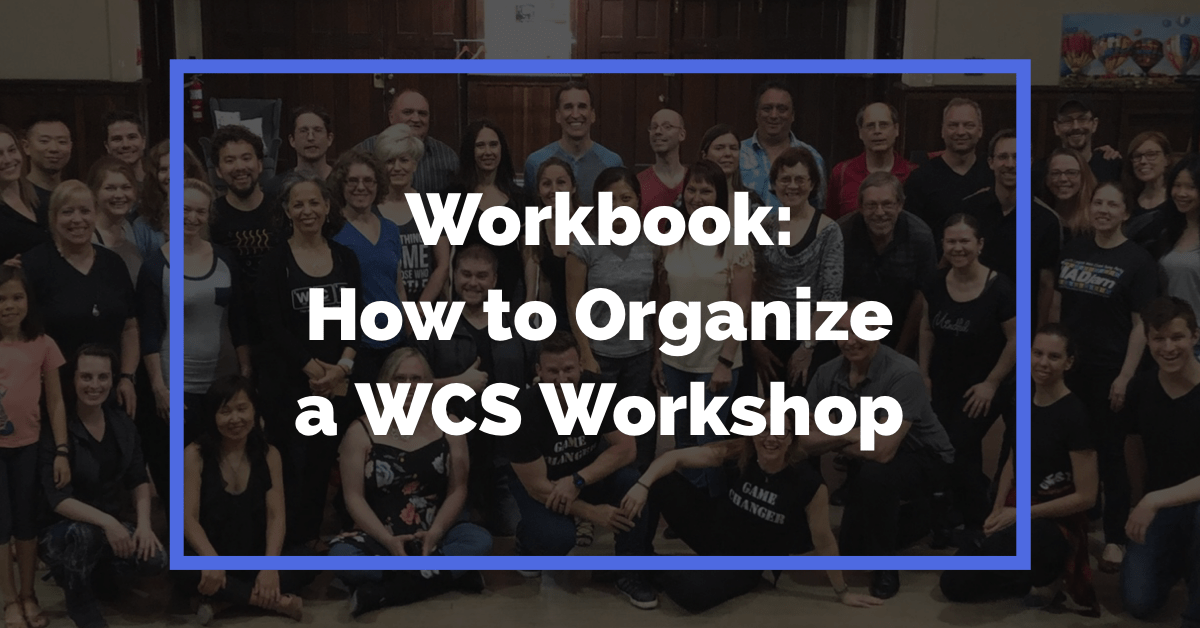 You're. Gonna. Want the. Workbook. Even experienced workshop promoters we have sent it to tell us that they discovered at least 5-10 things they never thought of that ended up making a huge difference. 
But let's just look at the planning process at a glance so you can get the big picture of all that is involved. For this, we made you a checklist. It is extremely abbreviated to only task reminders. All the juicy how-to-and-why details are in the Workbook, along with an editable, printable version of this checklist.
Workshop Planning Checklist
(See workbook for details on how to do each step and pitfalls to avoid)
4-12 months in advance:
Study other workshops
Check annual workshop schedules of other local studios/promoters
Strategize combining efforts with other organizations
Ask for advice from people with experience
Check for date conflicts & make a shortlist of dates
Research venues before you announce the event.
Consider floor texture, ventilation, seating, sound system, private lessons, nearby parking, hotels, restaurants
Shop for potential teachers at events
Do your research on them - reviews, credentials, attitude
Shop for DJs at events
Create budget, set break-even point and target profit margin.
Book venue assuming a vague, tentative schedule
Research sound equipment
Prepare staff contracts & send out
Receive contracts & bios/photos
Ask teacher what format they prefer/recommend
Decide on levels and specialty classes to offer, if any
Announce event "save the date"
Create website and/or Facebook event page
Create modern & attractive flyers & personally bring them to local dances/clubs
Decide on tiered pricing & any discounts/incentives
Personally invite VIP's and local teachers
Set up online payment system
Create spreadsheet to track registrations
Book teachers' flights if necessary
Edify the teachers on social media and in announcements
1 month in advance:
Coordinate & promote private lessons according to teacher's preferences
Plan social time with the teachers according to the teacher's preference
Arrange for teacher accommodation, transportation, and food.
Prepare wristbands, waivers, and recruit registration volunteer
Arrange for a dancer to take promo photos at the event
Arrange for water, snacks, & mints
Prepare sound system, including a mircophone for each teacher & extra batteries & cords
Visualize the weekend from start to finish from the perspective of each type of person.
Prepare printed handouts & signage for the weekend, including our "How to get the most out of your workshop weekend" handout.
Prepare feedback survey
Prepare volunteer thank you gifts
Workshop Day
Check venue for safety & risk management
Post up copies of schedule
Brief your registration volunteer and provide them with list, waivers, pens, cash box with a float, and wristbands with scissors to cut them.
Setup/Takedown: A/C, chairs, tables, DJ equipment, lights, schedule posters, hanging decorations, bar supplies, water and cups, coffee, flyer table, registration table, outside direction signs, fans, morning and pre-dance floor sweeping/mopping (very important if you are not in an actual dance studio). Make sure the appropriate people have the building keys.
Introduce teachers
Attend the workshops & record the recaps
Pay the teachers before they leave the venue
Have a productive off-season!
As long as you are willing to plan ahead, get creative, and take advantage of these resources, you have lots of options that make it easier to sustain the community and survive till classes start up again.
The post How to Organize a Win-Win-Win WCS Workshop appeared first on Myles Munroe and Tessa Cunningham Munroe.
How to Organize a Win-Win-Win WCS Workshop