Flames Need More Scoring From Their Forward Depth
The Calgary Flames are guilty of yet another slow start after being edged by the Jets in Winnipeg on Tuesday night by a score of 3-2. The theme surrounding this team just nine games into the regular-season seems to be their poor first-period efforts, as they've now displayed questionable back-to-back opening frames, and four bad opening periods this season where they've given up two or more goals to start. (From 'No comeback this time as Flames fall to Jets after another slow start,' Calgary Herald, 02/03/21)
Many within the organization are likely left puzzled, wondering why their team has had such a plethora of difficulties when the puck is first dropped. Management went out on a mission this past offseason to bring back the Flames with a grittier look. They did so by adding stability in the crease, a seasoned-vet with Stanley Cup experience, and several depth forwards who were brought in to strengthen the bottom-six trios.
The Flames currently stand second last in the North Division, with a record of 4-4-1. While it is important to note that the club has played the least amount of games out of any team in the North Division, there are simply no excuses for their horrible first periods. It's time for those offseason forward acquisitions and bottom-six group to start providing some jump in the lineup.
First Period Woes
For the fourth time in just five games, the Flames left the ice after the opening period down two goals to their opposition. This kind of inconsistent play has given head coach Geoff Ward a challenging task, as his lines were once again shuffled during the second period against the Jets. The line shuffling seemed to click on Monday night against the Jets, but couldn't get the job done on Tuesday, as the Jets pounded the Flames with three first period goals.
David Rittich is one guy who would have liked to have a better first period out of himself, but it's tough to blame him, as he did resurrect his game in the second and third periods, and gave his team a solid chance to come back in last night's tilt. It doesn't really matter who is in the net for the Flames, the general consensus right now in Calgary is that this team needs to compete harder in the first. They've been outscored 12-6 in the opening stanza this season, which proves that they need to buckle down on their start times and give a complete 60-minute effort.
More to Give From New Players
Calgary's top-six forwards appear to be getting it done this season, as Johnny Gaudreau, Sean Monahan, and Elias Lindholm have combined for 30 points, while Andrew Mangiapane, Mikael Backlund, and Matthew Tkachuk have combined for 14 points. Of course, because of all the inconsistent play we've been seeing from the Flames this season in their starts, line juggling has become a factor. At times, new chemistry can be created quickly when players are shuffled around, but other times, it just doesn't click. It's the bottom-six forward group on this team that needs to step up.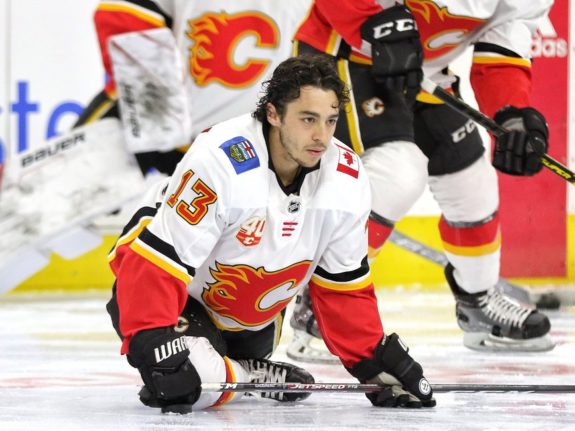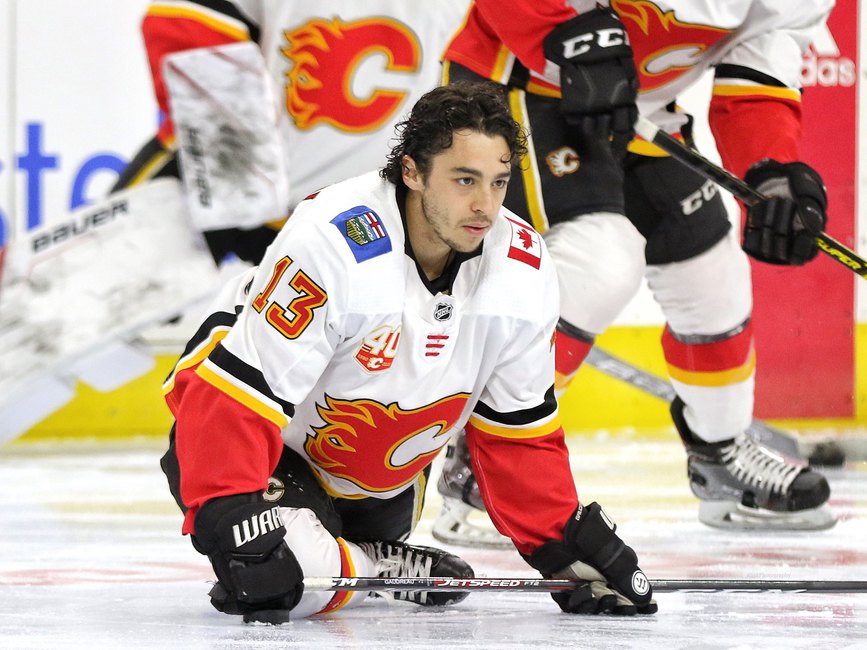 If some of the new forwards that Flames' general manager Brad Treliving brought in this summer could find their game offensively, or even provide some juice with a big hit or fight in the first period, the Flames might not have surrendered so many disastrous firsts periods this season. Joakim Nordstrom and Dominik Simon, who were acquired in the offseason, have zero points so far, while another new face on the Flames, Josh Leivo, has a lone assist. Simon was out of the lineup Tuesday, so we'll see if that provides him with some determination to earn his spot again, but these numbers need improvement immediately.
Returning Forwards Need Life
Dillon Dube has only played six games this season as he battled an early minor injury, so he only has three points, but he is a plus-3, so he is headed in the right direction if he can stay on a line and find some familiarity with his linemates. Derek Ryan certainly has more to give too, as he put up 29 points last season and was considered a welcoming surprise to the Flames' lineup when he was first brought in in 2018-19, but the Spokane, Wash. native has just one assist through nine games. Milan Lucic has three points in nine games and has recently made some tremendous plays with the puck. He was so critical to the Flames during the playoffs last season, as he was so much more than an on-ice leader. He brings in strong leadership qualities as well as experience, and I think if Sam Bennett is to make things work in Calgary, Lucic should continue to help mentor the 24-year-old.
Although Bennett has just one point, he saw some time on the top line with Gaudreau and Monahan on Tuesday night. Despite the slow start personally, my goodness has Bennett ever been buzzing around the cage the last few games, looking for a spark to ignite his offense. The 2014 fourth overall pick is hoping he'll see more of those opportunities, as he looks to breakthrough after taking a huge step forward in the 2020 postseason.
Message Received?
The Flames will have hopefully heard the message loud and clear come their next match, which happens to be against the Jets again on Thursday night. Regardless of the loss Tuesday, I believe the Flames will start Jacob Markstrom next game, but again, goaltending isn't supposed to be getting the offense done. The Flames' top-six needs to come out strong as they are expected to, but the bottom-six needs to come out and make a statement. If they don't, coach Ward will be looking at his taxi-squad to inject some more fire-power in his lineup against the Oilers on Saturday.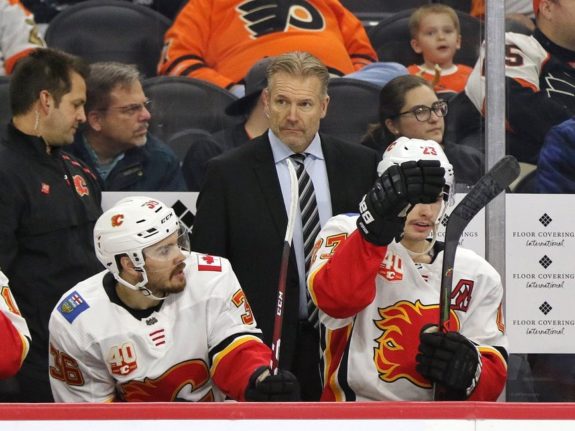 The group needs to find their offensive side soon, but even if they can simplify their game and be stronger on the forecheck, as well as in the neutral zone where they can turn the play the other way, I think this team will be a lot more satisfied with their game. If they can find a spark in the opening frames, results should follow soon, too. We'll see if coach Ward makes any drastic changes to his starting roster for Thursday.
---
---
The post Flames Need More Scoring From Their Forward Depth appeared first on The Hockey Writers.
Flames Need More Scoring From Their Forward Depth