20 Amazing Taco Recipes
This collection of 20 amazing taco recipes will give you tasty inspiration for your next taco night. You'll find mouth-watering ways to stuff your favorite taco shells with meaty fillings as well as delicious vegan ingredients. From beef and chicken to pork and seafood, you'll find creative ideas to up-level the classic taco. Vegetables, eggs, lentils and more can also be used as delectable fillings for this hand-held meal. Spices, seasonings, marinades and toppings all contribute to outrageously tasty tacos, too. Browse this list to see all the ways to combine ingredients for innovative ways to upgrade your taco game.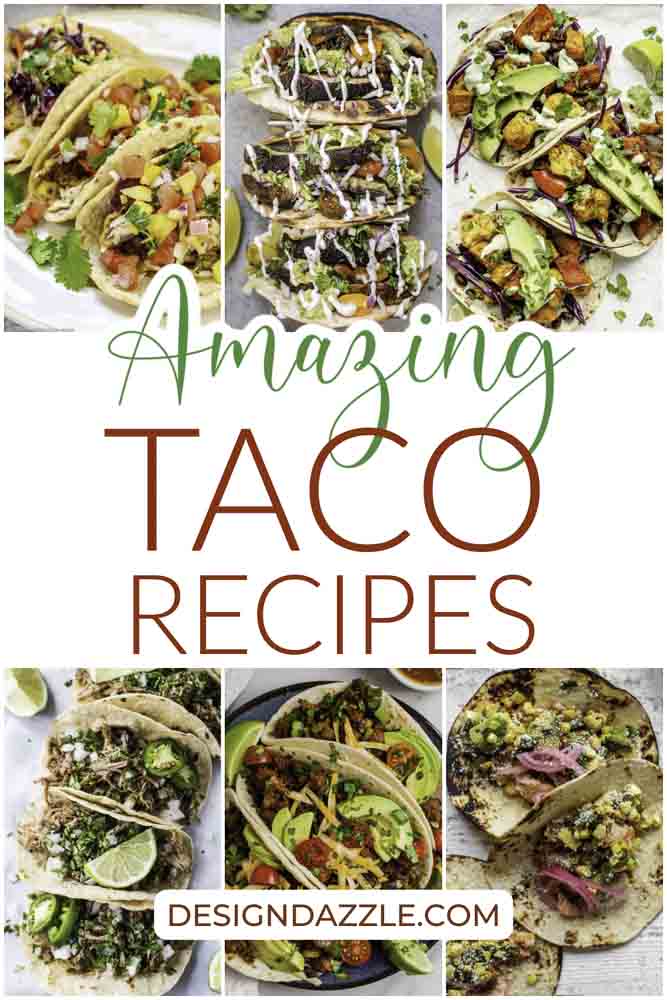 Make these for breakfast, lunch or dinner – they're that good! Turkey chorizo along with black beans, green onions, grated cheese and salsa make these tacos a quick meal that's outrageously filling and delicious. Start with a quick sauté of the chorizo and add in the beans and salsa. Fill your warm flour tortilla and enjoy!
Chorizo Breakfast Tacos by Erin from Well Plated
Take steak night to a new setting by incorporating juicy and marinated steak into your favorite taco shells. A quick 30 minute marinade of olive oil, soy sauce and spices will kick off a flavorful skillet cooking session. When ready, fill your tortillas and top with sliced red onion, cotija cheese, avocado slices, fresh cilantro and sour cream.
Steak Tacos by I Heart Naptime
With just 3 ingredients, let your crock pot cook chicken breasts, a jar of salsa and taco seasoning to fork-tender perfection. Have your favorite shells ready to stuff with this dump and cook mixture and top with shredded lettuce, cheese, salsa, and guacamole. It doesn't get any easier than this!
Crockpot Chicken Tacos by Julie's Eats And Treats
Roasted salmon with a smoky and spice rub becomes the centerpiece of these tasty tacos. A fresh grilled corn salsa that includes poblano peppers, avocado and cilantro with a zesty lime dressing becomes the complimentary garnish for these tacos. Top with cotija cheese for the perfect finish.
Summer Salmon Tacos by How Sweet Eats
Perfect for summer, toss zucchini spears and cooked chickpeas with a zesty dried spice mixture of chili powder, cumin, onion and garlic. Give them a quick session on the grill grilling for lightly charred deliciousness. This vegetarian stuffing for tacos gets topped with red cabbage, avocado, green onions and crumbled queso fresco.
Grilled Zucchini And Chickpea Taco by Two Peas And Their Pod
Chicken breasts are seasoned with a zesty chili and lime rub before being grilled to tastiness. A homemade pineapple salsa lends a sweet touch to the spicy chicken. It's the avocado crema, though, that makes these tacos shine, so don't skip it!
Chili Lime Chicken Tacos With Grilled Pineapple Salsa by Carlsbad Cravings
Use tilapia or cod filets for these flavorful fish tacos. Sprinkle the fish with blackened seasoning and skillet cook them until opaque and the flesh flakes easily. Cut into bite-sized pieces for stuffing in warm corn tortillas. Top with a homemade cabbage slaw and mango salsa for a sweet and spicy taste that's incredibly delicious.
Blackened Fish Tacos by Flavor Mosaic
Get that classic beef taco taste with this crowd-pleasing recipe that has delicious baked right in! Hard shell tacos are filled with a cooked beefy mixture, topped with cheese and baked for 5 minutes to melty goodness. Top with shredded cheese, taco sauce, shredded lettuce, tomato, onion and sour cream.
Baked Beef Tacos by RecipeTin Eats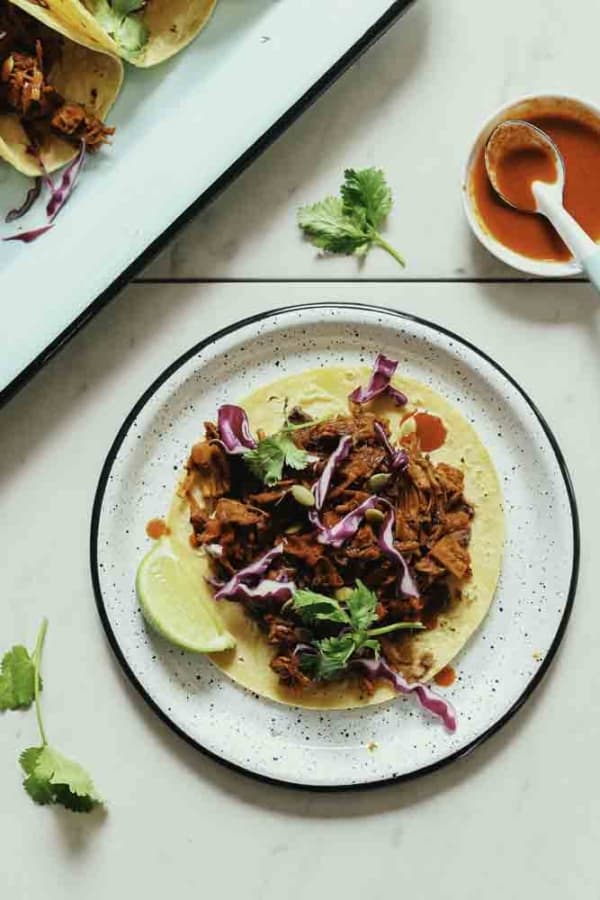 Keep it vegan with these jackfruit tacos that are a wonderful substitute for a meaty filling. Spice up the jackfruit with a chipotle seasoning and cook it in a skillet before stuffing your taco shells. Add in refried beans, shredded cabbage, hot sauce and cilantro. Easy, delicious and satisfying.
Spicy Jackfruit Tacos by Minimalist Baker
If you're looking for outrageously flavored tacos, this slow cooker pork filling recipe is it. Pork shoulder is slow cooker in a host of dry spices for 6-8 hours until fork tender. Shred it, fill warm corn taco shells and top with diced onions, cilantro, and cotija cheese.
Mexican Slow Cooker Pork Carnitas Tacos by Isabel Eats
These hearty vegetarian tacos are filling and flavorful thanks to the seasoned portobello mushrooms that are grilled to smoky tenderness. Once grilled, slice them and pack your flour tortillas full before topping with shredded lettuce, diced tomatoes, guacamole, red onions and Greek yogurt. So good!
Grilled Portobello Mushroom Tacos by Salt And Lavender
Once you see how easy it is to make these copycat Bonefish tacos, you'll make them all the time! An egg and flour dredge of the shrimp gets them ready for their quick frying session in a skillet. Drain them well before tossing them in the homemade sweet chili and Sriracha sauce. Have your corn tortillas ready to be filled with these tasty shrimp. Top with the homemade coleslaw, cilantro and pico de gallo.
Bang Bang Shrimp Tacos by The Girl On Bloor
Bulgogi beef and spices lend an exciting flavor profile that blends kimchi with cilantro and avocado for a true fusion meal. Marinate the meat in soy sauce, sesame oil and garlic for just 30 minutes before cooking it in a skillet. Load up your tacos with the savory meat, shredded red cabbage, kimchi, avocado and cilantro. Drizzle on a homemade zesty sour cream sauce and serve to rave reviews!
Korean Beef Tacos by House Of Nash Eats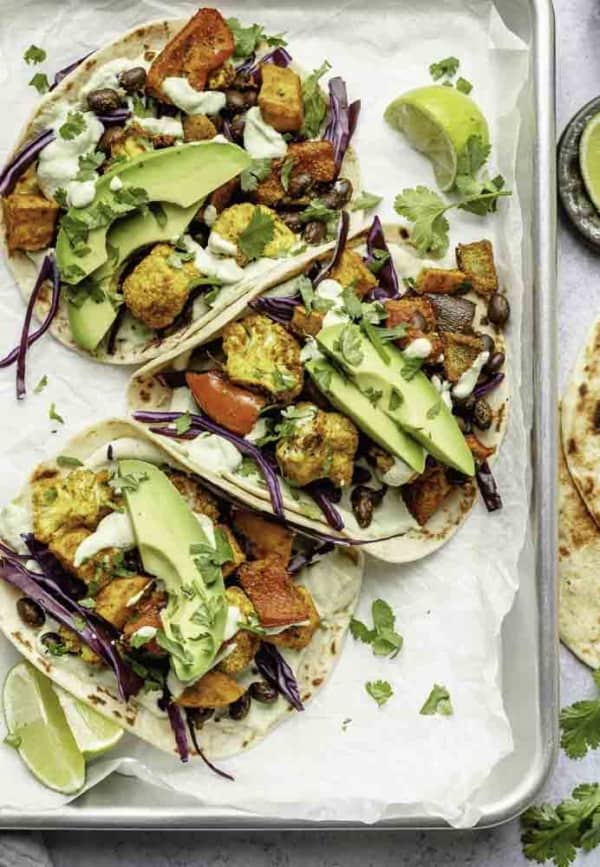 Let your oven do all the work as it roasts veggies like cauliflower, sweet potato, bell pepper, and red onion. Toss them with a spice blend and a drizzle of olive oil and lime juice for good measure. Add drained black beans to the baking sheet during the last 10 minutes for a little protein.When ready, pack your corn tortillas with the veggies and black beans and add your favorite creamy sauce such as sour cream or yogurt.
Roasted Veggie Tacos by Ambitions Kitchen
Spicy is where it's at with these rotisserie chicken tacos that are seasoned with Buffalo sauce and ranch dressing. They're super easy to make and assemble with the seasoned Buffalo chicken, shredded lettuce, cheese, sliced avocado, and sliced spring onions. These are always a winner!
Buffalo Chicken Tacos by Happy Foods Tube
You'll never miss the meat in these protein-packed tacos full of spicy cooked lentils and roasted cauliflower. Load up your shells with this mixture and top with the creamy homemade chipotle sauce and fresh cilantro and enjoy a vegetarian meal that's hearty and delicious.
Roasted Cauliflower And Lentil Tacos by Cookie And Kate
The winning combo of sweet potatoes and black beans shines in these tacos that use garlic-infused sautéed sweet potatoes and black beans as a spicy filling. Add in sliced green onions and cilantro for further flavor and top with a homemade sour cream and garlic crema. Delish!
Sweet Potato Tacos by Budget Bytes
You'll look forward to this savory breakfast that's super easy to put together. Up-level scrambled eggs by flavoring them with jalapeño peppers, onions and salsa and stuffing them in a warm flour tortilla. Add cheese, and any other topping you desire.
Migas Breakfast Tacos by Little Spice Jar
Chicken breasts, BBQ sauce, onions and green peppers plus seasonings go down in your slow cooker for hours of cooking time. The result is a delicious BBQ chicken shredded mixture waiting to be part of a taco dinner. Top with a jazzed up coleslaw mix and dinner is served!
Slow Cooker BBQ Chicken Tacos by Lemons And Zest
Use skirt steak or flank steak, cut into strips, for awesome results with this beefy taco recipe. Marinate at least 3 hours or overnight in a tasty and juicy sauce before cooking in a skillet. When done, add this zesty beef to a warm tortilla and top with diced onions, salsa, and chopped cilantro.
Carne Asada Tacos by Swanky Recipes
The post 20 Amazing Taco Recipes appeared first on Design Dazzle.
20 Amazing Taco Recipes