2020-21 Upper Deck Stature Hockey Review and Box Break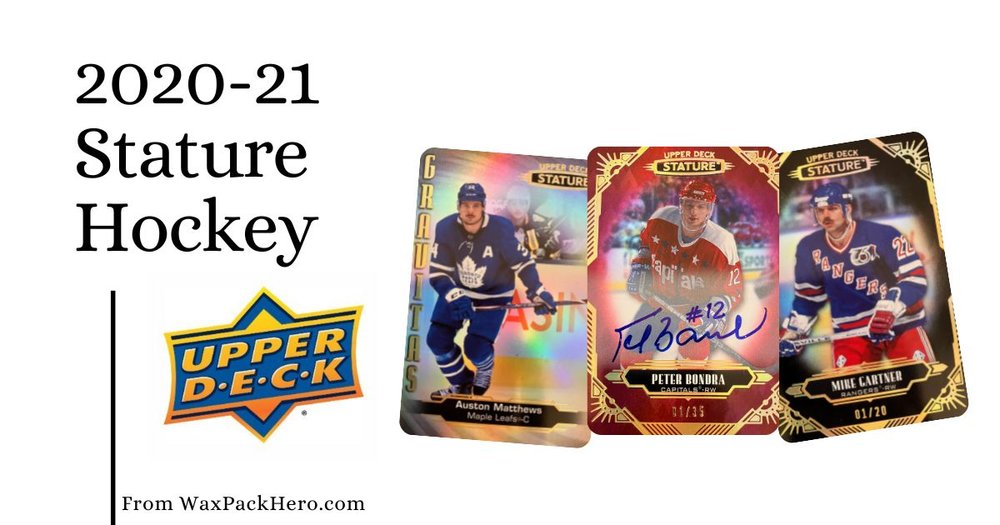 I don't often get a chance to open high end products, but thanks to the fine folks at Upper Deck, I had a chance to break a box of 2020-21 Upper Deck Stature Hockey. This product was from the 2020 season but due to logistical issues and production delays, it didn't actually get released until 2022. A hobby box contains one 8 card pack and at the time of this article retails for around $200 on eBay.
The Breakdown
The foundation of Status is a 200 card base set made up of 100 veterans/legends and 100 rookies. All the rookies are serial numbered /399 so even at the most basic level, the print run is somewhat limited compared to other releases. Remember, this is a 2020-21 product, so the rookie class is made up of guys like Alexis Lafreniere and Kirill Kaprizov.
The base set is complemented by a group of seven parallels ranging from green /175 down to purple 1/1s.
In addition to the base cards, there are three different insert sets to chase. Century Momentous is a 25 card set which falls in 1:4 packs and shows a big moment of an all-time great, Gravitas is another 25 card insert set and are also found in approximately 1:4 packs. The rookie focused Proteges set is the largest and most common insert with cards from the 50 card insert set falling 1:2 packs. Similar to the base cards, there are seven different parallels of inserts as well. The difference is the scarcity ranges from greens /149 down to purple 1/1 for the inserts.
Each hobby box contains one autograph and the possibilities are endless. Legends, Veterans, Rookies, and patch autos are all possible. Between all the varieties of auto's, I counted approximately 275 different cards and many of those have the possibility of parallels.
Box Break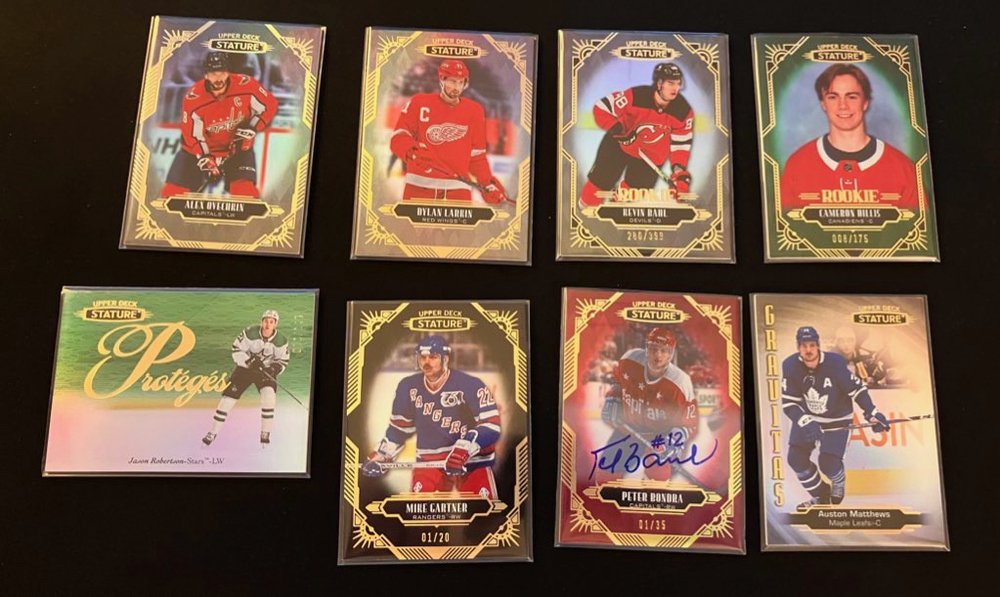 Opening sealed wax is always a gamble, and opening higher end product is even more so. From my perspective, you can't really open wax with an expectation of profit. You need to approach it with a mindset of loving the cards, the designs, and the entertainment of discovering something new.
You can see what I uncovered in my box in the photo above!
To start with, I was impressed with the quality of the cards. Upper Deck had some questionable quality issues with some of the recent "flagship" products, but that doesn't seem to be an issue with Stature. In my box, the corners and edges were sharp and free of chipping.
I received three base cards. Ovechkin is a superstar, Larkin is an established Vet, and Bahl provides an example of the numbered base rookie cards. I received two inserts in my pack. The Gravitas Matthews is a nice card which will fit in my Toronto PC, and the Proteges insert is /149. I also received two more base parallels. A black Mike Gartner /20 and a green Cameron Hillis rookie /175.
Finally, my autograph was a red Peter Bondra /35! One thing to note about the autographs is that they are all hard signed on the card. No stickers here!
Wrapping it Up
From a collectibility perspective, these cards are sharp. I'd love to add a few more to my PC binders. From a value perspective when considering buying sealed wax, it all comes down to to the risk you are willing to take. There are only 8 cards in box, so if you are very focused collector with only a few players/teams you are a fan of, it may be tough to rip boxes and get the guys you're looking for. That being said, there are plenty of names on the autograph checklist that many fans will enjoy, and there are plenty of parallels and cool inserts to provide some variety.
I think one option collectors could consider with a product like Stature is buying into some pick your team group case breaks. I'm much more confident that getting all your favorite team's cards in a case will get you some great cards at a reasonable price!
Did you open any of this? Buy into any breaks? Let me know what you think in the comments below!
2020-21 Upper Deck Stature Hockey Review and Box Break