2022 Topps Series 1 Set Review and Checklist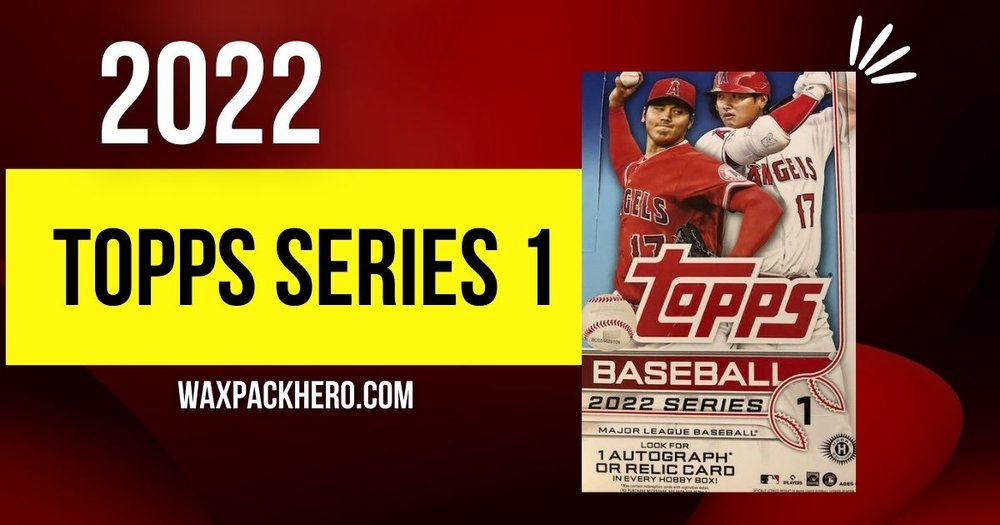 Each year, Topps Series 1 is viewed as the unofficial kickoff to the new baseball season.
Though the lockout is threatening the start of the 2022 season, the excitement surrounding the release of 2022 Topps Series 1 is stronger than ever. The hobby flagship combines familiar traditions with some fresh inserts to deliver a fun collecting experience for all ages.
The Breakdown
For the second straight year, the Topps flagship design features a white border. The player's team logo, name, and position are found across the bottom of the card and are much more readable than 2021. From an overall design perspective, this is my favorite look since my return to the hobby in 2015.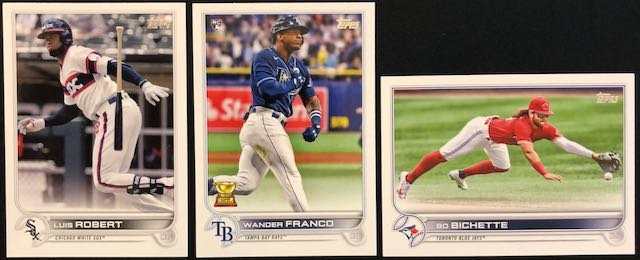 The base set features 330 cards and is a mix of veterans and rookies including Mike Trout, Vladimir Guerrero Jr., Juan Soto, and the star of the rookie class, Wander Franco. Team Checklists, League Leaders, and Team Cards serve as some of the available subsets and provide a bit of variety to the checklist. Hobby boxes, Jumbo Hobby boxes, and a variety of retail packaging were made available at both hobby shops and retail outlets when the set released in late February. A overall double digit production increase was estimated based on published pack odds and resulted in an estimated 750k-1 million of each base card being produced. Topps has not confirmed the exact totals, but at the Topps Industry Conference at the end of February, they indicated they could have increased production even more based on the demand they were seeing.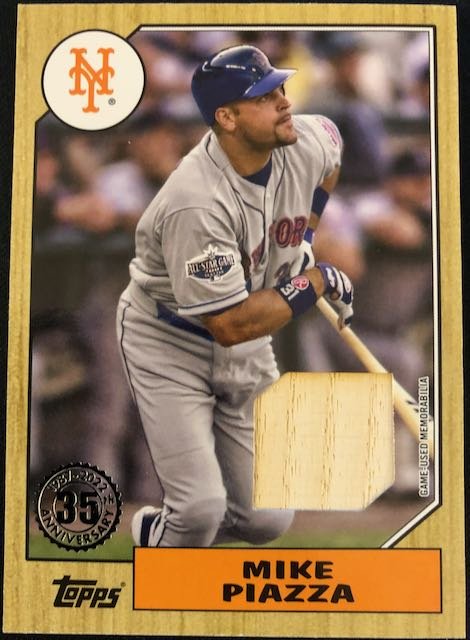 In addition to the base set, a variety of short prints, parallels and inserts were tucked away in packs for collectors to chase. Sixteen different parallels exist for the base cards ranging from unnumbered rainbow foil to 1/1 Platinum and Printing Plate versions. If tradition continues, even more parallels will be made available when the factory sets release later this summer.
Approximately 15 different insert sets were randomly included in packs. Some were hobby exclusive, some retail exclusive, and some were found in all distribution channels.
The 1987 design once again returns to an insert set and is the most common insert in the 2022 flagship product. The Home Field Advantage set is a limited, unannounced set which is generating some buzz. It seems this is a "case hit" and resale values for this set are strong. The design does bear some resemblance to one of the popular Panini inserts so the potential controversy has only added to the interest of the set.
A variety of Autograph and Relic cards can be found in each hobby and hobby jumbo box, and while not guaranteed in every retail box, they can also be randomly found in retail packs as well. A hobby box contains either one autograph or relic card, a jumbo box contains one autograph and two relic cards. The hobby boxes also contain either one or two "silver packs" which contain chrome versions of the 1987 inserts. These are a stand alone set and have a different mix of players and photos from the regular 1987 insert set.
The full checklist of short prints, inserts, autographs, and relics can be found on Beckett.com and the link is at the bottom of this article.
---
---
Box Break
I opened one hobby box which was purchased directly from Topps at Topps.com. The hobby boxes sold out quickly, but retail "value boxes" were available for a longer period of time. My box was a fun experience, but I did not receive anything extraordinary. It delivered pretty much exactly what was expected including the coveted Wander Franco RC.
I almost had enough cards for a full base set which is what I usually hope for in a hobby box. It only left a handful of missing cards to track down for a complete set. My box "hit" was the Mike Piazza bat relic card pictured above! I received 13 insert cards included a Mike Trout Flashiest Feet, a Vladimir Guerrero Jr. Welcome to the Show, and a Luis Robert Home Run Challenge card. I also received three base card parallels. Two rainbow foil and one Green Ice parallel numbered to 499.
It's still hard for me to get past the increase in prices in the current market. In 2017-2019 hobby boxes typically cost around $50-$60 compared to the $80-$120 we are seeing for 2022 Series 1. I paid $80 directly from Topps for my box and was satisfied with the value I received, and that was without any "big" dollar cards inside. A big part of the value in a box is the experience of opening it, and I had fun opening my box!

Checklist
To see the full checklist of base cards, short prints, inserts, autographs, and relic cards visit Beckett.com at this link.
2022 Topps Series 1 Set Review and Checklist