Autocar writers' cars of 2020: Bentley Flying Spur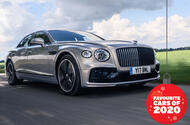 Steve Cropley explains why Bentley's luxury four-door stood out from everything else he drove during the past 12 months
Mind if I stretch the rules of this competition a little bit?
I'm keen to select the newish V8-engined version of Bentley's saloon flagship as my 2020 favourite, even though I haven't driven one. The only versions I've sampled have been original W12s but the V8 is 100kg lighter, at least £10,000 cheaper and 100bhp less powerful – yet 17% more fuel efficient, no slower in top speed (198mph) and only 0.2sec slower on a 0-62mph sprint. Given that it'd also sound better, I see the V8 as the preferable version. 
Still, if you force me, I'll still nominate the W12 in this spot. Why? Because of the ride quality, the amazing way its high-tech suspension blends the cornering alacrity of a dramatically smaller car with the ride quality of an even longer limo. I learned this much on a recent Bentley exercise during which it was possible to step directly from the latest Mulliner-spec Conti GT coupé (impressive itself for agility, precision and grip) into the Flying Spur W12.
Until then, I had thought the sole purpose of having a longer car was to enlarge what road test editor Matt Saunders has eloquently dubbed the Spur's "bubble of lavishness". However, the Crewe company has given this extra length an additional purpose: to provide a quality of ride that combines flatness and suppleness that simply isn't available in other big, luxurious cars. Even Mercedes' sainted S-Class, so often seen as the setter of standards, lets its driving quality slip a little in versions whose main focus is ride quality.
I'm a bit hazy on exactly how a Flying Spur would fall into my life, if I owned one. Guess I'd follow the wealthy and own a selection of mission-specific cars, using the Flying Spur mostly for longer journeys on roomier roads. But I'm content that if I owned one, it would obey my number one requirement as a car enthusiast and allow me to relish every mile.
READ MORE
New Bentley Flying Spur V8 makes public debut at Goodwood
Bentley Continental GT Mulliner Coupé is brand's "luxury pinnacle"
Autocar writers' cars of 2020: Bentley Flying Spur