39-Year-Old With Middle Part Isn't Fooling Anyone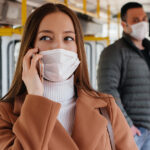 DODGE CITY, Kan. — Local adult Amelie Hartman was spotted pathetically trying to keep up with the latest trends by parting her hair down the middle similar to her younger counterparts, skeptical sources confirmed.
"With my hair parted down the middle, I totally pass for a twenty-something zoomer, maybe even a teenager, right?" said Hartman while struggling to upload a video of her new hairdo to TikTok. "Nowadays, there's nothing more lame than being labeled a millennial, and since I was a teenager in the 90s it won't be hard for me to fit in. Anyone that sees me with my middle part and wide-leg jeans would never guess that I'm actually 60% gray and used to own a Razr flip phone. Now, I'm like the next Greta Thurnberg or whatever, except like, a version of Greta who had a 13" Sony Trinitron with a built-in VCR in 1996."
Hartman's co-worker, Carmen Gomez, is not easily tricked by Hartman's pitiful efforts.
"Amelie isn't fooling anyone with her sad attempts to pass for Gen-Z," said Gomez. "The other day, she came into work wearing a bucket hat and a graphic crop top. This is a finance office. We can't have grown-ass adults showing up here dressed like Billie Eilish. She keeps trying to impress the interns by quoting Megan Thee Stallion and doing TikTok dances, but it's just making everyone really uncomfortable."
Dr. Michael Anu, a professor of Psychology at William Paterson University, has seen an increase in this behavior amongst millennials aged 36 to 40.
"In our latest study, we've discovered a glaring uptick in the amount of 30-something millennials that say 'Bing Bong' without knowing what it even means," said Anu. "It's a chemical reaction to the fear of aging and no longer being the 'it' generation. Millennials go into denial and start lashing out by wearing crop tops and crying like teenagers at Phoebe Bridgers concerts. Unfortunately, this epidemic will only come to an end when the millennials physically become too exhausted to keep up with this nonsense and just lean in to completely hating everything."
At press time, when asked what she will do to try and pass for Gen-Z when she turns 40, Hartman ran a finger under her choker and remarked that she has "no idea what you're talking about."
The post 39-Year-Old With Middle Part Isn't Fooling Anyone appeared first on The Hard Times.
39-Year-Old With Middle Part Isn't Fooling Anyone