Stretch Those Cover Dies
Hello friends!
As a crafter, we love to use what we have and of course, we lust for items that we do not already own.
We also pay attention to what we purchase (well, at least we try...). 😄
Cover Dies are one of the most expensive kind of dies that there is on the market. 
It really is good to have many ways of using Cover Dies since it will likely never break (bonus)!  The more you use the covcer dies, the more you save... well, not quite, but you get the idea. 😀😁
Great things are not done by impulse, but by a series of small things brought together.  
—Vincent van Gogh


My card today is one of those "small things" that I am attempting. I thought of the extra ways to add textures and colors with the
Ornate Cover Die
.  I am using
Simply The Best Stamp Set
for this design.
As you can see, I added the largest petal with the
Ornate Cover Die
(inked with the same colors as the flowers).
I also incorporated the the cover die into the small flower center. This way, the flowers look more cohesive and complete.
 Believe it or not, there are
more ways
in using cover dies. I have more to share in the coming weeks. Please stay tuned. I hope my exercise in using the
Ornate Cover Die
sparks your creativity !
edited:
I colored the cover die with Gelli Plate first and then die cut the flower together and ran them both through the die cut machine. This would ensure the flower and cover die cut exactly like they should.
Altenew offers up to 60% off in
Hidden Treasure Collection.
~~~~~~~~~~~~~~~~~~~~~~~~~~~~~~~~~~~~~~~~~~~~~~~~~~~
Scrapbook.com offer-LAST week!
(updated): grab a FREE Pinkfresh 
add-on 
Randomly Selected Mystery Gift! How do you get YOUR freebie? It's easy! Shop as you normally would, then 
add one
 (1) Pinkfresh Studio - Mystery Free Gift - (1) Random Selection 
to your cart
 ~~~~~~~~~~~~~~~~~~~~~~~~~~~~~~~~~~~~~~~~~~~~~~~~~~~~~~~
Spellbinder's Embossing Folders are on sale.
Shop Pre-Spring Surprise Bundle

HERE (GREAT value)
Thanks so much for stopping by!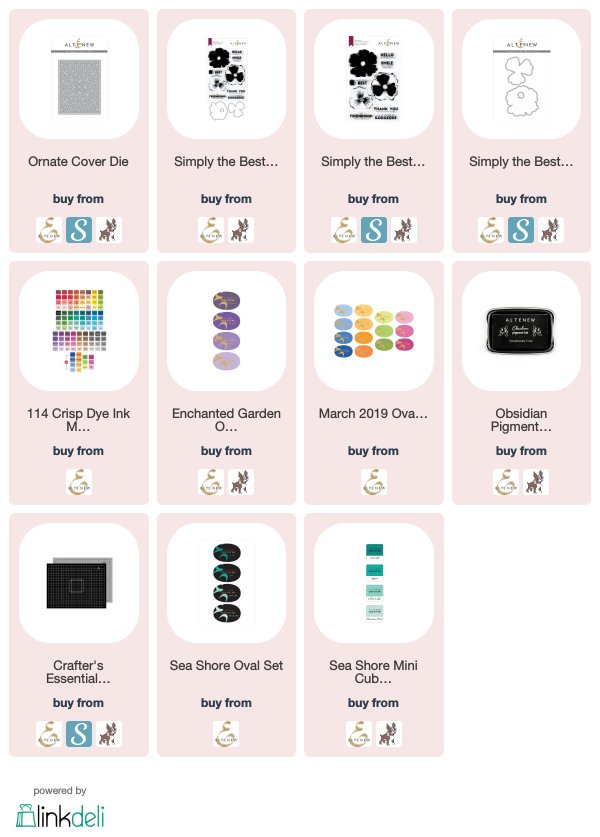 Stretch Those Cover Dies