Who's NOT Selling My Products? or How to Identify Distribution Voids
Let's start with stating the obvious:  Shoppers cannot buy your products if they are not available where they shop.  Even though your brand may have 12 different items in its product line, not every retailer carries every item.  You can identify which retailers sell which items using a relatively straightforward data pull from IRI or Nielsen.


Here is what you need to pull for each of the 4 dimensions:
Products:  Total Brand plus all of your individual items (or specific items you are interested in)
Geographies:  Total US, all available retailers (or particular ones you are interested in)
Period:  Most recent month or 4-week period available
Measure:  %ACV Distribution
In order to make it easy to see who sells what, have your items go across the top (as columns) and the retailers down the side (as rows).  Depending on your data query tool, Period and Measure should be in "Page By" or at the upper left of the query.
A good rule of thumb when setting up a data query is to have the dimension with the most values as rows. So if you have lots and lots of varieties of your brand but don't buy data for that many retailers, you may want to list your products as rows with the retailers across the top. The point is to have a matrix where you can look across retailers and items to identify distribution opportunities.
Take a look at the following example.  The Charlie's Chips brand is made up of 6 items and we are looking to see if there are any distribution voids at the largest Grocery retailers.
%ACV Distribution
4 wks ending 6/29/19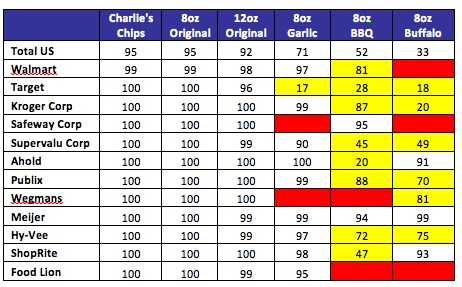 We can see that:
All the key retailers carry the brand and also the 2 sizes of Original flavor.  How do we know?  Because the first 3 columns have % ACV Distribution near 100.
The cells highlighted in red are distribution opportunities where that retailer does not carry that specific item at all.
The cells highlighted in yellow are opportunities to increase the distribution of that item at that retailer, since some but not all stores carry it.  (I used the rule of < 90% is an opportunity.  You can choose whatever you want.)
Now your salesforce knows where to focus their efforts in terms of gaining distribution.  How do you know which to go after first?  Read this post to see how to quantify those distribution opportunities.
The post Who's NOT Selling My Products? or How to Identify Distribution Voids appeared first on CPG Data Tip Sheet. Copyright © 2020 CPG Data Insights.
Who's NOT Selling My Products? or How to Identify Distribution Voids