5 things we can't wait to try on Disney's brand new cruise ship
As they say, a dream is a wish the heart makes — and my heart (and begrudgingly, my wallet) has set its sights firmly on the forthcoming new Disney Wish cruise ship.
I'm a bit of a Disney nut who has loved each Disney Cruise I've been on, so there was never a doubt I'd want to sail on the enchanting Disney Wish, which will be the fifth ship to join the Disney Cruise Line when it sets sail on its five-night maiden voyage on June 9, 2022, from Port Canaveral, Florida, for the Bahamas with a stop at Disney's private island, Castaway Cay.
For more cruise news, reviews and tips, sign up for TPG's cruise newsletter.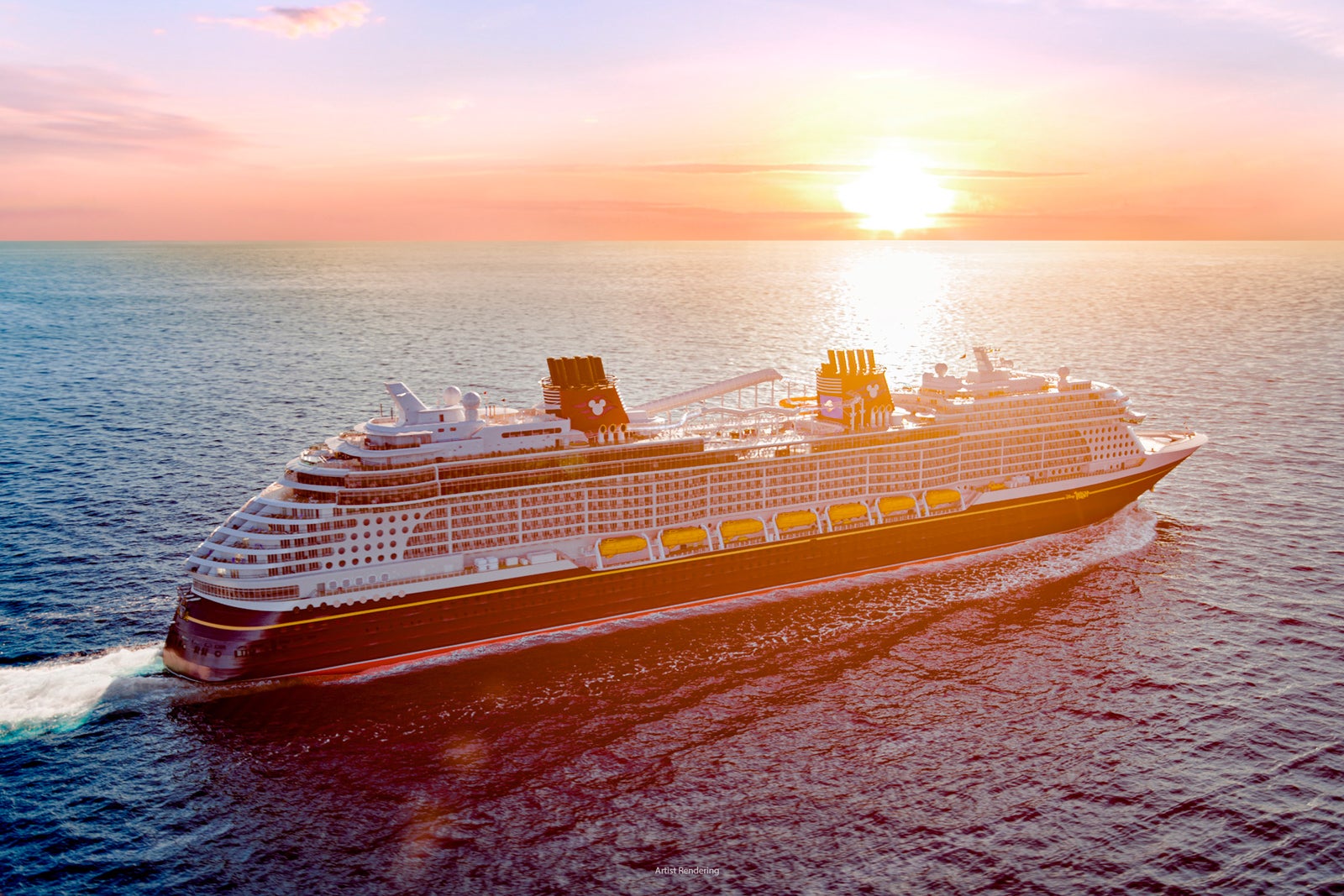 But today, we learned much more about Disney Wish than we'd even hoped, including all its new-to-Disney Cruise Line features (think: the first-at-sea Disney attraction, a 2-minute-long aqua coaster). There will also be new, themed Disney restaurants and redesigned staterooms.
So, basically, my personal excitement about boarding Disney Wish with my family has never been higher.
Here are the five things we're most excited to experience on the Disney Wish.
Related: Guide to the Disney Cruise Line 
Star Wars: Hyperspace Lounge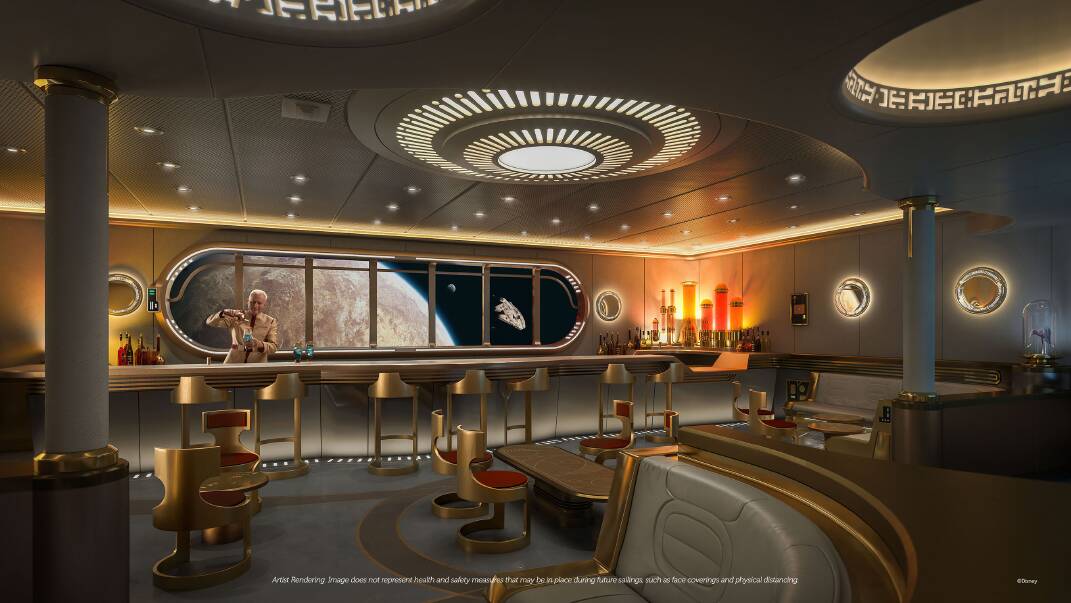 If you like Star Wars: Galaxy's Edge and Oga's Cantina in the Disney theme parks, this onboard high-end Star Wars-themed bar looks like it will take that to a more sophisticated level.
While Star Wars: Hyperspace Lounge will be open to families during the day, this yacht-styled lounge is exclusively a place for adults to kick back and enjoy galactic-themed cocktails at night.
As a child of the 1980s who lived and breathed all things from a galaxy far, far away, I'm more than ready to throw my hair in space buns and order an otherworldly drink from this gold-laden lounge with views of the universe beyond.
And fine, I'll bring my kids here during the day, too.
AquaMouse: First Disney attraction at sea
If you've sailed on Disney Dream or Disney Fantasy, you've likely experienced the AquaDuck waterslide. While both are waterslides in a sense and both wrap around the top deck of the ship, the AquaMouse is not the AquaDuck by another name.
Disney is calling the AquaMouse the "first-ever Disney attraction at sea". Those are big words for a company that knows attractions.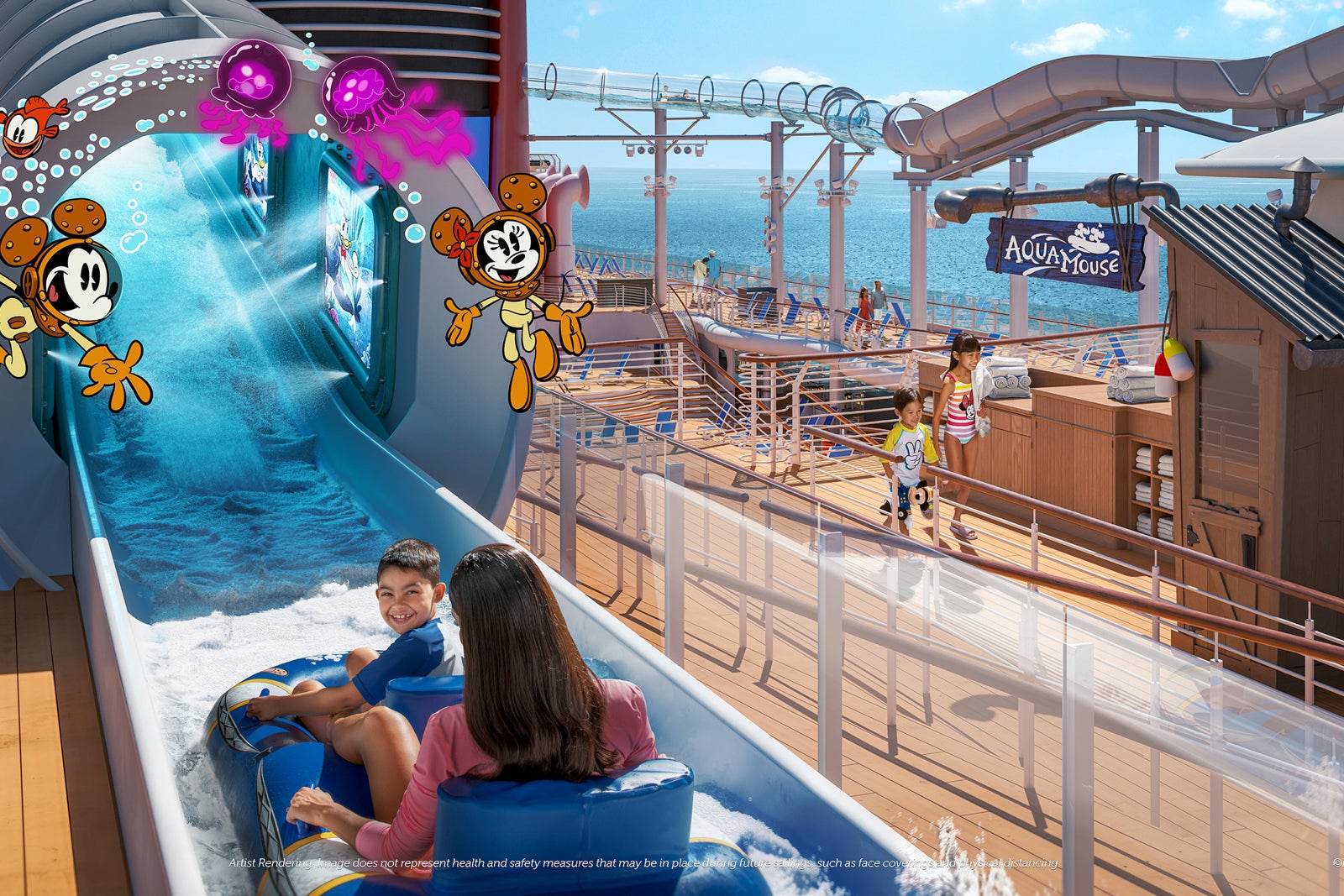 Just like you'd find on Disney theme park rides, there will be show scenes, lighting effects, a dark tunnel, an original soundtrack and more than 60 water effects for a 2-minute ride that spans 760 feet of tubing above the upper decks.
Disney says that, at the height of the show, guests will blast out of the tunnel and embark on a wild water ride around the upper decks. This ride will also include a series of speed blasters and, finally, the grand finale: a soaring loop over the edge of the ship.
This ride will be open to cruisers 42-inches and taller in two-seater ride vehicles.
Related: Comparing Disney, Carnival and Royal Caribbean cruises for families
New rotational dining restaurants
The first four Disney cruise ships share familiar restaurant themes, but Disney Wish is charting its own course.
As much as I love Animators Palate, a staple on all previous Disney ships, it will be fun to try something entirely new.
What Disney Wish will retain from its predecessors is the dining format, where you rotate through the complimentary restaurants with the same guests and serving team. But after that, it will be an almost entirely new world of dining.
Up first is Arendelle: A Frozen Dining Adventure. This will be Disney's first "Frozen"-themed theatrical dining experience. The show takes place just after "Frozen II" and celebrates the engagement of Kristoff and Anna with "immersive live entertainment" performed on the round in the dining room.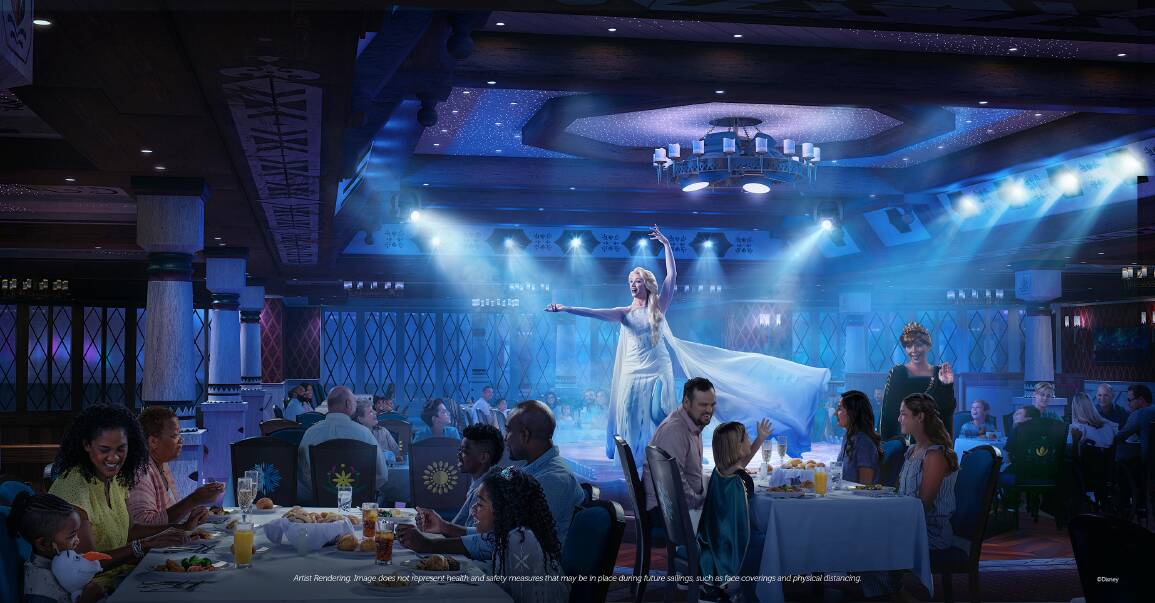 The Arendelle menu will be Nordic-influenced (but don't worry, I'm sure they have chicken tenders and macaroni stashed away for emergencies).
At Worlds of Marvel, the first-ever Marvel cinematic dining adventure, Disney says guests "will play an interactive role in an action-packed Avengers mission that unfolds around them." The meal will be inspired by the Marvel Cinematic Universe, which is cool because I've always wondered what exactly it is that they eat in Wakanda and Asgard.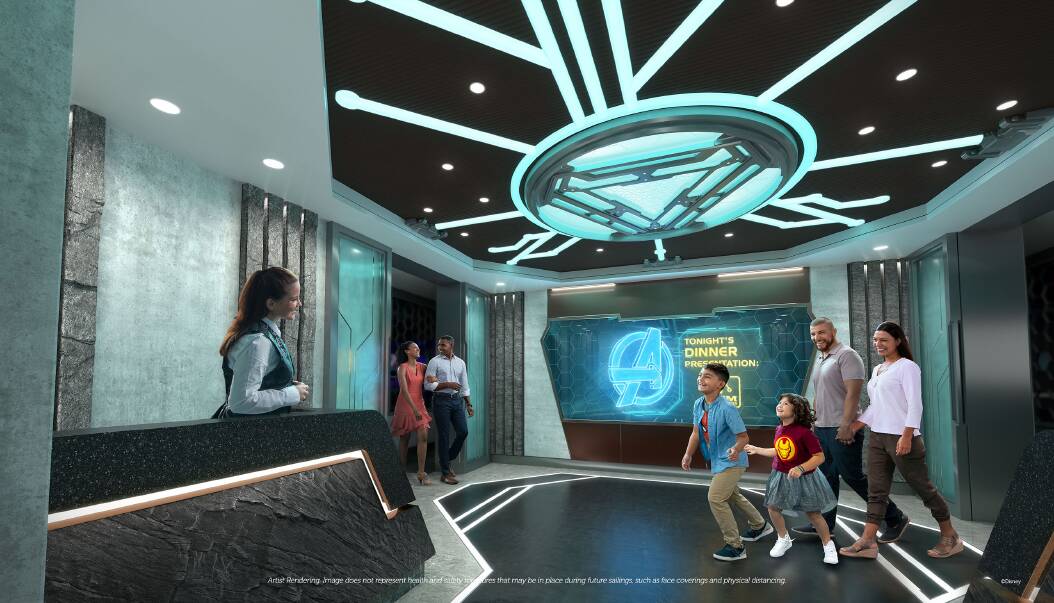 And finally, there's the new 1923 restaurant, which is named after the year the Walt Disney Company was founded. I'm expecting a higher-end meal set in the golden age of Hollywood. The menu will pay tribute to the company's Californian routes.
Related: The 7 best meals at sea
Bigger, better suites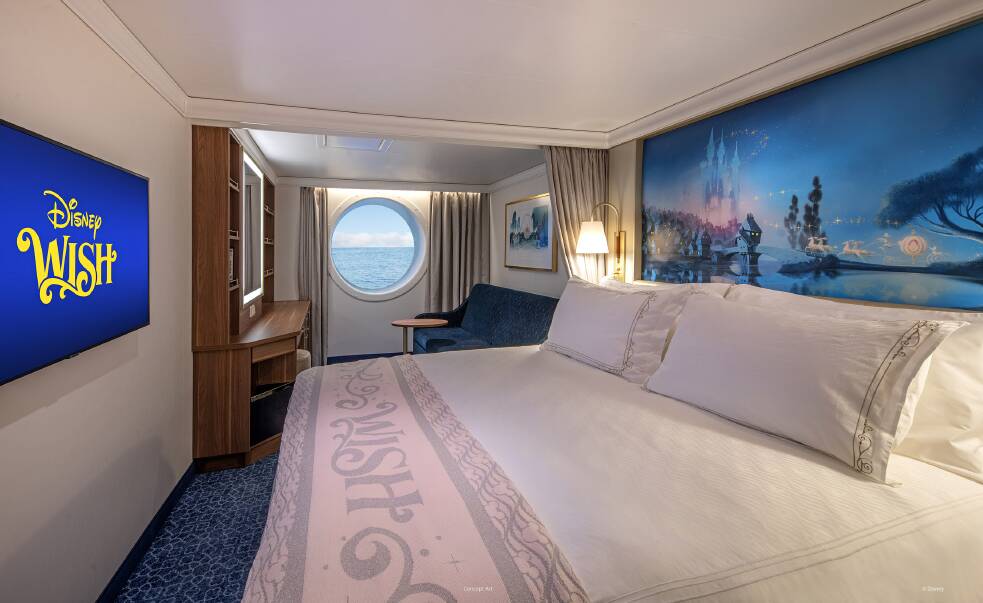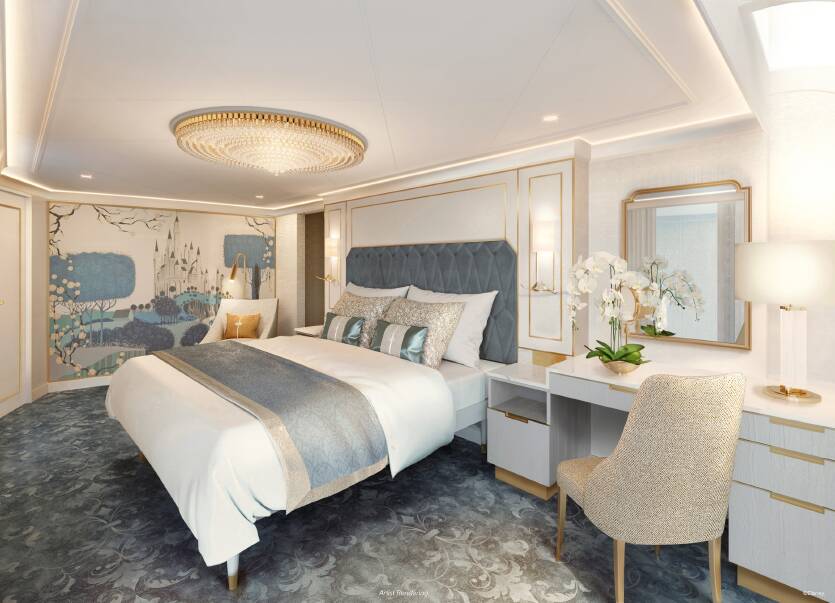 I'll sleep in Cinderella's coat closet if that's what it takes to get on Disney Wish, but I'll happily admit to being a sucker for a suite at sea and Disney Concierge service amenities.
All the Wish staterooms previewed during the virtual event today appeared to have a more subdued and upscale vibe than the current Disney Cruise Line staterooms. They have a fairy-tale aesthetic with flourishes of gold and hidden surprises, such as special lighting effects over the pull-out child's bunk bed.
In total there will be 1,254 staterooms, of which 70% will have a verandah, 451 will have connecting doors and there will be a record-high 76 concierge suites and staterooms (double the number on other Disney ships).
The one-bedroom concierge suites will have a separate living room, walk-in closets, two 43-inch televisions and two bathrooms, with the master bathroom featuring a rain shower, bathtub and double vanity.
Related: Review of a one-bedroom suite on the Disney Wonder
New to Disney Wish will be seven oceanview rooms located over the bridge — a first for the Disney Cruise Line. These rooms will have an extended living area with floor-to-ceiling windows overlooking the bow and out across the ocean.
And if all that isn't enough, there will be four royal suites with a Sleeping Beauty theme — two of which feature an insane two-story floorplan. Hey, it's free to dream, isn't it?
So, let's fantasize about the soaking tub, private hot tub, two master bedrooms, spiral staircase and two-deck-high stained-glass frieze. Maybe they'll just let me live in this suite's jaw-dropping bathroom for a few days.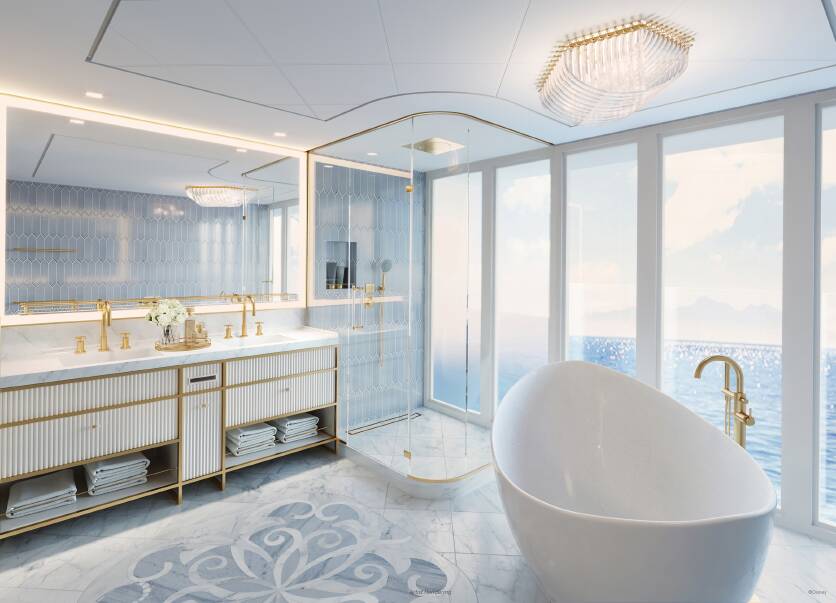 For cruisers who enjoy booking a room with access to the Concierge Lounge, Disney says it will be more than triple the size of previous Disney ships with a "full bar, delicious light bites … an outdoor terrace with incredible views" and a special area for kids.
There will also be a private sun deck with two whirlpools, a wading pool and a bar, which is great news as historically the main Disney pool areas can get pretty crowded.
Related: Is Disney Cruise concierge service worth it?
Slide into the reimagined kid club
For families, one of the best parts of a family cruise with the Disney Cruise Line is that kids often actually want to go to the complimentary kid clubs. This gives grown-ups a chance to have a drink (in the Hyperspace Lounge, of course!), go to the adult pool or just take a breath.
Disney Wish will retain the cruise line's trio of kids clubs: Oceaneers Club (ages 3 to 12), Edge (11 to 14) and Vibe (14 to 17). There's also the colorful Small World Nursery open to the littlest baby and toddler sailors (the fee for that is not included).
The main kids club, Oceaneer, is going to offer an incredibly fun-looking slide to enter the kids club from the Main Hall. Sadly, this is a kids-only entrance, but if your children liked the kids clubs before, they're likely to love them now.
Also within the Oceaneer Club will be Marvel Super Hero Academy, Rapunzel's Art Studio, Belle's Library and Anna and Elsa's Sommerhus. Additionally, there's a Disney Imagineering Lab where kids can design and virtually ride their own roller coasters and more.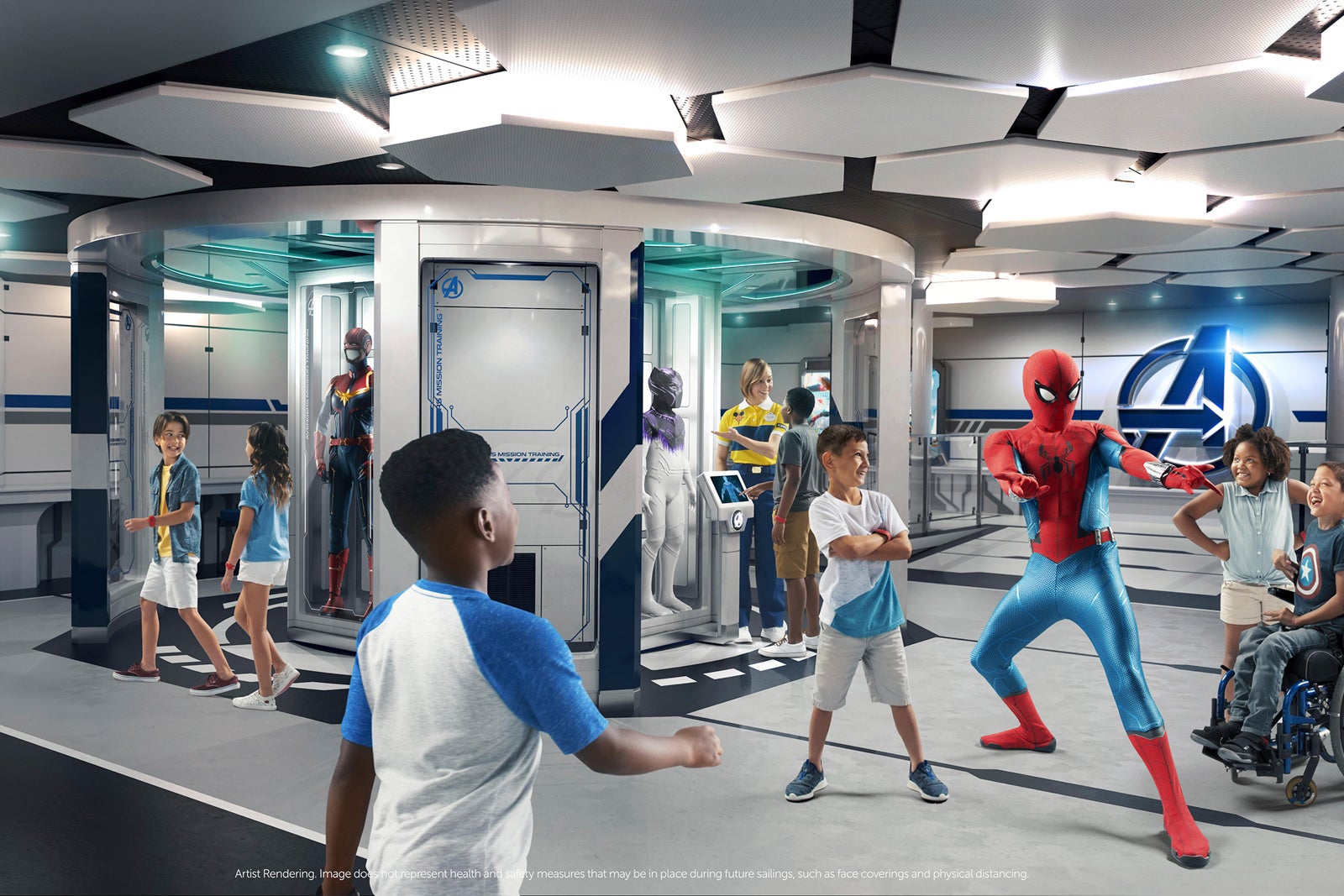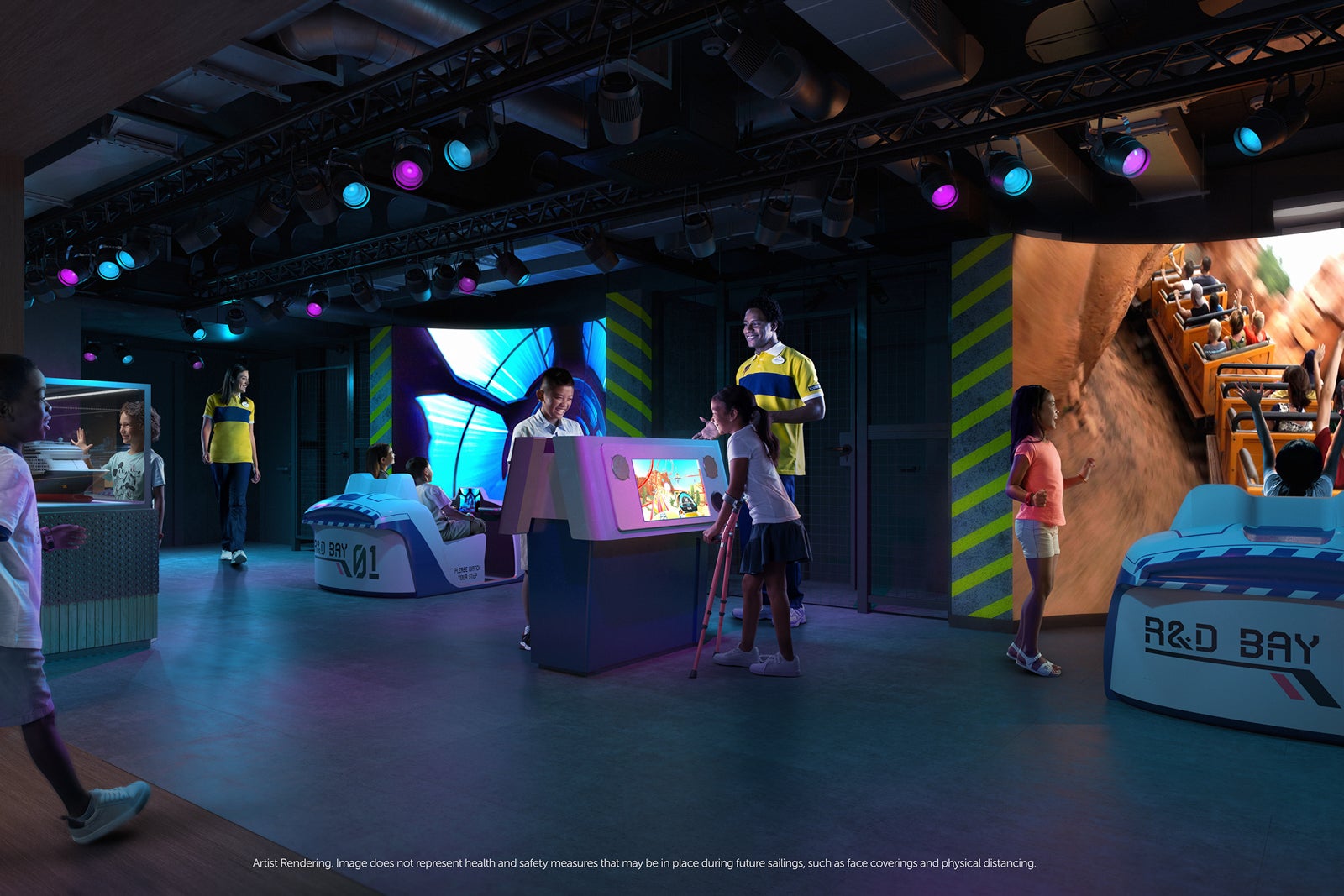 Not as much was said about the tween and teen clubs, but we do know that Edge will have a New York City-inspired loft hangout space with a faux-grass picnic area, photo walls and an entrance hidden beyond a framed piece of art.
Related: Best tips for sailing with the Disney Cruise Line
Bottom line
Bookings to sail on Disney Wish open on May 17, 2021, to Disney Vacation Club members, Adventures by Disney Insiders, Disney Castaway Cay members and other select Disney guests. General bookings will open 10 days later on May 27, 2021.
The first sailing on June 9, 2022, will be a special five-night sailing to the Bahamas, but most Disney Wish sailings in its first season will be three- to four-night adventures to the Bahamas featuring a stop at Disney's Castaway Cay.
On June 14, 2022, Disney Vacation Club will host a special three-night, members-only cruise to Castaway Cay.
I expect the competition for reservations on Disney Wish sailings will be fierce. That's because, in addition to pent-up demand for cruising in general, this new ship has the potential to be as enchanting as its name. (In other words, get a big coffee and get your best credit card for booking a cruise ready when reservations open.)
From what we've (virtually) seen, Disney Wish retains the best elements of the first four Disney ships but promises to take things to a whole new level as opposed to just replicating what Disney's done before. As Walt Disney himself once said, "We don't look backwards for very long. We keep moving forward, opening up new doors and doing new things …"
And when Disney Wish first opens its doors to guests to enter its Grand Atrium next summer, it should indeed be a big step forward for the Disney Cruise Line. I know my family can't wait to step aboard.
Feature image courtesy of Disney.
5 things we can't wait to try on Disney's brand new cruise ship