5 Ways To Keep Women In Tech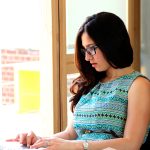 The proportion of women in tech remains far too low, despite concerted efforts to rectify things.  Indeed, recent data suggest that the proportion of female computer science graduates is actually going down.  It's a problem tackled in a new report from Accenture and Girls Who Code.
"Women have almost caught up to men in the fields of technology, engineering and mathematics, right? You might assume so—but they have actually fallen further behind at the very moment when tech roles are surging and vital to the U.S. economy and its continued leadership around the globe. Unbelievably, the proportion of women to men in tech roles has declined over the past 35 years," the report says. "And half of young women who go into tech drop out by the age of 35."
The authors argue that this regression is largely due to the poor culture in many tech workplaces that aren't inclusive enough to be attractive and supportive of female workers.
Lost potential
The report suggests this is a huge amount of lost potential that the sector can ill afford at a time when skills shortages threaten to undermine attempts at digital transformation.  The authors argue that the one thing that might improve matters more than anything else is an inclusive workplace culture.
They suggest that women thrive in environments where they feel safe and empowered to be as creative as possible.  Indeed, Accenture found that when such cultures existed, women were much more likely to prosper.  In cultures where discrimination was more prevalent, women would advance to managerial roles just 28% of the time, versus 40% for men.
What's more, this is especially so for women of color and for lesbian, bisexual, and transgender women, who so often face even more substantial barriers in the tech sector.  For instance, while an inclusive culture helps all women advance to managerial positions by the age of 30 by 61%, this grows to 77% for women of color.
What an inclusive culture looks like
The report goes on to provide some insight into just what an inclusive culture might look like.  The authors spoke to around 70,000 tech workers from around the world to come up with 5 key cultural practices to build a culture of true inclusivity.
Supporting both parents to be parents – The first place to look is the maternity and paternity policies an organization has in place.  The authors argue that such policies need to be adopted by most parents to be effective, with men and women alike taking their leave.  As with so many policies, for this to be effective, it's vital that senior managers lead by example.
Have measurable targets – Having female role models in senior positions is clearly beneficial in a number of ways, and the authors urge companies to have measurable targets for improving the diversity of their leadership team.
Provide support programs – All employees want support in the workplace, but this is especially important for women in tech.  The provision of mentors, sponsors, and employee resource networks can help to level the playing field somewhat.
Making a difference – The report suggests that many women enter the tech world with a clear desire to make a positive difference to the world.  As such, workplace cultures that embrace this desire for purpose and enable creativity to flourish can go a long way towards attracting and retaining the best talent.
Meet on their terms – Lastly, if support structures are to be put in place, it's important that they are done in ways that suit professional women.  For instance, the authors argue that while networking is often offered by organizations, it's offered in ways and at times that are inconvenient for some women.  By making these opportunities more convenient, such as ensuring they're during office hours, organizations can better support women.
"A widespread cultural reset would help us to drive much-needed change: Our analysis suggests that if every company scored high on measures of an inclusive culture—specifically, if they were on par with those in the top 20% of our study—the annual attrition rate of women in tech could drop by up to 70%," the report concludes.
Talent is needed in the tech industry now more than ever, and it can ill afford discouraging half of the population from applying its talent in the sector.  Indeed, there is a reasonable argument to suggest that some of the worst excesses of the sector could be avoided if the workplaces were more diverse.
Indeed, in Trampled By Unicorns, Maelle Gavet highlights that across Google, Apple, Facebook, and Amazon, just 1 in 4 engineers are female, with the "bro culture often too rife with harassment, misogyny, or just plain segregation."
"Society wants us to be working on things with societal value, and when we're competing for work at the moment, our CSR policies are a key part of those tenders," Shiela Flavell CBE, Chief Operating Officer at FDM Group says "And this is how it should be, as society is demanding organizations act in an ethical and sustainable way that ensures companies are a beneficial part of the community."
With the number of female computer science graduates declining from a peak of 37% in 1984 to around 18% today, there is clear evidence that efforts to diversify the tech workforce are failing.  It's a situation that the sector cannot allow to continue if it is to truly reflect the world it aims to serve.  The recommendations outlined in the Accenture report may go some way to redressing that gap.
The post
5 Ways To Keep Women In Tech
first appeared on
The Horizons Tracker
.
5 Ways To Keep Women In Tech