My Last Conversation With Archie Brennan
Archie Brennan and Elizabeth Buckley in front of her tapestry "Dialogues Through the Veil." photo credit: Lisa Lomauro
My last conversation with Archie Brennan took place at the opening reception for the  "Contemporary International Tapestry" exhibition, (January 11 – May 10, 2015) where he, as well as Susan Martin Maffei, and I had work on display at the Hunterdon Art Museum in Clinton, New Jersey. Despite the cold and snowy January afternoon, over 400 people filled the galleries. Toward the end of the afternoon, when many had left in order to get home before dark, Archie was slowing walking around the second floor gallery, looking at each tapestry on display, as was I.  He lingered in front of my tapestry, "Dialogues Through the Veil," reading the artist statement posted on the wall, and gazing at the tapestry.  As I approached him, he turned and told me how lovely it was, asked about the types of interlocks I used, did I weave from the back?  I pointed out where I had used double-weft interlock, and where I had sewn slits.  We began discussing the differences and merits between our two methods for designing and weaving tapestry (Archie from the front, me from the back in the Aubusson tradition). We talked of the discipline, the daily practice of showing up at the loom, Archie saying that if he does not weave each day, something feels not right about the world.
Archie Brennan and Elizabeth Buckley in front of her tapestry, "Dialogues Through the Veil." photo credit: Lisa Lomauro
Much of the conversation was without words.  Simply a mutual appreciation for the skill and mastery of the other, and of the tapestries that each has created. The understanding of what it takes to devote the whole of one's life to tapestry.  The sacrifices, the grit and courage to forge one's own way where there is no road, or even a trail. Proceeding forward, despite minimal income, and despite the cultural milieu of lack of awareness and pervasive under-valuing of these skills of the master-weaver hands honed over the decades. The deep love and devotion to the art form of hand-woven tapestry.
When masters die, the grief is not only for the loss of their vibrant presence in our lives, but also for the works they no longer will create, as well as their unique way of responding and being in world.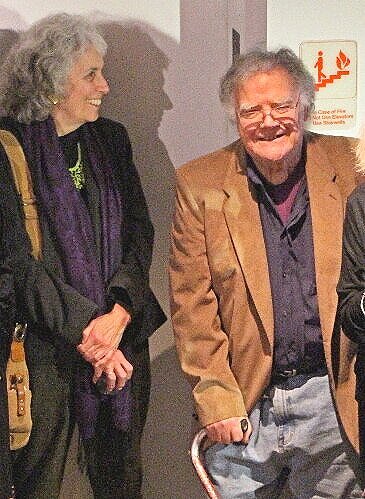 Susan Martin Maffei and Archie Brennan, January 2015 photo credit: Lisa Lomauro
May the journey ahead for you, Archie, be smooth and filled with Light.  Your legacy moves forward in the many hands weaving memories of you embedded in the threads forming tapestries at the loom.  
---
Artist Statement for the tapestry, "Dialogues Through the Veil."
The space between now and then Opens Like a window Into the moment, Inviting the presence of Mary, the poet, Ann, the peacemaker, And so many others, To leave traces Of their thoughts In these threads.
Currents of time and air Flow Into this veil of mist and memory; This waterfall of light On cottonwood leaves Beside my studio.
400 hours made visible. Like beach patterns Of ocean on sand. —©2010 Elizabeth J. Buckley
---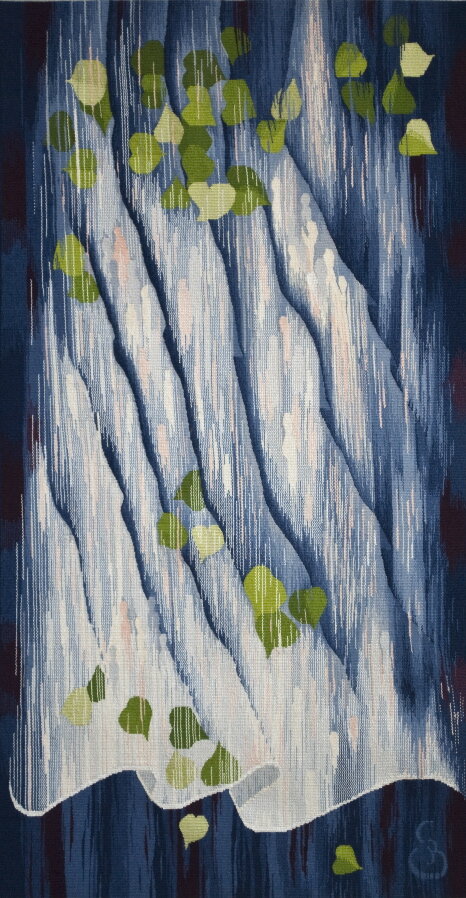 Dialogues Through the Veil, 48" x 25" ©2010 Elizabeth J. Buckley photo credit: Lany Eila
My Last Conversation With Archie Brennan