Bacon, Egg, and Potato Hash
With just a few ingredients, you can make this healthier Bacon, Egg, and Potato Hash on your stovetop in just about 30 minutes!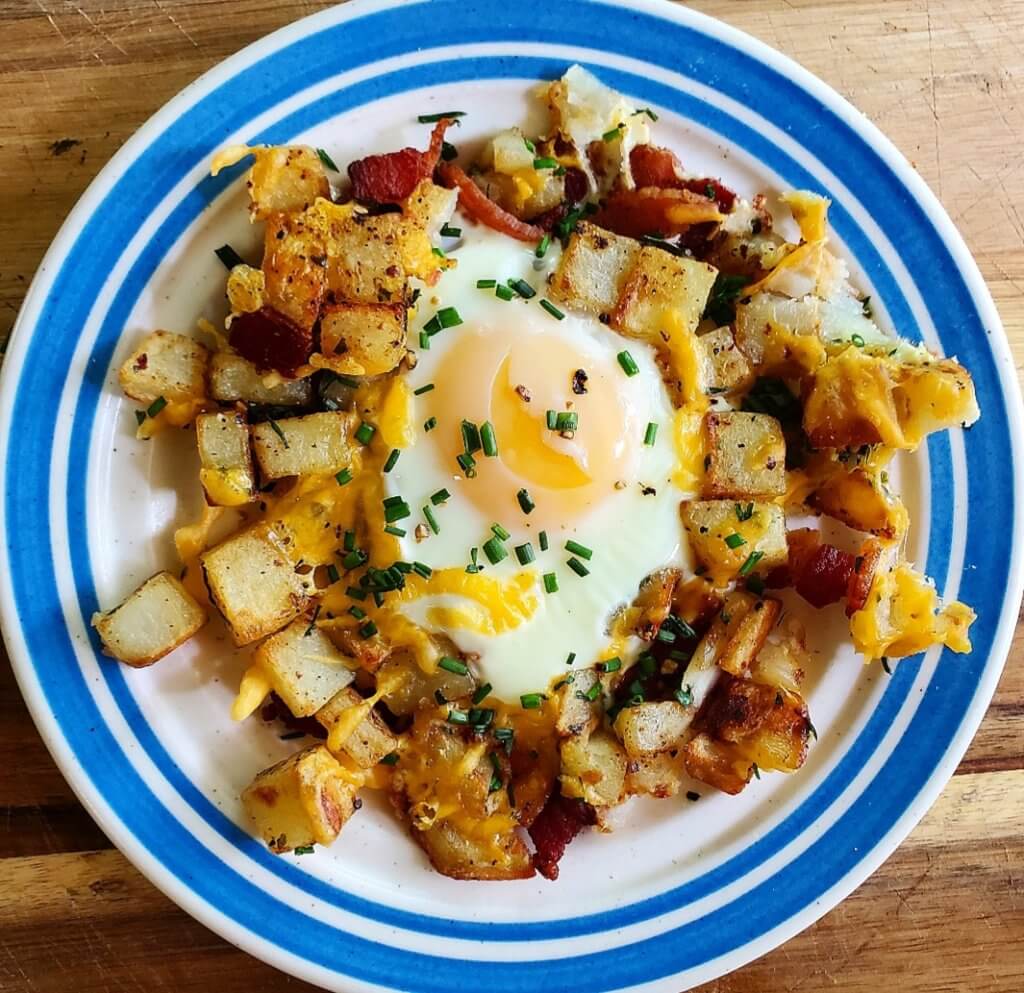 If you love an eggs, potato, and bacon combo like I do, then you are in for a real treat. This recipes is cooked in one skillet over one burner (or you could opt to put it in the broiler) and takes just about 30 minutes total. A perfect weekend brunch treat!
Don't sleep on this for weeknight meals, though. I love breakfast-for-dinner options. Since this dish cooks up so quickly, it's not overwhelming for a weeknight meal. Add some steamed veggies and you're good to go.
The recipe is truly so simple, too. This is all you need:
Potatoes
Eggs
Bacon
Reduced-fat cheddar cheese
Olive oil
Chives or green onions
Garlic powder, onion powder, salt, pepper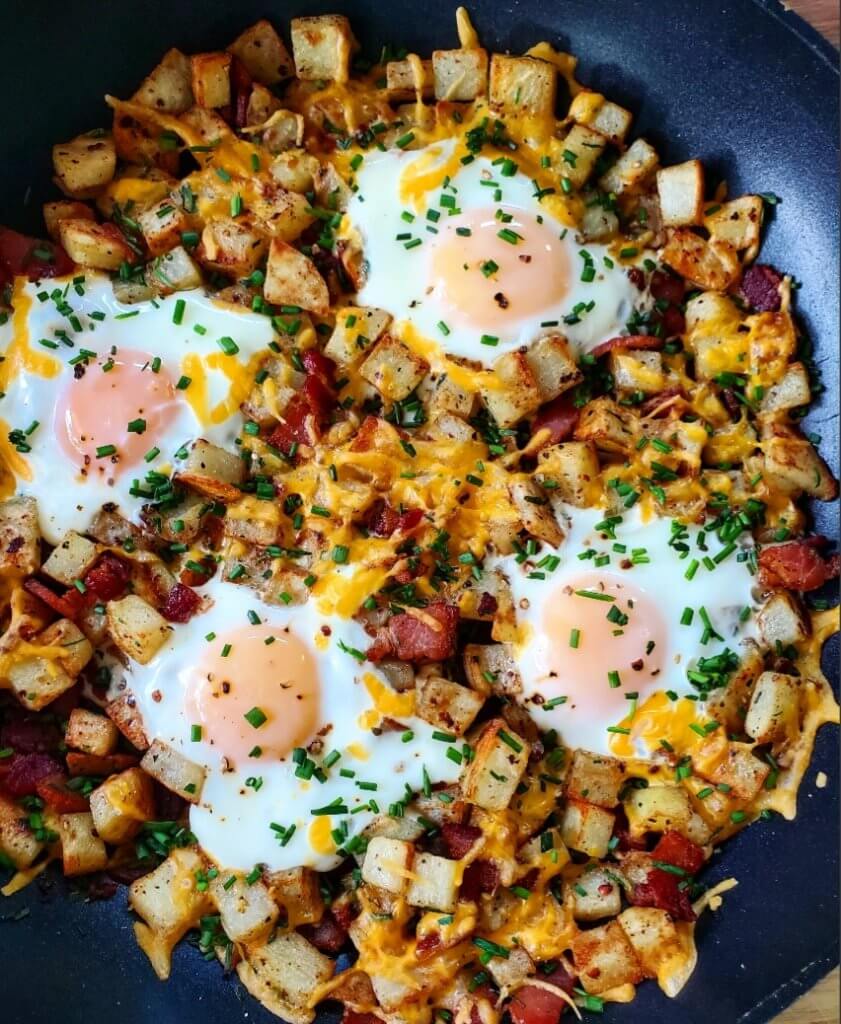 Trust me. I know this looks fancy and complicated, but it's not. You don't need years of culinary practice to pull this off!
How to make bacon, egg, and potato hash
First, make sure you have a somewhat large, non-stick skillet. Around 12 inches should be perfect, but work with what you have.
Spray that skillet with cooking spray, then crispy up your bacon. Make sure you leave it just a little underdone because it will cook for a few minutes again later on. Remove the bacon from the skillet, drain it on a towel, then swipe off the skillet.
Return the same skillet to the stove over medium-high heat. Add in the olive oil and potatoes. Let the potatoes sit for a few minutes before stirring them around so that they form a brown crust. Continue to cook for about 10-15 minutes. They should look like this: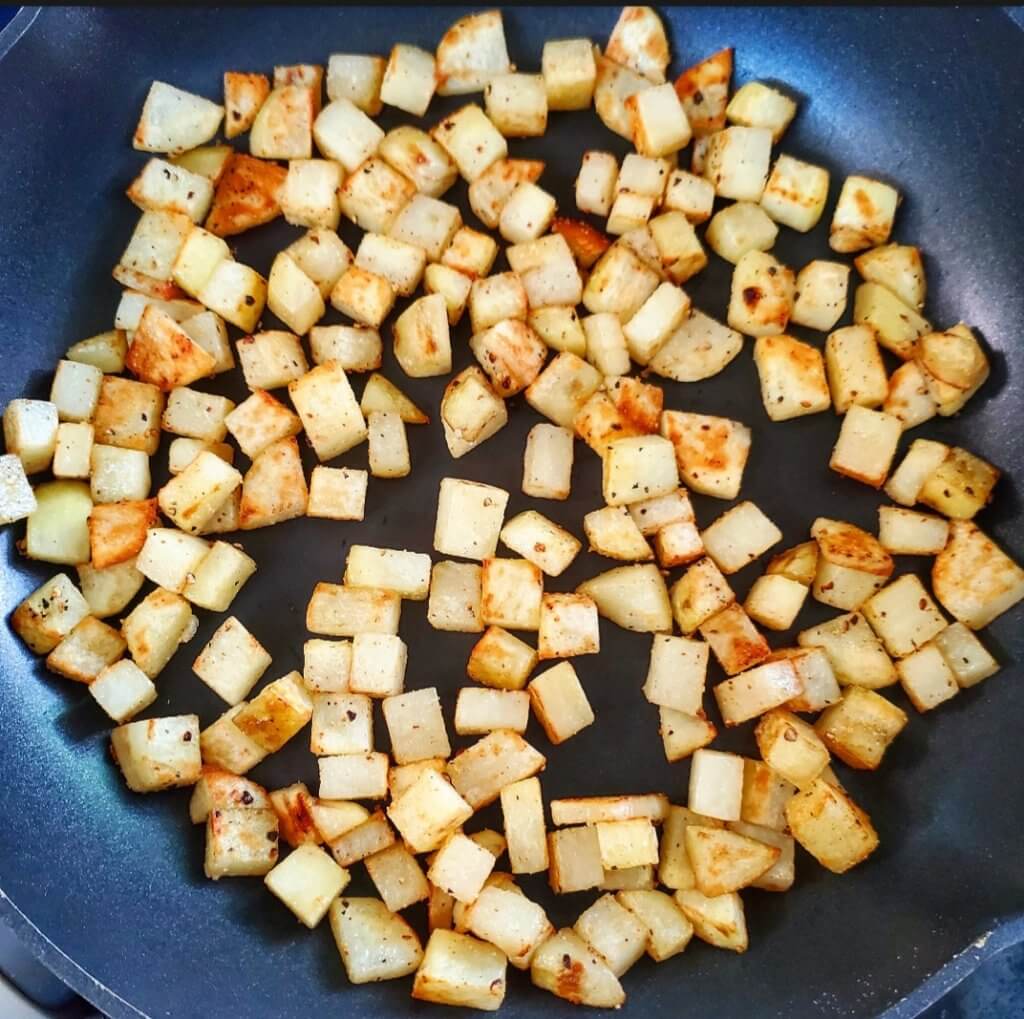 Now, add your bacon back in. Also mix in your green onions or chives, but save a little to sprinkle on top for garnish when everything is cooked.
Disperse evening among the potatoes, then make room for 4 holes, spaced evenly throughout eh potatoes and bacon mixture. It should look something like this: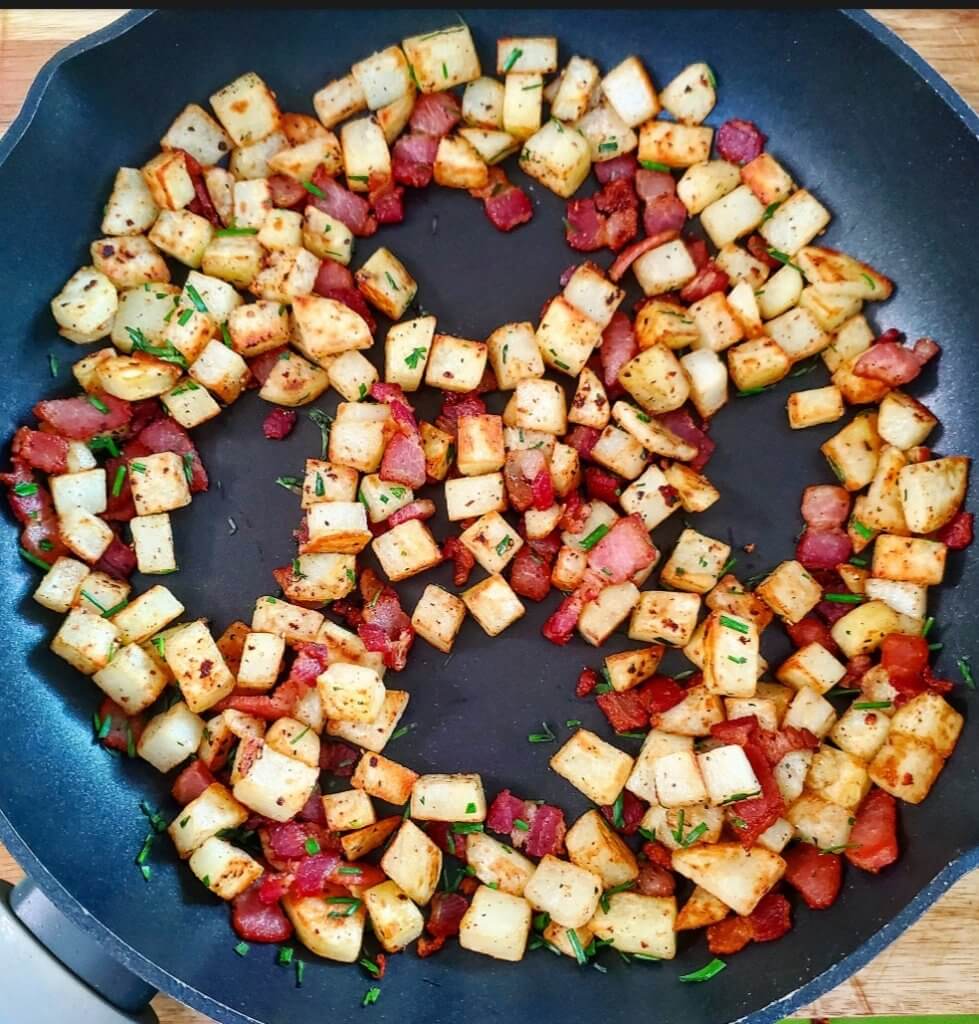 You're making essentially "egg pockets." This is where you'll drop in your cracked eggs, so make sure there is enough potato and egg between each pocket. You want to make sure that the eggs won't bleed into each other as they cook.
Come to think of it, even if you don't get the pockets perfect, it will all taste delicious. Just do your best!
Now, it's time to drop in the cracked eggs. It should look like this: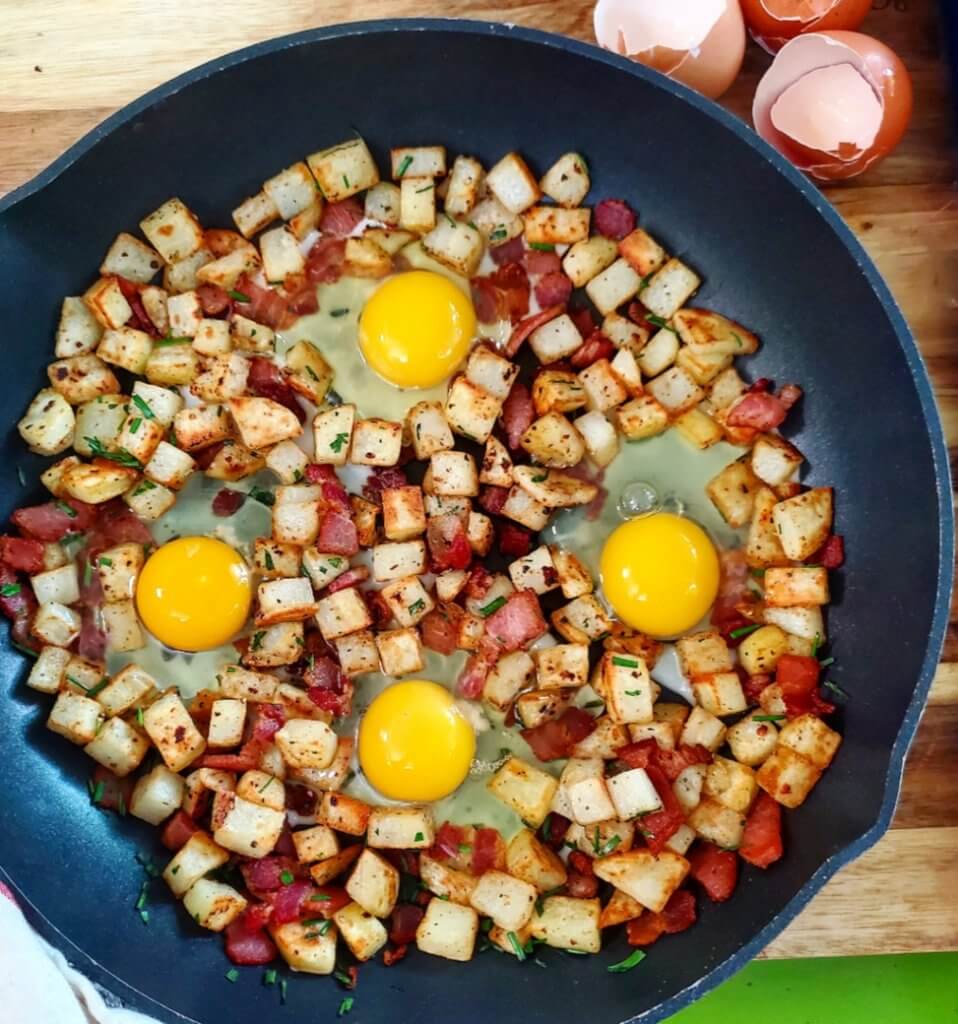 Now sprinkle the cheese around the eggs, covering the potato and bacon mixture. All you do after that is put the lid on the skillet and let everything cook for medium heat until the eggs are set to your liking. I tend to like a just-set egg, so it took me around 3 minutes covered.
If you like a runny egg, keep and eye on it and take it off just when the whites set but the yolk is still jiggly.
Now you're ready to serve! Cut into 4 equal portions and enjoy. Eat leftovers heated and wrapped in a tortilla for an easy breakfast burrito.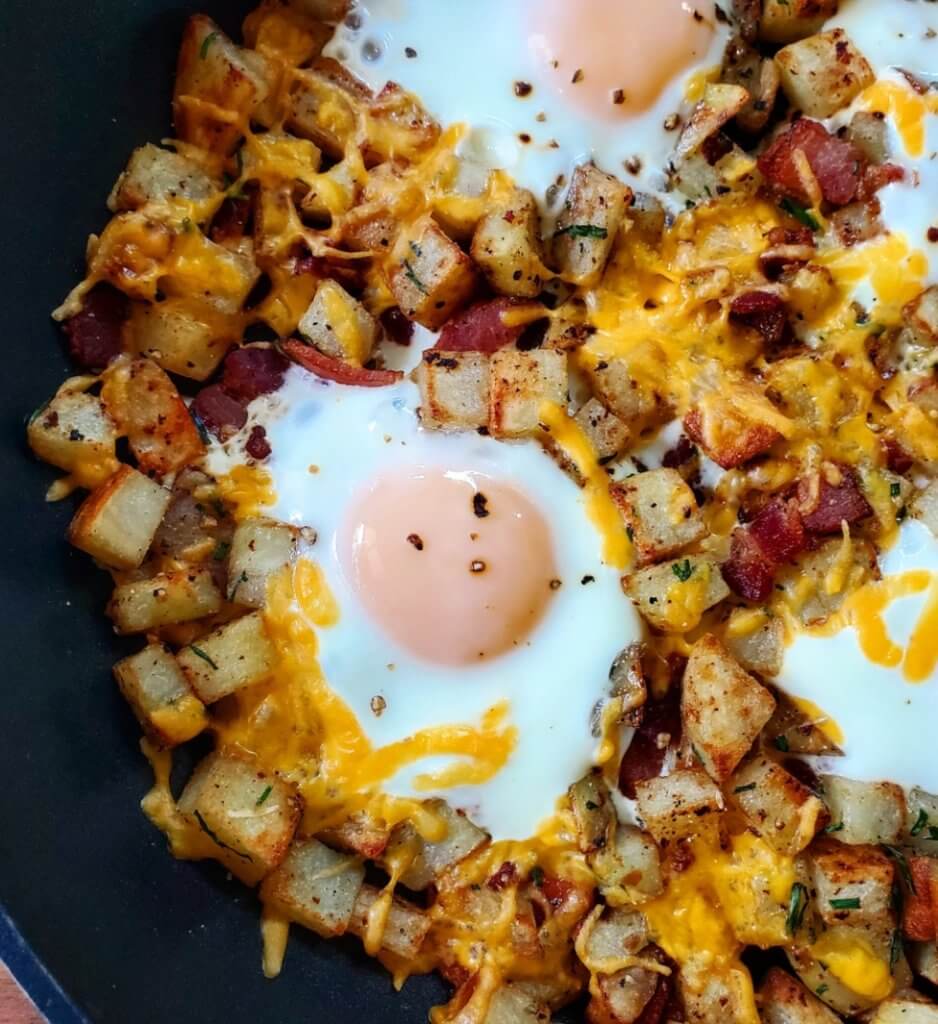 If you're looking for a sweeter take on breakfast, check out my Cinnamon Roll Baked Donuts or Apple Spice Baked Donuts!
I'd love to hear from you if you make this recipe! It makes my day when you share your pics on Instagram and tag me (@litecravings). Don't forget to use #litecravingsrecipes to make sure I see it. If I don't get a chance to scroll through my tags quickly enough, I won't see your post. I always make a point to look through the hashtags, though, so I'll see it there.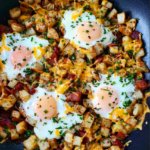 Print
Bacon, Egg, and Potato Hash
With just a few ingredients, you can make this healthier Bacon, Egg, and Potato Hash on your stovetop in just about 30 minutes!
Course
Breakfast, Main Course
Ingredients
6

slices

center cut bacon, diced

2

tsp

olive oil

1 1/2

lbs

russet potatoes, skinned and diced small (about 3/4 inch chunks)

1/2

tsp

kosher salt

1/2

tsp

garlic powder

1/2

tsp

onion powder

1/3

cup

minced chives or chopped green onions

4

large

eggs

1/4

cup

shredded, reduced-fat sharp cheddar

black pepper, to taste
Instructions
In a medium skillet, cook the bacon over medium-high heat until almost done. Remove from skillet and drain on paper towels.

Drain and wipe the bacon grease from the skillet. Return to heat and add in olive oil. Once oil is hot, add potatoes in a single layer. Let them cook without mixing for a few minutes, then flip.

Continue to cook potatoes until browned and nearly cooked through, about 10-15 minutes total, depending on how small you cut your potatoes. In the final minute or so of cooking, sprinkles with garlic powder, onion powder, and salt. Mix together.

Mix in chives (or green onions) and bacon. Make sure all ingredients are are evenly dispersed throughout the potatoes.

Move the mixture so there are 4 pockets or nests for the eggs. (See pictures above.)

Carefully crack each egg into the pockets, then cover the skillet and cook until eggs are done to your liking, checking often. For a runny egg, cook until the whites are set but the yolk is still jiggly. For a more set egg, cook until egg and yolk are no longer jiggly.

Finish with fresh ground pepper. Add extra salt, as needed. Cut into 4 portions and serve.
Notes
WW Green SmartPoints: 7 for 1/4 skillet with egg
WW Blue SmartPoints: 5 for 1/4 skillet with egg
WW Purple SmartPoints: 3 for 1/4 skillet with egg
Nutrition
Calories:
264
kcal
|
Carbohydrates:
30
g
|
Protein:
14
g
|
Fat:
11
g
|
Saturated Fat:
3
g
|
Fiber:
2
g
|
Sugar:
1
g
The post Bacon, Egg, and Potato Hash appeared first on Lite Cravings.
Bacon, Egg, and Potato Hash