Bun Cha Recipe
If you love Vietnamese food, you have to try this bun cha recipe! Made by serving grilled pork meatballs over rice noodles with fresh herbs and veggies and a dipping sauce, it's a Hanoi classic that's soon to be a favorite!
Hello hello again! Long time no see!
If you've been keeping up on Instagram, you know it's been a couple of chaotic months! A few weeks ago, my husband and I moved to Boston from Columbia, SC, saying goodbye to the place we've called home for over 10 years. We've been wanting to live in the northeast for quite some time now, so when Scott's company presented the opportunity for us to move and be closer to his clients, we jumped on it. Still, it was incredibly hard to say goodbye to a community we felt so connected to, friends who have become family, and to our actual family in Columbia, but we knew it was time for a new adventure. We are hoping to find the same kind of relationships in our new city, and so grateful to already have family and quite a few friends already here!
It's only been a few weeks, but so far we are loving our new city! We feel incredibly lucky that in this bonkers housing market, we found a home we love - an 1890 Queen Anne Victorian with just enough projects and updating to be fun rather than overwhelming. Although I will say, the current kitchen situation is…not great! And since lumber prices are so high right now, I'm going to have to make due with a 40 year old oven and a refrigerator that's in the mudroom for the time being!
One of the things we're loving most about Boston is our new neighborhood, an area newly designated as Boston's Little Saigon. There's at least 30 different Vietnamese restaurants within walking distance, and we've made it our mission to try a couple new ones every week. When Scott and I went to Vietnam in 2015, we fell in love with the cuisine, with its fresh herbs, pungent sweet and sour dipping sauces, and ALL the noodles. Some of the highlights so far were salt and pepper fried softshell crab, served with rice paper rolls, veggies and herbs for making little rolls, fried tofu skin, and our new favorite lunch spot with the best banh mi sandwiches and a smoothie bar for fresh passion fruit smoothies!
For my first blog post back, I wanted to take advantage of our newfound access to all the amazing Vietnamese grocery stores in our neighborhood and make this bun cha recipe.
Bun cha is a dish that originated in Hanoi, made by serving grilled marinated pork (or pork meatballs, as I did in this recipe) over rice noodles with herbs, fresh or pickled veggies, and a dipping sauce of fish sauce, lime juice, and sugar, seasoned with garlic and chili. When we visited Vietnam in 2015, we had bun cha at the same restaurant where Anthony Bourdain (RIP) and Obama ate together in 2016. We like to think of ourselves as trendsetters! It was Scott's favorite meal of our trip, and easily in my top five (I'm way too indecisive to pick one favorite!). The bun cha we had was served with a big bowl of chilies, and the pieces of pork and pork meatballs were served in the most amazing meaty broth. And seriously, get a load of that massive bowl of rice noodles and herbs!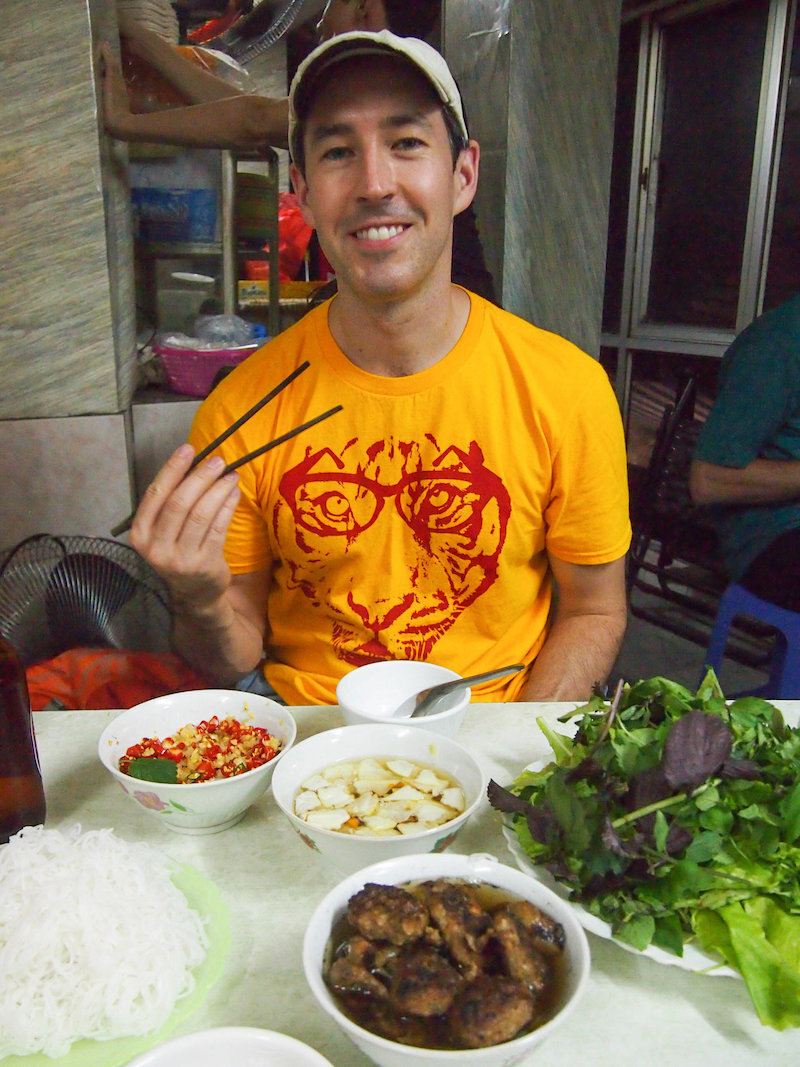 Bun cha is a perfect encapsulation of Vietnamese food, with it's balance of sweet and spicy, fresh and umami, with citrus and pungent fish sauce. And of course, rice noodles. Lots and lots of rice noodles.
This bun cha recipe is simplified a bit from what we ate in Vietnam. I used my favorite Vietnamese cookbook, Pleausres of the Vietnamese Table for inspiration. I skipped the broth and instead served the bun cha noodle bowl style. I also used fresh cucumber and carrot instead of pickled veggies, but feel free to use pickled daikon and carrot.
How to Make Vietnamese Meatballs For This Bun Cha Recipe
To make the Vietnamese meatballs for this bun cha recipe, I used ground pork for a base. If you like, you can use chicken instead, but pork is the traditional choice. To season the meatballs with lots of yummy Vietnamese flavors, mix in fish sauce, brown sugar, cilantro, scallions, and garlic. I've seen lots of variations with lemongrass too! After letting the flavors all mix together, form golf ball sized meatballs and grill.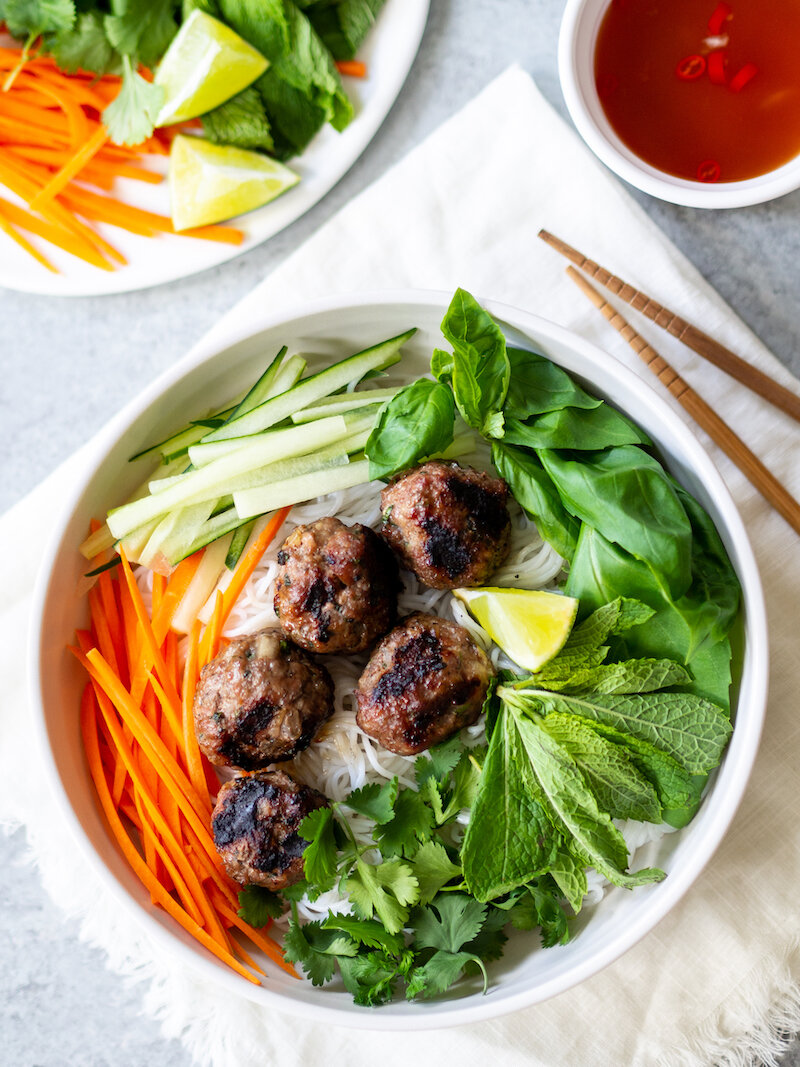 Sides for This Bun Cha Recipe
There are a few sides that are essential for this bun cha recipe. The first is a big 'ole bowl of rice noodles. Look for thin rice noodles, labelled thin rice noodles or rice vermicelli.
The next is a plate of fresh herbs. I used basil, mint, and cilantro, but for a more authentic bun cha, use Thai basil, perilla leaves, bean sprouts, or rau. You can also include fresh lettuce leaves too.
Last, but certainly not least, is the dipping sauce, nuoc cham. The sauce starts with a paste of garlic, Thai chiles and sugar. Add warm water to dissolve the sugar, then lime juice and fish sauce. If you've never used fish sauce before, it's a must have for Vietnamese cooking. It's a briny, umami sauce that's made just like it sounds, by fermenting fish, specifically anchovies, anywhere from a few months to years. I was a bit overwhelmed at our Vietnamese market by all the brands, so I went with the bottle that had a creepy looking baby wearing lipstick on it, because why not. But since then I've heard Three Crabs and Red Boat are the two best.
How to Serve This Bun Cha Recipe
I served this bun cha recipe noodle bowl style, but feel free to let everyone make their own bowls by serving the rice noodles, meatballs, veggies and herbs, and dipping sauce in separate bowls and platters for everyone to assemble. Either pour some dipping sauce over the top, or give each person an individual bowl for dipping.
P.S. On the business front, I am currently seeing clients virtually, with plans to eventually open up a Boston office. Kate is still seeing clients in Columbia out of the Calhoun St. office, if you're a Columbia local and would like to see someone in person.
If you like this bun cha recipe, follow my pinterest board for Asian recipes for more inspiration.
This bun cha recipe was originally posted in April 2017. Recipe, images and text have been updated to give you the best possible content.
---
Bun Cha Recipe
Serves 4ish
Ingredients
Meatballs
1 lb ground pork

2 garlic cloves, minced

2 scallions, chopped

2 tablespoons chopped cilantro

1 tablespoon brown sugar

1 tablespoon fish sauce

1/2 teaspoon salt

1/4 teaspoon pepper
Dipping sauce (nuoc cham):
3 Thai bird chiles (or swap 1 serrano), 2 stemmed and seeded, 1 thinly sliced for garnish

1 garlic clove

3 tablespoons sugar

2/3 cup warm water

5 tablespoons fish sauce

1 1/2 tablespoons lime juice
For serving:
8 ounces rice vermicelli noodles

Julienne cut cucumber

Julienne cut carrot

Fresh mint leaves

Fresh basil leaves

Fresh cilantro leaves
Instructions:
First, arrange the herbs and vegetables on a platter for serving. Cover and refrigerate until ready to use.

Next, in a large bowl, mix together all the ingredients to make the meatballs. Cover and refrigerate 30 minutes to allow the flavors to meld together.

Meanwhile, make the nuac cham dipping sauce. Using a mortar and pestle, mash together 2 seeded chiles, garlic, and sugar to make a paste. Scrape the paste into a bowl, then add warm water, stirring until the sugar is dissolved. When the sugar is dissolved, stir in the fish sauce, lime juice, and sliced chili. Set aside until ready to serve.

Next, cook the rice noodles according to package instructions, drain and set aside until ready to use. Before serving, if the noodles are getting stuck together, give them a quick rinse in cool water to loosen.

When ready to cook the meatballs, heat the grill on medium-high heat. Form the pork mixture into 16-18 golf ball sized balls and grill 3 minutes per side until grill marked and cooked through. Arrange the meatballs on a platter for serving.

Serve the platter of meatballs with rice noodles, the herbs and veggies, and dipping sauce for each person to create their own bun cha bowls.
---
If you like this bun cha recipe, you might also like: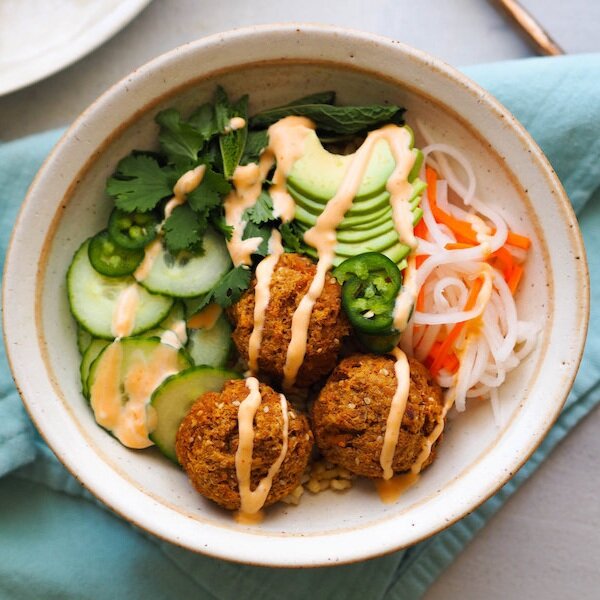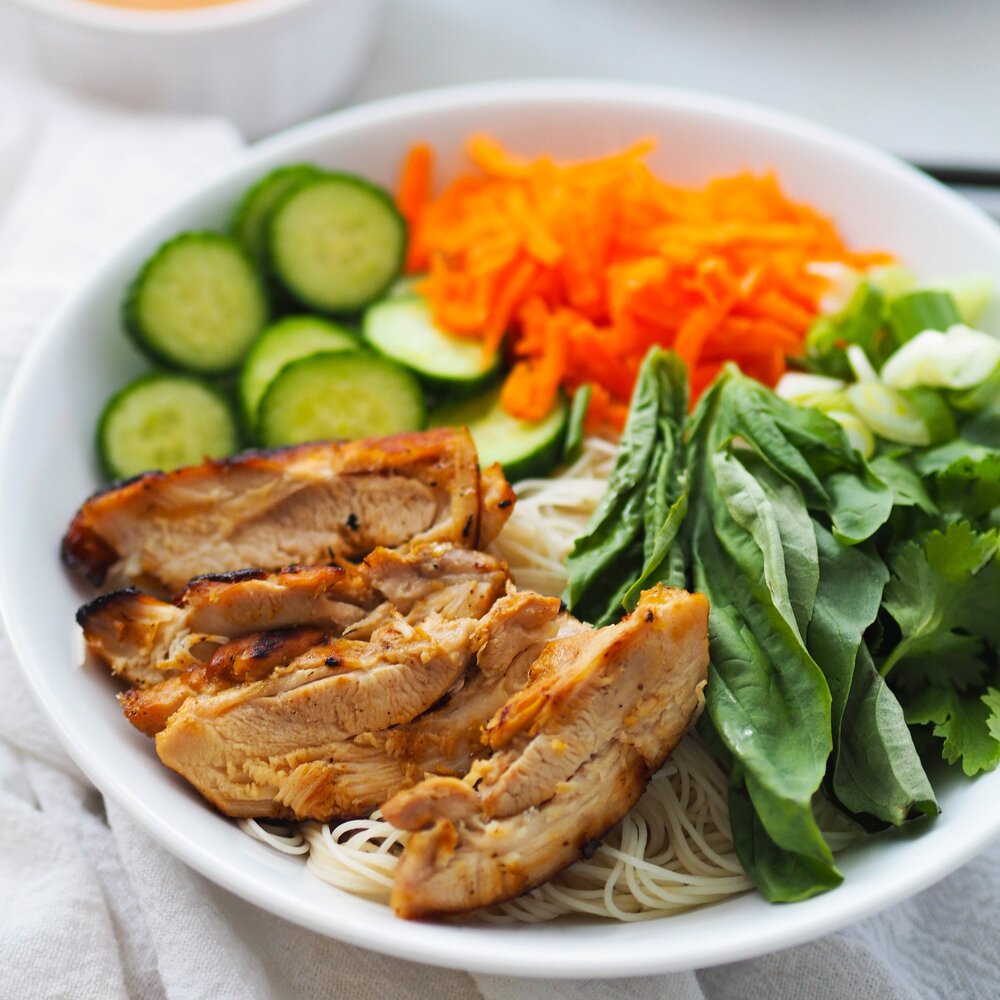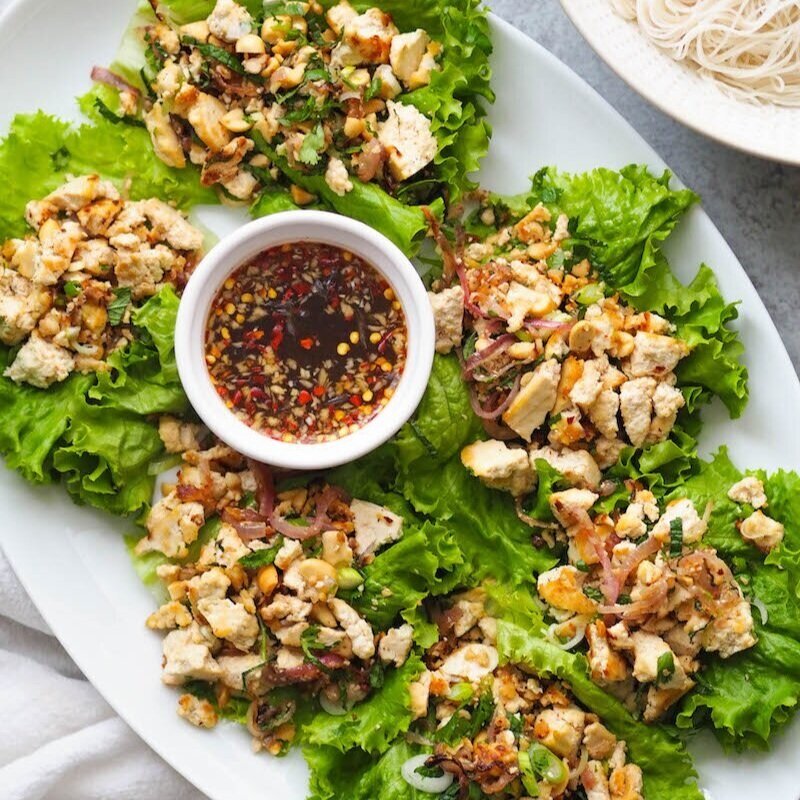 ---
---
Bun Cha Recipe