Easy Yellow Instant Pot Dal Recipe
This easy yellow Instant Pot Dal recipe is packed full of flavor and is so good for you too! It's the perfect dal recipe that is ready in less than 30 minutes!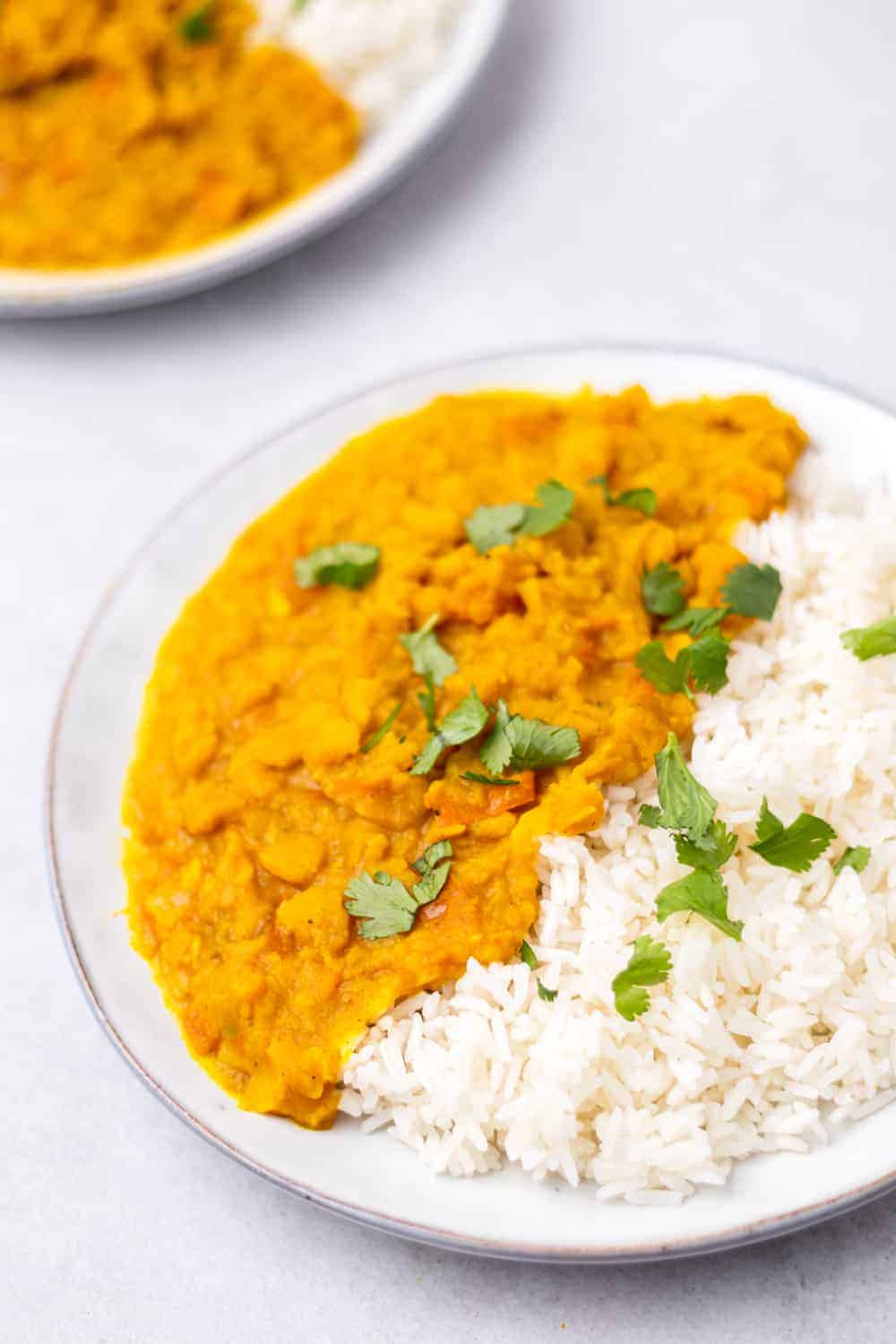 Happy New Year! My hunch is that a lot of you received (or maybe gifted yourselves?) an Instant Pot for the holidays. My mother-in-law got hers this year and even though I've been cooking with my Instant Pot for quite a few years now, I don't think it's popularity is going away anytime soon. 
Popping in today to share with you this quick and easy instant pot dal recipe. If you haven't had dal before, then you are going to love this comforting dish. It's one of my go-to recipes when I want something that is comforting, hearty and healthy. 
You all know that I love Indian inspired recipes and this one is a staple in my house. Even my two year old son loves it, chiles and all! I ate a lot of spicy food when I was pregnant with him, and it's funny to see now how much he isn't bothered by spicy food. 
Easy Yellow Instant Pot Dal Recipe
This recipe is adapted from a family recipe of BL's best friend. In fact, most of my Indian recipes are adaptations I've made from his family's recipes. They are so good! 
My goal is to make them as easy as possible for you to make, since I know not everyone has access to an international grocery store or Indian market near by. I am calling for pigeon peas for this recipe, but split yellow peas will also work in a pinch– you should be able to find those at most grocery stores!
If you can't find Garam Masala seasoning, then you can make your own mixture here.
How to make Instant Pot Dal?
Anything made in an Instant Pot is already easy in my book. This recipe for chana dal is no exception and is a simple, no-fuss dinner recipe that you can have on the table in under 30 minutes. The wonder of having a healthy, delicious dinner on the table in half an hour is a direct result of using an Instant Pot. 
Making this recipe is extremely simple. You start preparing the split pigeon peas by soaking them in cold water for a few minutes. While they are soaking, you can chop up the onions, garlic, ginger, tomatoes, and Serrano peppers. Having all the ingredients chopped before putting on your Instant Pot makes this recipe a breeze. 
After sautéing the onions, garlic, ginger, peppers, and chili, you add the chopped tomatoes and spices. This is where all the flavor comes from! 
Then come the soaked dal and water. Give everything a good mix and you can seal your Instant Pot. Set to Porridge mode and that's it! The rest of the recipe is completely hands-off and the Instant Pot does all the work for you. Serve with white rice and fresh cilantro to garnish.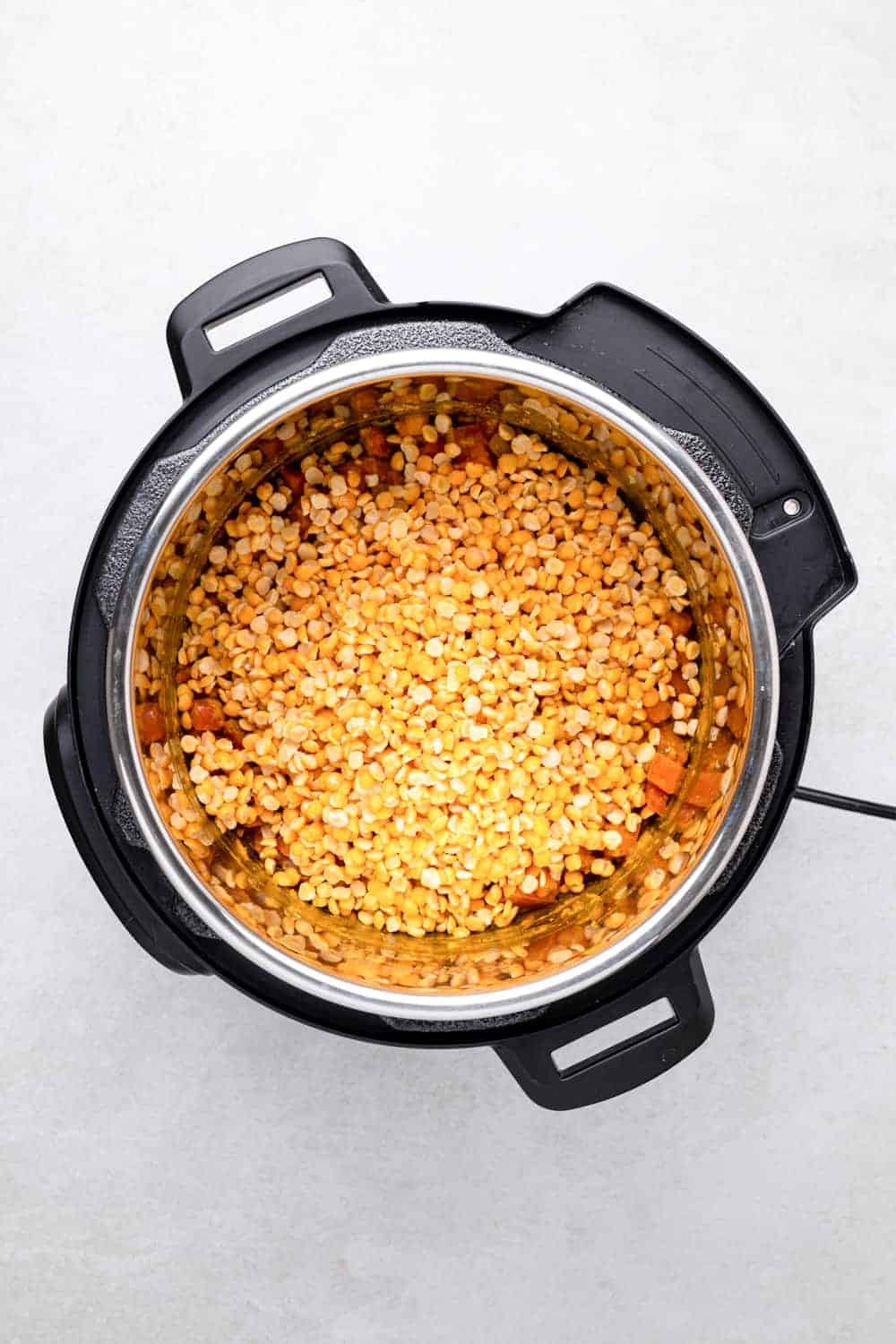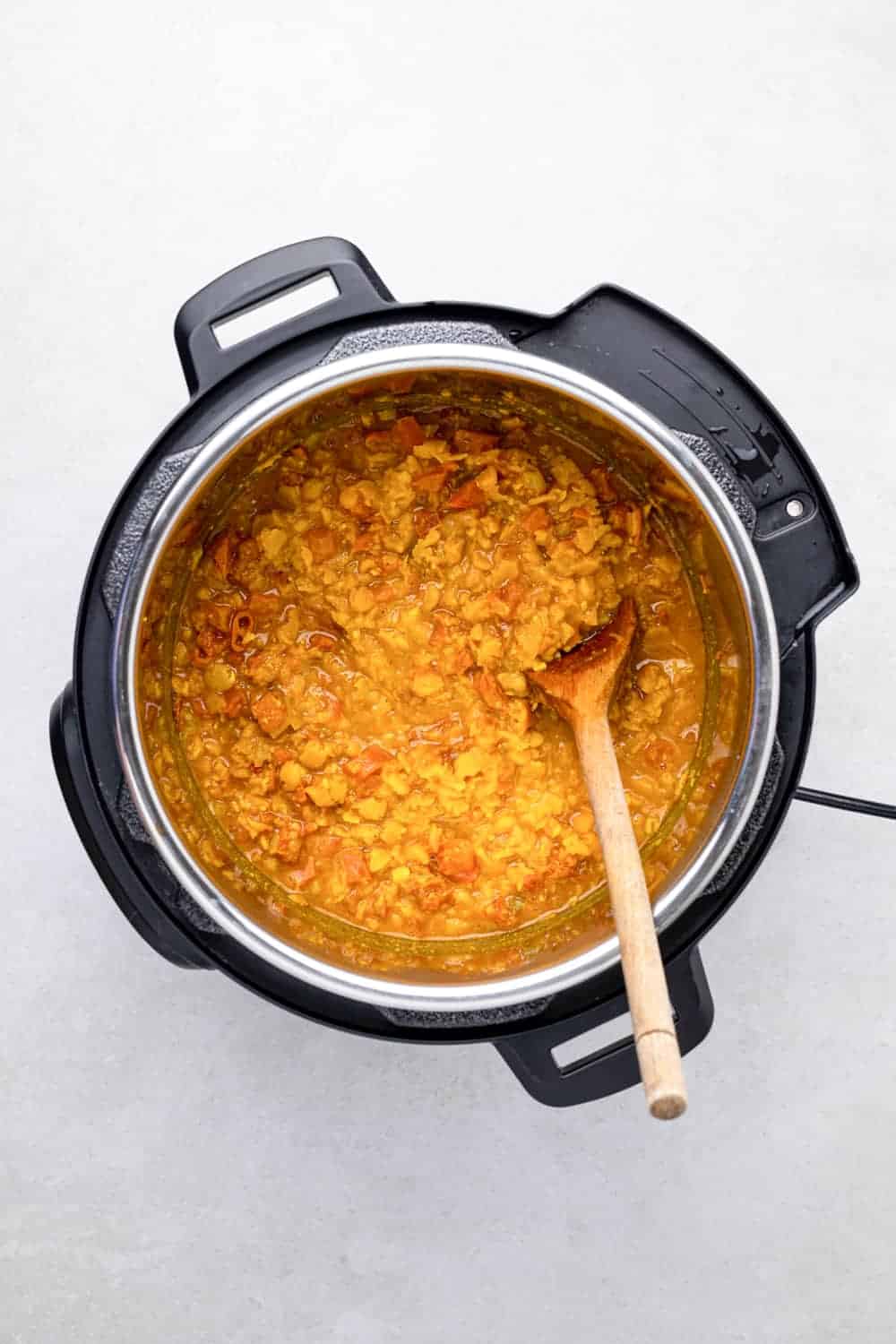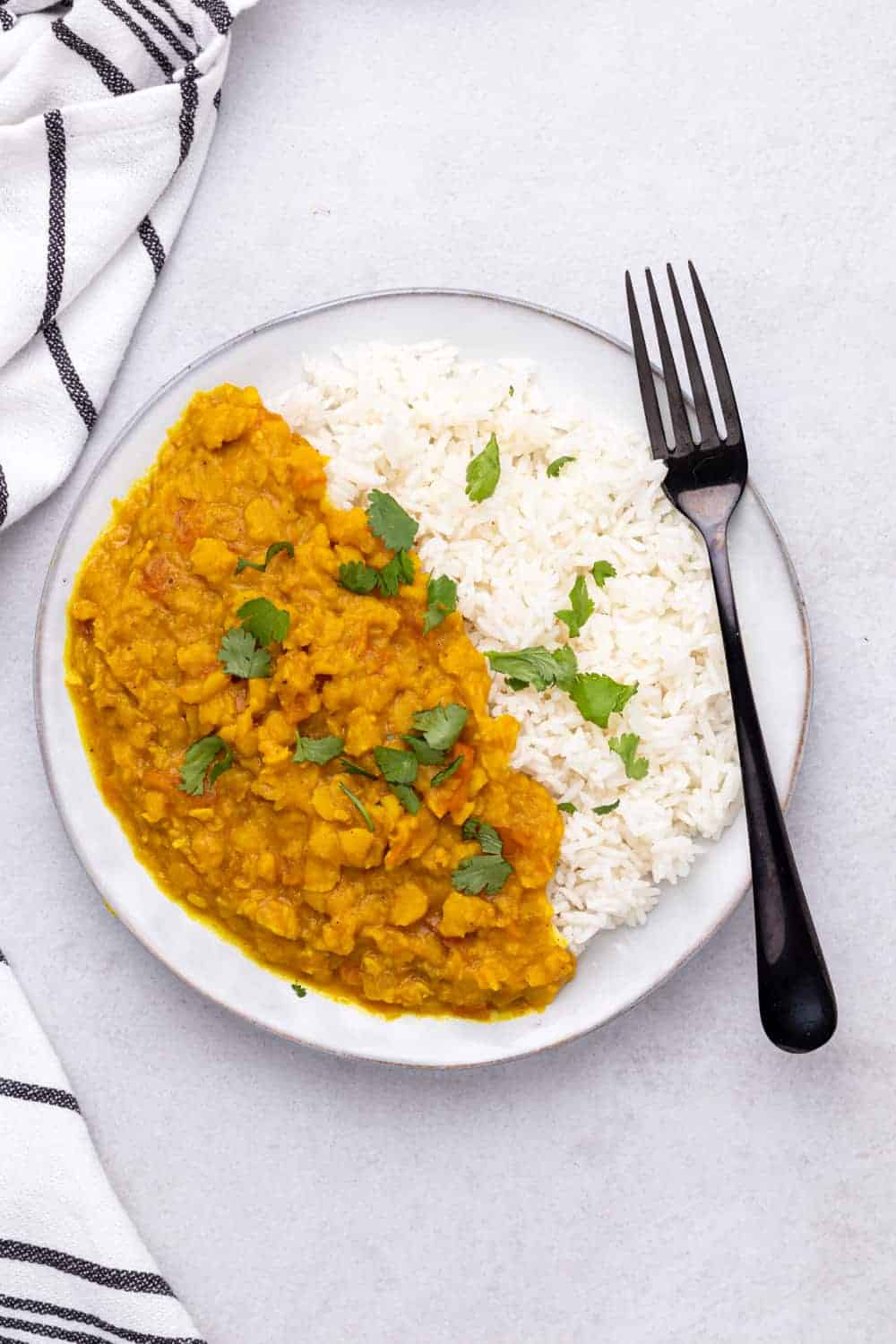 Here are some other great recipes you might like
Print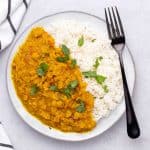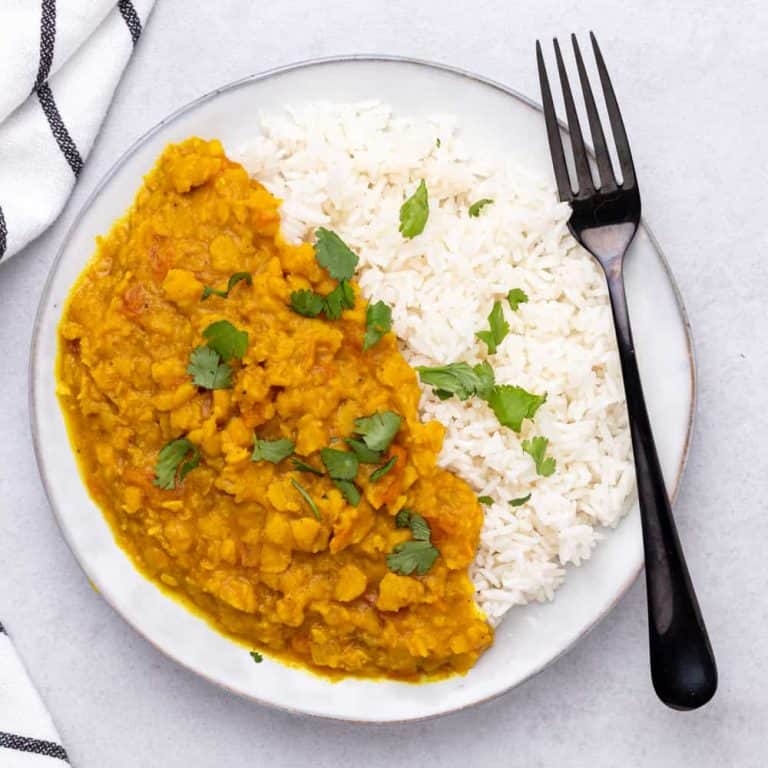 ---
Description
This easy Instant Pot Dal recipe is packed full of flavor and is so good for you too! It's the perfect dal recipe that is ready in less than 30 minutes!
---
Ingredients
2 cup

s Toor Dal (split yellow pigeon peas)

8

garlic cloves

2

inches fresh ginger

4

small tomatoes

1/2

large or

1

small onion

1

Seranno pepper (

2

for more added heat)

2

dried chilis

3 Tbsp

. vegetable oil
Juice of

1

small lemon

2 Tbsp

. Garam Masala

1 1/2 Tbsp

. tumeric

1 teaspoon

cumin

1 tsp

. sea salt

4 cup

s water
---
Instructions
Soak the split yellow pigeon peas in cold water for 20 minutes. Once they have soaked, drain, rinse and set aside.
Finely chop: Garlic, Ginger, Tomatoes, Onion, Serrano peppers and set aside.
Pour the vegetable oil into the Instant Pot.
Turn your Instant Pot's Sauté mode on and wait for a minute or two for it to heat up.
Add ginger and onion. Gently sauté until the onions are translucent for about 3 – 4 minutes. Add the chilis and Serrano peppers.
After onions are translucent and peppers have been added, let it cook for about 1 minute, stirring occasionally.
Add garlic (if you are using ginger paste instead of ginger root, add it here instead)
Squeeze juice of 1 small lemon in the mixture and mix in well.
Add spices to the Instant Pot: Garam Masala, Turmeric, Cumin, salt and mix well for a minute.
Add the chopped tomatoes and cook for another 2 minutes.
Add the split peas and 4 cups water. Close and seal your Instant Pot.
Set to Porridge Mode for 15 minutes. Once the time has elapsed, allow to naturally release for 5 minutes before opening.
Season to taste, adding more salt/pepper/spice as needed. We love this served over jasmine rice with chopped cilantro.
---
Notes
The pea/lentil to Water Ratio should be 1:2 for the best results.
Keywords: vegan chana dal, Instant Por dal, Instant pot recipe, Indian Instant Pot recipe
Easy Yellow Instant Pot Dal Recipe