Le Clarence, Paris
restaurant details: website , IG
I finally made it here and can genuinely say that I totally believe all the fanfare bandied around Christophe Pele's gem in the house of Haut Brion. His cuisine is one of modernity, subtlety and clarity. Decidedly French with flourishes of Asian influence in a non-intrusive way (quite unlike say Barbot's love of citrus-charged flavours), his lightness of touch across the dishes is inspired stuff and I find it extremely appealing.
During lunch there are three choices of carte blanche menus, starting at 90euroes for a short 3 courses and going all the up to 190euroes for the six course menu Le Clarence. In the evening, there is the epic 8 course which can be had for 320euroes. I went for the 6 courses plus the white truffle supplement (60euroes), and arranged a little wine flight comprised of Haut Brion's 2nd wines and their non first growth labels.
Every course here is delivered as sequential multi-plates a la Gagnaire, and as a surprise. In some regard, the spontaneity of Pele's creative cuisine feels much like a grand version of Parisian bistronomy, played out in a most opulent setting. I think it is every bit worthy of its two star rating and I would compare Pele's idea of a carte blanche to that of Passage 53. Both Chefs' frame their menus around a string of balanced and light dishes that flow from the start to finish.
What really makes Le Clarence rather unique of course are that you can opt for the HM and LMHB first wines – both the whites and the reds – by the glass, and indeed fashion a wine flight based around them. They would still cost a ton, at 130 – 200 euroes a glass, but not thousands if you were to pop the cork on 4 bottles of each of the white and red Graves.
Is it a candidate for 3 stars today? Probably not, as I feel that Pele is still tweaking his ideas about Cantonese flavours in his cuisine. Also, a couple of docked points for presenting tourists with a sub-standard white truffle that is at the moment (mid Nov 2019) showing very well near its peak season. However as it stands, his cuisine is very attractive, the cuisson is generally spot-on and I would love to revisit to see how he is progressing in due time.
Photos and some comments below.
1. Kadaif of langoustine, pig ears, citrus and green chilli cream.
A light and fresh start, and all about textures, crunch of the filo, the dense fleshiness of the langoustine, and the softened bite of the pigs ears, tied together with a light chilli sauce that's punches more with acidity than spice.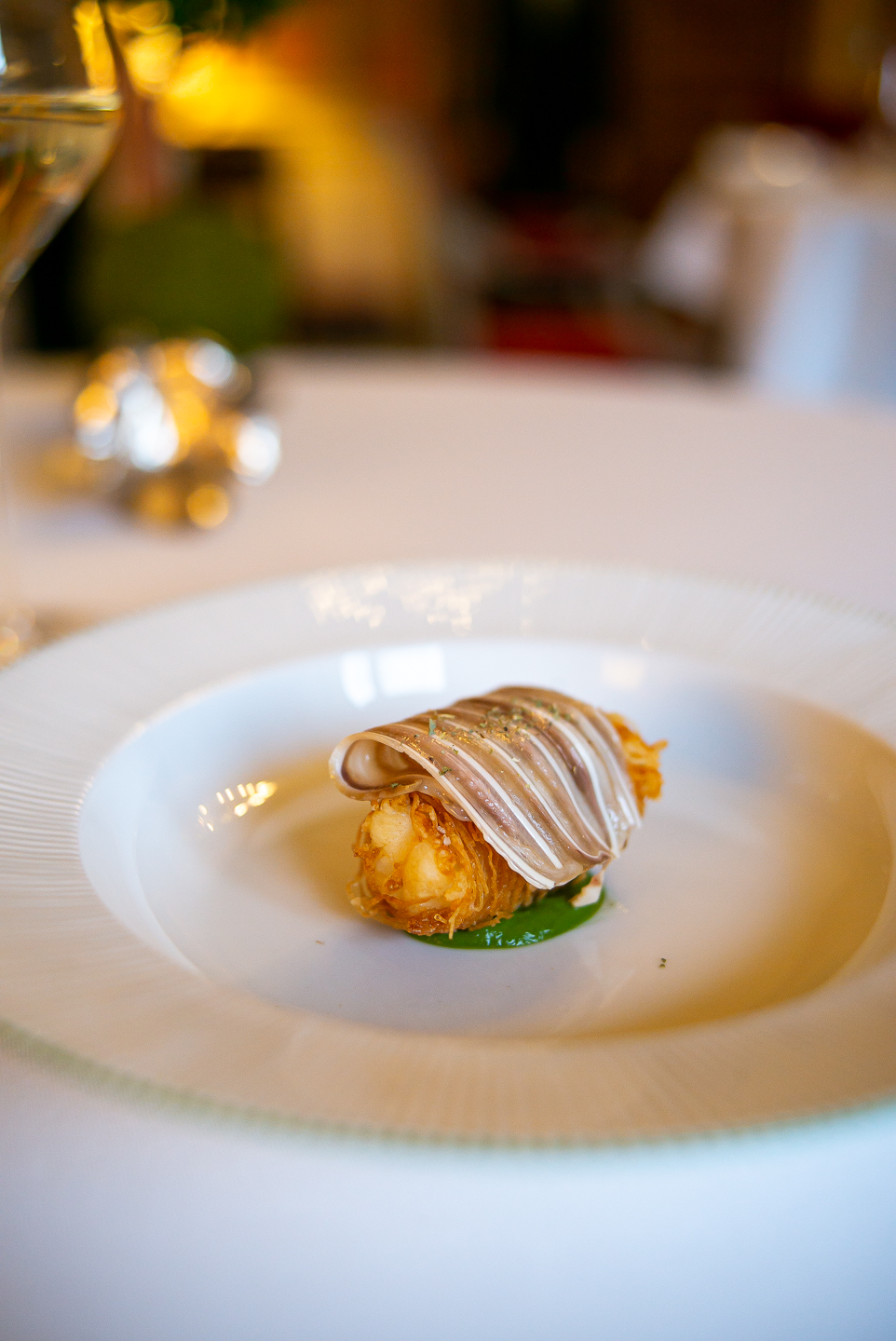 2. Scallops
Scallop part 1, lightly grilled, buffalo milk, cep, sorrel leaf and a sort of rolled sheet of bottarga.
Classic earth & sea combo, but the modern and light prep was to me a joy to eat. The scallop is mi-cuit, and the kiss of the plancha infusing it with an all encompassing smokiness, lifted by the lactic creaminess of the buffalo milk.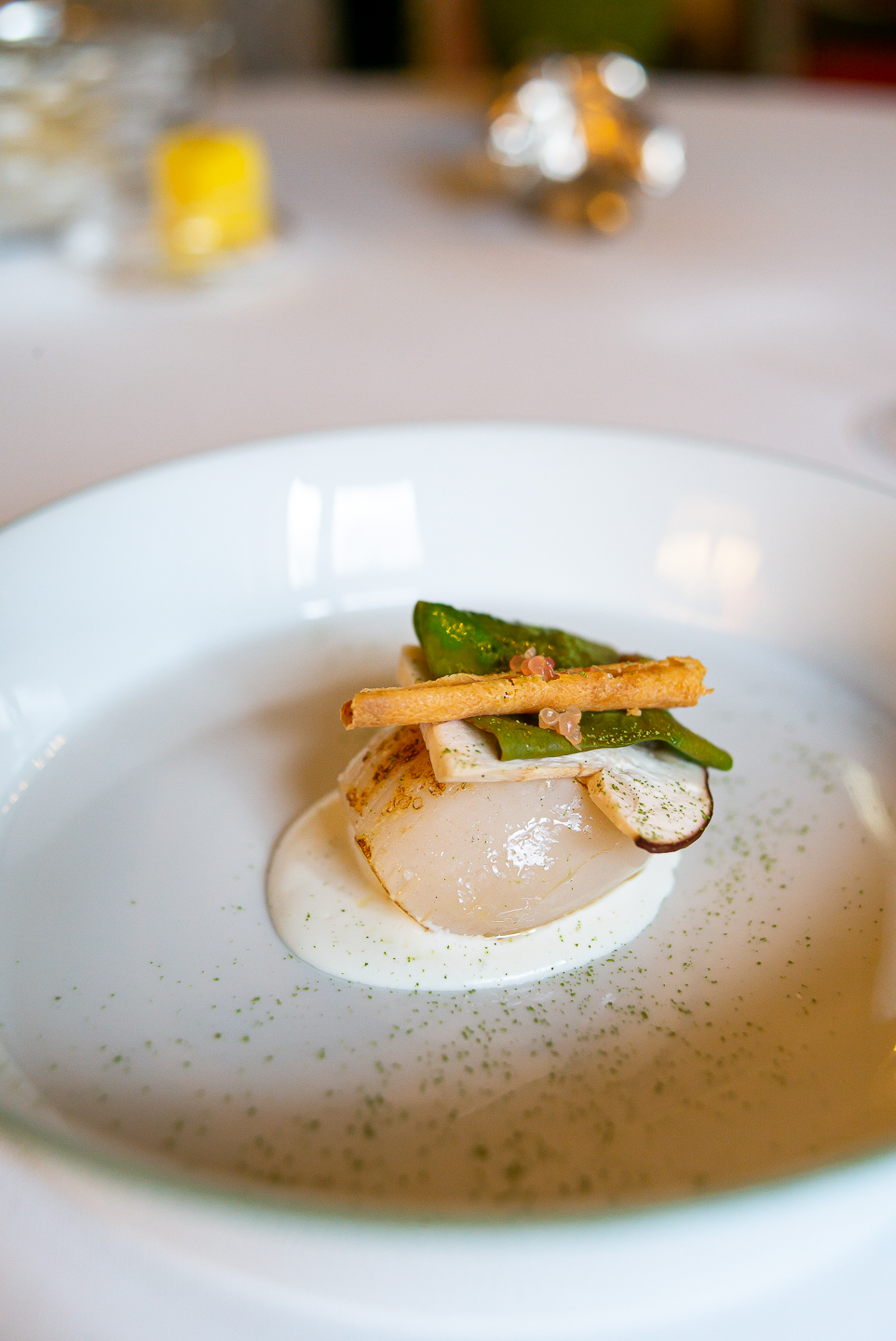 Scallop, part 2, is raw, with beetroot, almond butter and vitello tonato.
If the first way was lightness, this was to emphasise the scallop's richer profile. The flavour combinations here harmonious and complex, earthy sweetness, with the nutty, buttery richness of the tonato sauce, but carefully judged to not overwhelming the delicacy of the scallop's natural sweetness.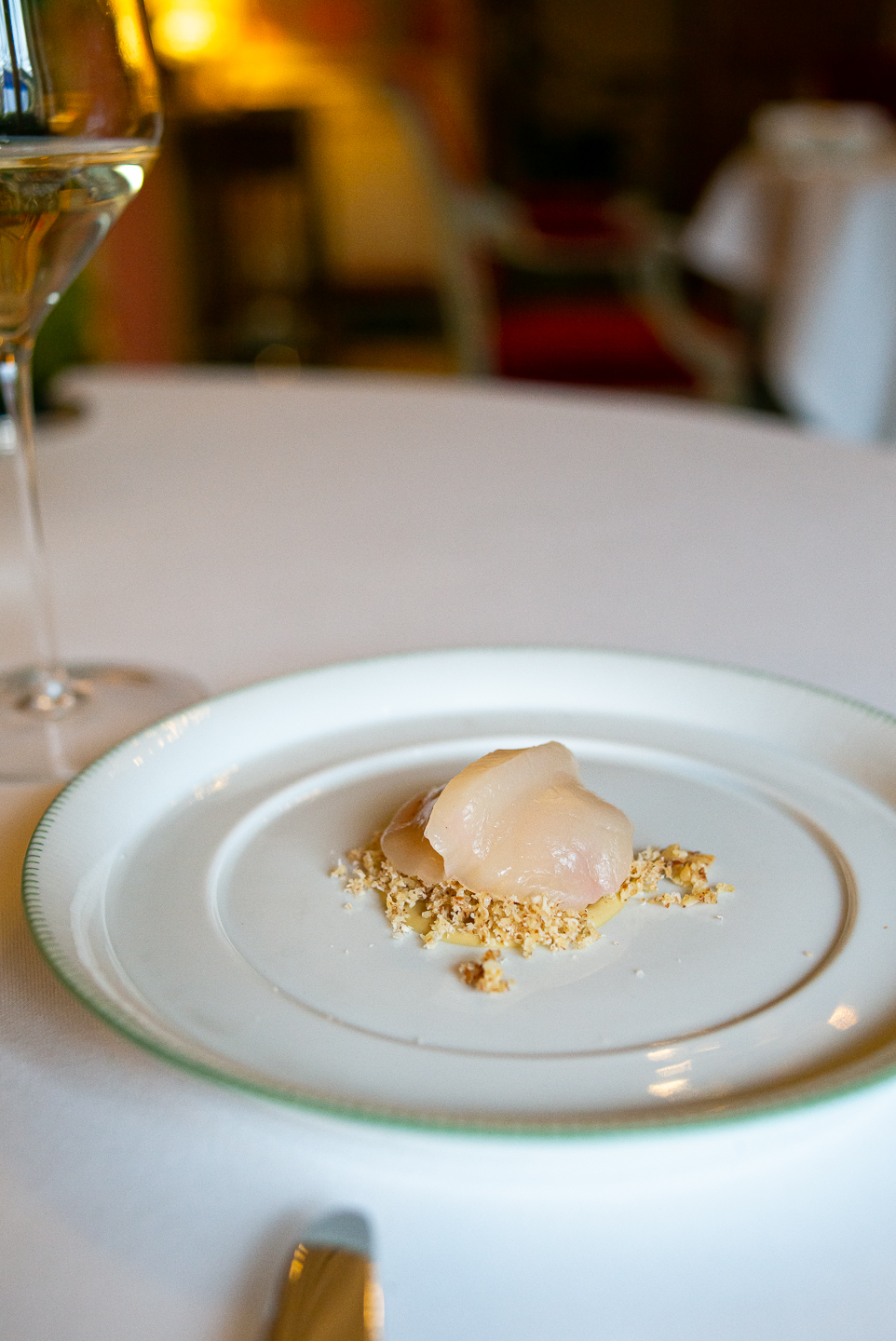 Clam with garlic butter gratin.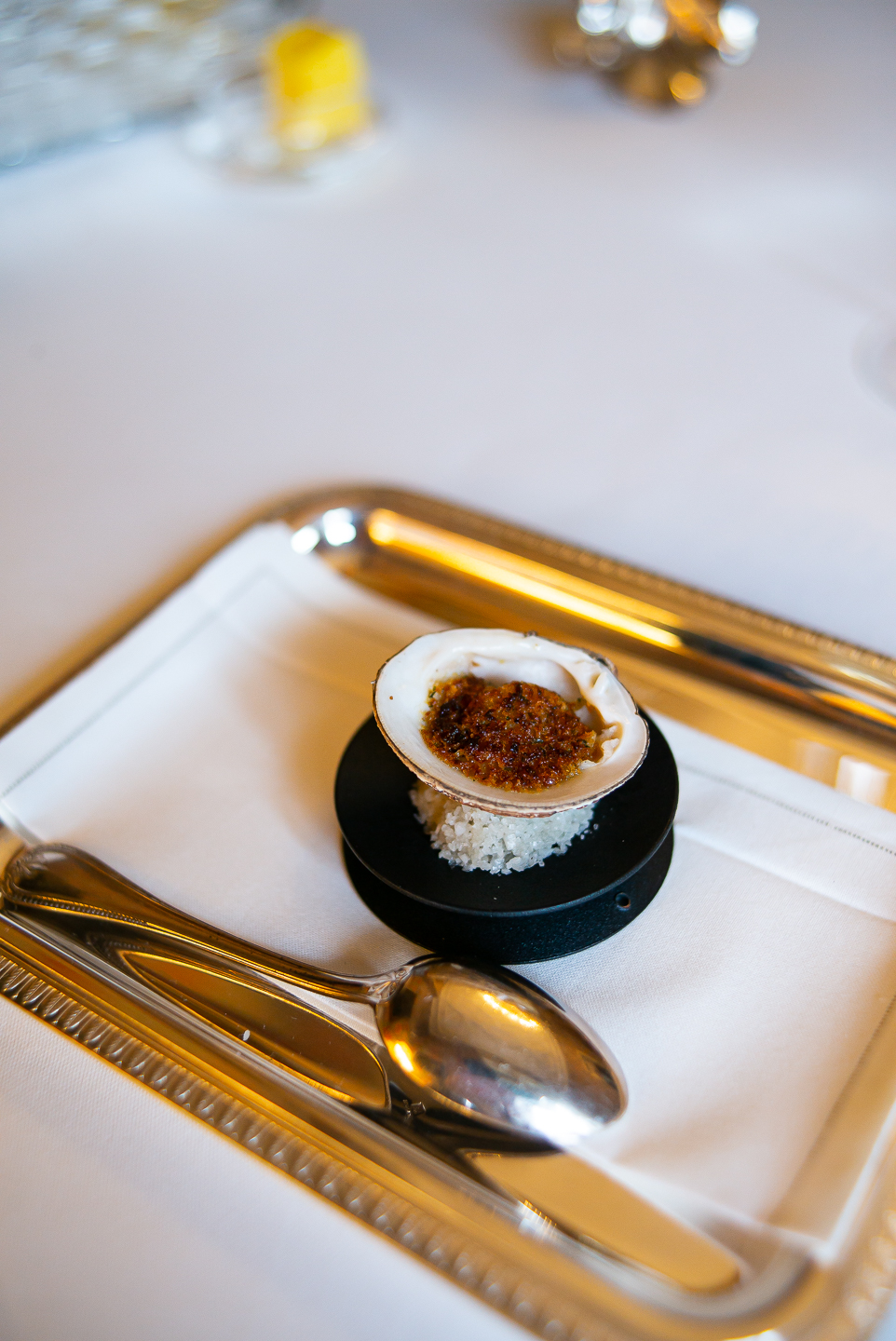 3. The fish course comprised of two servings:
The first was seabass roasted skin side down. Flourished with capucine flower, anchovy, tarvido radicchio that's been gently rolled on the plancha, softening its mild bitterness , and an exceptional squid ink sauce that has lovely sweet-vinegar gastrique contrasting with the bitter-sweet of the endive and the fish's umami. A dish that seems so simple, but with everything so measured and so carefully cooked, it was dancing on the palate.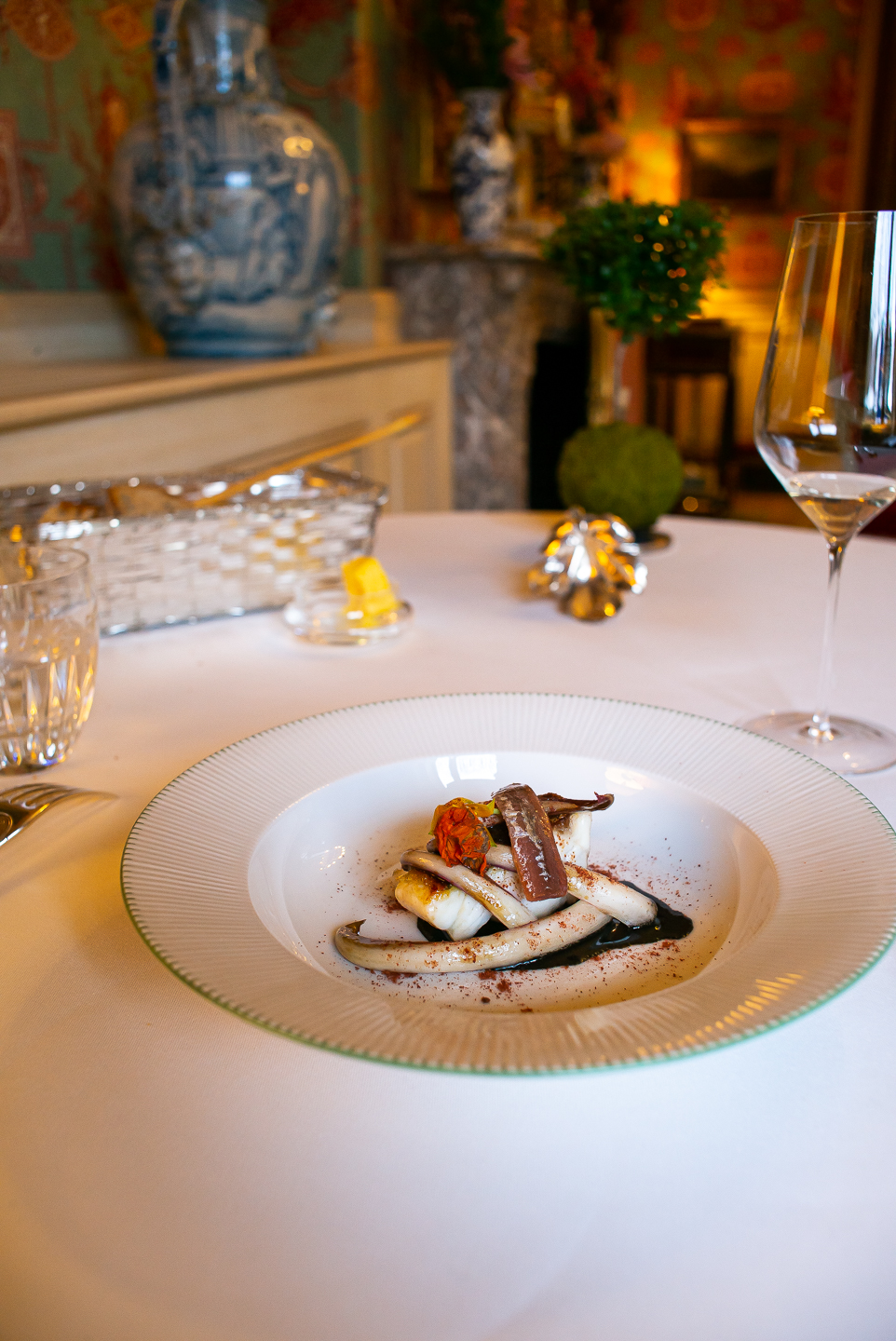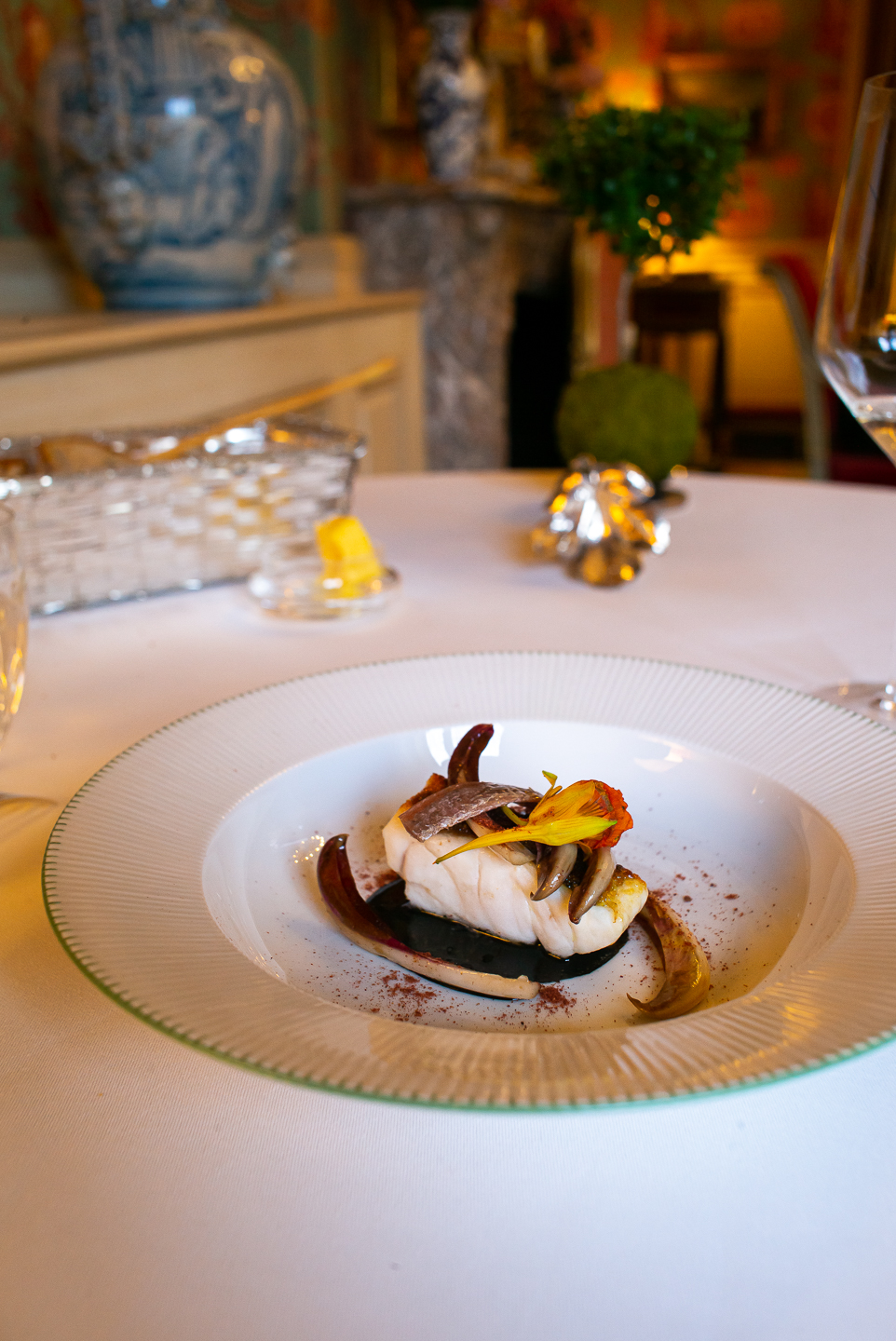 The second, steamed shrimp bao on pumpkin purée; poached oyster with Jerusalem artichoke, beef broth and lemon. While the seabass was superb, I actually enjoyed the second serving more. The bao was very good indeed, the richness of shellfish melding especially well with the buttery, sweet and seamlessly smooth pumpkin purée – a successful marriage of French and Chinese flavours. This was followed by a warm finish of classic beef and oysters.
4. Next up, veal sweetbreads presented two ways.
First was lacquered with soy sauce and the cuisson on this was phenomenal, wobbly and the perfect shade of light pink in the centre. with beurre blanc and daurenki wrapped in spinach and lightly toasted on the pan. Joyfully elegant and precise cooking.
The second was battered and deep fried, KFC sweetbreads on top of a very airy, whipped sabayon that was subtly sweet, I'm guessing with a little Madeira drizzled in.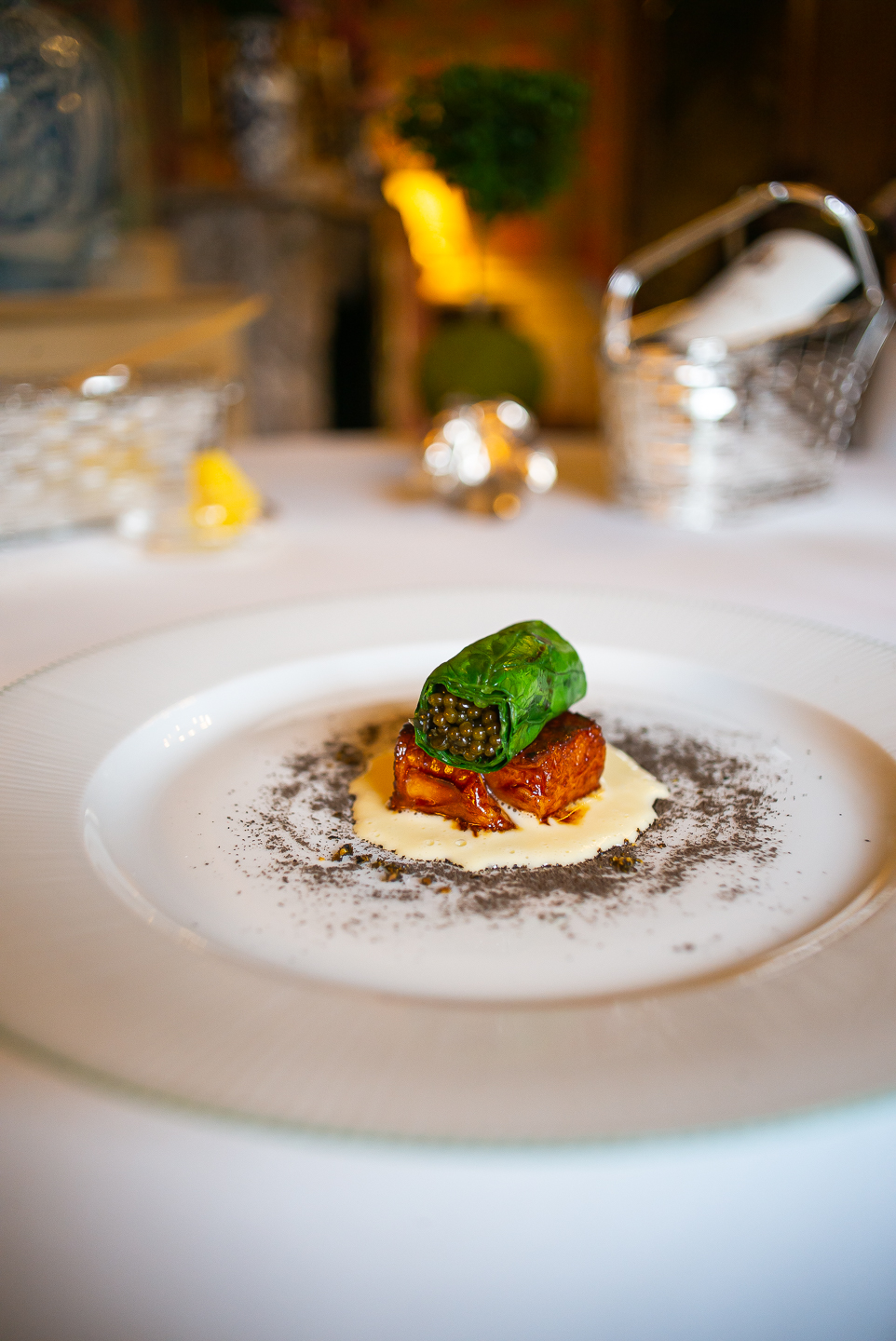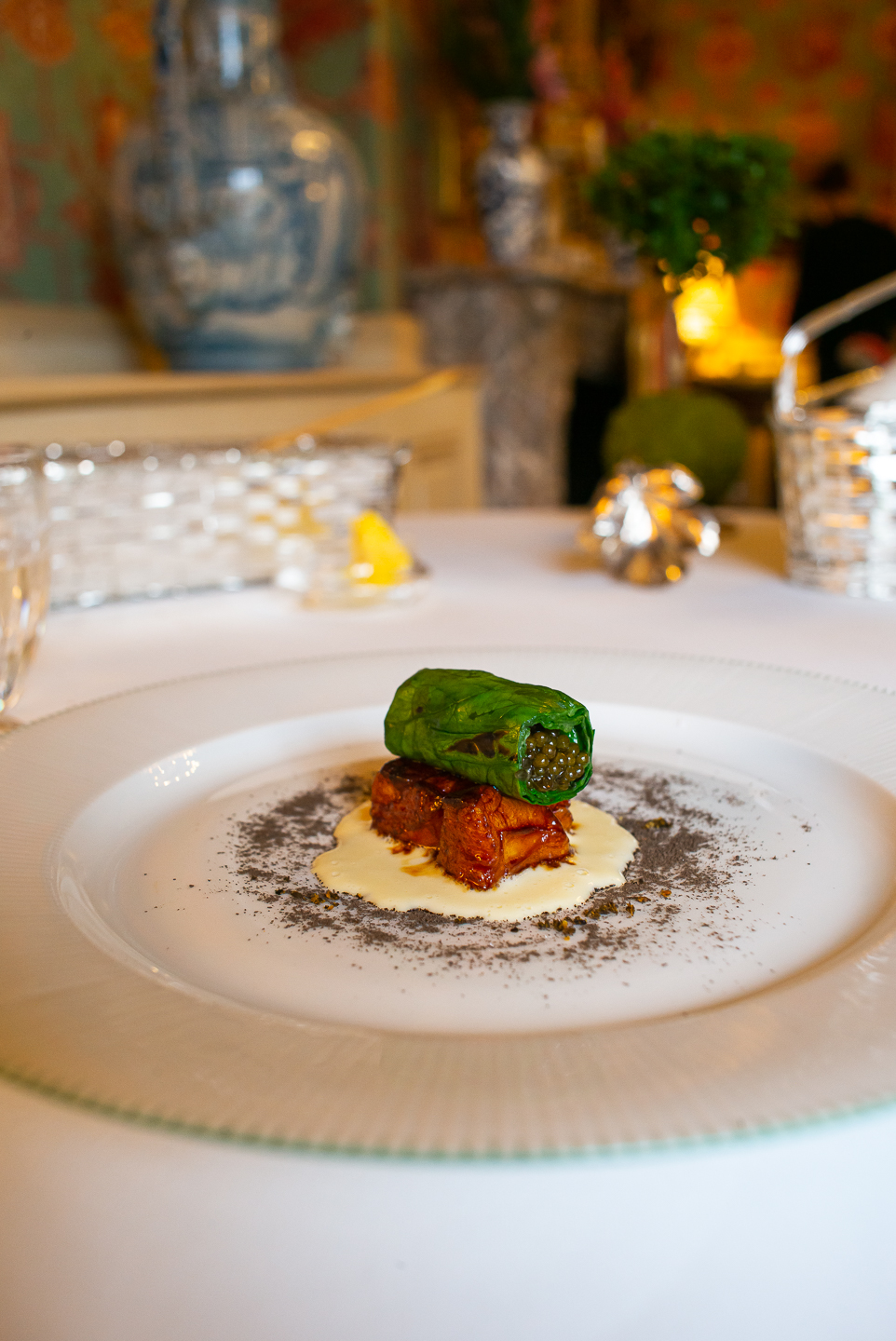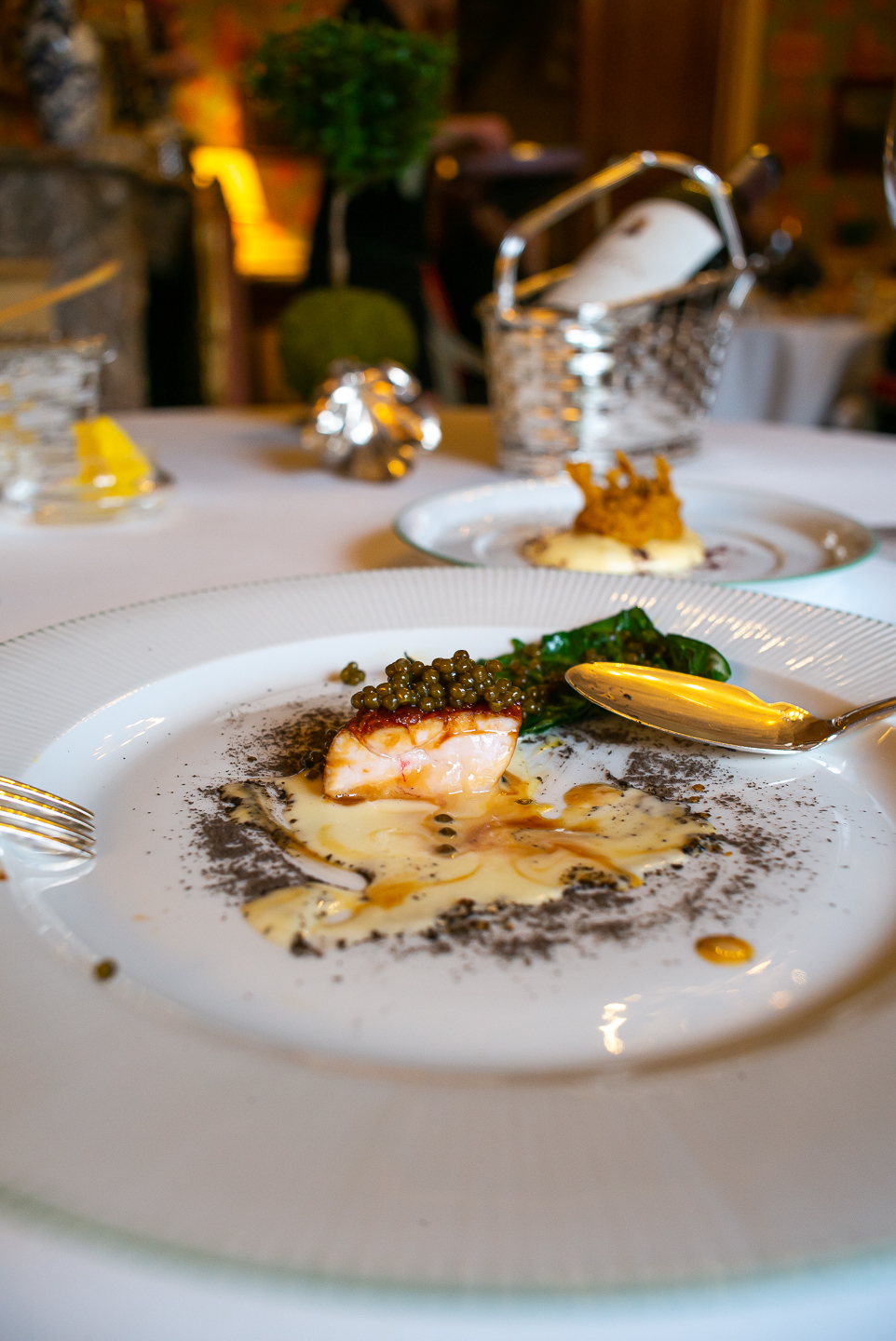 5. Quail and Alba white truffle
The mains in three plates, with Alba truffle, paired with a glass of HB's 2nd wine, the Le Clarence from 07. Clockwise from the centre:
1. BBQ spatchcock quail, with squid ink sauce, confit egg yolk.
2. Ravioli of ceps, aged parmesan cream and quail slivers.
3. Foie gras, tare glazed eel and trompette de la mort.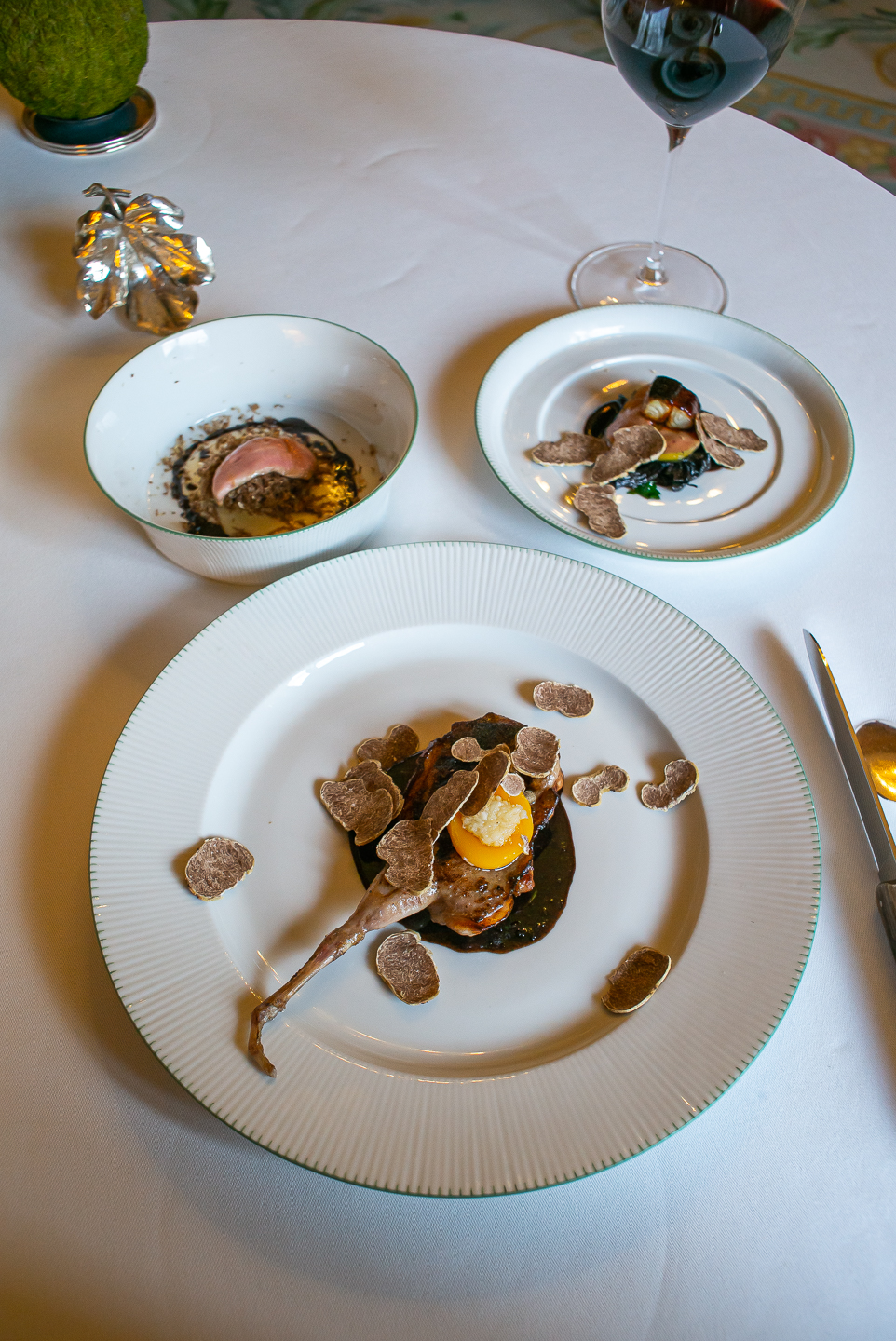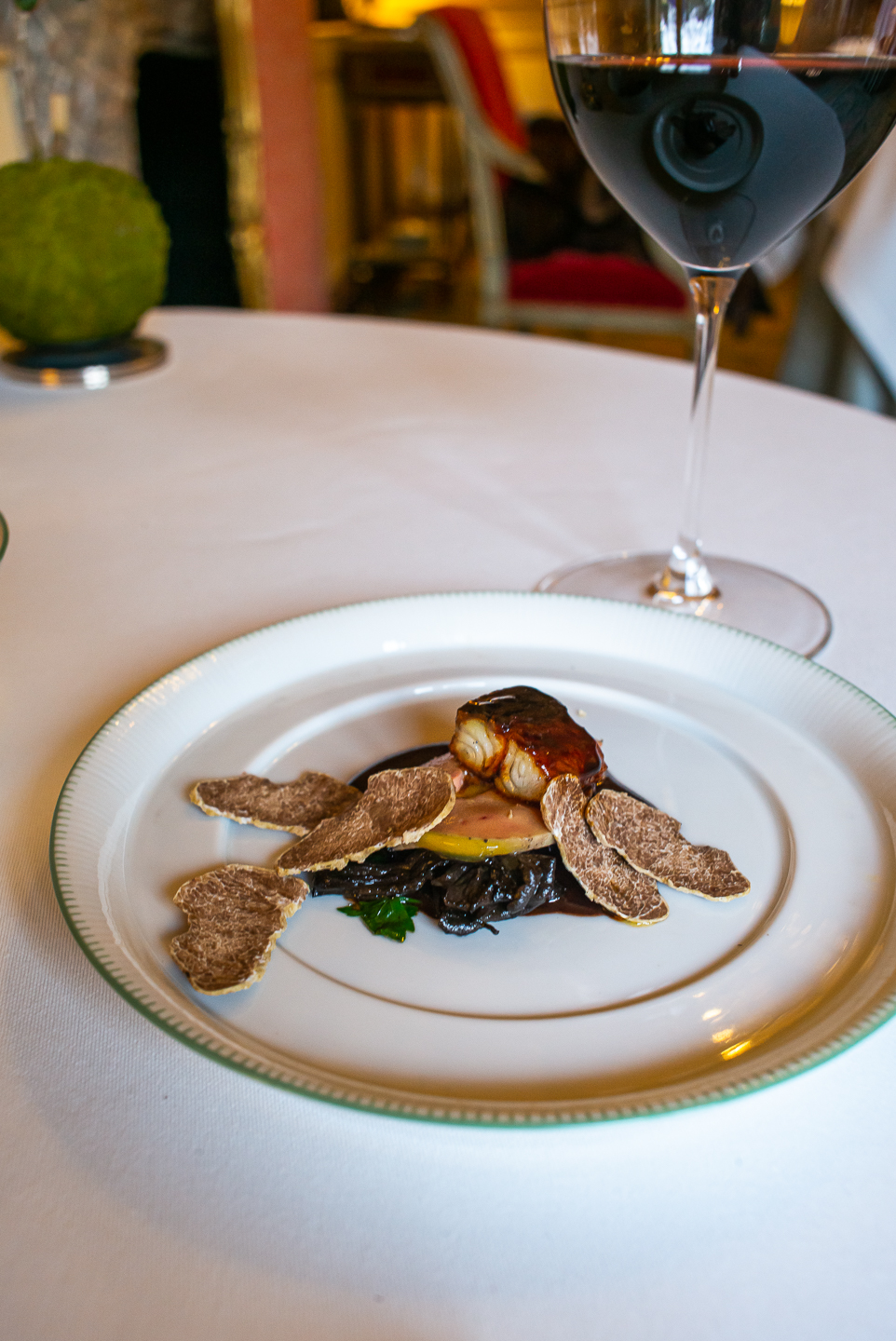 Slick cooking on the quail, accompanied by rich flavours both with the parm drizzled ravioli, and the squid ink sauce, which I believe is made with some of the gizzards folded in, giving rise to a meatier sauce, as compared to the much lighter version that came with the seabass.
Although, my favourite component was the eel -which IMHO easily rivals good Kansai style unagi- and the pairing with lightly cooked foie gras melting into the sweet savoury glaze was absolutely delicious.
The only downer perhaps was the white truffle itself. Not the best example, a little dry with its aromatic powers waning, and unable to keep pace with the array of flavour across the plates.
6. All the puddings
Mont Blanc; beetroot sorbet with poached ginger; lemon custard with vanilla jelly.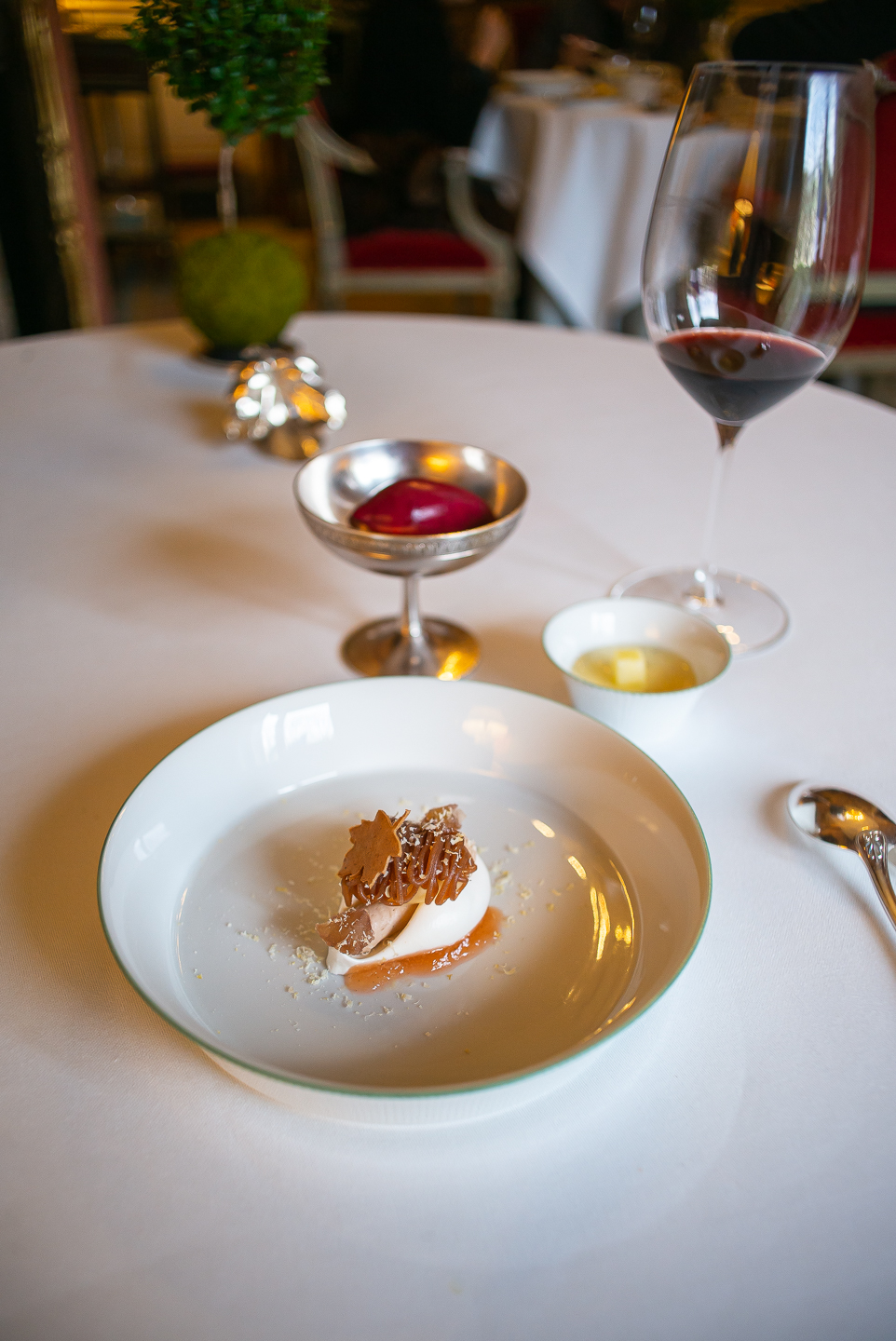 Modern tarte tatin, spiralised and caramelised apples on an almond frangipane base, and tiramisu cream.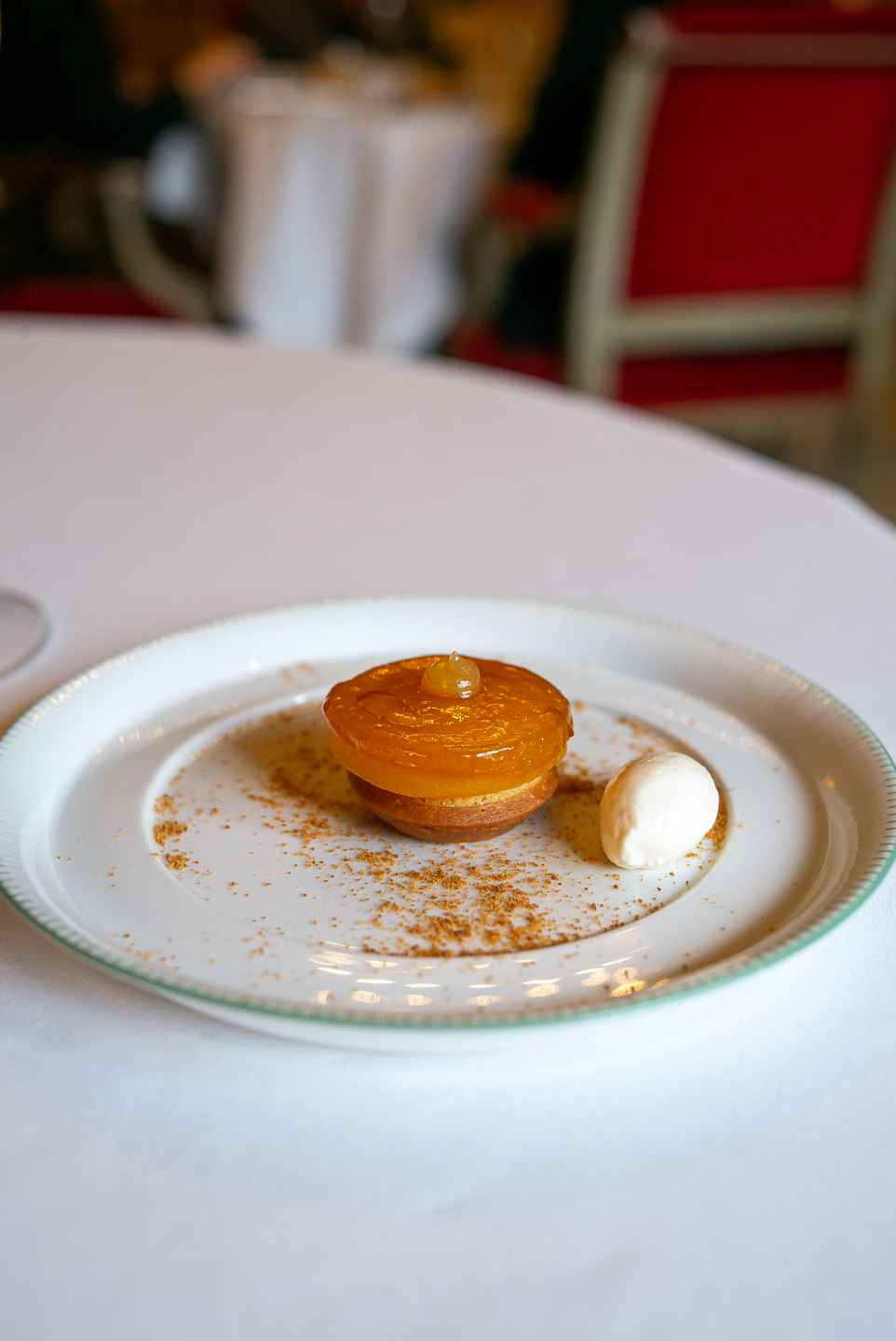 Cigar of lemon cream, homemade (and extremely light) waffles with a beautiful chestnut syrup (like liquid marron glace) and stiff vanilla chantilly.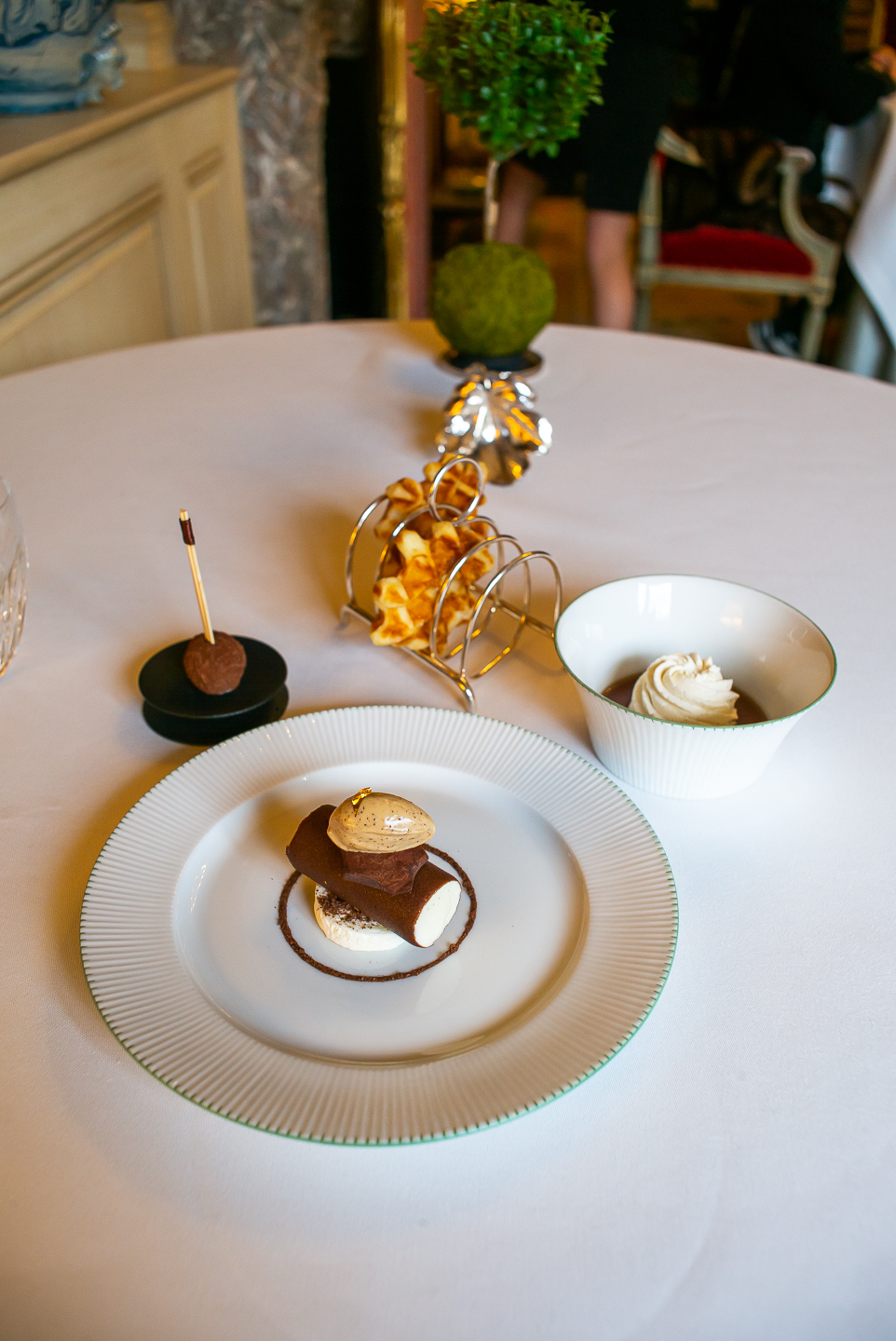 Le Clarence, Paris